"A friend is one that knows you as you are, understands where you have been, accepts what you have become, and still, gently allows you to grow." – William Shakespeare
The world would have been a boring place if FRIENDS weren't there. The presence of friends in life makes it worthwhile and the heart is filled with satisfaction that we have somebody on whom we can rely on. Friends are the deepest forms of support in a person's life with whom we can just be ourselves without faking anything. They accept us as we are, and always guide us in all our decisions. This Friendship Day, applaud and thank them for lending their never-ending support through your gifts and make them feel supremely delighted to have a friend like you!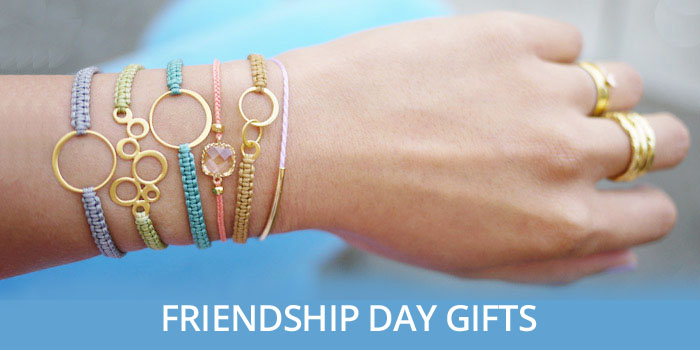 Read here the 10 best gifts for Friendship Day from which you can choose the best one for your best pal and make the celebrations of this day a memorable affair for both of you.
1. Friendship Bands
We all have memories of tying a Friendship band on the wrist of friends in schools and colleges. These bands were physical gestures of showcasing one's love for our friends and making them feel more special and elated. Be it any gift you buy for your amigo, but always keep this token of your love with you to express your love and gratitude to your best buddy.
2. Cakes
If there is a sweet delicacy that is enjoyed on any number of special occasions, then it has to be cakes. Celebrate this upcoming Friendship Day with these fantastic and scrumptious treats to infuse delicious flavors of sweetness in your celebrations. With a wide variety of Friendship Day cakes available online, you can just place your orders and relish them with your buddies!
3. Greeting Cards
Express your love and emotions to your best buddy with the help of greeting cards this time. They are beautiful presentations of your hearty feelings to your friends and let them get communicated in the most eye-catchy manner through colorful designs and heartening messages.
4. Home Décor Gifts
A well-decorated home looks welcoming and full of warmth. This Friendship Day, surprise your friends with wonderful home décor items and embellish their homes with unique and trendy gifts this Friendship Day. The statues of laughing Buddha, Gautam Buddha, Lord Ganesha, wall hangings, paintings, etc. are wonderful gift items to astound friends on this wonderful day dedicated to friends.
5. Personalized Gifts
Gifts with a personal touch always hold a unique appeal to them. They reflect one's hearty emotions to the receiver and make the person reminiscence the good old memories. Surprise your bestie with a personalized gift like mugs, cushions, photo frames, and others and deck them up with an amazing photo of you two.
6. Chocolates
Celebrate your amazing years of friendship with your buddy by relishing delicious chocolates. As chocolates make excellent gifts for all the occasions, astounding your friend with a box of lip-smacking chocolates is certainly the best idea. After all, chocolates are favorite sweets that everyone likes to gorge on.
7. Soft Toys
Cute and mushy soft toys are the sweetest gifts to surprise friends on Friendship Day. The cuteness they carry is synonymous to friends who are super adorable and always make efforts to make you feel special and happy. Teddies are the best options to buy this special day of buddies.
8. Flowers
The blooming and bright flowers can bring big smiles on everyone's faces. Buy a vibrant and mesmerizing bouquet of blossoms for your adorable buddy and give the person a perfect surprise by getting them delivered right at their doorsteps on Friendship Day. Yellow roses are popular flowers for this day; ordering a floral arrangement of them will be a wonderful gesture.
9. Scrolls
Scrolls are popular gift items to express one's love and affection since time immemorial. These wall hangings are not just simple home décor items, but a wonderful manifestation of heartfelt sentiments of a friend to a friend through beautiful words. Placing these on the front wall of the bedroom will make our buddies filled with joy and contentment that they have somebody in life that loves and cares so much for them.
10. Quotation Book
This book is a culmination of beautiful thoughts resonating with the theme of Friendship Day. The wonderful play of words on every page of this book will deepen the bond of friendship more and more. Gifting a quotation book to your best friend is a spectacular and unique idea for this Friendship Day.
The above-listed Friendship Day Gifts will definitely take your friendship to another level making it an everlasting one. They will flawlessly convey your feelings to your best friends and let them acknowledge your presence in their lives. Order these gifts online from Giftalove.com and let your friendship grow stronger and livelier than ever before.
Sakshi Ecavade is our in-house content developer having a good understanding about the gifting industry. She creates quality content surrounding flowers, chocolates, plants, cakes, and other products which makes excellent gifts for the people. Accurate and authentic information is what she tries to deliver through her blogs.