Chocolate Day is just a few days away, and with it being the third day of valentine's week, your lover's gift expectation starts to increase. We have a number of options to gift in chocolates to gift to your loved one like a chocolate box, chocolate bouquet, or chocolate bar cake but giving only chocolates on this day seems a little boring so; you need some sweet little companion that will go well with your Chocolate Day gift.
You can gift anything along with chocolates depending on your sweetheart's choice, and for those who are confused about their gifting options; we have prepared an extensive list of 11 mesmerizing gifts that you can add to package when you send Chocolate Day gifts:
1. Chocolate and flower Bouquet
Everyone must have heard of the flower bouquet, but what if you include chocolates in your bouquet. Flowers will enhance love with colors and fragrance, and chocolate will melt in their mouth and make them crave more. Speak those three magic words, and you will tickle all your senses as your gift will look beautiful, smell good, taste delicious, is soft in touch, and your sweet words will act as the cherry of the cake.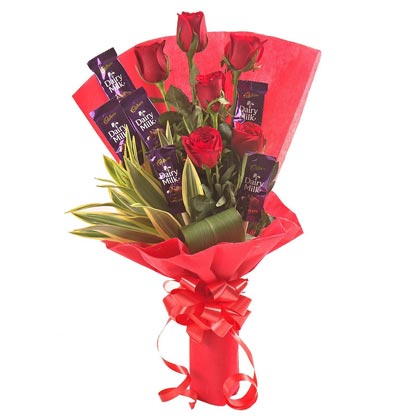 2. Chocolate with Teddy
The combination of Chocolate and Teddy bear is like "Jai and Veeru"; both are incomplete without each other. The combo has its value; Teddy's brings the cuteness, and Chocolate brings sweetness. After sharing your love by having some delicious Chocolates, you can spare some time to cuddle with your beloved teddy. Let the combo sprinkle magic in your love life so that your bond becomes stronger.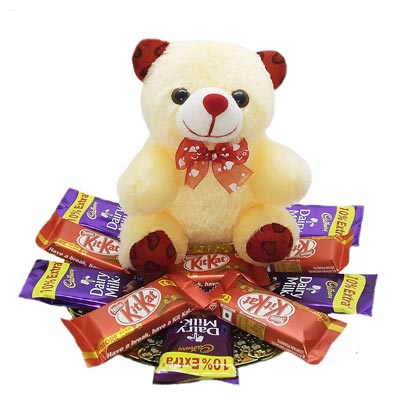 3. Chocolate with a personalized gift
Chocolate is a classic gift, and it's gifted by many people on many occasions. Where they will surely love this delicious treat, but chocolate in itself would fail to make them feel special as they are mass-produced, and there is no individuality of this gift, and that is why you should add a personalized gift with chocolate. You can add a personalized pillow, mug, or wall clock to this gift and make it memorable for your special person.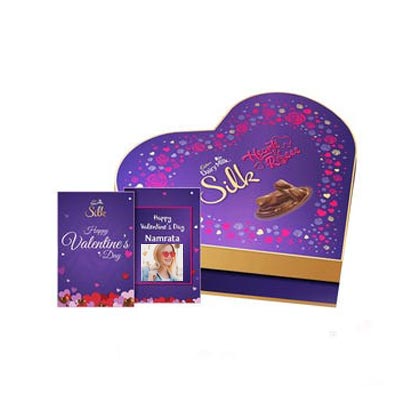 4. Chocolate with card
Chocolates are sweet, but a card will make it sweeter, especially if you write some beautiful words on it. You can write anything in those cards, from a lovely little letter to a lyrical poem. If you are not good with words, you can take help from the internet, but the main point is that the card should contain words that would touch your lover's heart. If you are good with DIY, you can make the card at home, or even better yet; you can create that 3D card that everyone is crazy about.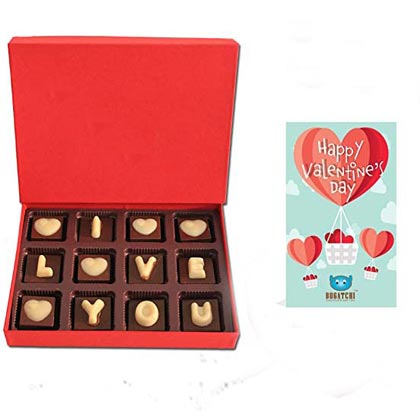 5. Chocolate with perfume
Gifting perfume is a pretty intimate gift as most people have their signature scent, but if you are close enough, you can encourage them to try some other smell, or you can gift them their old signature perfume. Perfume and chocolate go together beautifully as the and perfume smells amazing and chocolates taste amazing, and everyone knows that smell and taste have a pretty close relationship.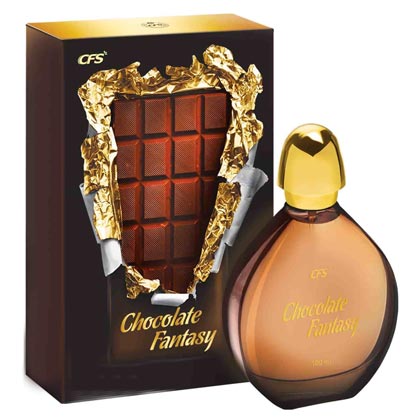 6. Chocolate and Cosmetics combo
Cosmetics play a big part in a girl's life. Nowadays, girls don't leave their house without eyeliner, a coat of mascara, and some lipstick. If you chose to gift them cosmetics, then those cosmetics will become a symbol of your love, and she will remember you daily while using the said products. So, when you buy chocolate day gifts online, add cosmetics hamper to it and make it a cute combo.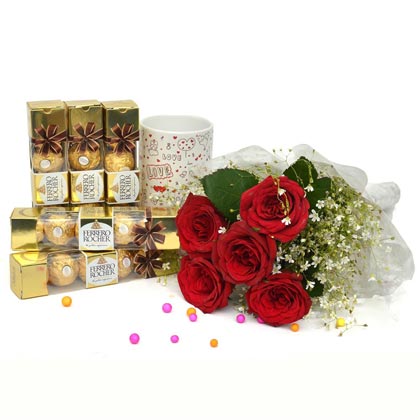 7. Chocolate with a golden rose
It would sound a little out of the box, but both these products look beautiful together. Chocolate has always been associated with love, passion, and happiness. Golden Rose symbolizes eternal love, so gifting this beautiful gift to your loved one will evoke the feeling of romance and passion in them.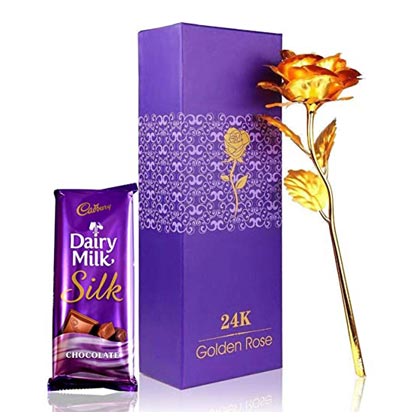 8. Chocolate and home decors
If your Valentine's Day gift mantra is something pretty and something tasty, then gift your darling a box of chocolate with some home decor product like some spiritual gift, flower vase, or lamp, etc. Girls specifically love decorating their homes, so gifting her some decorative item would make you look like the attentive guy in her eyes.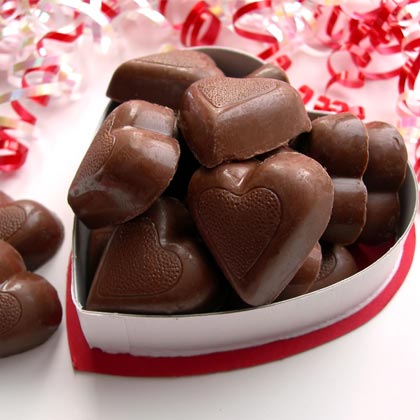 9. Chocolate and Bamboo plant
According to an old legend, Bamboo plants are a symbol of luck and prosperity. When you gift lucky bamboo to someone, you are giving them a bunch of luck. When you really love someone, you want them to be happy, and if gifting something can bring them happiness, you should invest a minimal amount in that gift.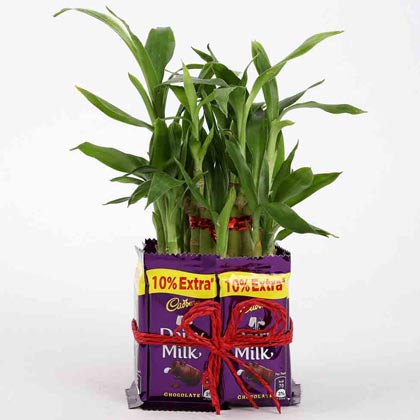 10. Scented candles with chocolates
Scented candles have lots of significance and play an essential role in our life. The scented candles can change your mood, shows your personality. The aroma of scented keeps you relax and helps you in meditation. It let you concentrate and heal your inner soul. So on this Chocolate Day, gift your loved scented candles and bring fragrances to their life.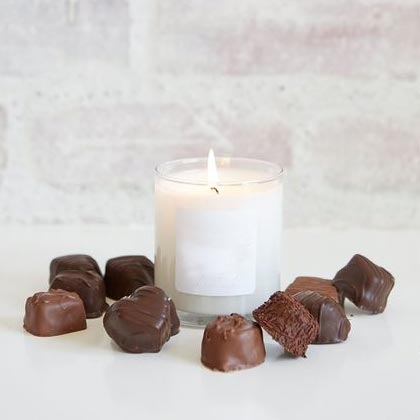 11. Chocolates in a Hamper
If your lover is very picky and confused about the right gift or if your love is new and you don't know their likes or dislikes, you can and should get a gift hamper for your second half. The gift hamper will have many gifts inside, and he or she will definitely like at least a few of them. This Hamper can also make the best gift for Valentine.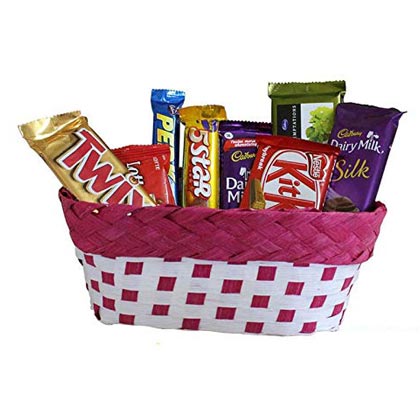 Ending Note
Now, you have got all the fantastic gift ideas that will compliment your delightful treat for loved ones on this chocolate day. You can buy any or all of these gifts from our website Giftalove.com as it has a wide range of gifts that you will surely like. Visit once, and you would not be able to resist buying those gifts for your beloved one. The fantastic store provides a service to send Valentine Gifts to Delhi, Mumbai, Bangalore, and other cities, and they do home deliveries without charging anything extra. So feel free to place the order online for your loved ones and surprise them with these fantastic and loving gifts.

Sakshi Ecavade is our in-house content developer having a good understanding about the gifting industry. She creates quality content surrounding flowers, chocolates, plants, cakes, and other products which makes excellent gifts for the people. Accurate and authentic information is what she tries to deliver through her blogs.