The beautiful memories of holding your father's finger while walking and climbing his shoulder to see the world has a different place in everyone's heart. A father is the anchor of his child's future who sacrifices his dreams to fulfill his children's dreams. That is why; father is not merely a word but an emotion and the director of the child's future. To salute this outstanding personality, Father's Day is just around the corner.
To make sure every son and daughter has the best and the most memorable Father's day celebration 2022, we have this ultimate Father's Day gift guide.
Heartwarming Father's Day Gifts for Every Kinda Dad
Celebrating fatherhood is one of the most memorable moments in every kid's life. Every father is a superhero for their children, who have sacrificed his dreams, comfort, needs, sleep, and almost everything to give that his babies can have the best life. Father's love is unmatchable and non-comparable.
For every such father, we have this compiled table dedicated to the ultimate Father's day gift guide for every fatherly figure in your life. Check out the table and end your search for a thoughtful yet expressive gift for Father's Day 2022:
Different Fatherly Figures
Best Father's Day Gifts
New Father

Baby carrying bag
Books on good parenting
Personalized t-shirt or photonframe
Leather Bag
Congratulations Cake
Baby Shower Party

Office Going Father

A diary
A personalized coffee mug
Pen set and holder
Leather office bag
Digital alarm clock
Insulated water bottle
Wristwatch
Aromatherapy oil diffuser
Desk organizer or tabletops

Stylish Father

Tie and cufflinks set
Classy watch
Decent office bag
Trendy t-shirt
Stylish sunglasses

Foodie Father

Basket of healthy snacks
Sugar-free food items
Recipe book
Basket of fresh fruits and juices
Father's Day cake
Father's Day chocolates

Retired Father

Gardening toolkit
Camera
Novels and books
Recliner chair
A vacation or a small trip

Ill Father

basket of fresh fruits and juices
Personalized family photo frame
Comfy cushion
Blood Pressure checking machine
Flower bouquet

Grandfather

Personalized photo canvas
Sugar-free product hamper
Copper bottle and glass set
Self-stirring mug
New spectacles
Blood pressure monitoring machine
Best-Suited Father's Day Gifts for Different Dad's Personalities
Just like every star has its shape and characteristics. Similarly, every father is different, and so does their punishments. Jokes apart, for different fathers having different personalities, tastes, and hobbies, gifts should also be different. So, we have this list of some popular gifts best suited for a particular personality trait for your unique father.
Let's check out the most popular gift categories for Father's Day:
Books – For the fathers having a reader in them
Food Basket – For the foodie fathers
Wine – For the fathers having wine aficionado in them
Organizers – For the messy fathers
Gardening Kit – For the fathers having a skillful gardener in them
Grooming Kit – For the handsome hunk fathers
Recliner Chair – For the newspaper lover fathers
Personalized Gifts – For the emotional fathers
Fitness Tracker – For the fitness freak fathers
Best Pocket-Friendly Father's Day Gift Ideas
Showing your dad how much you love him is indeed more than enough in many cases. But, your heart knows your loving dad has done so much for you all his life, and you willing want to make him happier with a token of love signifying your emotions and affection on this Father's Day. But, your dad doesn't want you to overspend to buy him a gift, especially on fathers day. So, now, you just stuck on what to gift your father that falls in your budget?
Here, we have a list of some fabulous and budget-friendly Father's Day gifts and surprises perfect for celebrating the day and creating beautiful memories with your brave dad. Let us have a look and get the best surprise for your dad:
1. Midnight cake surprise will do the best of all
Every special day needs a special start! And, when the day has to celebrate fatherhood, a midnight cake surprise will turn out to be a beautiful great surprise for your dearest father. When the clock strikes midnight, just head over to his room with his favorite cake flavor and a bottle of wine or orange juice, and your dad will probably be head over heels. A chocolate cake for Father's Day, cheesecake, fruit cake, and a dry fruit cake will do the best.
2. Early morning breakfast on the bed with gorgeous flowers
After you have done incredibly well in surprising your lovable dad at midnight with a cake, it is time to make his morning special too. Just head to the kitchen and prepare him a luxury 5-star hotel-like breakfast. Okay, Okay, we are kidding! Don't worry, you don't have to Google and YouTube the recipes, as a simple toast with butter and orange juice will do the job as perfect as a luxurious meal will do. You can also order flowers for Father's Day in the morning to make the surprise better.
3. A video call with friends and family
Sort the afternoon surprise by treating your caring dad with a dose of his old days' memories. You have to do a bit of sneak peek into your dad's phone to find out his old friends' contact numbers. After breakfast, get your dad and some of his friends on a video call where they can all share things and rejoice together some quality time, laughing and giggling. Your efforts will surely bring a million-dollar smile to this face.
4. Collage of old photographs
As we are talking about the affordable Father's Day gift options, one can be made with the old photographs of his with friends, family, and relatives. Just take a walk the memory lane and choose which photos can bring a smile to his face.
5. Show your affection with personalized gifts
Add more fun to this Father's Day celebration 2022, personalized gifts for the father will also make the best choice. Adorned with your personal touch, gifts like mugs, cushions, keychains, photo frames, wall hangings, and cakes can be gifted to your dearest father.
6. A dinner date with father
Now, you have made his whole dad very special with your efforts, don't forget the night. Take your dad by a snazzy surprise by taking him out on a fancy dinner date. You can choose his favorite restaurant to spend some quality time with him.
Father's Day Celebration 2022: Lockdown Edition
2020 has been a daunting year for everyone, and 2022 is not any less. COVID is still here, and we have to take every possible precaution to fight the deadly virus out of my life. That is why; the government has imposed a lockdown that needs to be taken seriously by everyone. But, this not at all means that life should remain without the celebration. And, hence, no virus can stop you from pampering your father on his special day. Father's Day is the best day to appreciate the untiring efforts of your father; he has been showering over you for so many years.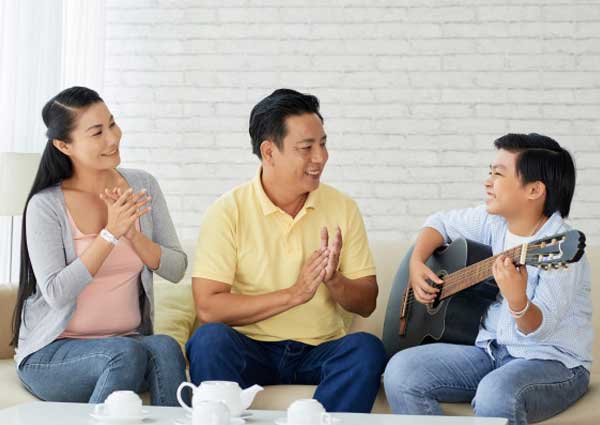 Make your dearest 'ole dad feel special even in the lockdown, with our lockdown party edition on Father's Day. Go ahead with these ideas:
During this lockdown period, why don't you both invest some of your precious time in learning something new? In this, the internet can be your helping hand in learning new skills and technologies.
This Father's Day, wish your dearest father a thoughtful gift in a digital way. In this technology-enabled world, you can make the happiest occasion of Father's Day a memorable one by just sitting at your county and your father in some other. Some popular lockdown gift editions fused with the technology are:
=> A guitarist on the phone call
=> A poet on the call
=> A personalized video message
=> A celebrity video message
=> Digital caricatures
=> E-greeting card
As 2022 has surprised us with lockdown and quarantine, self-care and health are all that matters. So, take a virtual appointment with the doctor for your father and ensure that he is safe and sound.
One more thing you can do for your father and a bit for yourself as well by having a heart-to-heart conversation with your dad. You can do the preparations at night after dinner as stargazing, and long conversations are the best combination.
A movie marathon will always do the work of making every special day more special and heartwarming. You can choose a few favorite movies of your dad and can enjoy the movie night with a glass of wine, or soft drink maybe.
Happy Father's Day Messages to Convey Heartfelt Emotions
In just a few days from now, we all will be celebrating Father's Day 2022. With a lot of excitement and gusto, every son or daughter around the world is indulged in preparation for this happiest day to make it more special and a memorable affair for the loving father. This one-day celebration is a huge opportunity to showcase your heartfelt love and affection to the most special man in your life. And, without some heartwarming Father's Day messages, this isn't possible.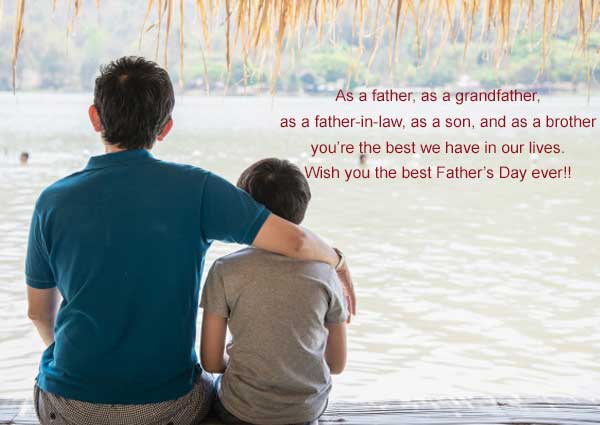 Here, to start with:
My dearest dad, you're the perfect example-setter for me. Whenever I need motivation, I look up to you. Happy father's Day, Dad!!
Thanks a lot, daddy, for always giving me a warm hug whenever I need you by my side. You are the world's best dad. Happy Father's Day to you!
We are so thankful to God for giving us you, the best dad in the whole universe. You are just a wonderful father. Happy Father's Day pops!!
As a father, as a grandfather, as a father-in-law, as a son, and as a brother – you're the best we have in our lives. Wish you the best Father's Day ever!!
"Dad, you have not only impressed us with your fatherhood, but the aura your presence brings in the house is what I am a big of, from childhood. I hope I can grow up as a dad just like you. Happy Father's Day!!
Happy Father's Day Quotes
We know it is kinda hard, and when it is Father's Day, the job becomes even harder for the children to put their immense love in words. That's where the need for Father's Day quotes comes in. Well, catering to the need of gifting your dad a greeting card, we have a few famous and expressive quotes to showcase your affection and heartfelt in the beautiful words.
Let us have a look at the list: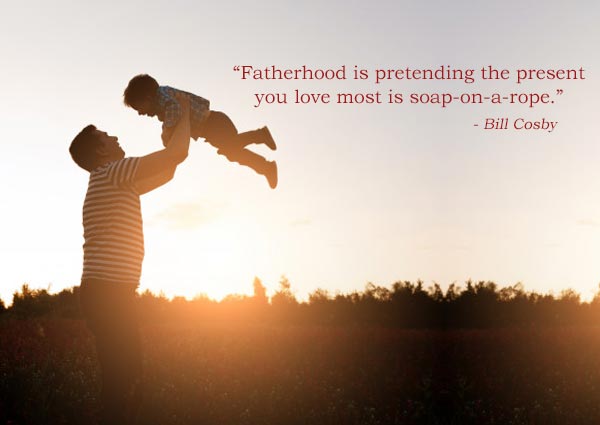 "When a father gives to his son, both laugh; when a son gives to his father, both cry." – William Shakespeare
"A father is someone who carries pictures in his wallet where his money used to be." – Unknown Author
"An angry father is most cruel towards himself." – Publilius Syrus
"Are we not like two volumes of one book?" – Marceline Desbordes-Valmore
"Dad, your guiding hand on my shoulder will remain with me forever." – Unknown Author.
"A girls first true love is her father." – Marisol Santiago
"Dad, you're someone to look up to no matter how tall I've grown." – Unknown Author
"Fatherhood is pretending the present you love most is soap-on-a-rope." – Bill Cosby
"Fathers, be good to your daughters. You are the God and the weight of her world." – John Mayor
"Great fathers do what weak fathers don't want to do." – Reed Markham
"Great fathers don't find fault. Great fathers find solutions." – Reed Markham
"He didn't tell me how to live; he lived, and let me watch him do it." – Clarence Budington Kelland
"Every father is the architect of his home life." – Reed Markham
"Every man can get children, but not every man can be a father." – Unknown Author
"Everyone can be a father, but it takes a lot to be a daddy." – Unknown Author
"Father! – to God himself we cannot give a holier name." – William Wordsworth
"It doesn't matter who my father was; it matters who I remember he was." – Anne Sexton
"It is easier for a father to have children than for children to have a real father." – Pope John XXIII
"It is not flesh and blood but the heart which makes us fathers and sons." – Johann Schiller
"It kills you to see them grow up. But I guess it would kill you quicker if they didn't." – Barbara Kingsolver
"Never raise your hand to your kids. It leaves your groin unprotected." – Red Buttons
"The father is always a Republican toward his son, and his mother's always a Democrat." – Robert Frost
"Blessed indeed is the man who hears many gentle voices call him father!" – Lydia M. Child
"The greatest thing a father can do to his children is to love their mother." – Anjaneth Garcia Untalan
"The older I get, the smarter my father seems to get." – Tim Russert
"To a father growing, old nothing is dearer than a daughter." – Euripides
"We think father's fools, so wise we grow. Our wiser sons, no doubt will think us so." – Alexander Pope
"No one in this world can love a girl more than her father." – Michael Ratnadeepal
"Old as she was, she still missed her daddy sometimes." – Gloria Naylor
"One father is more than a hundred schoolmasters." – English Proverb
Best Movies to Watch on Father's Day
Father's Day is right around the corner, and because of the lockdown situation, it is quite difficult to plan any surprise for your superhero dad. Though we have this category called" Lockdown edition" for you in this share then too, you might be having some doubts. And, the most common one is related to the movie marathon. Which is the best movie to watch with your dad on Father's day 2022? Quite a tough question! But, we have the answer. Head to the table given below:
| | |
| --- | --- |
| Best Movies | Releasing Date |
| Angrezi Medium | 2020 |
| Jawaani Jaaneman | 2020 |
| Chhichhore | 2019 |
| Dangal | 2016 |
| Dear Dad | 2016 |
| Piku | 2015 |
| Drishyam | 2015 |
| Rishtey | 2002 |
| Akele Hum Akele Tum | 1995 |
| Papa Kehte Hain | 1996 |
| Udaan | 2010 |
| Gandhi, My Father | 2007 |
| Fathers' Day | 1997 |
| The Half of It | 2020 |
| Mr. Mom | 1983 |
| What a Girl Wants | 2003 |
| The Princess Diaries | 2001 |
| Parenthood | 1989 |
| Big Fish | 2003 |
| National Lampoon's Vacation | 1983 |
| Father of the Bride | 1991 |
| Indiana Jones and the Last Crusade | 1989 |
| The Tree of Life | 2011 |
Warm Closings
That's precisely what we've for all you guys to doll up your Father's Day celebration 2022. We have rounded up some of the best Father's Day gifts for every kind of fatherly figure you are blessed to have in your life. From Father's Day quotes to unique ways of thanking him, we have it all. Most of the gifting items we have in this share will work well for every man in your life like you can even surprise your elder brother on this Father's Day who just became a new dad. And, if you wish to wish your dear husband a Father's Day, some of these items will undoubtedly motivate him to be the best dad to the kids. So, you can buy Father's Day gifts online from the exclusive collection of GiftaLove.com to showcase your heartfelt affection.
Oh, and if you are blessed with more than one fatherly figure and wish to surprise each of them with a thoughtful gift for Father's Day 2022, your shopping for multiple people can be sorted out with plenty of budget-friendly gift items. We have cakes, chocolates, flowers, greeting cards, plants, and personalized gifts for Father's Day for such situations. All sons and daughters out there can avail online cake for Fathers Day, and it will arrive within two to three days at your doorsteps. So, check whatever we have lined up for you at our thoughtful gag gifts & delightful keepsakes to wish your superhero father –
Happy Father's Day!!
Sakshi Ecavade is our in-house content developer having a good understanding about the gifting industry. She creates quality content surrounding flowers, chocolates, plants, cakes, and other products which makes excellent gifts for the people. Accurate and authentic information is what she tries to deliver through her blogs.