In a world extremely dominated by fashion, there is hardly anything that is left not judged by the fashion police. Likewise, Indian festivals have seen a shift from traditional to fashionable celebrations. Not only have the attires of the people, but things like decorations on festive occasions also become extremely modernized with time. The auspicious festival of Raksha Bandhan is also celebrated with a modern twist with a wide range of designer Rakhi online launched every year. Designed in accordance with the latest trends and choices of the people, the holy threads of Rakhi are now available in a variety of shapes and designs to suit the needs and preferences of the people.
So, if you are looking for a trendy designer rakhi for your the sweetest brother for Raksha Bandhan 2020, then here are some exciting options which you can have a look at and choose the best one for your brother based on his taste and fashion sense.
1. Kundan Rakhi
Anything designed with Kundan work grabs a lot of attention of people. With a new trend of Kundan Rakhis in the market, people are eyeing for this amazing sacred thread for their brothers. The sheen and lustre of these traditional yet trendy Rakhi will impeccably decorate the wrist of your brothers. Available in a variety of colors and designs, you can buy Kundan rakhi online and spread happiness in your Rakhi celebrations.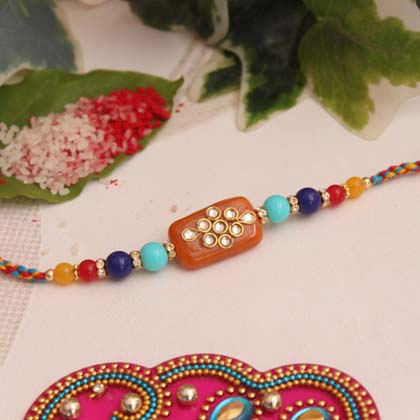 2. Silver Rakhi
Just like other Indian festivals, Raksha Bandhan is also an auspicious festivity celebrated by the brothers and sisters. As the metal or color silver is also associated with the auspiciousness, a silver rakhi will be a thoughtful and perfect choice for the brothers who hold a special place in your heart. Embossed with stones, these rakhi threads reflect an amazing classic finish that will grab the attention of everyone.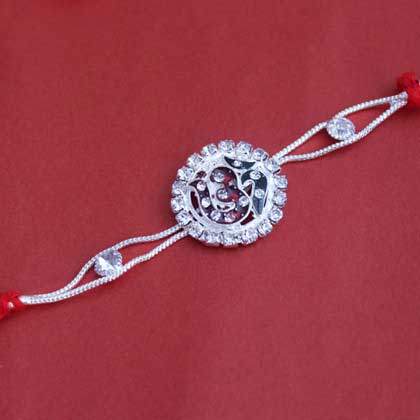 3. Bracelet Rakhi
Men have a special inclination for bracelets. With the festival of Raksha Bandhan approaching soon, you can surprise your brothers with a trendy and unique bracelet rakhi that speaks of style and fashion in every manner. Perfectly designed with stones and a lustrous metal finish, these rachis will catch your brother's attention in no time.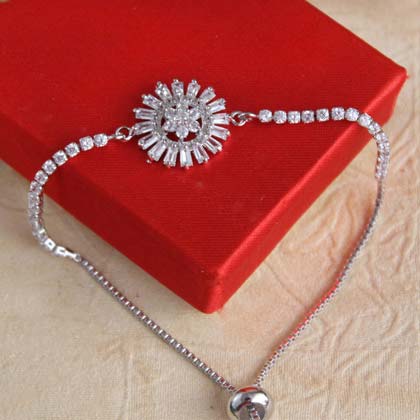 4. AD Stone Rakhi
For the sisters who are blessed with just one brother whom she love from the bottom of her heart, an exquisite and royal AD stone Rakhi will be an incredible choice. Studded with glistening AD stones, pearls, and beads, these rakhi threads will look absolutely classy and royal in every manner. Packed in perfect packaging, these designer Rakhis will convey the same feelings even if you send Rakhi online to brothers residing in another country.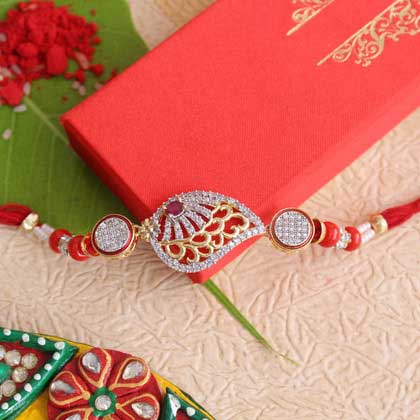 5. Golden Rakhi
Gold is associated with royalty and richness and for a brother who has everything he has wishes for, a golden Rakhi handcrafted by the experts will be a perfect choice for the Raksha Bandhan celebrations. Embossed with stones, pearls, and beads, these shiny and mind-blowing Rakhi will capture everyone's attention with their shimmer and classiness.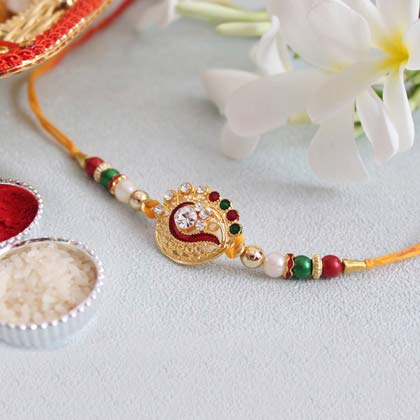 6. Rudraksha Rakhi
The festival of Raksha Bandhan is all about showering your best wishes and blessings on your brother who is an apple of your eye. As Rudraksha is considered auspicious being the teardrop of Lord Shiva, a rakhi made with Rudraksha beads will make a wonderful choice for your brother. Tying this holy thread on his wrist will bless him with a long and healthy life.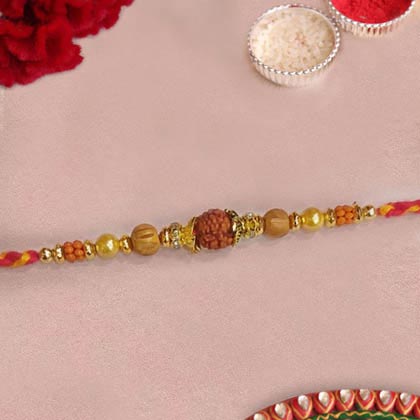 7. Zardosi Rakhi
The intermingling of the shiny golden metal threads and silk threads is what makes a zardosi rakhi worth a purchase for the sisters this Raksha Bandhan. The beautiful zardosi embroidery made with the golden threads and silk threads on a cloth patch gives this Rakhi an amazing appeal. The perfect detailing is quite amazing and will definitely enhance your brother's personality.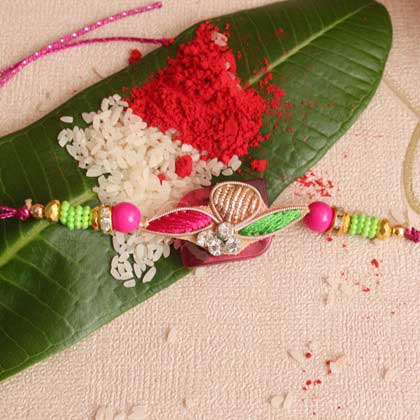 8. Pearl Rakhi
Pearls stand for elegance and simplicity. Any jewelry or any other item designed with pearls looks mesmerizing and graceful. Owing to the popularity of pearls, Pearl rakhi has too grabbed the eyeballs of the people and has made one of the top choices of sisters for their brothers. Designed with beautiful colourful pearls, these sacred threads will look spectacular on the wrist of your brothers.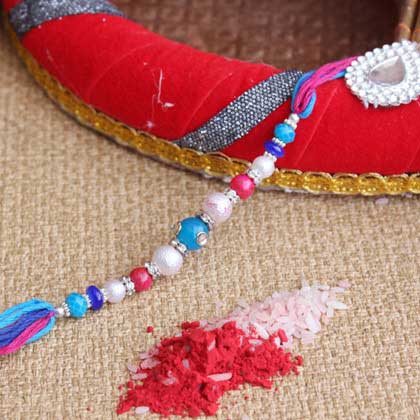 9. Lumba Rakhi
Pertaining to the Marwari traditions in Rajasthan, a sister not only ties a holy thread of Rakhi to their brothers, but also their Bhabhis which is called a Lumba rakhi. Recently, this traditions has taken over the entire world and sisters are seen buying Lumba rakhi for their Bhabhis as well. Lumba rakhi symbolizes the strong bond that exists between both the ladies and how they stand for each other. It is tied on the bangle and is now available in a variety of designs and patterns based on the ladies' choices.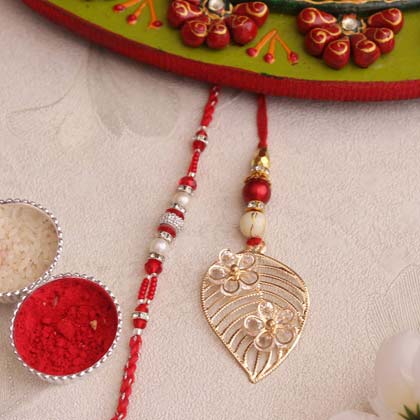 10. Auspicious Rakhi
Since the festival of Raksha Bandhan is considered auspicious for the brothers and sisters as it strengthens the sibling bond, an auspicious rakhi will be a perfect choice for your brothers to bless them with happiness, good health, and success. These rakhis will stand for divine blessings and will ward off negativities from your brothers' lives. Om Rakhi, Swastika Rakhi, Ganesha Rakhi, and Krishna rakhi are some of the popular auspicious rakhis available online.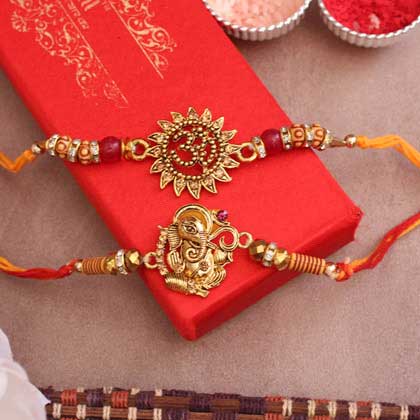 The Final Words
The word "designer" is in itself is enough to create quiver among the people for anything. And, with this word associated with the holy threads of Rakhi, there is a high demand which is noticed among sisters for such kind of rakhi. With a good number of options of designer rakhi available online, you can select your favorite one from wide galore sacred threads and make your bonds with your brothers even more strong and everlasting.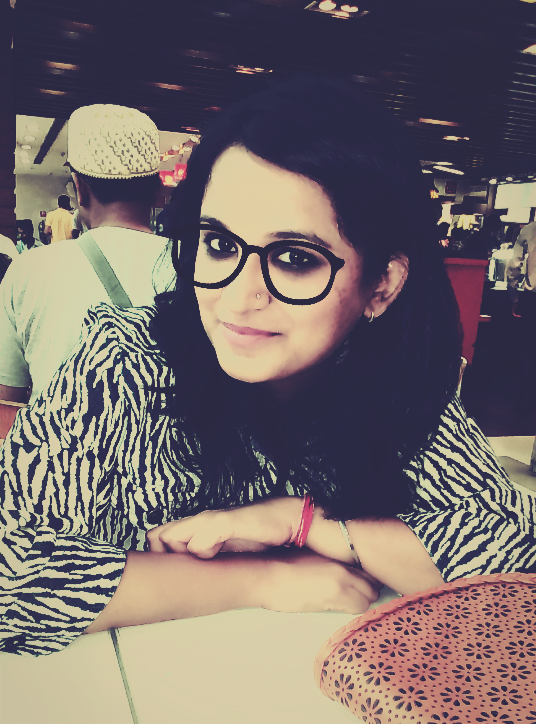 Sakshi Ecavade is our in-house content developer having a good understanding about the gifting industry. She creates quality content surrounding flowers, chocolates, plants, cakes, and other products which makes excellent gifts for the people. Accurate and authentic information is what she tries to deliver through her blogs.