So folks, are you up for online rakhi shopping? Couldn't figure out which sacred threads to choose for hard-to-please brother? Well, come Raksha Bandhan and sisters feel the anxiety in choosing the best rakhi thread for their brothers. Worry not, if you have started feeling dizzy, just because you can't decide.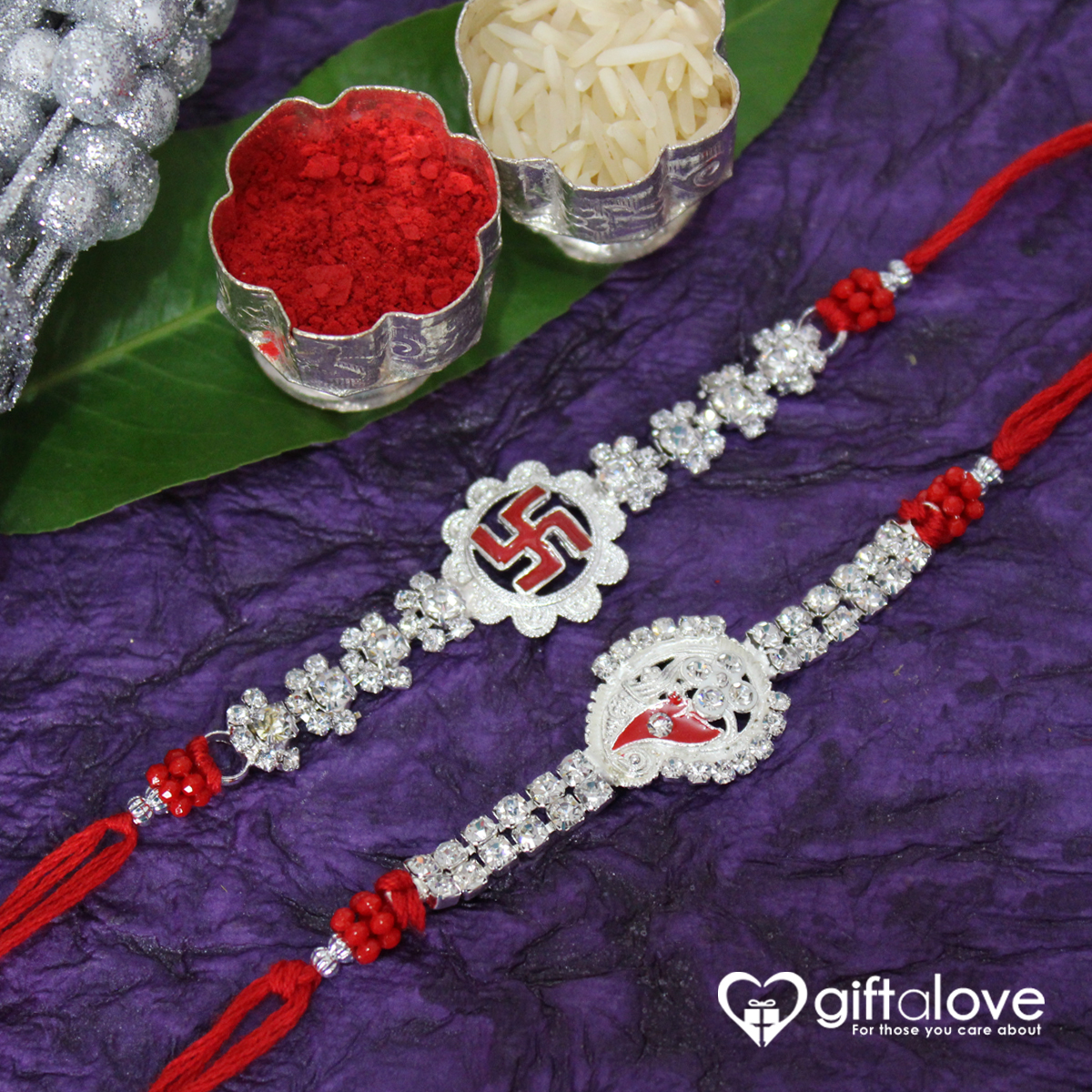 Here we have come up with some beautiful, stunning and attractive rakhis to choose from.
Whether you want to send rakhi to Bangalore, Delhi, Mumbai or any other place, these are what you should order for! Let's check what we have brought for you this season of siblinghood!
Delight Him with Designer Rakhi
While we are having designer clothes everywhere, how about designer rakhi! Yes, the sacred thread has gone designer and evolved a lot! As the name suggests it comes with dazzling designs. You can never be wrong getting one for your brother. Even hardest to please brothers would get sparkling eyes when seeing a designer thread being tied on their wrist! What's exciting is the variety! From peacocks to stone-studded, embellished and pearl-encrusted, you would be just spoiled for choices!
So, when embarking online shopping ensure you get this one at first!
Incite his Spirituality with Rudraksha Rakhi
Rudraksha holds greater religious significance and is said to be pious. Is your brother somebody with spiritual bend of mind? Choose a rudraksha rakhi for him then! Unliked designer one, this thread features the beads of rudraksha as main ornament. It is further enhanced by tiny trinkets, beads or reshams that are used widely. You can find it in both simple to elaborate designs. It is also said to bring peace to the wearer. So, girls, it's time you buy this rakhi for your loving brother!
Pep his Wrist with Pearl Rakhi
Pearly affection is sibling affection! This season; get your brother's hand dazzled with a pearl rakhi. From a central pearled rakhi to the one with many pearls, the choices are immense. Even tiny to big pearls can be found beautifully adorned on the rakhi! Get one and delight your brother! This fancy rakhi is what liked by each and every brother out there.
Surprise Him with Magnificent Mauli Rakhi
Of all rakhis, the one which never goes out of fashion is mauli thread. Mauli is sacred and is a significant part of all Hindu celebration. Whenever any religious celebration comes, tying mauli becomes a tradition. As it is made of sacred threads, tying it proffers good luck and God's blessings as well.
Wow Him with Kundan Rakhi
Kundan, yes a gem which has been wowing people since ages. It has now taken the form of rakhi. Kundan rakhi is one of the most beautiful rakhis perfect for brother who loves something very special. You can never go wrong by choosing this one as the majestic feel of kundan is what gonna make your brother dazzle in joy!
It can be found in simple to luxurious designs as per your budget and choice.
So, girls, give you rakhi online shopping a pause at our site. Explore, find out and choose a perfect thread made exclusively for your dear brother.
With varieties swarming the market this season, we are sure you would get one as per your likes. While choosing the thread, make sure you take care of your brother's likes and dislikes as well.
So, be prepared to wow him this Rakhi festival girls!