Husbands are undoubtedly one of the most extraordinary men in every woman's life who deserve special attention, especially when it is his birthday!! Well, having a wife like you is the best gift your darling husband has, but, still, for the formality, some kind of special token of love will be perfect for making him think that you have done something special for him on his birthday! Okay, fine!! We were just kidding, as every husband out there knows well that his wife wants the best in the world to gift his dear husband. This is why every wife starts researching romantic, funny, and thoughtful birthday gifts for him a month before.
Every wife claims that she knows her darling husband the best, whether it is about his hobbies, fantasies, choices, best cricket or baseball team, favorite pizza topping, or his favorite side of the bed. But, when it comes to finding the aptest birthday gifts for romantic husband, the job becomes terribly tough and challenging. Birthday presents are something about which wives are confident at the start, but when the birthday is just around the corner, they start getting confused or doubt their choice. This is a prevalent scenario that many of you might have felt during the initial days of planning for something big. Those butterflies in the stomach sort of feeling are ubiquitous and also essential to let you know going the extra mile for someone special has a lot to do in the background.
Romance is needed for a healthy married life, just like you need your morning coffee or tea for the best going day. Finding romantic gifts for birthday is easy when husbands have to do it for their wives, but when it comes to the wives surprising their husbands and that too in a romantic way, the job becomes double difficult. Husbands believe in going thoughtful over-romantic, don't know why. But, now, there is no need to scratch your head anymore as you have us at your part. We are here with this much-needed curated list having birthday gift ideas for husband to infuse your married life with romance and a hint of spice once again.
So, what are you waiting for? Quickly have a look at what we have in our house to make the birthday celebration of your darling husband more than special:
1. Romantic Wallet Cards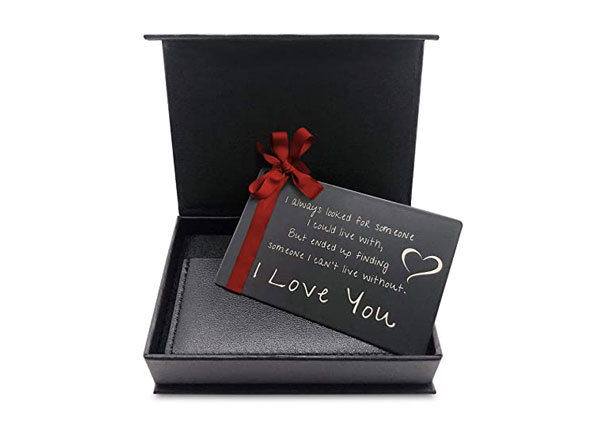 No matter whether you're enjoying your newlywed phase or have been happily married for years now, reflecting your love to your partner is never off-trend. Owing to this, you can get your lovable husband some romantic wallet cards embellished with a sweet photograph as a birthday gift. These small, cute, & adorable wallet cards are undoubtedly one of the most romantic ways to remind the special person that you love him the most. These durable cards are neither bulky nor expensive and will always remind your loved husband about you and the best time you both have spent together.
2. Laser Engraved Photo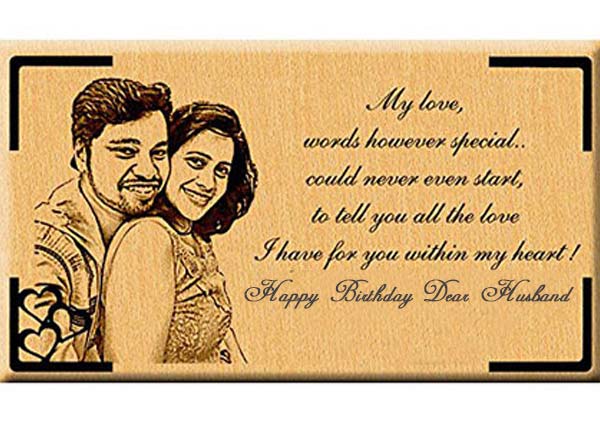 Are you searching for one such birthday gift that can be with you both throughout your life? Well, worry not as you don't need to do much in this case. Just take your favorite photograph and convert it into a special keepsake that you both can treasure for a long time. There are many options through which you can convert your memorable photo into a breathtaking custom-made portrait with engravings to showcase your best memories in a different way. The special laser engraving technology will make your favorite photos lifelike and give your house a special feel.
3. Box of Love Notes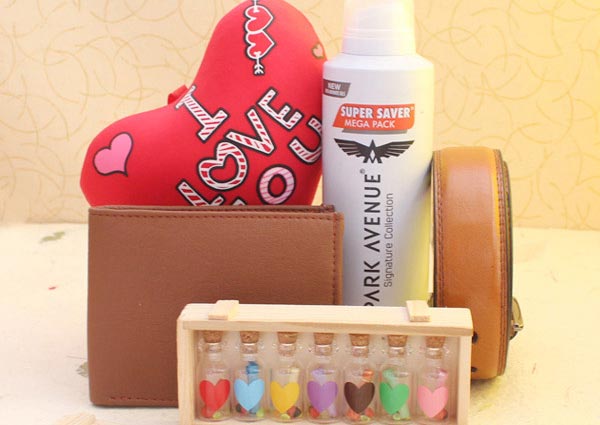 When was the last time you had confessed your love and emotions to your husband? Many of the wives have no idea when they have taken out some time from their busy schedule for your darling husband, and this is the reason for the faded love in many married lives. The best way to showcase your feelings in a romantic way to your hubby is a box of love notes. These notes in heart-shaped cards, along with some romantic words or compliments for your husband, will leave no chance in making the birthday month most special for your hubby.
4. Personal Message Bracelet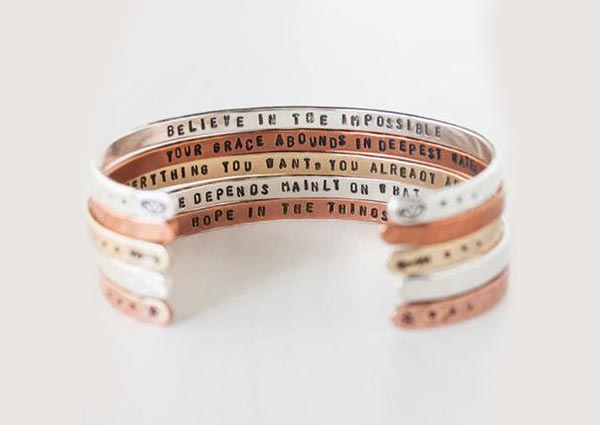 Giving your dearest husband a handwritten love letter with a secret message will surely make this special day grader and most memorable. But, do you wish to get your love of life something more than this traditional gift but also more romantic? Well, in that case, a leather bracelet embellished with a romantic secret message undoubtedly makes one of the heartfelt birthdays presents for him. You can easily get a wristband with a laser engraved romantic message that will constantly remind him how lucky he is to have a wifey like you in his life.
5. Photo Frame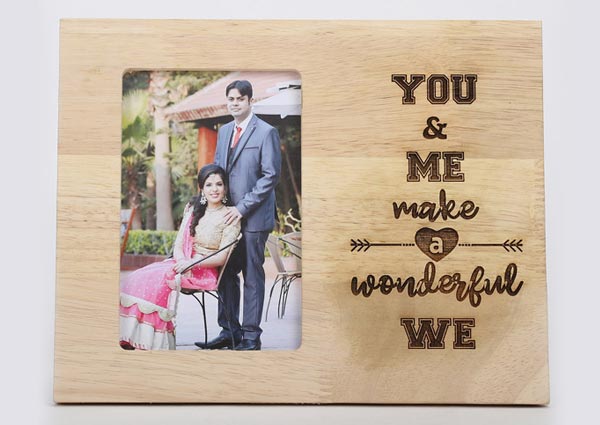 Getting married is the best feeling in the whole world, and when it is the birthday of your love of life, you must find something that can sum up all those special moments you both have spent together is the best gift for husband on this birthday. There could be nothing as better as special photos you have hidden in the photo albums depicting how much you love your husband. You just need to find the aptest photo frame to embellish your most favorite marriage photo, and not only your husband, but you will also like this gift given by you.
6. A romantic trip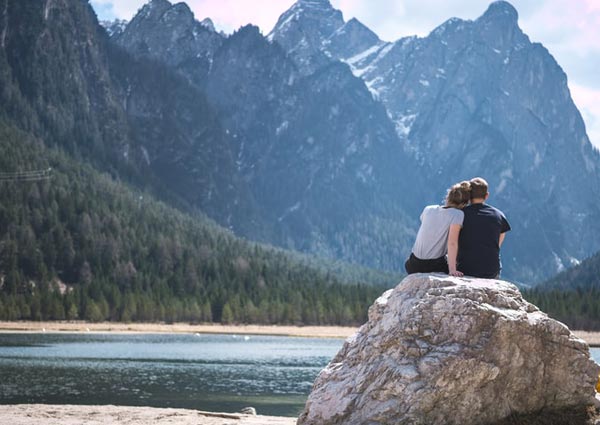 Surely, booking flights for your trip to Paris, London, or Switzerland might be prohibitively costly. However, it is also true that having a romantic trip to your husband's favorite place can still be the best way to celebrate his birthday. If you and your hubby have a bucket list, then it will be very easy to sweep your feet on a holiday trip to the most romantic getaway. If you are running low on budget, a holiday destination need not be lavish & luxurious. Just choose a destination having high-rated reviews for a couple-friendly vacation.
7. Back and Neck Massager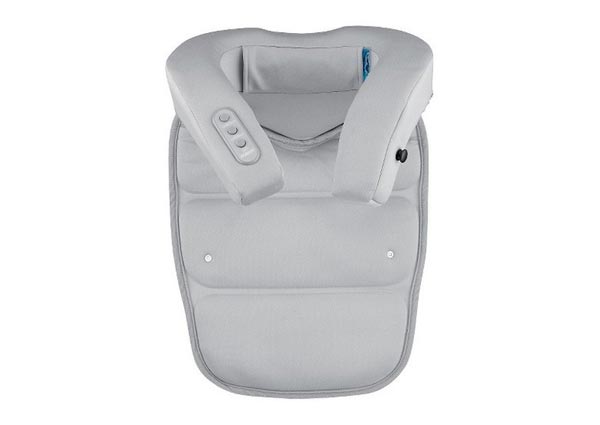 This option might sound a little off track as we are here trying to find the most romantic gifts for your darling husband, and a body massager is no near them. But, talking about husbands who always believe in going thoughtful over-romantic, and trendy, there could be nothing as better as giving him something he needs the most. Work from home might have gifted him a sore back and neck. A massager will make him very happy for sure. Also, you can plant a date diet sort of thing for him to make his birthday relaxing and more than special. His calming sleep and stress-free wake-up in the morning will give you the most happiness in the world. And, if you are lucky enough, you can convince him for a couple's massage.
8. Bluetooth Shower Speaker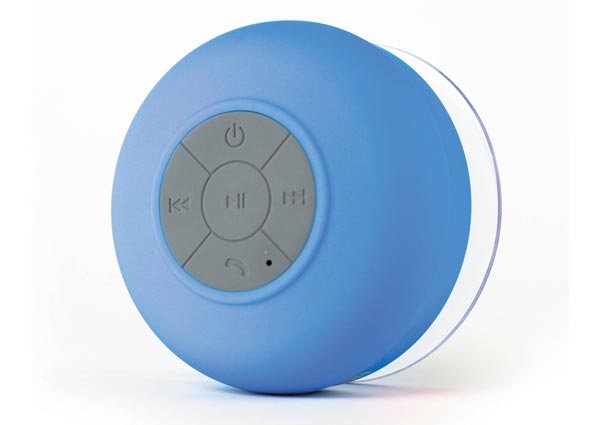 Your darling husband has always been by your side through all the ups and downs of life. And, for that, you want to celebrate his birthday with the perfect present that is not only trendy, bestselling, or romantic. You can even find tech gifts the best way to say "I love you" to him as shower speakers will turn out to be the best gifts for almost all the husbands out there who love to vibe on their favorite song. And, don't forget that his shower karaoke sessions are your favorites too.
9. Pursue his favorite hobby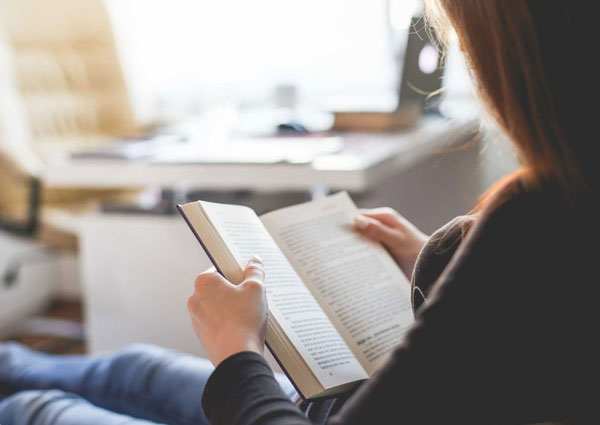 Regardless of whether you've never tracked down an individual enthusiasm for knitting or riddles, checking out your husbands' leisure activities, particularly in case you've been impervious to doing as such previously, can be an extraordinary method to give them a heartfelt surprise on his birthday. It's a simple method to show your love, romance, and approval to his weird hobbies. And, it may likewise prompt some new and fun encounters! Also, to make this special day more special, you can send romantic birthday flowers online to husband for a much more memorable and romantic day.
10. A handwritten love letter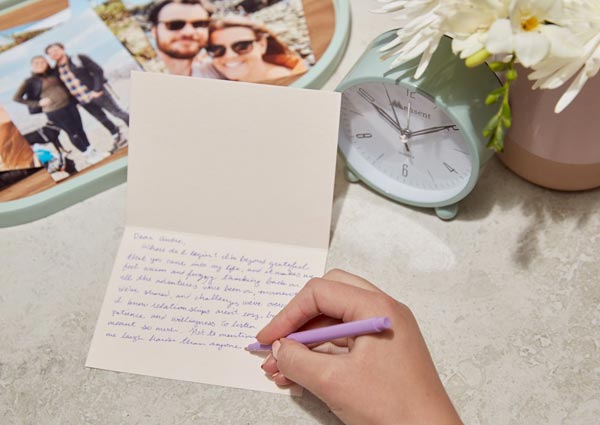 Putting pen to paper might feel like an out-of-date practice in the computerized age, and that is actually why a written by hand love letter feels like a particularly insightful and astonishing gift, especially for wonderful events like birthdays and anniversaries. Avowing or approving adoration and characteristics of your loving husband can promote and make an association in the relationship just as help during seasons of pressure when a couple is working through difficulties. A romantic handwritten love letter will also work as the perfect 30th birthday gift for husband.
Conclusion
Your love is truly the most priceless thing your husband has with him. But, when you are planning to make his coming birthday the most memorable event for you both, you need something special. The list we have curated has many pocket-friendly options so that you can take the affordable romantic route to surprise your darling hubby on his birthday. Apart from using cute & adorable wrapping paper, you can also add a handmade birthday card, chocolates, flowers, and, of course, a birthday cake to amp up the birthday gift for husband.
Are you struggling to wish your husband on birthday when he will not be with you on this special day? Well, thankfully, we at Giftalove.com, one of the best online gift stores in India, are here to help all the wives out there in making this special day worth cherishing for a lifetime. Our extensive collection of thoughtful, special, and romantic birthday gifts for husband/boyfriend at affordable rates. With same day & express delivery services in India and abroad, you can send birthday gift for husband online with the comfort of your home.
So, do check out our range and wish your beloved husband a very blissful, lucky, successful, and happy birthday!!

Sakshi Ecavade is our in-house content developer having a good understanding about the gifting industry. She creates quality content surrounding flowers, chocolates, plants, cakes, and other products which makes excellent gifts for the people. Accurate and authentic information is what she tries to deliver through her blogs.