Here is our ultimate guide to the most gorgeous & budget Christmas decoration ideas for homes and offices for a happy holiday season! Get your living room (and every room in your house) decked out with our best Christmas home decoration ideas and props by purchasing needed, trendy, and best Christmas decorations items online. Whether you're decorating your tree or your yard, or even decorating the front door, our tips and tricks will keep you spreading cheer all year long. You don't have to spend a lot of time or money decorating your home for the holidays to make a big impact – and you shouldn't. All of the ideas on this page take advantage of small, affordable props, decorations, and furniture shifts. This will give you the winter wonderland of your dreams without emptying your bank account. Fret not to branch out from red and green when it comes to color schemes for Christmas 2021.
You'll find Christmas decor for every taste, from blue to rose gold, whether you want something traditional or more royal for decorating home for Christmas. An old toy train set you have been keeping in the attic can be transformed into an under-the-tree decoration, bright-colored Christmas candles online for brightening every nook & corner of your place. At the same time, a simple vintage Christmas candy box makes a stunning centerpiece. Christmas figurines such as Santa Clause, snowman miniatures, or gingerbread houses will look great when placed on the tabletop together over a mantel. Your family's Christmas tree will look positively luxurious with homemade orange and gingerbread ornaments. You can accomplish almost anything with DIY Christmas home decoration ideas and some Christmas spirit.
Are you ready? It's time to decorate! Let us get started –
1. Before You Decorate, Declutter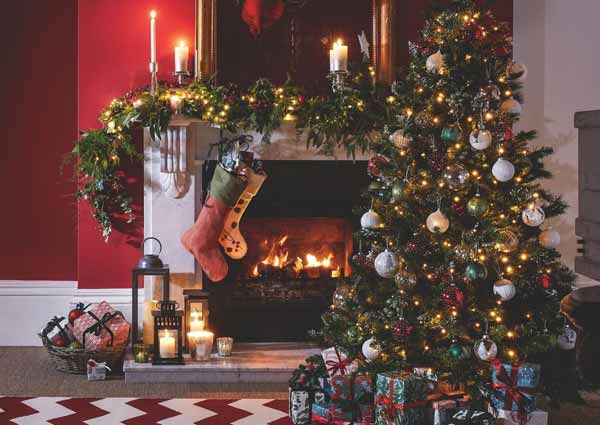 An evergreen garland decorated with a traditional Christmas tree, gold candlesticks, and red gold candles can be displayed in a living room. Your place will look gorgeous for the holidays in 2021. But, displaying every piece of décor you own isn't necessary, so choose your favorites. This time of year can be exciting for people to pull everything out of storage and display it all. You can also declutter as you decorate if you find things you no longer need before purchasing decor pieces or Christmas gifts online. A broken, junky, or extremely outdated item should definitely be thrown away to make your place presentable and ready for the festival. Choose pieces you cherish, are proud of, or that are sentimentally significant to you.
2. A Decor Theme Will Keep Things Simple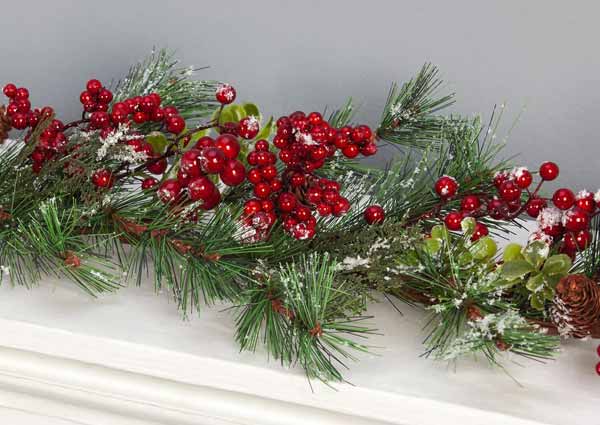 This simple Christmas decor scheme is stunning with accents of evergreen, beaded garlands, and pinecones. During the holiday season, there are many things to do. Keeping things simple & organized is no problem when it's possible. How can you go about it? Set a theme for your holiday décor this year, and keep all items that do not match it in storage. You stick with a theme and simplify your decor choices to create a beautiful look. When you have collected Christmas decor items over the years, you may not be able to use all or even most of them simultaneously. The advantage of this approach is that it will keep your decor scheme looking fresh year after year. Doing an ornament tree one year and a fruit tree the next keeps your designs feeling fresh each year, instead of redundant.
3. Make a Big Impression With Paper Baubles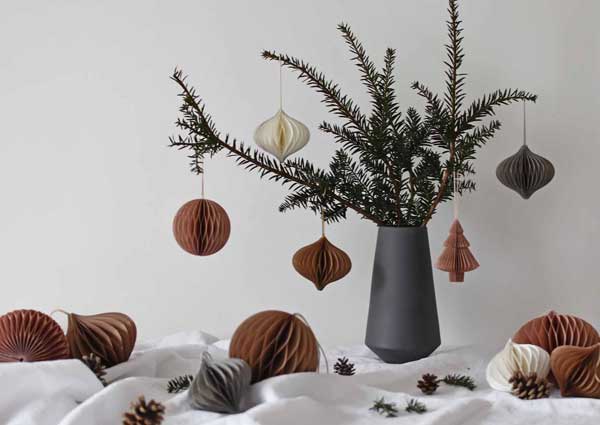 You don't need to spend a fortune to create an eye-catching display. If you are looking for a simple way to fill empty wall space above a sofa or sideboard, cheap paper baubles and folding fans look eye-catching suspended from the ceiling. Brighten up your presentation with a mix of colors, or keep it simple with all-white paper decorations and one-color decorations. Hang your decorations from colored cords or fine ribbons at a range of different heights for visual interest. Tack them down with thumbtacks. Making paper baubles will undoubtedly be an excellent activity for the whole family. Baubles are one of the best indoor Christmas decoration ideas for spreading holiday cheer.
4. Brighten Up Hallway With Festive Decor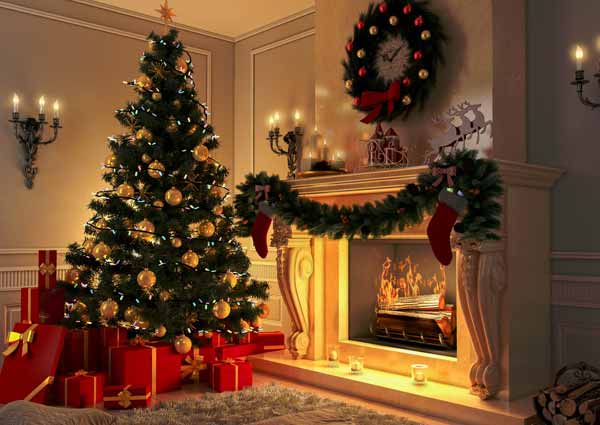 Splash a dash of Christmas color in the entranceway to make guests feel extra welcome. A single wall, or even one panel behind a console table, can be wallpapered with one roll of colorful and designer wallpaper and will brighten the room immediately. Add a few decorative items like figurines, miniatures, or Christmas personalised gifts online to your console table for a festive look. Fill the vases, plants, red berries, and mirrors decorated with bauble strings and gift boxes wrapped in jolly paper piles to make your holiday season much more special and memorable.
5. Beautiful Christmas Ceiling Decorations Aren't To Be Missed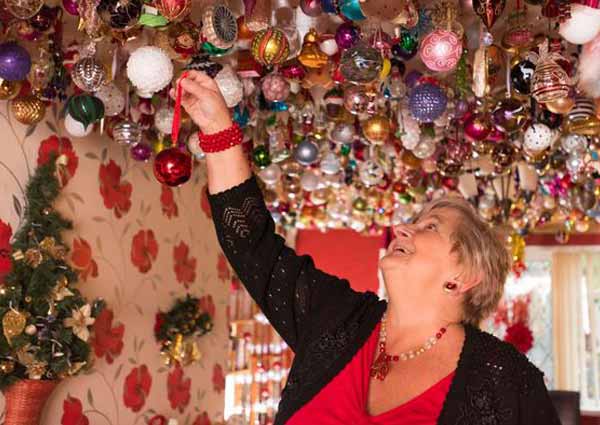 Irrespective of whether you live in a small apartment or a mansion, your holiday decorations aren't complete until you select a stunning Christmas ceiling decor. Red ribbons and thumbtacks can be used as decorations for the ceiling. Snowflakes can be hung across the ceiling as a decorative garland. If you want, you can hang ornamental Christmas balls along with balloons from the ceiling. Alternatively, you can also make paper chains and drape them across the ceilings and walls. A classic, rustic look can always be achieved by displaying ceiling-mounted wreaths or a garland made of berries, cones, and sticks.
6. Handmade Tags Make Presents Look Pretty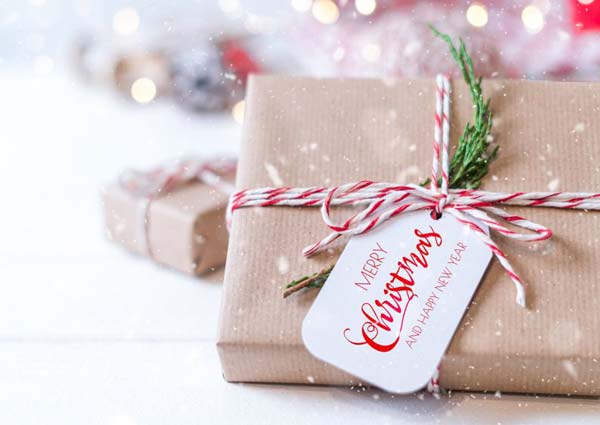 Don't hesitate to raid your Christmas decorations box when looking for high-end gifts. Inevitably, a few bits and pieces won't make it onto the tree, so why not put them to good use instead of packing them away again? A few mini baubles, shards of faux foliage, or broken-off pieces of berries are great gift toppers. Adding raffia or colored ribbon and a fancy tag to your wrapped gift gives it a chic, personalized look. Wrap your Christmas gift hampers in plain brown or colored wrapping paper for a smart look.
7. Window Decorations to Display the Holiday Cheer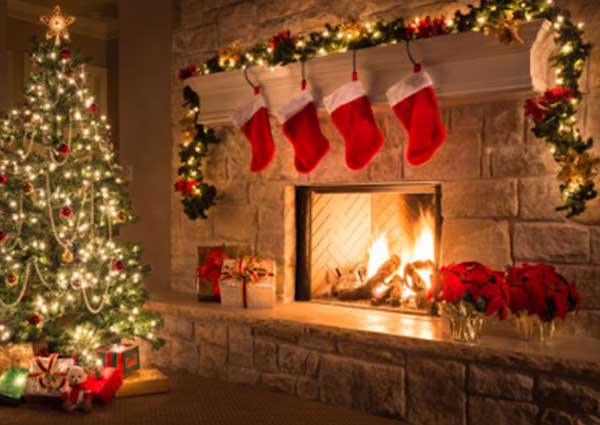 Christmas decorations inside the house are typically the most prioritized during the festival season. Consequently, our windows give the perfect glimpse into the festive moods of the family. It is, however, not uncommon for us to overlook the outdoor Christmas decoration ideas. Therefore, you can decorate the outside of your home this Christmas by giving them the attention they deserve. Many beautiful Christmas window decor ideas can make the outside of your house as cheerful as the inside, including metallic ornaments hung from the ceiling as they are great reflectors and give the room a glittery appearance. Alternatively, if you want to brighten up your borders, you can choose a lighted frame with rice or colorful lights. Keep your kids busy with some paper crafts for Christmas house decorations outside, which you can hang on the windowsill for a no-hassle decorative touch.
8. Make Decor from Your Own Backyard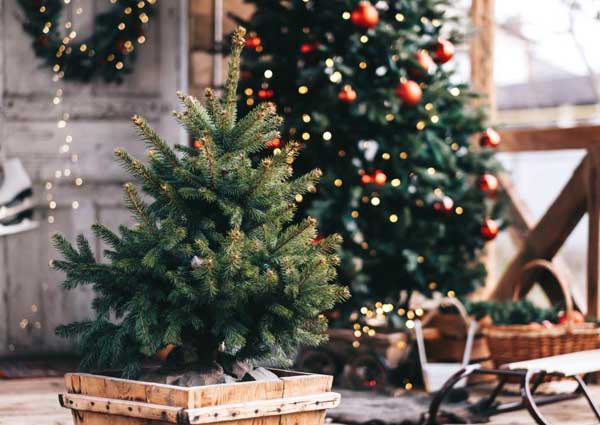 An evergreen console table topped with pinecones, sticks, and branches. Your backyard is one of the best places to find holiday decor, even though you may not be aware of it. You can find beautiful pieces in your backyard before shopping for decorations – or pulling them out of storage. Many people tend to forage near her home for holly, magnolia branches, and other winter greens. Another advantage of this approach: it's a lot cheaper. You can save storage space by putting your holiday decorations back into the ground once the holidays are over.
9. Put Ribbons On Your Front Door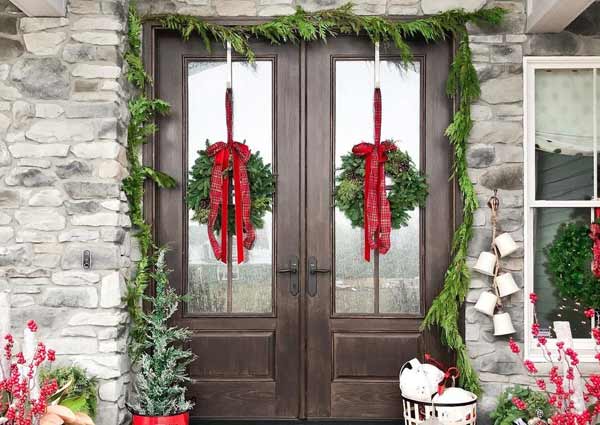 Entertain your audience this Christmas celebration 2021! You'll only need a reel of ribbon if you want to follow this simple but highly-effective decorating trend. A horizontal piece of ribbon and one full-length vertical piece are all that's needed to cross the door. The easiest way to determine how much ribbon is required – measure to the top of the door and secure it discretely with drawing pins. The pins will be hidden in the ribbon when the door is closed. During the season and after, it's easy to remove. If your budget won't stretch to a floral wreath, a statement bow tied with the ribbon is a great alternative. You should allow for extra meterage when making a bow.
10. An Eye-Catching Centerpiece For Table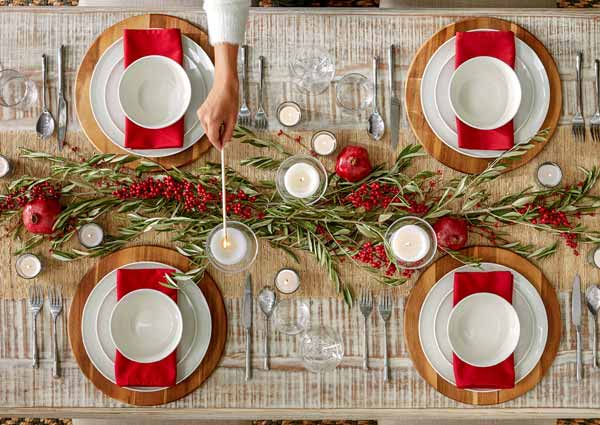 It costs a fortune to create an impressive centerpiece. Make the most of your cake stands by stacking them on the table to add height and drama. They can be adorned with leftover baubles, and dried fruit for an affordable decorative touch, plus the scent will add to the festive atmosphere. You can even buy Christmas cakes online with decent flavors and designs to embellish your dinner table and greet the guests with something traditional and unique.
11. Create Christmas Wreath by Foraging for Foliage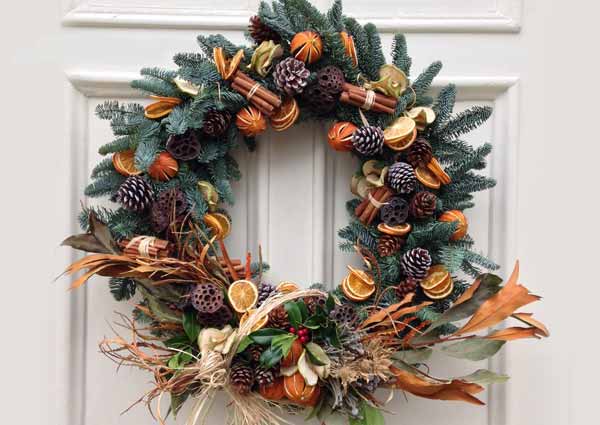 Nature is beautiful and free at Christmas – trees, wreaths, garlands, sprayed branches, etc. Forage for holly, pine cones, herbs, twigs, and sprigs in your wellington boots, then get home and create botanical masterpieces from their leaves. Having a budget doesn't mean you can't celebrate Christmas! People create Christmas wreath, fashioned from fragrant herbs, pretty baubles, and dried flowers. It's a great way to add style to a front door.
12. Create a Festive Display For Christmas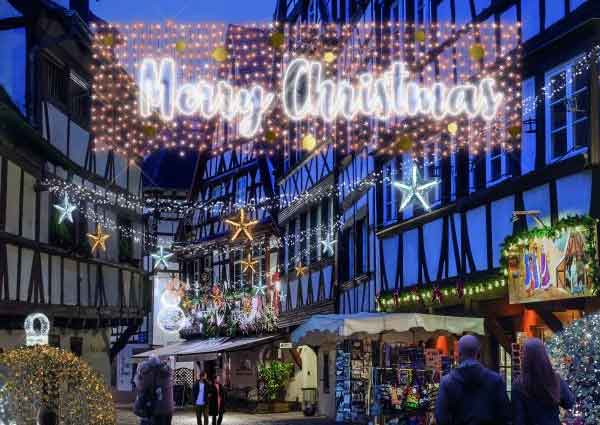 Your Christmas display can be spectacular if you make the most of every surface. You can create a stunning display of seasonal fruits on a budget by dressing side tables, sideboards, and even mantels with them. Possessing pomegranates in vases is an easy way to add style to a room with minimal effort. Alternative seasonal fruits, such as clementines, can fit your color scheme. If you buy Secret Santa gifts online for family and friends, you can definitely put them on display as well. They will surely look amazing at your home.
13. Wrap Props To Add Festive Abundance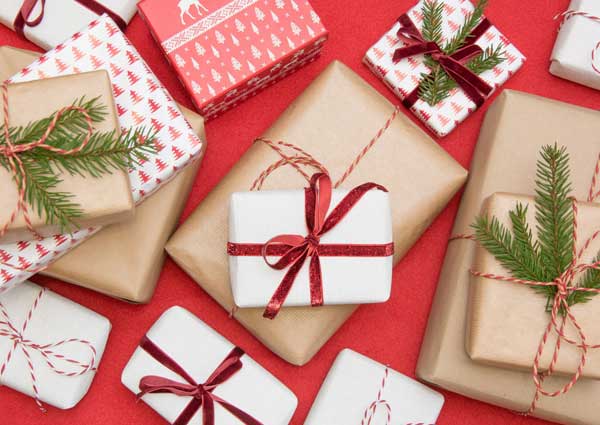 It's impossible to dispute the fact that Christmas decorations look all the better once the presents start arriving. It's like the saying goes, "fake it till you make it.". An exciting feeling can be added to all Christmas decors with beautifully wrapped boxes. Don't let the kids get too excited and open the boxes – you'll ruin the illusion, and they'll most likely cry when the box is empty.
14. Hang a Seasonal Basket Of Flowers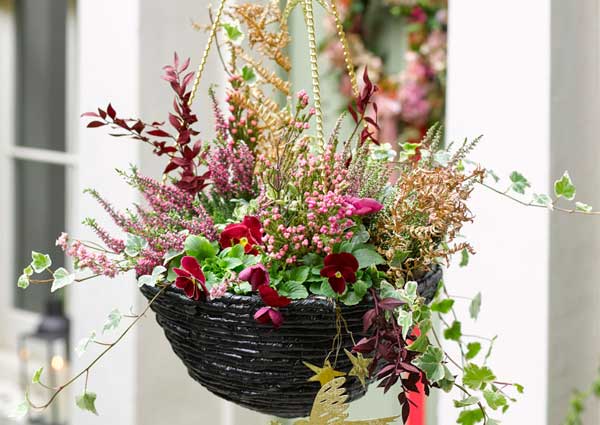 Put up a seasonal hanging basket instead of hanging a wreath on your front door. The exterior of a home will look much cheerier with a hanging basket of blooming Christmas trees. You can still add color to your front garden even once the Christmas lights have come down with seasonal baskets.
15. Decorate Your Tables With Festive Fashion Trees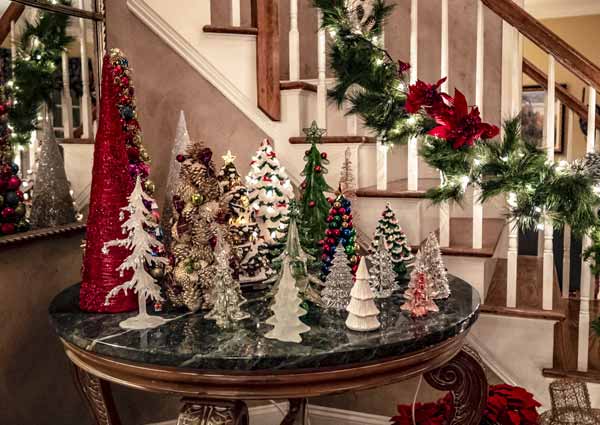 Place settings made of mini trees are a charming, festive way to set the table. You can make your own mini trees to get the same effect. Tealight votive can be made by placing cuttings from a real fir tree in a votive. A real tree can be easily shortened from the back, so you won't miss the branches. Dress the 'trees' with tiny baubles, otherwise lost on the big tree, to add a touch of personality. You can buy online Christmas tree for your bedroom, kitchen, & hall in different sizes and shapes and with different designs.
16. Streamline Your Plan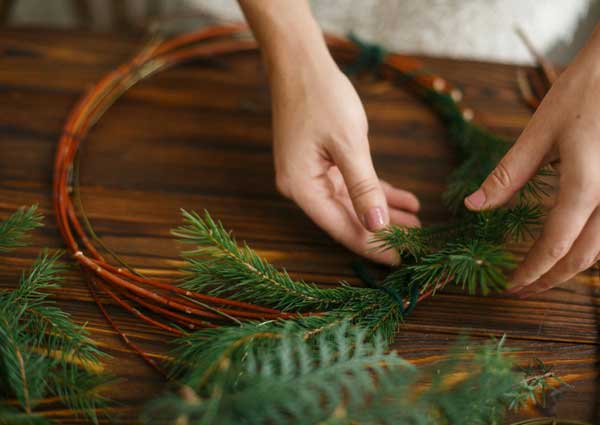 Creating a simple, heartfelt, festive atmosphere, and not very expensive is easy if you prefer an understated scheme. With wooden decorations in colors like red, white, and warm wood, you can give a neutral living room a Nordic twist. Put away the bauble-laden Christmas tree and replace it with a small tree strung with fairy lights and wooden ornaments. Decorate the mantel with a cardboard wreath suspended above a pared-back garland and lights.
17. Tone Down Christmas Decoration Colors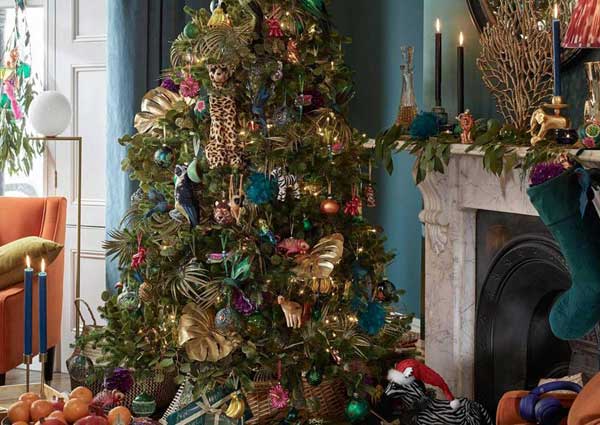 The dining room should be decorated in red and white Scandinavian style. Simply bring out red, white, or natural wood-colored, kitchenware that you won't have to spend a fortune on decorations. You might want to decorate your shelves with glass jars filled with red and white treats, such as candy canes, sweets, and foil-wrapped biscuits. You can add metal cookie cutters to a mini tree as decorations by tying red ribbons to the branches. Dress the dining chairs in red and white tea towels that serve as simple cushion covers and tuck lengths of striped baker's twine around the backs of the chairs.
18. Add Heirlooms and Souvenirs to Your Tree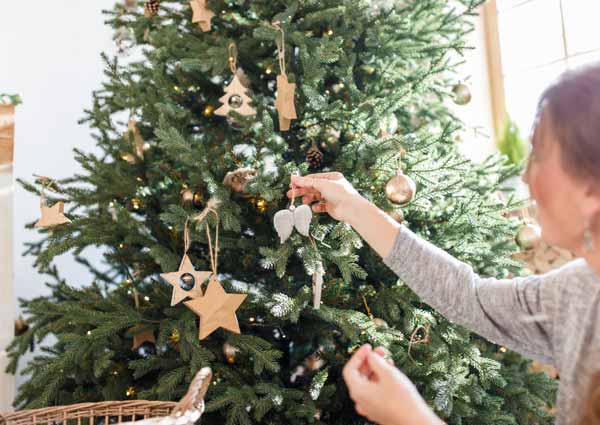 The ornaments on this Christmas tree should be a mix of kitschy and classic ornaments. You can use your tree to tell the story of your family. Everyone's favorite Christmas decor idea is to add embellishments to the tree each year to represent the past year. An inexpensive way to create an heirloom collection and mark the passage of time.
19. Wreath-Up in Traditional Style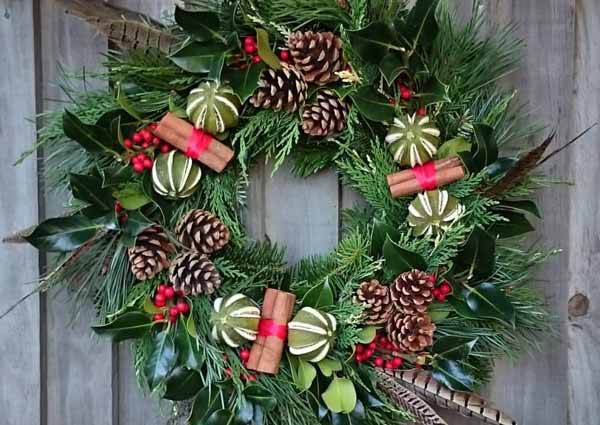 The practice of hanging wreaths over the door of a house to decorate it for Christmas has been practiced for centuries and is one of the more traditional ideas for decorating the front door. No matter what type of greenery you choose, nothing compares to the classic Christmas look achieved by wall-hanging wreaths. You can hang wreaths from windows and doors for a contemporary Christmas room decoration. Then, paint the outside of your home with soft rice lights for a nighttime wonderland that looks amazing and cheerful. You can consider colorful wreaths to send online as Christmas gifts for couples and everyone on the list.
20. Add Splash of Color to Dining Area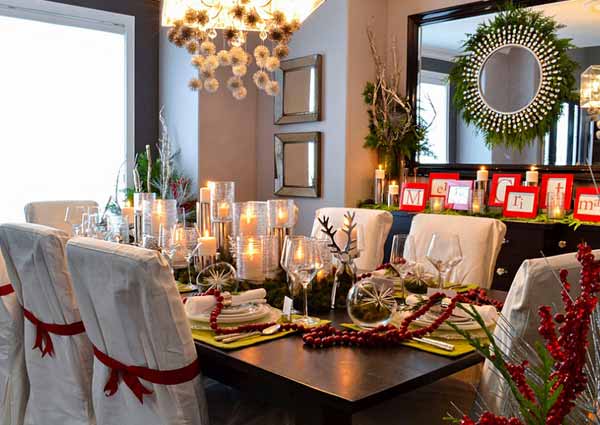 You can enjoy delicious Christmas treats in your dining areas, such as baked cookies, cakes, and desserts. Christian families have had a tradition of celebrating Christmas through carols for a very long time. Simply changing your tablecloth with colors, you associate with Christmas and hanging green wraiths from your kitchen walls or shelves can be simple Christmas kitchen décor ideas. Additionally, you may want to add a few DIY crafts and ornaments to add a personal touch. A big show-stopper of the dining area is the Xmas centerpiece, which you can create with just a handful of twigs and cinnamon sticks, a white candle on a stand dressed in Christmas red, and voila! This festive dining table is perfect for the feast.
The Final Takeaway
The holiday season is the perfect time to let your creativity shine. These eye-catching Christmas decorations will help you deck the hall & every part of your home this year. You'll find lots of ideas here to add cheer to all corners of your home – both indoors and out. No matter what your aesthetic, color palette, or budget, we have great ideas for you, whether you want festive door decorations to greet guests, table settings for a holiday feast, or full-on mantel displays. Apart from decoration, another essential preparation for the holiday season is to send Christmas gifts to Delhi, Mumbai, Kanpur, or anywhere to your near and dear ones.
It's great to decorate your entire house for the holidays, but small, subtle touches can make a big impact, such as adding a few homemade ornaments to your tree or wearing red and green on your staircase. There's something to make everyone in your house feel merry and bright all season long, whether it's a large villa or a small apartment. And, if you wish to buy gifts for Christmas online, Giftalove.com can always be your go-to option. We offer our customers with timely and reliable same day Christmas gifts delivery service to send gifts to loved ones with no obstacles.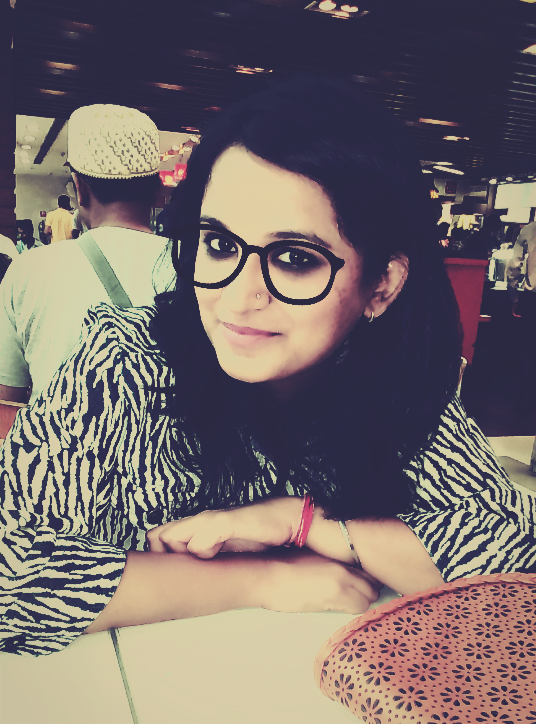 Sakshi Ecavade is our in-house content developer having a good understanding about the gifting industry. She creates quality content surrounding flowers, chocolates, plants, cakes, and other products which makes excellent gifts for the people. Accurate and authentic information is what she tries to deliver through her blogs.