No wonder the special day of Anniversary is rejoiced a lot by every couple. They share love, care, memories and romantic or thoughts gifts with each other. It's the amazing way of expressing love and care for each other on the day of celebrating their togetherness. To help a couple send the most thoughtful and heart touching message or anniversary quote, here this blog will definitely help a lot.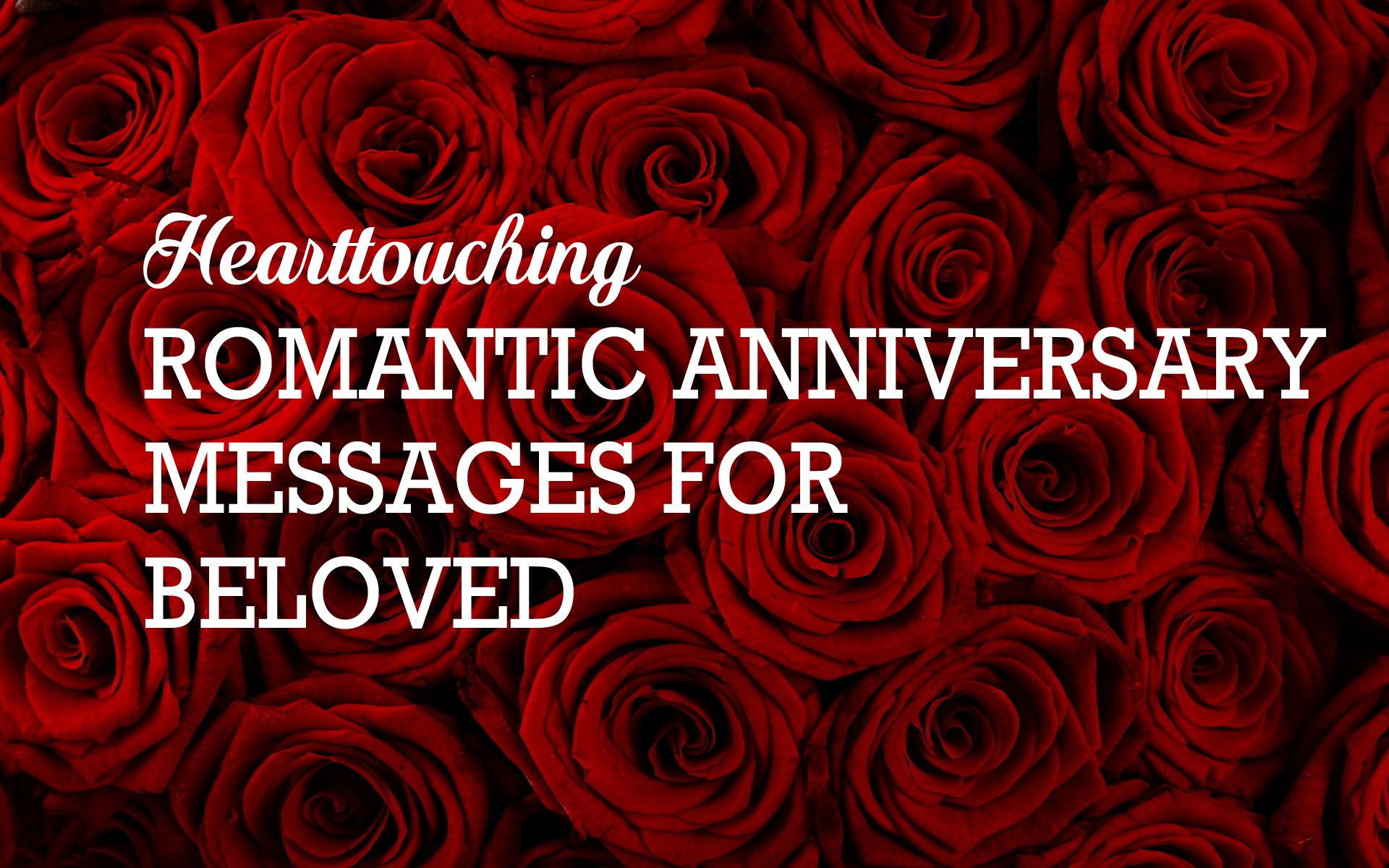 The moment a couple confess their hearty feeling to each other is the most special one. Another special moment for a couple is their anniversary. This is the day of celebrating their year of marriage and togetherness. Couple spends time together, share memories together and makes each other feel loved with exchange of anniversary gifts.
But, the least important is given to exchange of heart wining anniversary message or quote. Thus, here we have come up with thoughtful and romantic 25+ Anniversary messages and quotes to share with beloved and express hearty feelings romantically.
Here we start:
For Husband
He is your Mr. Right who loves and cares you. It's time to show him some love on this anniversary with heart winning messages and quotes like-
Since I met you, my life has never been the same.
Thanks for making it better and happier.
I love you and Happy Anniversary, hubby!
I thank God for giving me the best husband!
Another year to create precious memories together
Another year to discover new things to enjoy about each other
Another year to strengthen a marriage that defines forever
Happy anniversary husband
Our anniversary is not just a celebration of our wedding day.
It is the celebration of every day of being married to an awesome guy like you.
**Happy anniversary my darling husband**
My heart was forever stolen on the day we got married but the only thing different in this robbery is that I knew the robber. I knew he would take good care of it… forever and ever.
–Happy anniversary, to my handsome thief–
I have never met a man like you.
You are the real treasure, sweetheart,
and I thank God for your existence.
I'm so happy to be your wife.
Congratulations on our anniversary!
Sometimes I think that you have magical powers, because only you are able to brighten cloudy day, to warm me up on a cold winter's night, to heal me with your tender smile. Only you're able to make me happy, darling. Congratulations on our wedding anniversary!
Biology says that a man's behavior changes as he ages.
But you have proved that wrong because
You're still as romantic and charming
As you were when we started dating.
–Happy anniversary my love—
To my honey…
To my precious one
To my lover
To my everything
I love you. You know I always do.
I'm just happy we're in this together.
Happy anniversary
To our relationship…
I bring madness, while you balance it with stability.
I bring cuteness, and you coat it with elegance.
I bring smiles, which you convert to endless happiness.
**Happy anniversary**
To my husband on our Anniversary – one simple message: I LOVE YOU!
The happiness wedding brings is unmatched except for every day I spend with you.
Many years ago, I gave you my heart. You've given me so much more. I love you always.
It's been no labor of love to be with you – It's as easy as pie!
Wikipedia should have a photo of you in their "Perfect Husband" listing.
Our date to remember has a 60's theme – that's right, it's a love-in!
What more can a woman ask for with a man like you by her side.
You love has been timeless and endless.
You have loved me in my good moods and loved me even more in my worst side.
Thank you for being the best of the best husbands. Happy Anniversary dear!
FOR WIFE-
She is your beloved of lifetime who definitely deserves to get wished or congratulated with a special anniversary message like-
It doesn't matter how long we've been married
because I always feel in love with you.
I know that there are days when we just fight and can't seem to get along
But when the anger subsides and we have both calmed down,
There's always plenty of love left to make things okay again.
I'm so happy that you're my wife because you just understand me.
I love you…
!!Happy anniversary!!
All the words in the world could not even begin to describe how deeply I am in love with you, from the first moment I saw you until the never-ending heartbeat you have given me. You are not only my love, but you are my soul.
Our house would never have become a home without you.
Our kids would never have understood the meaning of family without you.
I would have never experienced love without you.
–Happy anniversary—
It doesn't matter whether it is our first, fifth, tenth or fifteenth marriage anniversary.
What matters is that I will always love you and you will always love me.
##Happy anniversary darling##
Some husbands dedicate songs, some dedicate a Facebook page and
Some dedicate gifts to their wives on a wedding anniversary.
I have kept it simple and dedicated my whole life to you, sweetheart
–Happy Anniversary–
Our anniversary reminds me
That there is someone who
Loves me, Support me,
Understands me, Caress me
Take care of me, Stand by me
364 days in a year!
How lucky can I get?
Another 365 days is coming up!
Brace yourself, wifey!
Happy Anniversary!
My wife, you are so loving, beautiful, romantic, tender, kind and caring.
Words are not enough to express how much you mean to me.
Thanks for being there for me and for another lovely year of marriage.
"HAPPY ANNIVERSARY"
To the beautiful woman who has given me the most beautiful life, a very happy anniversary!
I want to thank you for everything you do for me and the kids.
I know that it's not easy managing our home,
Taking care of the kids and having a career,
But you make it look so easy.
You look so beautiful doing it, too.
How did I get so lucky? I love you, honey.
!!Happy anniversary!!
My dear wife, you will always be in my heart,
Because it beats only for you
With you, I'm the happiest man on this earth.
Thank you for the previous years, let's do it again.
Happy anniversary sweetie!!
My dear wife, there are a lot of things I am incredibly grateful for to you:
For your sweet morning smile,
For your delightful dinner which is cooked even if you're extremely tired,
For your kind and understanding heart,
For your support at a critical time
And for your endless love
Congratulations on our wedding anniversary!
In times of either troubles or happiness.
I know you are always with me and stands by my side.
You are everything that i could ever ask for.
Here's to another year of our lives together.
**Happy anniversary my sweetheart**
The day that celebrates the years of marriage is very special and romantic. Apart from making each other happy with anniversary flowers and gifts, spend some time to express it in words and honor each other's inevitable presence in life with a heart touching anniversary message or quote. And to help with gifting, GiftaLove.com has extensive range of anniversary gifts, flowers and anniversary cakes to shop online with never before ease.