What could be more exciting than the bright colors of spring blooms after the dreary browns and grays of winter? You can expect to see the best annuals, perennials, and shrubs in early spring. Mother nature is more fickle than we'd like to see in March and April, but many early bloomers are found to be tough and can handle a frost or two-and, even a freakish late-spring snowstorm! Some popular spring-flowering plants with best spring flowers, such as grape hyacinths, have to be done during the fall to bloom the following spring, but many other varieties can be planted whenever spring arrives. And, to help you buy spring flowers online, we have curated this list having 20 spring flowering plants for you.
Spring Plants Caring Tips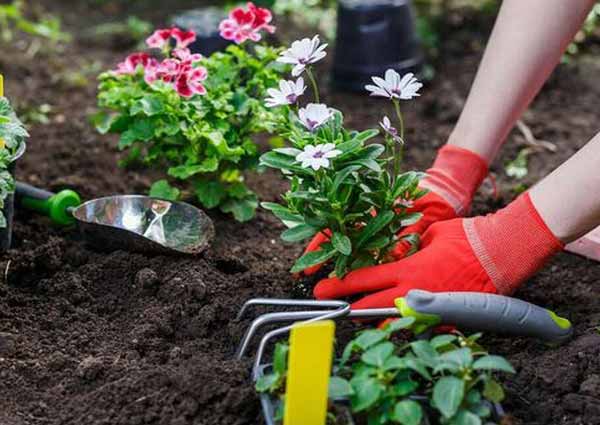 You should, however, read the plant tag or description carefully and make sure the conditions will be ideal for them.
For example, in full sunlight, you need at least six hours of direct sunlight per day, while in part sunlight, you need half that amount.
However, plants that grow in the shade should be located in areas that don't receive direct sunlight.
It is also essential to check the mature size of the plants on the tag.
Even a tiny plant will eventually grow, so it needs plenty of space to grow.
Plant it far enough away from your other plantings that it won't crowd them or need to be moved.
Keep in mind that perennials or shrubs that return year after year must be hardy enough to make it through the winter in your region.
Here are some great early spring flowers you should try in your garden, including their names, descriptions, and pictures. Check out the list –
1. Snowdrop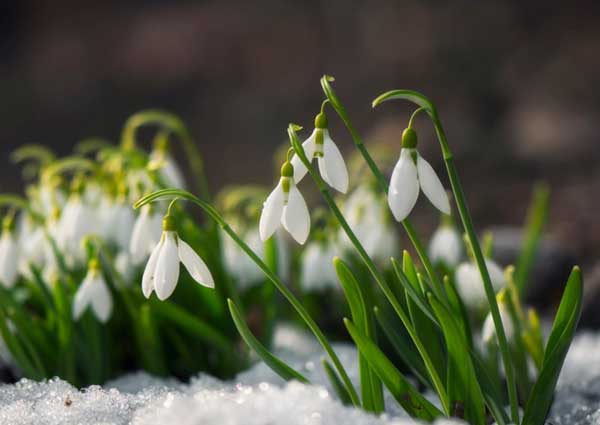 Also known as Galanthus, these bulbs must be planted in the fall to bloom in early spring, mostly when there is still snow on the ground in northern climates (thus the name). Rich soil is best for its dainty drooping white and green flowers. Mostly shaded or partially shaded conditions are required for the ideal growth of this particular plant/flower.
2. Pansy and Viola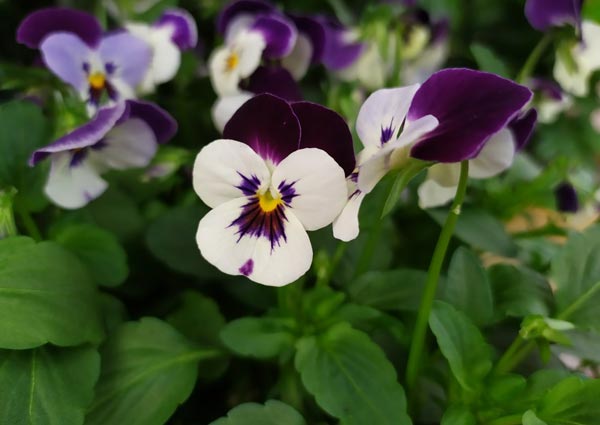 These charming annuals represent every shade of the rainbow, and their cute faces make them an attractive addition to any garden. Violets and pansies will brighten your early spring garden when you plant them in pots, baskets, and window boxes. Several types of plants spring back to life in the fall or drop seeds so that they will grow on their own the following spring. Sunlight in full swing is required for the mature growth of this flower.
3. Crocus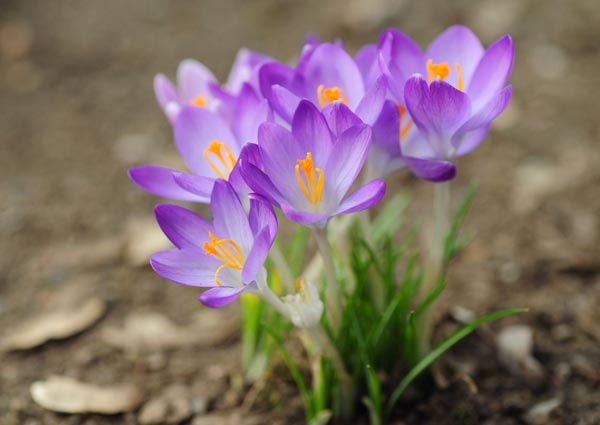 These hardy bulbs often grow when snow is still on the ground in winter climates. Crocuses should ideally be planted in the fall for a springtime display, and don't be surprised and awe-stroked if you find them where you didn't plant them, such as under a shrub! They are tasty for rodents, so they often dig them up and bury them somewhere else.
4. Sweet Alyssum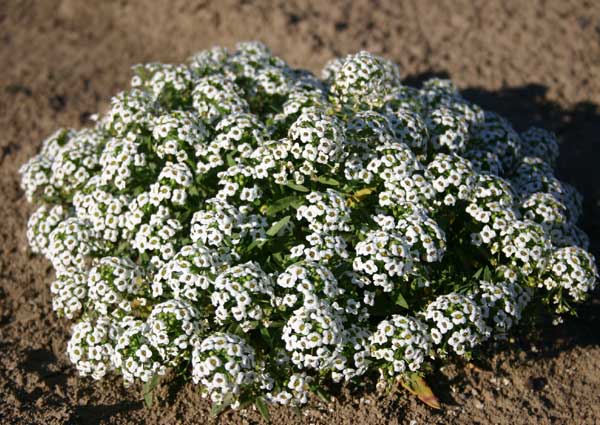 This tiny but mighty annual is fragrant and a favorite with pollinators—layer sweet alyssos with spring bulbs or other more upright, cold-tolerant flowers, such as snapdragons. Alyssum flower blooms the best in moderately cooler temperatures. If the temperature around starts to get shaggy in the summer heat, cut it back, and it should bounce back when temperatures cool down again. Full sun to partial shade is just perfect weather conditions for the full matured growth of the spring flower.
5. Pussy Willow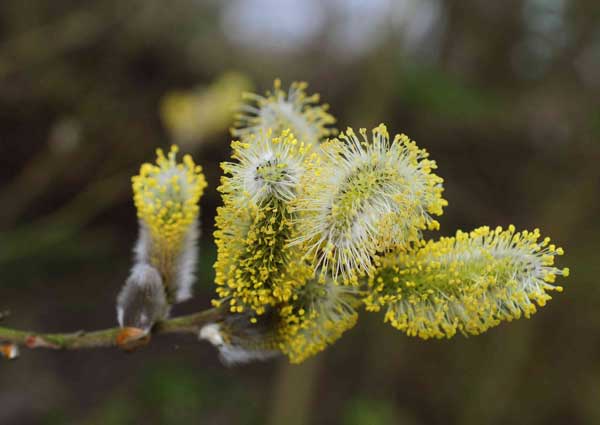 This shrub is one of the first signs of spring, budding in late winter and early spring. Like all willows, they prefer moist areas. The fuzzy "catkins" that appear on bare branches create cheerful and long-lasting cut stems for pots. Full swing sunlight to partial shade works the best for the healthy plant in your garden.
6. Poppies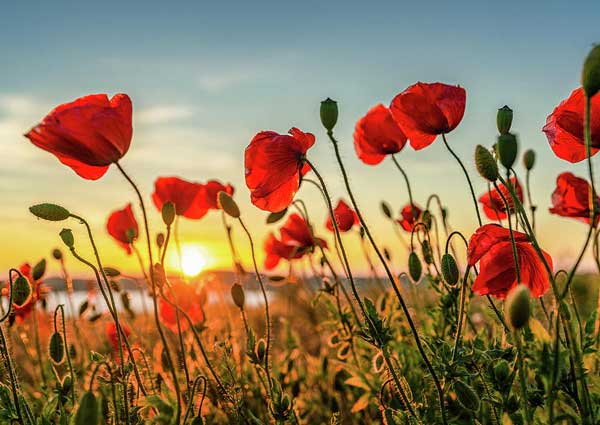 Visitors to the relatively arid Mojave Desert might be surprised to find dense concentrations of California's official flower, the fluorescent orange California poppy, in spring. Your garden will look supremely amazing and beautiful when covered with gorgeous poppies and other popular local wildflowers during the spring season. If you are planning a vacation during the spring season, the reserve's seven miles of trails will surely add a great way to add hiking to your spring vacation plans.
7. Primrose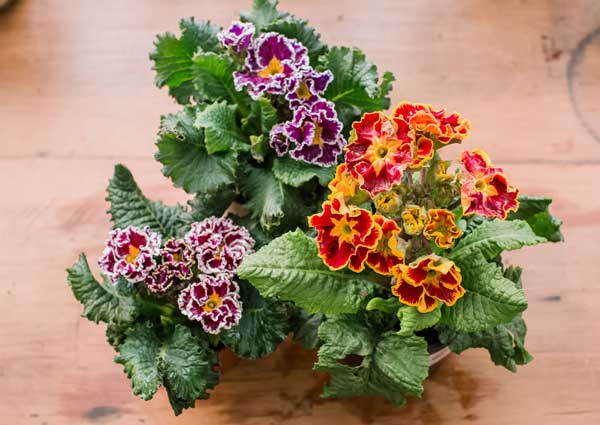 Primroses, one of the most beautiful spring flowers, appear mostly in the early spring season and that too in a rainbow of colors, including white, canary yellow, dark purple, and pink. They are easy, poorly maintained perennials that often bloom when there is snow on the ground. There are many varieties, so be sure to buy one that is a perennial that will survive the winters in your area.
8. Tulips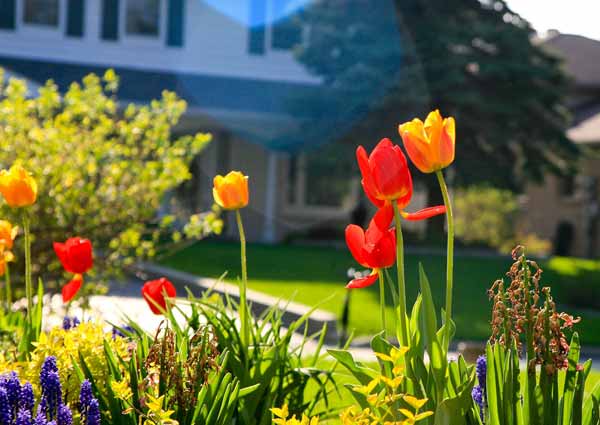 In Lisse, the famous, widely photographed Keukenhof Gardens is the most extensive tulip garden in the world, with around 4.5 million Dutch tulips covering almost 80 acres of land. At least visitors can enjoy more than 100 beautiful and most popular varieties of tulips blooming here every year, in varieties of colors such as dark pink China tulips, yellow West Point tulips, and red Mariette tulips, and other types of flowers (daffodils, hyacinths) and trees. Moreover, if you wish to buy birthday flowers online during the spring season, Tulips can be your go-to options for sure.
9. Daffodils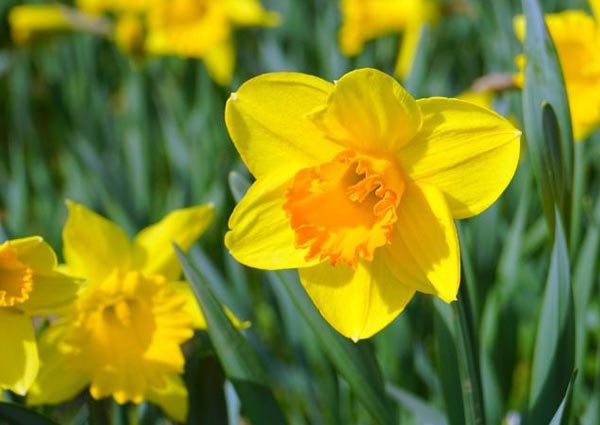 Head to the Cotswolds in the UK to see vast rows of buttery yellow daffodils. When the wildflowers bloom in their millions (probably), the countryside turns lush yellow, especially in a section aptly named Daffodil Way in the Leadon Valley. In the small village of Dymock (pop. 300), join hundreds of hikers on the circular trail to enjoy miles of vibrant and beautiful wild daffodils in their natural habitat.
10. Rhododendron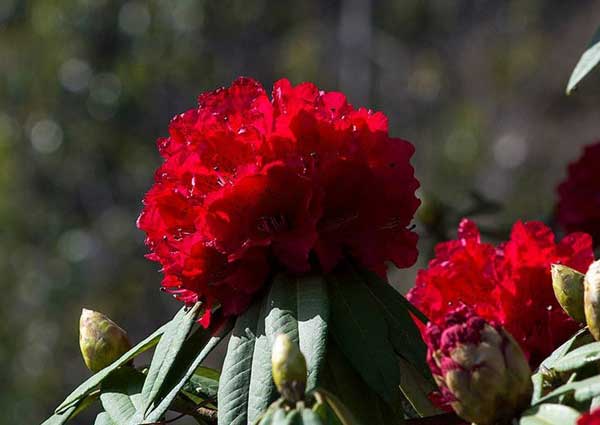 Rhododendrons have glossy leaves and bloom in late spring in shades of white, salmon, peach, pink and purple. There are evergreen and deciduous (which shed their leaves) varieties, so read the plant label or description to be sure what you're buying.
11.ForgetMeNots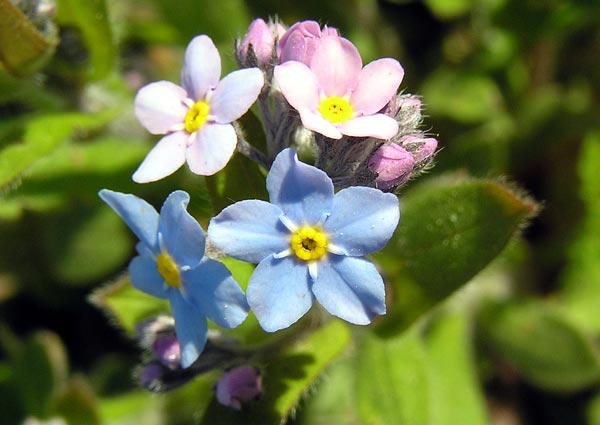 You've probably seen forget-me-nots (AKA Myosotis sylvatica) every spring, as they tend to appear this season (or sometimes, summer) in shades like pink and blue. Having these gorgeous flowers in your garden or around you, you are going to the right path.
12. Cherry blossoms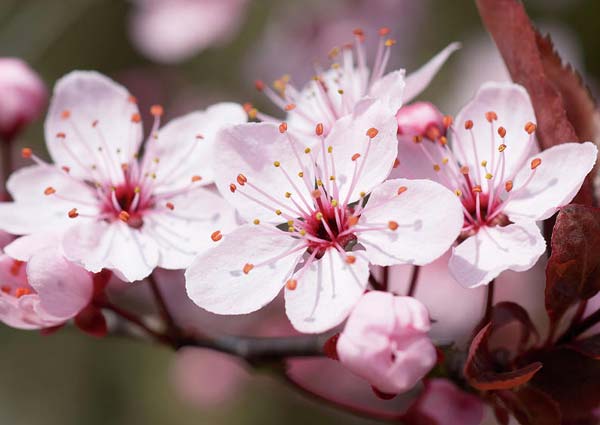 In 1912, the mayor of Tokyo donated 3,000 Yoshino cherry trees to the United States. Today, these trees line historic landmarks and the banks of the Potomac River Tidal Basin in the nation's capital. Washington, D.C. celebrates the annual National Cherry Blossom Festival to commemorate the friendship between the two countries. These delicate pink and white flowers line the streets of Japan in spring, especially in the major cities of Tokyo, Osaka, Kyoto, and Nagoya, where you will find these trees in their thousands. Visit Tokyo's Yasukuni Shrine if you wish to enjoy a sight of a dense concentration of flowers blooming in full swing. If you wish to make your anniversary special by buying anniversary flowers online, a garden with Cherry Blossoms will turn out to be a perfect anniversary gift.
13. Daphne Shrub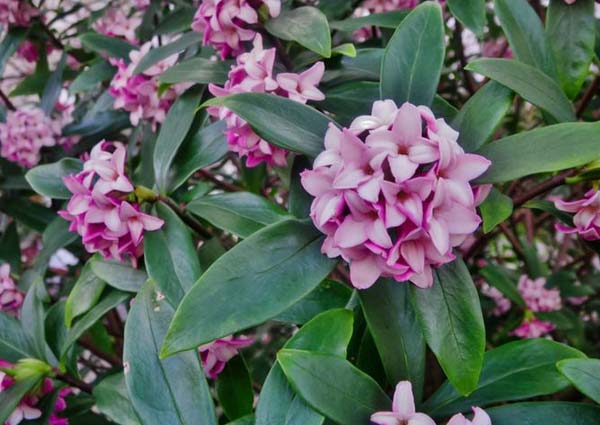 This sweet-smelling, little-known shrub is a real charmer in the spring landscape of southern climates. Daphne shrubs bloom proportionally in the late winter and early spring season. Many gorgeous species of Daphne are evergreen, and most maintain a beautiful round shape, and it requires very little care from the parent. Full sunlight with afternoon shade in hot climates will work perfectly and ideally maintain your plant growth in your home or garden.
14. Deciduous Magnolia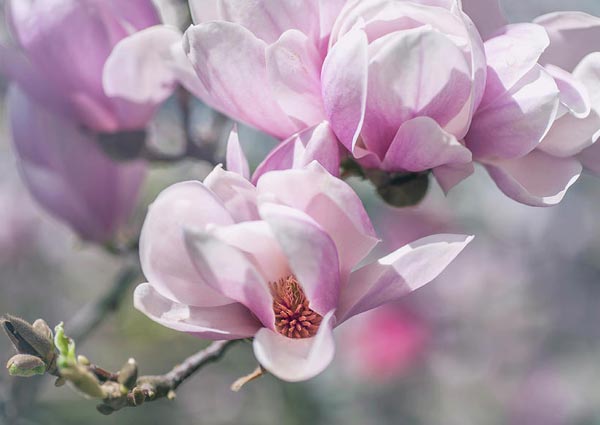 These early spring plants have beautiful, almost unreal flowers that will make your garden look eye-catching and supremely beautiful. Whenever any of your visitors have a look at your garden with Magnolias all around, they will surely wish to travel again. As there are many different types, be sure to select one that suits your USDA resistance zone. Full sun to partial shade.
15. Wallflower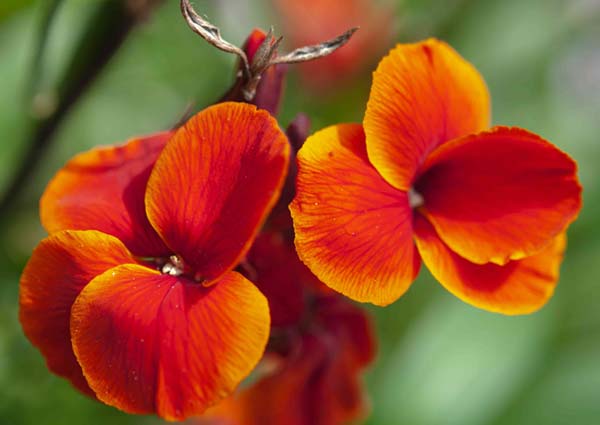 Wallflowers come in almost every color of the rainbow and have a delicious fragrance. Plant them immediately after the last expected frost date. They are considered short-lived perennials, lasting only about one season. Wallflowers are also known to thrive growing between the mortar of stone walls (hence their name!). You can keep this flowering plant in full sunlight in your garden, and when kept inside your home, the partial shade will work absolutely fine.
16. Grape Hyacinth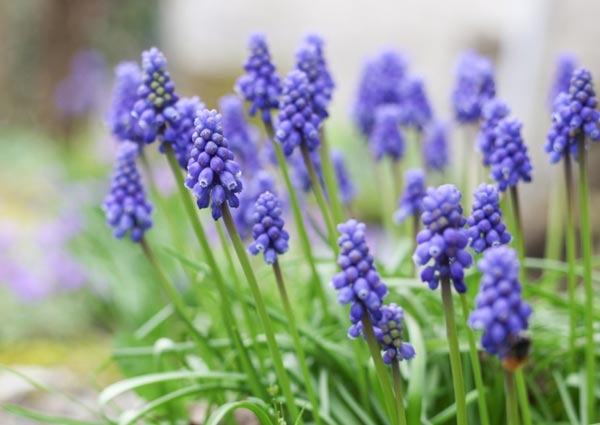 The delicate, grape-scented flowers, named grape hyacinth, grow about four to six inches tall when maintained healthy environment. So, these sping plants will look great in rock gardens or along flower beds. Plant them in the fall for next year's spring blooms. They naturalize easily, so you'll have more of these delicate little flowers each year. Full sun to partial sun will work perfectly fine for the mature growth of the plant when kept in your garden.
17. Diascia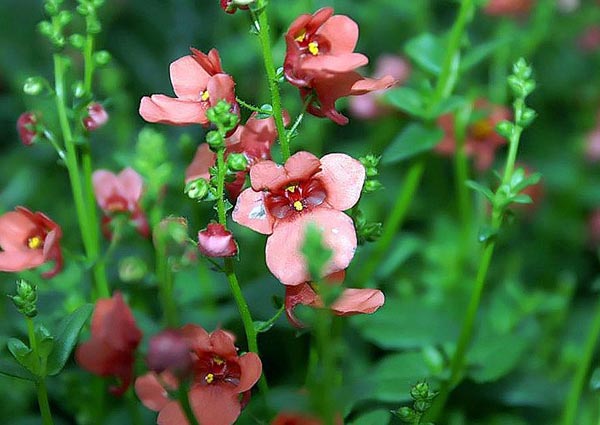 The tiny, open-faced flowers of this lesser-known cool-season annual come in pleasant spring shades of pink, peach, and white. Plant them with other spring flowers in pots or as a ground cover. They fade in hot weather. The ideal conditions to grow a fully healthy and mature spring plant includes full sun to partial shade. In many countries, this special spring flower is considered as one of the best spring flowers for bouquets.
18. Winter Jasmine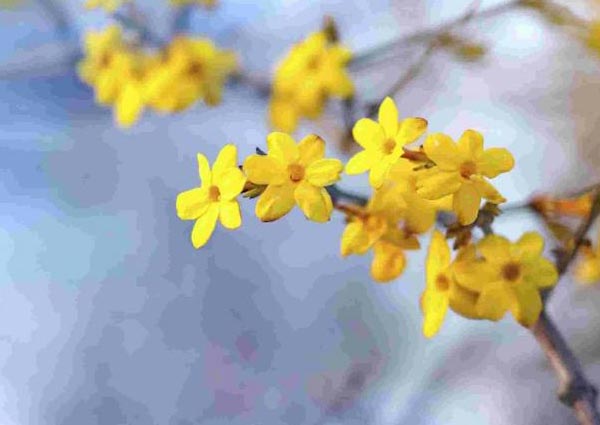 Winter Jasmine is a low-maintenance shrub with arching branches laden with bright yellow flowers in late winter and early spring. This spring-flowering plant can flower as early as February in certain climates. It is unscented but adds a supple elegance to the landscape. Full sun.
19. Starflower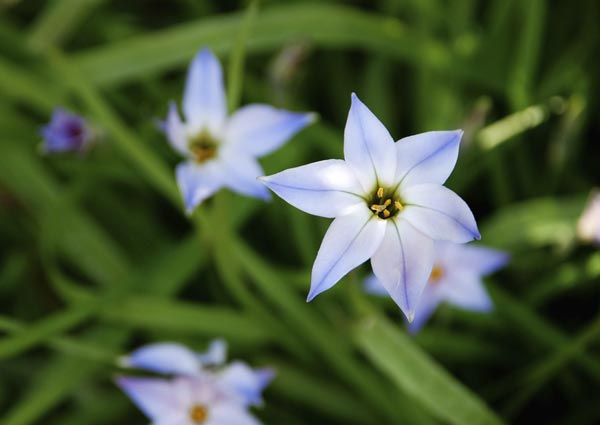 These small star-shaped blue or white flowers, also called ipheion, were popular in colonial heritage gardens. Its flowers have a sweet fragrance. Make sure to plant these tiny bulbs in the fall for spring to bloom in your garden. A corner with full sunlight, either direct or indirect, will work the best to maintain the health of the plant.
20. Winter Aconite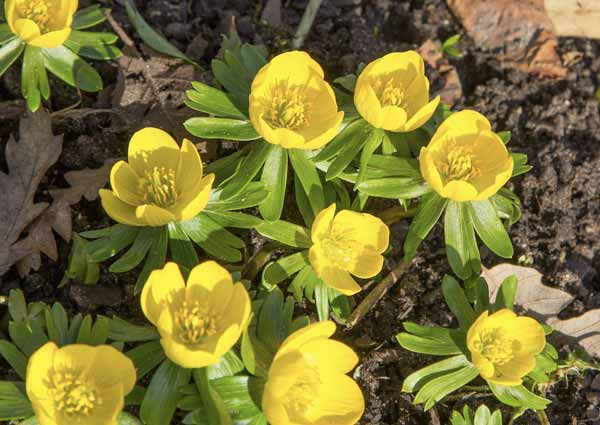 Known for being one of the first early birds, don't be surprised to find that winter aconite grows snow and frost, eager to show off its flower-shaped flowers with vibrant colors. You can categorize them as gorgeous-looking gold buttons shining in the scorching summer heat. Be sure to plant these tubers in the fall so that they can welcome you into the onset of winter. You can take advantage of full sun or partial shade to maintain the health of the plant.
The Wrap Up
Chase away the sad monochromatic thoughts of winter with a burst of color that signifies the rebirth of the season. As the botanical gardens begin to open their doors to visitors and the flower festivals begin, people prefer to head out into the countryside and stumble upon fields of wildflowers from all over the world. For even more impressive views, here we have curated a list having the best spring flowers and a few places where you can see dense concentrations of specific flowers that create seas of color. The arrival of spring can mean a lot of things, from packing your bags for winter clothes to finally deciding where to go for your summer trip. But, it also marks the time of year when landscapes transform from snowy wonders to displays of colorful flowers.
You happen to find flowers that bloom in the spring – bluebells, wisteria, cherry blossoms, and wildflowers galore – particularly breathtaking. From famous tulip farms in Holland to endless seas of yellow blooms in China, here are the most breathtaking spring flower photos from around the world. Moreover, if you wish to send flowers to India for any occasion, you can explore giftalove.com.

Priya Gupta is the in-house content writer and developer of Giftalove.com. Her ever-smiling face, big heart, and jolly-good personality make her stand out. Her writing style demonstrates a harmonious union between passion and creativity. She is a multitasking person, delivering flawless work while listening to music, and dancing to the beats of Justin Bieber. All she needs is a cup of coffee to express her views through her words!