Since wedding season is always an excellent excuse to dress up and look you're very best, nobody cares how well you know the couple or how well you know the person getting married. However, you could still dress up on a typical day, but the charms you can add with accessories for a wedding party cannot be incorporated into your daily wear outfits. So, always make sure you put your best foot forward whenever you are invited to a wedding party. The bridal lehengas are our favorite aspects of wedding season trends, but accessories are also our favorite part. Several appealing accessory trends caught our eye this season, from headpieces to veils and earrings are not to forget about, of course, and of course, we're sharing our favorites with you in terms of accessories online for wedding season 2022.
As we saw in the Spring 2022 collections, some of our favorite accessories from seasons past were featured. Headbands and bridal gloves, for example, showed that some details never go out of style. But designers are also introducing new accessories for brides to experiment with. Are you not into veils? Consider a sheer cape instead. Do you want your bridal look to stand out? If so, consider wearing a belt. Want something to style your sophisticated & simple wedding lehenga? A nice pair of oxidized jewelry online will work for you. Your earrings always play a significant role in adding an exquisite grace to your outfit. Hence, whenever you are shopping online for jhumka earrings for an ethnic dress that you intend to wear to a wedding party, choose the ultimate best option to dazzle everyone who looks at you. This is because each earring design is meant to elevate a specific face shape and doll up the personalities.
In recent times, there has been a lot of variation in the designs and styles of earrings; you get to choose between the contemporary styles and the traditional ones; one thing is for sure, it will make your outfit look exquisite. No look is complete without the perfect pair of earrings, whether they're trendy styles or everyday staples, like diamond studs. With a wide variety of earring types, whether you like hoops, dangles, or studs, no matter what you're wearing, you'll look put together. To learn more about the most popular earrings trends for 2022 wedding season, continue reading.
The Most Anticipated Earring Trends of 2022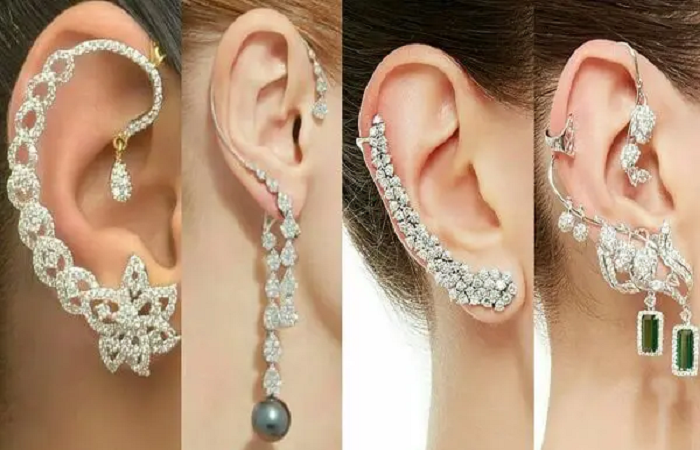 Weddings revolve around looking beautiful. Jewelry adds a glamorous touch as an elegant pair of earrings is a must. Even Bollywood divas could not resist wearing earrings – from Sonam Kapoor to Kareena. You can add the perfect finishing touch to your wedding day look with these bridal earrings you must have seen in the trend in Spring 2022. So, let us begin –
1. Chandbali Earrings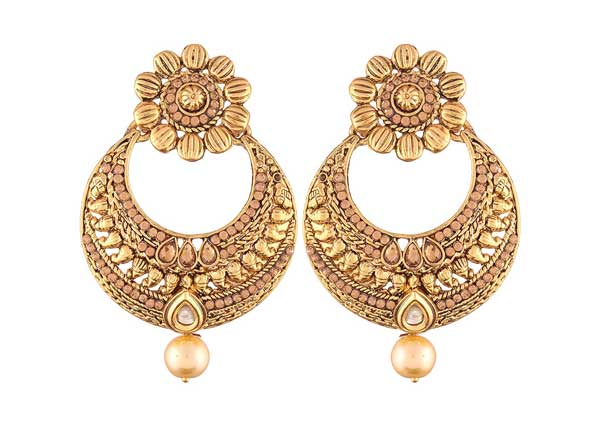 Featuring pearls, rubies, and uncut diamonds, these moon-shaped earrings are inspired by Mughal culture. Chandbalis come in a variety of styles, including Hyderabadi Chandbalis with pearl embellishments, detachable Chandbalis, Kundan Chandbalis with Meenakari, and more. Stylish and versatile, these earrings look great with all ethnic outfits. If you are looking for amazing and special anniversary gifts for wife, these earrings can be a perfect option to go with.
2. Jhumka Earrings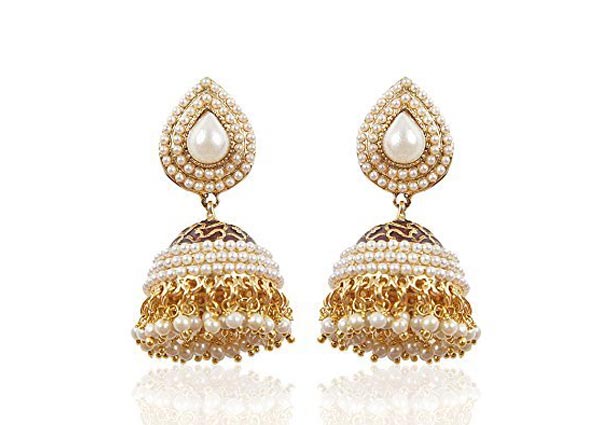 Classic and timeless, exotic Jhumka earrings are a must-have. Their conical shape is adorned with gold or pearls. Jhumkas are the most popular type of earrings in India. From South Indian plain gold designs to colorful Kashmiri beads, there is a design that captures the hearts of women in every culture. Your wedding outfit will look impressive with Polki embedded jhumkas. An evening look can also be achieved with Hoop earrings and Crystal Jhumkis.
3. Dangler Earrings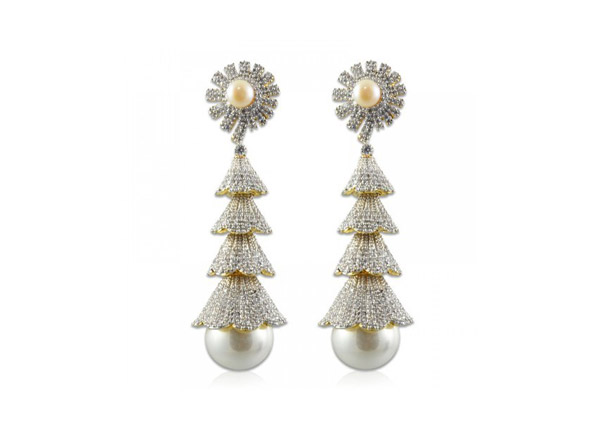 An elegant and modern pair of dangler earrings with colored stones will complement any outfit. You can pair them with Lehenga or Anarkali dresses to slay them in style. If you're looking for the perfect way to spice up your Indo-western look, you need to make sure the earrings you select are between the East and the West. It can be quite confusing to follow all of this. Therefore it is strongly recommended that you do not select danglers without giving much thought to them.
4. Kaan Chain Earrings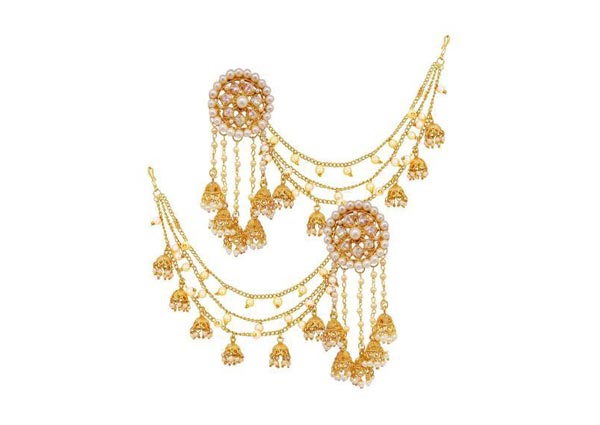 Kaan Chains, inspired by Indian traditional jewelry, are once again in demand. This pair of long-chain earrings are made from gold and semi-precious stones, and it is sure to attract some attention at any wedding. Designed to be worn with loose hairstyles, Kaan Chains are perfect for any wedding.
5. Droplet Earrings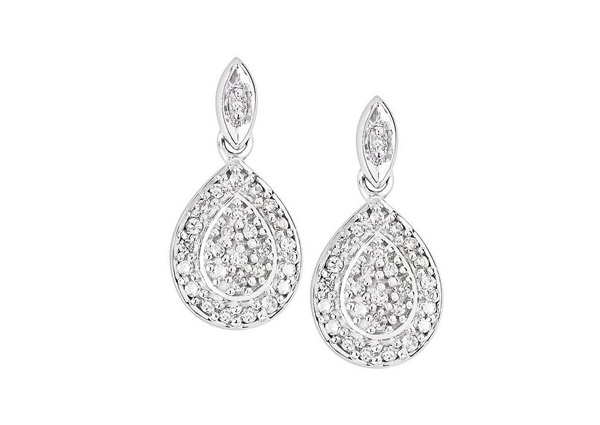 If you are a minimalist at heart and want to keep your jewelry understated, these baubles are just right for you. These baubles have become very popular among Bollywood actresses. They look stunning with a plain deep red velvet saree. You will surely look like a style diva in these.
6. Ear Cuffs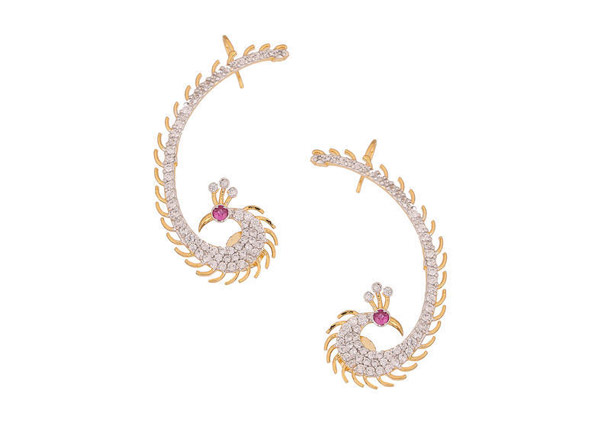 Fashionable and elegant, ear cuffs are always in style. Depending on your hairstyle, you can wear one of the two ear cuffs. If you love experimenting with your look, pearl-embedded ear cuffs are for you. These earrings are ideal if you're wearing fusion or traditional jewelry. You will see women wearing these earrings at every social gathering you attend, as they are recent favorites of the masses. These are super sleek and can add a royal touch to your appearance. Put your hands on a gorgeous pair of ear cuff earrings and get ready for some attention.
7. Tube Hoop Earrings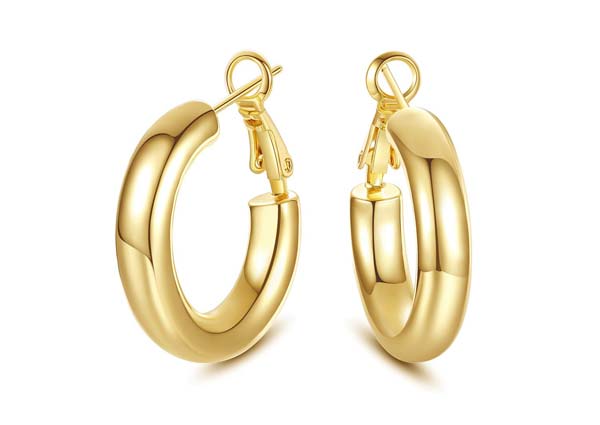 The earring trend of 2021 is chunkier tube-style hoops. Although hoops aren't new to the scene, this season's earring trend is more chunky tube-style hoops. Tube hoops are versatile enough to dress up an everyday outfit or to wear out on the town. They're a favorite among celebrities like Jennifer Lopez. It's a common misconception that tube hoop earrings are heavy, but they are actually light as a feather, making them comfortable as well as stylish.
8. Pearl Earrings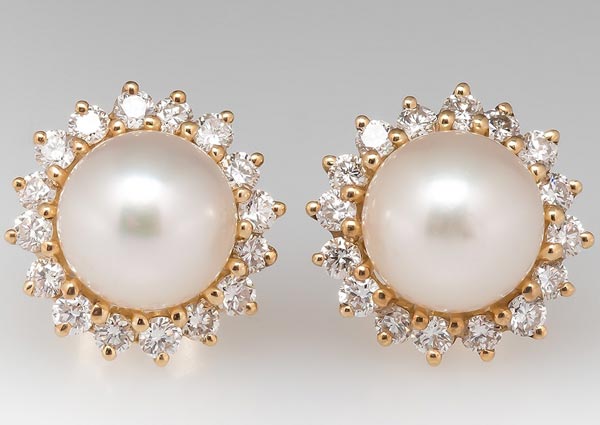 There is nothing more timeless and elegant than pearls. Pearl earring styles have been updated with modern touches that we particularly like. Modern pearl earrings feature stunning shapes, colors, metalwork, and accents that make them a trend to embrace all year long. This makes pearl jewelry one of the ideal 25th-anniversary gifts for wife.
9. Colorful Statement Earrings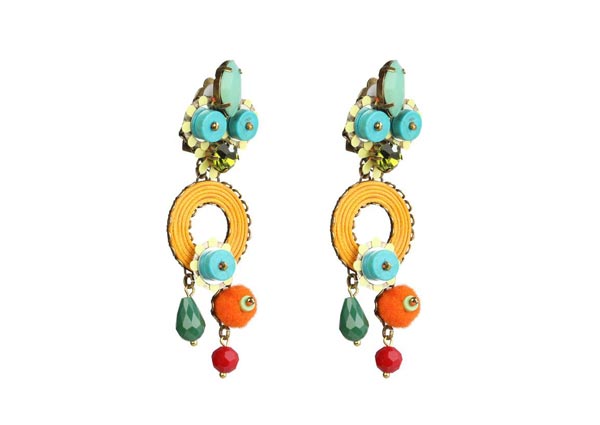 A pop of color on your ears will add some life to any spring or summer ensemble. With the change of seasons, we will see more pinks, blues, and greens. A pair of statement earrings will work the best for all those confused males searching for a nice engagement gift for their beloved.
10. Sculptural Earrings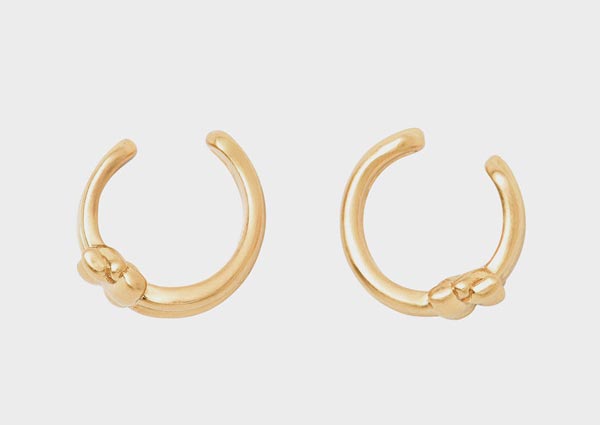 Metal jewelry with sculptural silhouettes is set to become increasingly popular in 2021. A pair of geometric earrings are sure to add a sophisticated touch to any outfit, if not to start a conversation!
11. Mismatched Earrings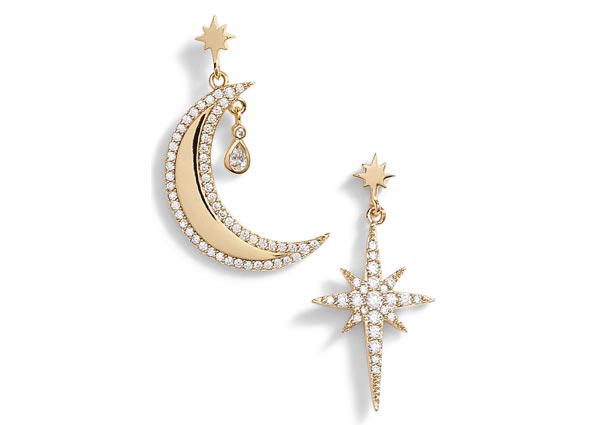 2021 will still be a big year for mismatched earrings. Even though we love this trend for its playfulness and unexpectedness, we realize that it may not be the most practical trend for everyone to try out. As a result of their versatility, we are quite fond of these convertible earring styles. These innovative designs offer multiple looks, enabling you to create matches or mismatches according to your mood.
12. Celestial Earrings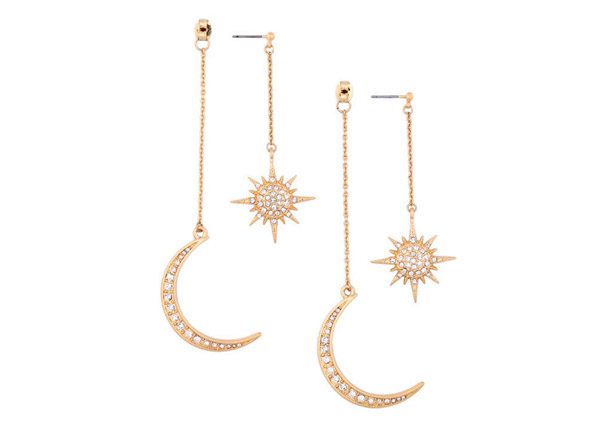 It is common for people to be attracted to celestial jewelry, whether for its playful, whimsical appeal or its connection to the universe and beyond. Celestial jewelry designs often feature stars and moons, symbols that transform seamlessly from season to season.
13. Double Hoop Earrings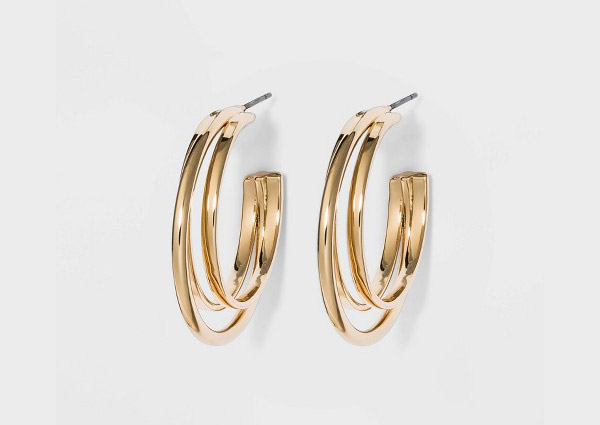 Stacking hoops has a youthful vibe to them, and we especially like the look of well-appointed stacked ears. Maintain a cohesive look while still making the design visually captivating and fresh by mixing textures. These hoops can be your perfect option if you are confused about what to send Christmas gifts to wife. She will undoubtedly love these hoops!!
14. Chain Link Earrings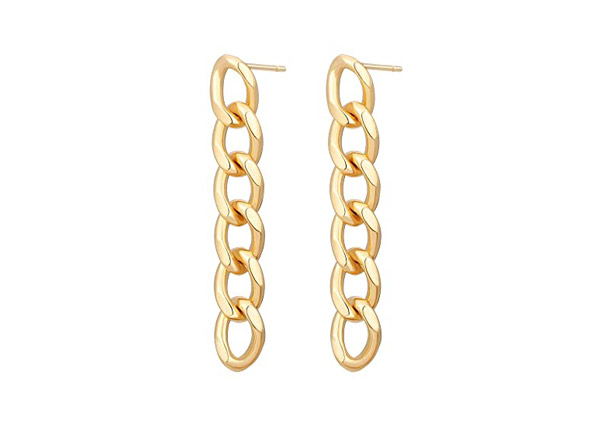 This year, chain link earrings have taken off, becoming more popular than necklaces and bracelets. Chain link earrings are being introduced into jewelry collections more and more often due to their edgy yet elegant appeal.
15. Shoulder Duster Earrings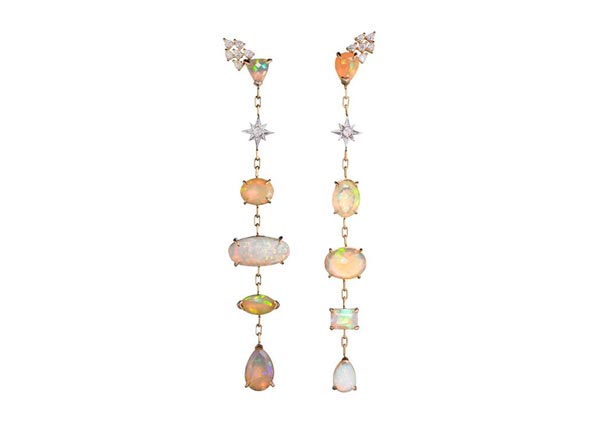 All 2021 fashion shows featured earrings that were oversized, shoulder-length, and made of crystals. Featuring movement and maximalism, these earrings are an excellent example of more being. If you are also planning to buy online necklaces sets, these earrings will undoubtedly be your best option to look all put together with minimum effort.
16. Diamond Earrings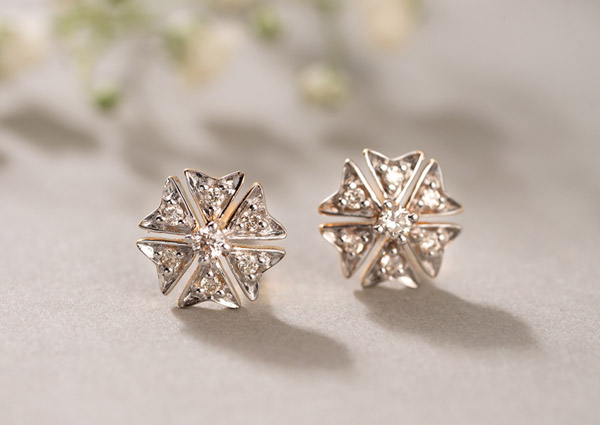 Make a statement with a pair of over-the-top diamond earrings this year. Impressive diamond earrings will provide the sparkle we need in 2022, with styles ranging from diamond chandelier styles to delicate diamond drops. So, if you have planned a birthday surprise for your love of life, we can pair a pair of diamond earrings with delectable heart-shaped cakes for birthday, to create a memorable surprise.
17. Chandelier Earrings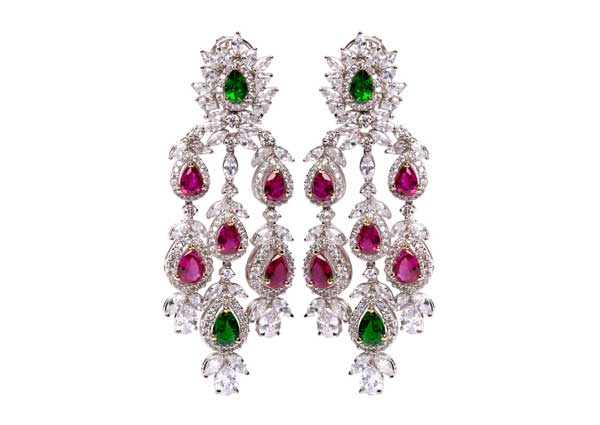 Despite their length, these earrings look so elegant and are reminiscent of the 2000s. The earrings are intended to go down your face while also complementing it. Weddings, engagements, birthdays, and just a night out are events that these can be worn for. They are not suitable for everyday wear. Ensure that your top and collar match. Invest in a good pair of chandelier earrings, as they are sure to last you all season!
18. The Croissant Hoops Earrings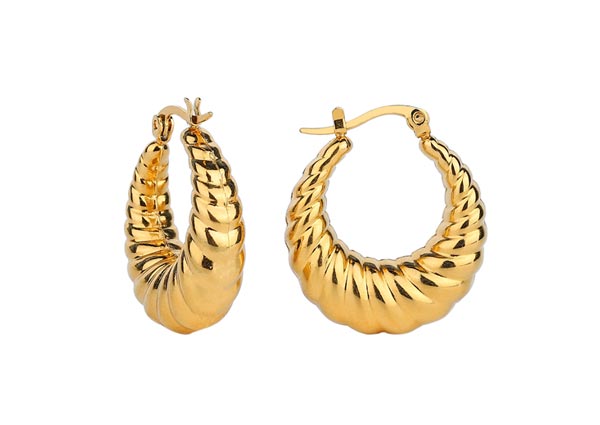 Is that a hoop? That's adorable. The hoops look like croissants, but their texture and engraving are different from bamboo hoops. Our opinion is that these are a great everyday hoop since we've seen them on many social media influencers' accounts. It is impossible not to dream of running along with a newspaper and a cup of coffee in these. They would make any girl look like a French girl. If you're wearing gold hoops, make sure you don't wear anything silver or vice versa.
19. Stacked earrings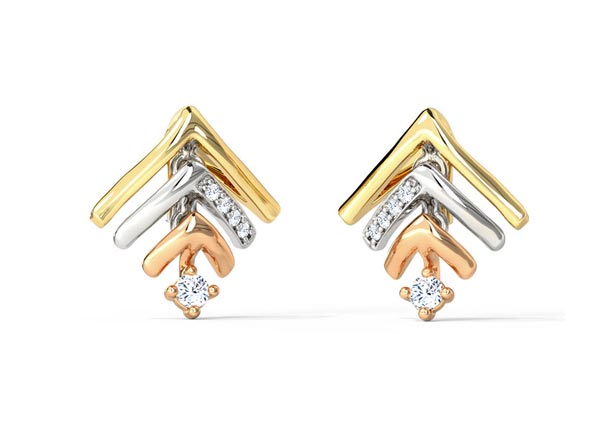 We consider these to be a classic jewelry favorite, as they're classy, chic, edgy, and fashionable. Moreover, they can be purchased in their own sets and can be done in a variety of ways. However, this is only for those with multiple piercings in their ears. However, clip-on ear cuffs can be used to mimic the look and can be worn just like the real thing. It doesn't matter how you wear them, because you'll look great in them.
20. Kundan Jhumkas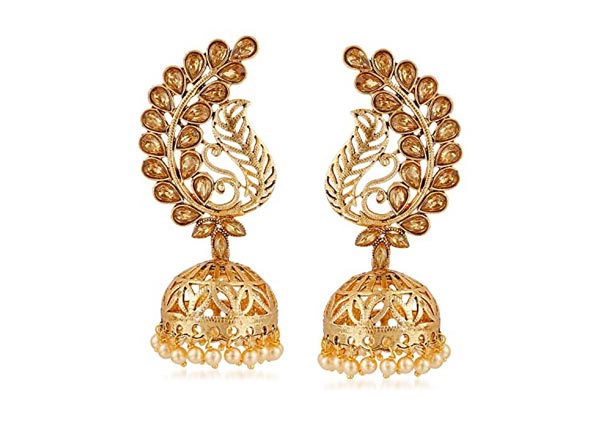 You cannot scroll through ethnic accessories without seeing Kundan jewelry, especially jhumka earrings. Earrings like these can enhance any attire, whether they are traditional or Indo-western.
21. Traditional Studs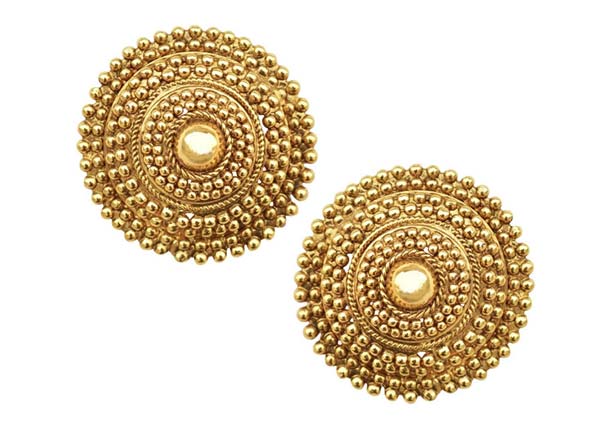 The only problem with studs is that often girls complain about how boring they are for their wedding, but not with large diamond studs. The massive studs can be purchased and worn on your Mehendi; however, ensure they match your gown. They will appear most elegant if you wear them with a gorgeous smile. They are simply exquisite.
22. Colossal Earrings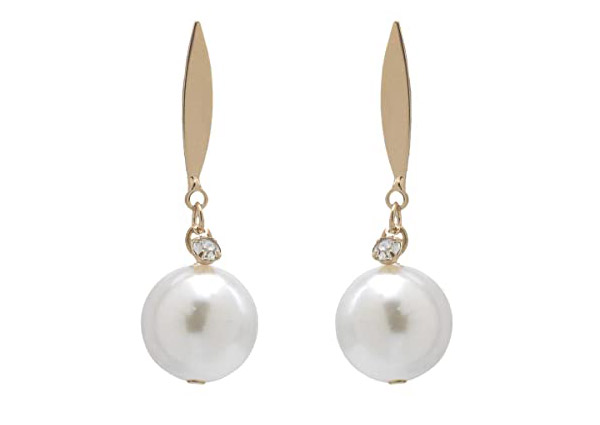 This style is both traditional and modern, with the big and colossal earrings and multiple strings and chains attached. In this design, delicate and embellished strings will be wound around the ears. The massive earrings are worth every penny, and you will not regret buying them. Your beauty will be enhanced if you wear gigantic earrings that complement your style.
23. Jhumar Earrings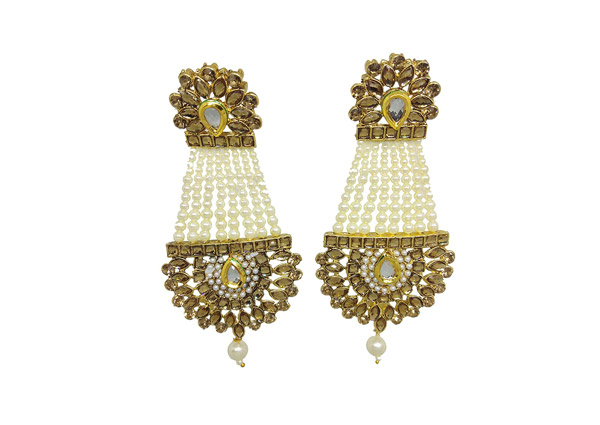 Mughal-inspired Jhumar earrings, which were popular in the Mughal period, are now available in trendy and exquisite varieties and cuts. Whether you buy it in a tiny or gargantuan size, it is beautiful and irresistible and unlike any other earring. Jhumar earrings look more alluring and captivating because of their broader and fuller appearance at the end. Invest in jhumar earrings to complete your bridal style and complement your wedding lehenga.
24. Floral Earrings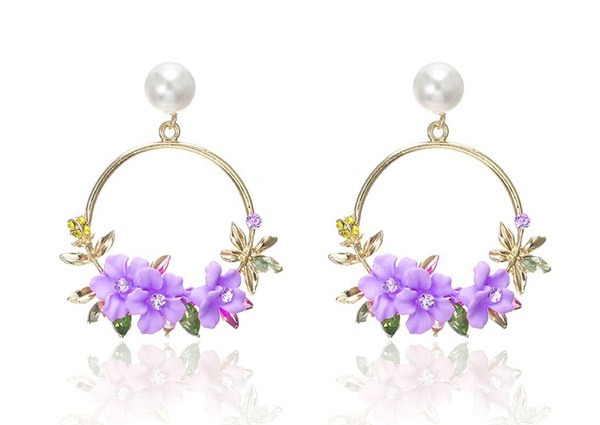 The trend of floral jewelry is becoming increasingly popular among brides. These stunning floral earrings are perfect for your Haldi or Mehandi ceremony since flower jewelry is so popular these days. You will look as beautiful as the most beautiful bride anywhere if you have that natural glow in your ears, your hands, your head, and your feet.
The Final Takeaway
Hopefully, the pointers mentioned above will be of great assistance to you so that you can determine which fashion jhumka earrings online you should buy to wear to your wedding. Since so many options are available, it can prove rather challenging to settle on just one pair. Therefore, it is highly recommended that you keep your outfit's color, design, and pattern in the back of your mind to ensure that the earrings you choose will complement your outfit to perfection.
Earrings, especially those worn by the bride, are as important as the wedding lehenga. Earrings come in a wide variety nowadays, from elaborately decorated ones to voguish statement drop earrings; the options are vast. A bride should be aware of the latest trends in jewelry and choose the design, color, cut, and style of her earrings carefully. It would be best if you researched which bridal earrings are trendy and within your budget before searching for them. Intending to ease your stress, we have compiled a list of trendy & magnificent bridal earrings that can assist you during your shopping experience. And, if you wish to send oxidise earrings online to the bride-to-be, GiftaLove.com can be your one-stop shop.

Sakshi Ecavade is our in-house content developer having a good understanding about the gifting industry. She creates quality content surrounding flowers, chocolates, plants, cakes, and other products which makes excellent gifts for the people. Accurate and authentic information is what she tries to deliver through her blogs.