In gifts industry, sending serenades are a unique and an exciting way to impress someone special. Valentine serenades have become very popular among love birds. These make wonderful and romantic gift hamper.
Serenades are series of valentine gift hampers(https://www.giftalove.com/gift-hampers/valentines-day). They can be delivered via online gift stores. There are a number of serenades hampers available at online stores. People staying in far off places can send valentine serenades to their girlfriend, boyfriend or friends. Send serenades hampers for 3 days, 5 days, 7 days and more than seven days. 3 days serenades are wonderful and 7 days serenade hampers make lasting gift surprise.
Here are some mesmerising valentine serenades for her.
1.   Three Days Valentine Surprise
Flowers are charming gift surprise. It conveys romantic thoughts and passion. Three days serenades for valentine comprises of Red Rose bouquet for day 1, Cadbury Dairy Milk chocolates hamper for Day 2 and a big teddy bear for Day 3. This gift hamper is a lovable gift surprise for your girlfriend.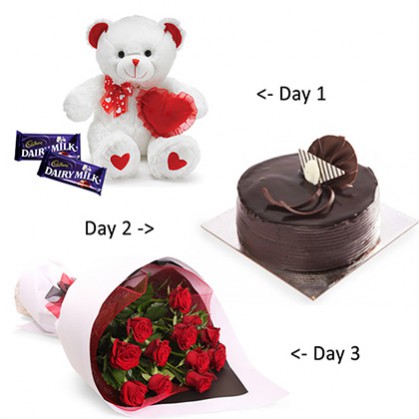 2.    Four Days Serenades
You can start the serenades surprise from 11th of February (Promise Day) i.e. four days prior to Valentine's Day. Day 1 starts with 12 Red rose bouquets beautifully wrapped in paper packing. Day 2- Dark Chocolate cake hamper with a small teddy bear. Day 3 – Red roses with lush green fillers in Heart Shape arrangements. Day 4- Valentine flower bunch of 20 long stems with 5 Ferrero Rocher Chocolates.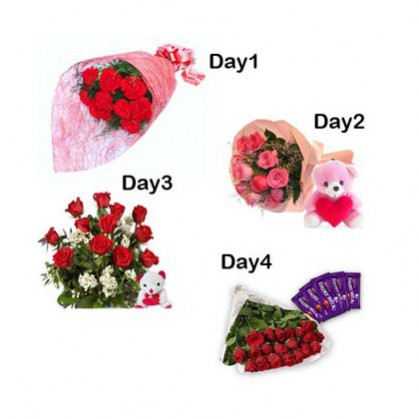 3.    Five Days Serenades
Get special Five Day Serenades for your loved ones and make them feel happy like anything. Day-1: bouquet of 12 Red Roses with lots of fillers. Day-2 has beautiful bouquet of twelve red roses with delightful chocolates – Ferrero Rocher Pack. Day-3: a basket arrangement of 15 Pink Gerberas and a box of cookies. Day-4: bouquet of mixed roses and big white teddy bear. Day-5: a bouquet of 24 red roses & Cadbury chocolate gift pack.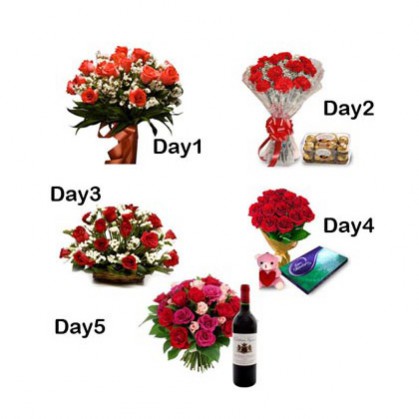 4.    Seven Days Serenades
Impress your long time girlfriend by sending a 7 Day Serenade hamper. Day-1: bouquet of 12 Red Roses in attractive design. Day-2: a bouquet of 12 Yellow Roses and brown bear. Day-3: Bunch of 12 Pink Carnations in a glass vase. Day-4: a bouquet of 8 Purple or Blue Orchids. Day-5: A bunch of 12 Yellow Gerberas. Day-6: a nice bunch of 12 Pink Roses & vanilla pineapple fruit cake. Day-7: a bouquet of 18 Red Roses in matching colour paper packing.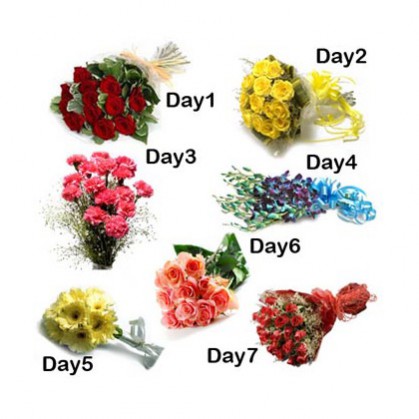 So these are some wonderful valentine serenade gifts. Log on to https://www.giftalove.com/valentines-day and buy special gift hampers for valentine. This is one of the famous gift sites in India and overseas. Buy online valentine greeting cards, cakes, flowers, roses and so on.
Sakshi Ecavade is our in-house content developer having a good understanding about the gifting industry. She creates quality content surrounding flowers, chocolates, plants, cakes, and other products which makes excellent gifts for the people. Accurate and authentic information is what she tries to deliver through her blogs.