Gone were the days when cakes used to have celebrity status only on birthdays. Now, they are like that ingredient in the recipe of celebrations without whom the occasion is incomplete. And this thing is applied to all sorts of celebrations and festivities. But cakes still have that celebrity status where no one is bored of having (eating) them.
Whether people have to buy it on their own or have it at an event, they still cherish a variety of cakes now and then without any questions or complaints. This makes it very important for you to always have beautiful cakes on all your special occasions and parties that you throw. That's because an impressive and thoughtful cake makes a party successful to the next level. So, here is a list of all the trending cakes you must consider for your upcoming celebrations.
Pinata Cake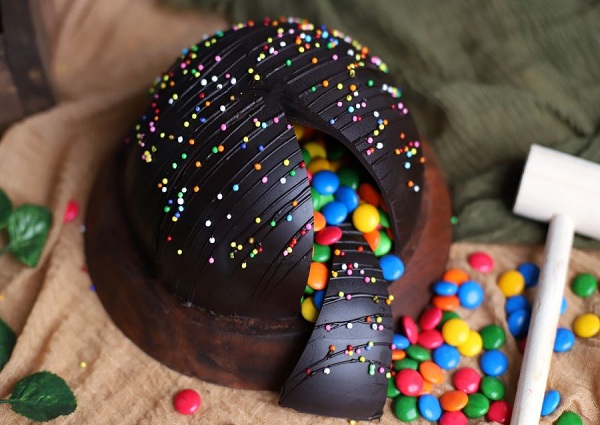 If there's one cake that took the internet by storm, then it is the only Pinata cake. If you follow social media regularly, you must be aware of the drill that comes with this cake. Explaining what makes people go crazy over pinata cake to those who don't know yet, you get to hammer the cake to cut it. Yes, you heard it right. Hammering it with a wooden hammer instead of cutting it with a knife makes the pinata cake stand out from the rest of the crowd.
The cake has a hard surface with lots of candies, cookies, and cake sponge inside of it. You can get this cake made of your choicest shape and add a love not inside it for the one who is about to 'hammer' the cake. So, when they finally hit the cake open, they will see that note and read your heartfelt feelings for them. Sounds exciting? Then book it for your next celebration.
Half cakes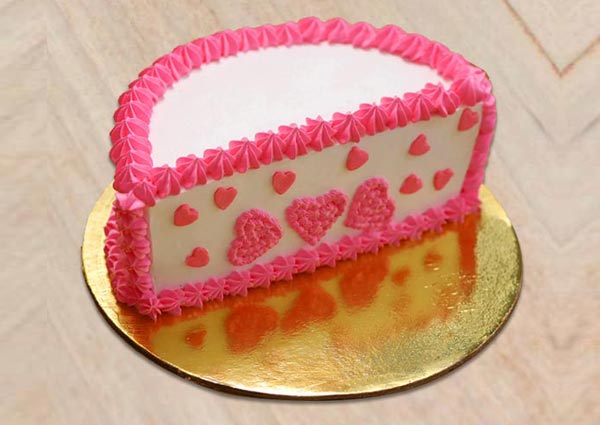 Do you know what makes a thing trend favorable to the masses? It is the ability to provide people with the much-needed thing that they want. And with cakes, people usually want creative ideas that define any celebration well just by looking at the cake. That is why the trend of half-cakes became insanely popular.The half cakes are a cake in a semi-circle shape that is usually cut when we celebrate six months or ½ years of something. Birthdays, anniversaries, and success parties are some examples where you can see such cakes more often. So, when are you planning to cut your next half-cake? On your anniversary or your baby's six months birthday?
Dried flower cakes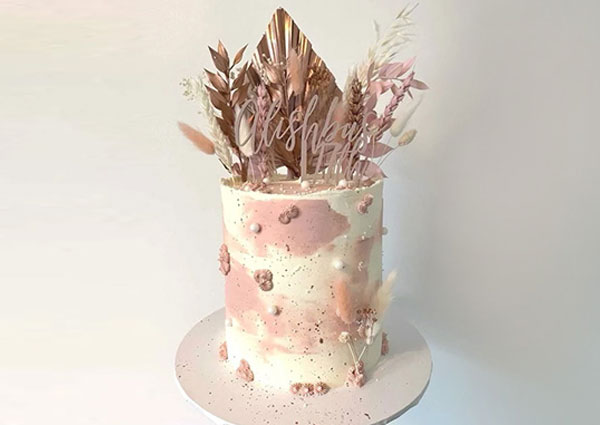 This particular type of cake is usually cut at weddings or when a girl is celebrating her bachelorette party. The cakes have real dried flowers decorated on them. The flowers are sometimes edible, and sometimes they are there just for the show. But in every case, they are safe to have on the top of your cake and possess no harm. The dried flower cakes give typical boho vibes, which is why people love to have them on multiple occasions. A pastel shade of flower cake with beautiful red, blue or pink flowers gives your celebration cake a much-needed look that is required for the overall vibe. So, you can plan this one for your or your friend's bachelorette party.
Lambeth cakes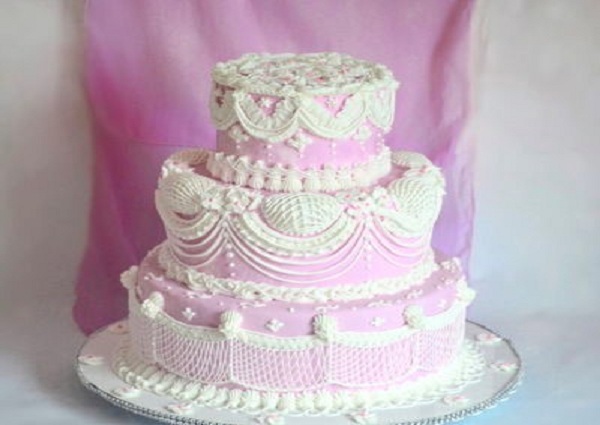 Wondering what these cakes look like? Well, Lambeth cakes are popularly known as two or three stories cakes or double-decker cakes as well. While the design of these cakes is decades old and they have been impressing people for almost a century now, they are still very much in trend, and people often cut Lambeth cakes on different occasions by giving them their touch and style statement. These cakes are usually cut at weddings or engagement ceremonies where the gathering is more, and such massive and beautifully decorated cakes look impressive.
Lambeth cakes are usually bought to serve a massive gathering of people, no matter the occasion. People often order these cakes when they think of treating orphan people to something delicious. So, the next time you think of throwing a big party or organizing a charitable event with lots of treats and cake, you know how you can cater to your guests with unlimited delicious cake.
Customized cakes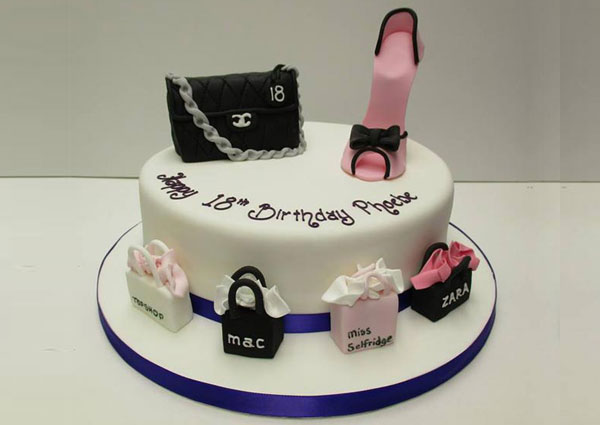 Have you seen those rainbow cakes or cakes with movie characters, animated themes, superheroes, video game themes, or animated characters? are they some special sort of cake? Those cakes are entirely customized. If you see a cake on the internet and like its design and the idea behind its concept, you can ask your bakery person if they can bake a similar cake for you or not. Once they approve it, you are good to go to get that cake for your upcoming celebration.
The best thing about such cakes is not just the customization of their design but the customization of their size and flavor too. You can pick your favorite flavor and design choices and combine them to make a cake for yourself. Like those pretty rainbow, butterfly, unicorn, or barbie doll cakes for a baby girl's birthday. Or Doraemon, candy crush, avengers, or car-oriented cakes for a baby boy's birthday.
These cakes go well for a theme party too. Spooky cakes for Halloween, red and white cakes for Christmas parties, and 3D cakes for Diwali, Holi, Raksha Bandhan, or other festivals. Just as your cake provider about the size details, select your preferred size from the options provided. Then make an order and enjoy your customized cake for your special event.
Photograph cakes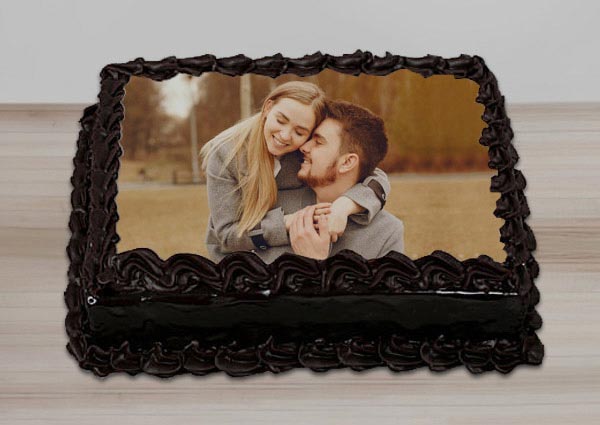 When we think of celebrating birthdays or anniversaries of older people at our home, we often find it difficult to come up with a cake idea. That's because theme cakes don't go with the loving vibe, and usually, cakes look too dull to describe your feelings for your grandparents, which is why photograph cakes have become a trend in cakes. While the trend is not too new, it isn't too old either. The still-relevant photograph cakes can be used to surprise older people at home by customizing their adorable pictures on the cake and giving them a moment to cherish their good old days.
This will not just make them emotional but will also convey our feelings for them. So, if it's your grandparent's anniversary, take out their cutest honeymoon picture and post it on the cake for them and then see their reaction looking at the cake.
'Pull me up' cakes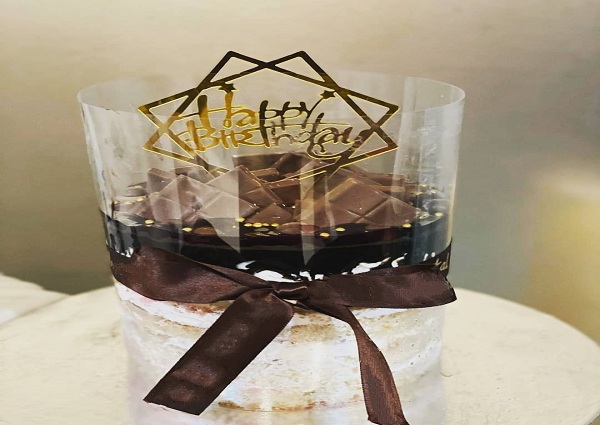 People love it when their cakes are fancy and of the latest trends. The creativity and imagination behind cake making are appreciated to the core, just like appreciation for the people who came up with the idea of the pull-me-up cake. This type of cake comes with a covering of a transparent sheet wrapped around the cake. This sheet holds together the liquid chocolate that is ready to explode as soon as someone 'pulls up the sheet. Once the sheet is pulled, the liquid chocolate or any other liquid the customer prefers spreads all over the cake and covers it in a thick layering that looks mesmerizing to the eye and tasteful to the mouth.
People aren't just left amazed by the procedure of covering a cake in liquid chocolate or chocolate ganache; they are left spellbound by its soft and silky taste. While these cakes can be cut for big gatherings and occasions, they are preferred for intermitting dates and celebrations. The smaller the circle, the more fun it is to see and share the pull-me-up cake with your loved ones. So, try it out the next time you go out with your partner.
Bento or lunch box cakes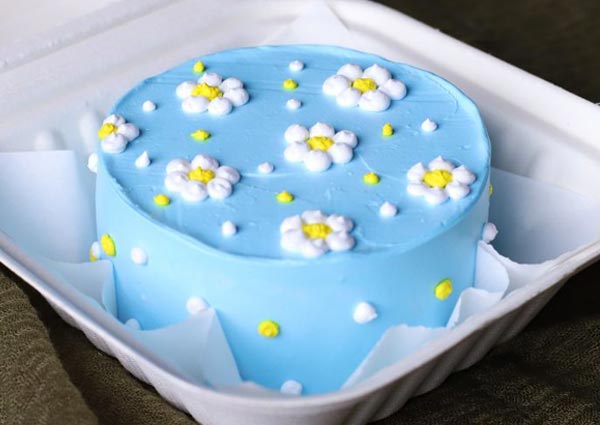 Want a miniature version of big cakes? Just like your regular cakes, bento cakes are delicious and beautifully decorated. The only difference they have is their size and packing. The mini cakes are packed in cute lunchboxes and often munched at intermit theme parties. They can be ordered in bulk, a small number, or just one bento cake if you gift it to someone special. The cute little cakes are full of color, cuteness, and creativity, which keeps them trending.
And that's all, folks. Those were some of the top-rated and trending cakes of the year that kept people hooked to their beauty, creativity, and deliciousness. But do you know there's another trend in cakes? This trend is called sending cakes online. And Giftalove.com is the perfect place to order online cakes and deliver them straight to the receiver's doorstep. Check out their website and collection of cakes for multiple occasions that will blow your mind. Check out this space for more details on cakes, gifts, and merry celebrations.
Anishka is our in-house content writer who sees writing as her responsibility for delivering factual and well-researched information to her audience. With 2+ years of experience as a content writer, Anishka has greatly understood the needs of people and knows how to blend knowledge with creativity to keep her readers hooked to her write-ups.