Anniversary is a special day for celebration among every wedded couple. Thus the anniversary gifts that we present any couple should also needs to be something special, isn't it? So to help you choose something best for a couple celebrating their anniversary, this blog features some amazing ideas on it. Read the blog to know more.
Every year, the Anniversary date is marked as an eagerly awaited, exciting and loving day of celebration on the yearly calendar among the wedded couples. This is because anniversary is the celebration of the years of togetherness from the date of marriage. Also one can describe anniversary of wedded couples as the completion of years of marriage. Thus it's the day to celebrate and go back in time with thousands of cherished memories of marriage for every couple on their wedding anniversary date.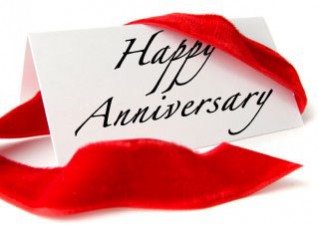 Thus when the day is so special, loving and awaiting for the couples, it really needs to be something in relevance that can be so special, loving and exciting! Now this thinking game may confuse a lot. May be you must be having an idea of perfect anniversary gift for your dear ones but is that gifts is that gift is something unique and impressive, Well if not, then you might need to think twice or you can go with any of these ideas for Online anniversary gifts for couple …
1st Anniversary:
For a couple who are celebrating their first anniversary, the excitement level is too high and of course it's one of the most days for them. Thus anniversary gift that you can think of gifting them on such a memorable day of their life is a personalized crystal table top, a couple wrist watch set, a personalized pendent for couple, a personalized canvas, a beautiful red rose basket and much more.
5th Anniversary:
After its first anniversary, it's the 5th one that couples love to celebrate with bang! Thus be it your friends, colleagues, relatives or any other dear one, on their 5th anniversary, gifting a nice photo frame with multiple pictures, a couple wrist watch set, a personalized coffee mug set, a personalized cushion, a beautiful and big rose basket are some ideal gifts to make the couple feel special and to greet them with a memorable gift forever.
10th Anniversary:
Spending a long journey of 10 years together in a happy married life is itself an achievement. So for the couples who are celebrating their 10 years of togetherness, this is the time when you must plan gifting a personalized crystal table top, a basket of chocolates, personalized caricatures, Personalized Cushion, a blooming bunch roses with a big Anniversary Greeting and much more.
25th Anniversary:
For the couples who have spent a beautiful time span of 25 years of togetherness obviously deserves something special and loving on their 25th Anniversary celebration. Thus to make them feel special and greet them on their anniversary day, gifts like Good Luck Plant, a Personalized Crystal table top, a photo frame, designer bouquet, Perfume set for both men and women, a wrist watch set for both, a personalized cushion and other such lucrative gifts.
50th Anniversary:
…And there are blessed couples who celebrate 50 years of lifetime togetherness with each other. So for such lucky couples there needs to be something really very special, thoughtful and yes affectionate gifts that can convey best wishes and love to the lucky couple. For them personalized photo canvas, a photo frame, a personalized crystal table top, good luck gifts, an anniversary cake are simply excellent gifting options to gifts and congratulate the couple.
However to explore such attractive anniversary gifts online, you can log on to www.giftalove.com that offers a beautiful collection of gifts, cakes and flowers for anniversary as well as celebrations falling round the year. So stop thinking and start exploring amazing Anniversary gifts at Giftalove.com!
Sakshi Ecavade is our in-house content developer having a good understanding about the gifting industry. She creates quality content surrounding flowers, chocolates, plants, cakes, and other products which makes excellent gifts for the people. Accurate and authentic information is what she tries to deliver through her blogs.