People used flowers as a means of communication centuries before email, text, or instant messages. During the 18th and 19th centuries, floriography – the language of flowers – was very popular. Flowers remain as meaningful today as they were hundreds of years ago, even though we have more ways to communicate. Flowers representing each month of the year have unique meanings and make the person receiving the flowers feel extra special. This is why people prefer to send birth month flowers online to recipients to add some definition to the gift and birthday celebration.
There is no doubt that everyone knows the sign of their zodiac or their birthstone. Unless we're being cruel, we've all indulged in obsessive reading about our stars and personalities at least once in our lives. A birth month flower represents specific personality traits of the month it means, just like the Zodiac signs. Besides symbolizing individual personality traits, we can also associate the flowers belonging to the birth month with specific meanings. Therefore, don't just pick out any flower that catches your attention when gifting flowers to someone. Instead, choose flowers representing the birth month of the recipient. Besides, you don't have to limit yourself just to birthdays. You can also use these flowers for any occasion for the gifting purpose as birthday flower combos make the best gift ever that pleases everyone with their incredible aroma and gorgeous colors.
There is also a birth flower with a special meaning, but not many people know that! You can easily choose the perfect birthday flowers to send someone if you know their birth flower meanings. We've outlined what every month's birth flower signifies, plus what characteristics are associated with them in this guide enabling you to find a thoughtful gift for your dear ones to wish them a very happy and blissful birthday.
So, let us begin our guide having birth flowers by month with their meanings, symbolism, and importance –
January Birth Flowers: Carnation and Snowdrop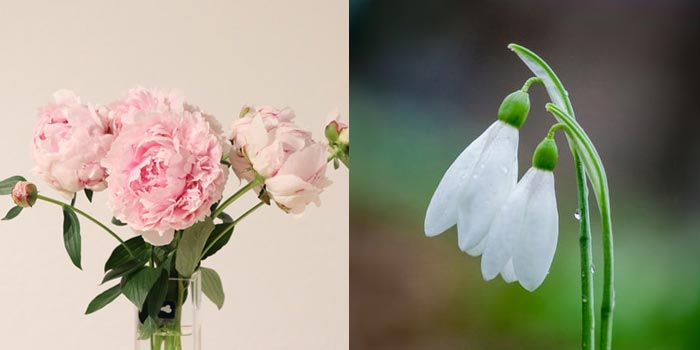 Characteristics of January Born – According to the flowers in their birth flowers, January borns are known for loving profoundly and passionately. Having a person born in January around is a great thing to have, too, as you're probably a very loyal and protective friend. So, if you send birthday cakes to your January born friends along with these flowers and they will seriously love your efforts and thoughtfulness.
Significance of January Born Flowers – Carnations and snowdrops are among the January birth flowers. The fact that they grow in winter makes sense, as they are two of the few flowers that thrive in cold weather! It is common to give carnations as gifts to newborns in January since they have big, ruffled petals and a variety of colors.
Symbolism of January Born Flowers – Carnations have a rich history, too; they are also symbolic of January. In Christian tradition, carnations have held a special place in the hearts of believers for thousands of years. Carnations are thought to have blossomed from Mary's tears as she cried for Jesus. The meaning of carnations can vary depending on their color, but generally speaking, they symbolize devotion, loyalty, and love.
February Birth Flowers: Violet and Primrose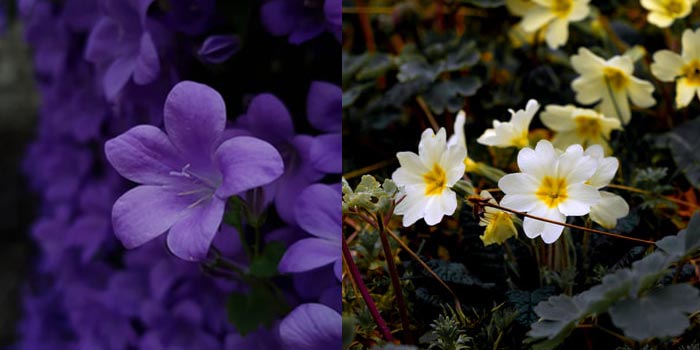 Characteristics of February Born – Violets have now come to represent faithfulness, humility, and spiritual wisdom. In addition, primroses symbolize youth and confidence. It is said that those born in February are honest, humble, wise, and innocent, making them good companions.
Significance of February Born Flowers – February babies are blessed with violets and primroses as their birth flowers. People are always surprised to learn that February isn't the official birth flower of the month since February is always associated with Valentine's Day.
Symbolism of February Born Flowers – You can see why violets are the flower for the month of February, especially when considering that the February birthstone is amethyst. Purple hues are just so appealing to February babies! It actually has been centuries since the vivid violets appeared! Ancient Greeks cultivated these plants for medicinal purposes and added a touch of sweetness to the wine, where they originated. The beautiful heart-shaped petals of violets made them perfect for use in love potions, which makes them one of our favorite violet facts.
March Birth Flowers: Daffodil and Jonquil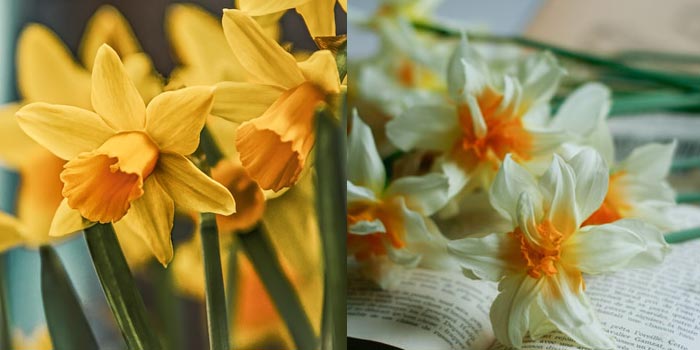 Characteristics of March Born – Those born in March are cheerful, optimistic, and happy because of the attributes that symbolize rebirth, fortune, vanity, and prosperity.
Significance of March Born Flowers – Daffodils and jonquils are the birth flowers of March. The month of March also marks the end of winter and the beginning of spring, so it makes sense that the daffodil is the flower of the birth month.
Symbolism of March Born Flowers – As flowers of good luck, these bright blooms are seen as a sign of good fortune in Wales, known as the national flower. The daffodil is a flower that has blooms annually in the United Kingdom since the 17th century. It was also a favorite flower of Shakespeare! There are many kinds of daffodils, but yellow is the most common. White and orange daffodils are also available to prepare a lovely flower bouquet for your dear ones on their birthday.
April Birth Flowers: Daisy and Sweet Pea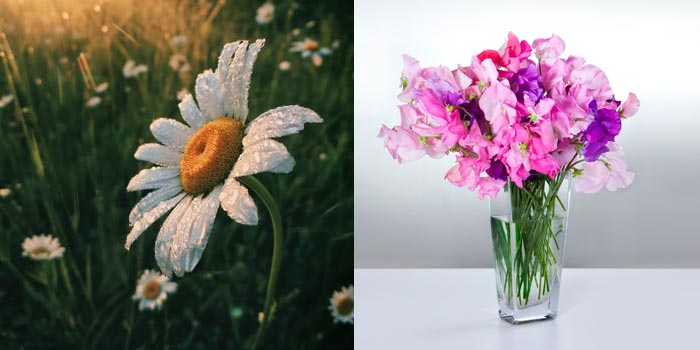 Characteristics of April Born – We believe that April babies are usually sweet, kind, loyal, and innocent. Daisy represents innocence, loyalty, and transformation. Daisies are great to give to new mothers in April, but they are also said to symbolize fertility and motherhood, making them a popular gift for new mothers.
Significance of April Born Flowers – Daisies and sweet peas are the birth flowers for April. Regardless of whether they are more common in the fields or vases, the bright and simple gerbera daisy will undoubtedly put a big smile on someone's face if gifted to them.
Symbolism of April Born Flowers – Daisy flowers is reputedly among the oldest flowers on earth. Drawings of them were found in stones carved at least 3000 BC. Yet you can likely find them in stones that were carved millions of years earlier! The sweet pea flower originated in Southern Italy and the United Kingdom. In the 17th century, they became a widespread part of cultivation all over the world.
May Birth Flowers: Lily of the Valley and Hawthorn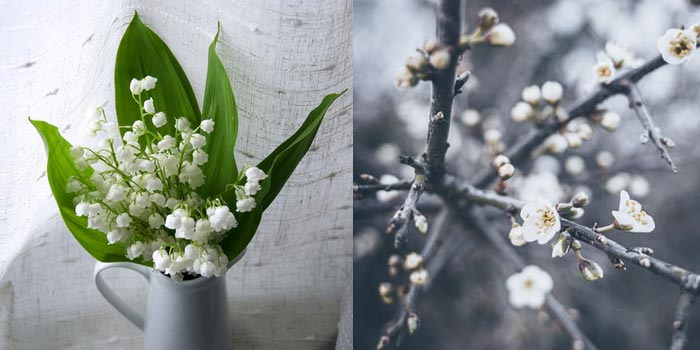 Characteristics of May Born – People born in May are the most understanding, kind, and strong-willed personalities. They are motivated, determined, and love to get affection and attention from everyone. So, your efforts of sending them birthday gift hampers will amp up their special day and make them happier.
Significance of May Born Flowers – The lily of the valley symbolizes humility, sweetness, happiness returning, and motherhood. If your mother's birthday falls in May, these will make perfect gifts for her. Lilium of the valley and hawthorn are the May birth flowers. The lilies of the valley are known for their delicate flowers and sweet scents. Lily of the valley is also a popular choice for royal brides.
Symbolism of May Born Flowers – Where the lily of the valley came from is the subject of many myths and legends. After Eve was evicted from the Garden of Eden, some say they appeared where her tears fell. Nonetheless, others claim that St. Leonard grew lilies wherever he had spilled blood when he fought a dragon for hours.
June Birth Flowers: Rose and Honeysuckle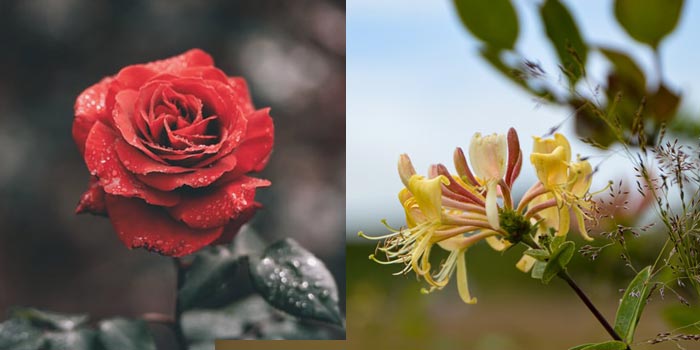 Characteristics of June Born – June borns are blessed with a dynamic personality, great sense of fashion, a mind full of ideas and thoughts, and a heart full of emotions and kindness.
Significance of June Born Flowers – Birth flowers for June babies include one of the most popular flowers of all time! Roses and honeysuckle are June's birth flowers. There are hundreds of different colors of roses, all of which have different meanings, so a rose is suitable for any occasion. And, honeysuckles are too known for their incredible aroma and trumpet-shaped flowers arranged in pairs. Together, these two make the perfect birthday gifts for wife and husband, and of course, everyone on the list.
Symbolism of June Born Flowers – Many people have loved and cherished roses for centuries. Roses were offered to the Gods by the ancient Egyptians. They were associated with love by the ancient Greeks and Romans. History books mention them since 551 BC! Roses & honeysuckles can be interpreted differently depending on the color. Roses and honeysuckles represent beauty, love, honor, and devotion. If you happen to be born in June, you're definitely a lucky person!
Apart from these birth month flowers, if you wish to send some special gifts to some special people in your life, you should definitely have a look at our write-up – "Birthday Gift Guide: Get Perfect Gift for Every Person on Your List!!"
July Birth Flowers: Delphinium and Water Lily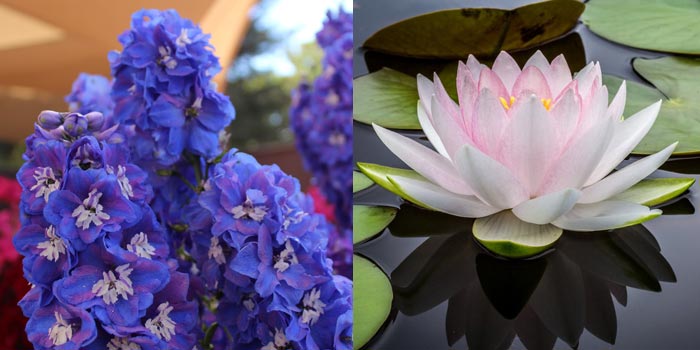 Characteristics of July Born – According to tradition, delphiniums symbolize openness, positivity, dignity, and grace. Those who celebrate their birthdays in July are generous, kind-hearted, and delightful to be around!
Significance of July Born Flowers – Delphinium and water lily are July's birth flowers. With associations of positivity, delphiniums are very much happy, cheerful flowers to brighten up someone's day! They're also a classic British bloom and can be found growing wild in many woodlands across the UK.
Symbolism of July Born Flowers – The ancient Greeks thought that the bud shape of the delphinium resembled a dolphin's nose, therefore giving the flower its name. The number of delphinium varieties has exploded in recent years, and some of them can grow to heights of six feet.
August Birth Flowers: Gladiolus and Poppy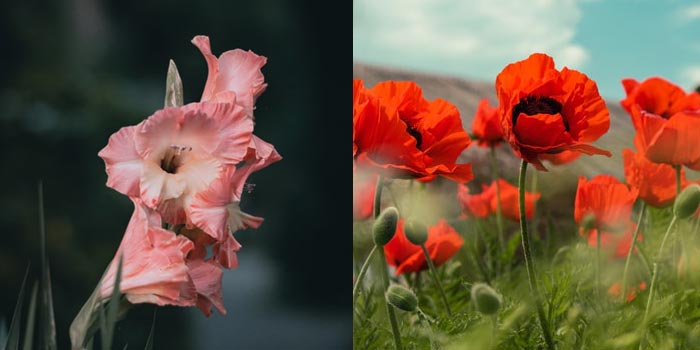 Characteristics of August Born – Delphinium Based on its meaning, the gladiolus flower is associated with moral integrity, honesty, and kindness. August babies must really be fierce, strong, and independent! They are also a flower of the 40th anniversary because they represent infatuation and remembrance.
Significance of August Born Flowers – Gladiolus and poppy are August's birth flowers. Late summer is a favorite time to enjoy these stunning blooms due to their wide variety of colors. If you are searching for birthday gifts for husband, you can never go wrong with these two beautiful flowers.
Symbolism of August Born Flowers – Gladiolus originated in South Africa and was named for their distinct, pointed shape after the Latin word 'gladius,' which means sword in Latin. Roman gladiators were given these flowers after winning a fight since they were considered essential flowers.
September Birth Flowers: Aster and Morning Glory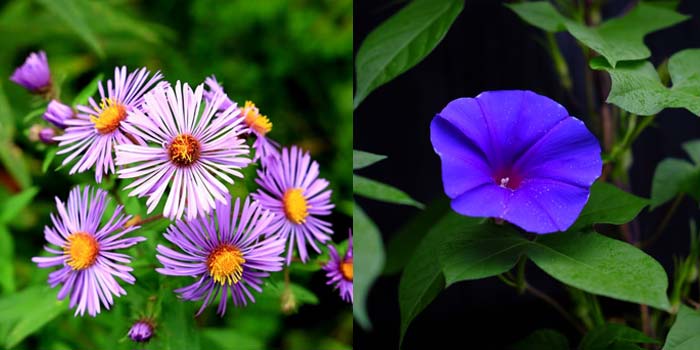 Characteristics of September Born – People born in September are considered open-minded and will always stick to the true situation, whatever it takes. These people are known to be polite and kind-hearted, but it is pretty hard to keep them entertained as they get bored easily.
Significance of September Born Flowers – Asters and morning glory are the September birth flowers. Due to their shape, asters are considered the 'star' of the show. Often pink, white, red, or lilac, asters are pretty, dainty blooms.
Symbolism of September Born Flowers – Although asters bloom throughout the year, they become one of the most vibrant flowers as autumn begins to make its appearance during the month of September. Asters are well known to symbolize love, wisdom, innocence, and faith. These make great gifts for friends and family celebrating a birthday in September.
October Birth Flowers: Marigold and Cosmos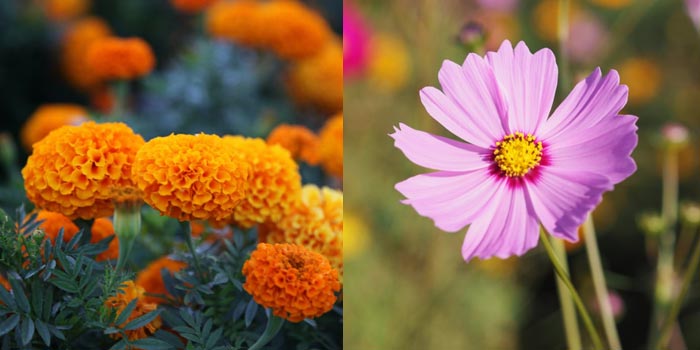 Characteristics of October Born – In autumn, marigolds are one of the sturdiest flowers. They also symbolize warmth and creativity due to their bright, colorful nature. People born in October are likely to be passionate, hardworking, and driven.
Significance of October Born Flowers – Marigolds and cosmos are the birth flowers for October. Marigolds are perfect for birthdays celebrated in October because of their beautiful colors and spicy scent, and they're a favorite of gardeners.
Symbolism of October Born Flowers – Historically, marigolds have had a long and storied history. The Aztecs first claimed to have used this flower because of its magical, religious, and medicinal properties. Marjoram was often used as medicine to treat skin problems and inflammation.
November Birth Flowers: Chrysanthemum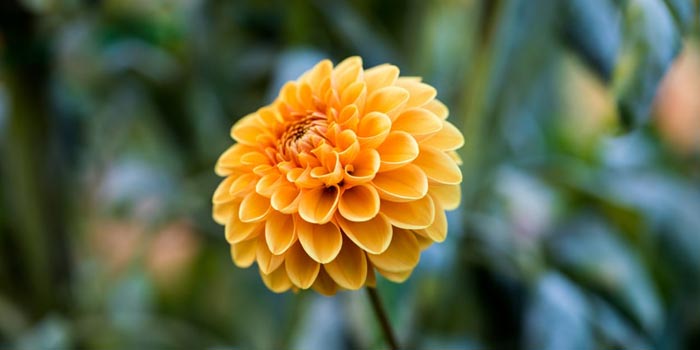 Characteristics of November Born – People born in November are extremely creative and blessed with good looks. They are always loyal and transparent to their friends and family, and hence, they make great friends.
Significance of November Born Flowers – November is the month when chrysanthemums are born. These flowers are used in many different arrangements around the world. It is thought that these flowers bring good luck and joy to a home.
Symbolism of November Born Flowers – Chrysanthemums were first cultivated in China in the 15th century. Because of this, both China and Japan now celebrate a Festival of Happiness in their honor. The many colors of chrysanthemums give them a lot of symbolic meaning. They symbolize friendship, honesty, and happiness, as well as beauty.
December Birth Flowers: Holly and Narcissus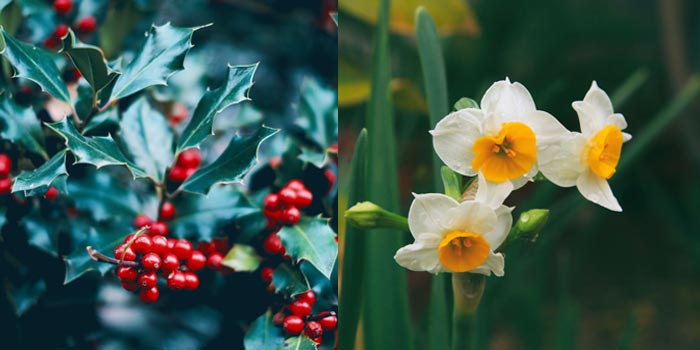 Characteristics of December Born – If you have a December born in your life, you can expect nothing but honesty from the person. They are down-to-earth persons with a clear heart filled with loyalty, friendliness, and emotions.
Significance of December Born Flowers – The December birth flowers are holly and narcissus. It will not be surprising to hear that the birth flower for December is the joyful and festive holly! Though technically not a flower, the dark green leaves and bright red berries just scream Christmas and are perfect for including in bouquets for those celebrating a December birthday. Holly plants have been in people's homes and gardens for centuries as one of Britain's favorite festive plants.
Symbolism of December Born Flowers – Before they were used for decorative purposes, though, they were seen as a symbol of fertility and an effective way to protect places from witches in Pagan times. Nowadays, holly is known for good fortune, merriment, and peace. They make admirable additions to December birthday bouquets and add the perfect touch of festive cheer!
The Final Takeaway
Sending someone flowers on their birthday is one of the best things you can do. The gift of flowers on someone's birthday is a truly joyous occasion, no matter whether you choose a simple bouquet or order balloons and a cake to go with it. When you think about buying someone special birthday flowers this year, invest some time in getting to know each month's birth flower and the meaning behind their petals. All the birth month flowers we have mentioned in the guide can be combined with gifts like cakes, flowers, personalized gifts, decoration items, and many more to amp up the birthday gift. Flowers with cakes for birthday gift combos will gear up the day simply.
As one of your favorite gift shops online, GiftaLove.com always loves making someone's birthday the best it can be. There is nothing more satisfying than knowing we have delivered fresh and beautiful flowers to someone celebrating another year of life. We offer our customers same-day birthday flower delivery, midnight flower delivery, and express flower delivery services for hassle-free gift delivery in India and worldwide.
So, what are you waiting for? Quickly buy birthday gifts online from GiftaLove.com and take a step forward to make your loved ones' birthdays more special and memorable.

Priya Gupta is the in-house content writer and developer of Giftalove.com. Her ever-smiling face, big heart, and jolly-good personality make her stand out. Her writing style demonstrates a harmonious union between passion and creativity. She is a multitasking person, delivering flawless work while listening to music, and dancing to the beats of Justin Bieber. All she needs is a cup of coffee to express her views through her words!