Only six days remaining to the desi valentine!!! Don't get me wrong, Karwa Chauth is the day which we call a desi version of Valentine's Day. The day solely dedicated to married couples, is a day of immense commemoration that goes on for a whole day and night.
I know you all are relishing the shopping bonanza some shopping malls, stores, and online shops are showering on you, but have you prepared your Karwachauth Puja thali?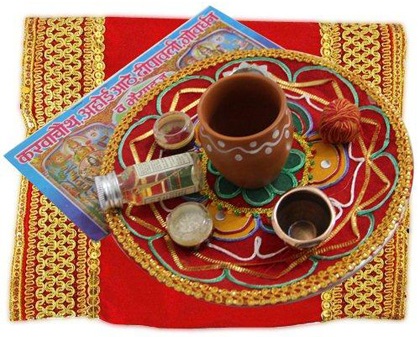 A thali for Karwa Chauth is the most essential component which married women use to perform several rituals associated with this significant celebration. We know how it's important to prepare a thali in advance, so here we give you some ideas by which you can decorate as well as prepare a thali without giving a miss to any essential component that is indispensable for Karwa Chauth.
List of items you need for Karwa Chauth puja
• A diya (earthen lamp)
• Karwa (pitcher) filled with water
• Sweets
• Flowers, fruits & food grains
• Incense sticks, Match Stick
• Kumkum, Roli, Haldi, Chandan, Chawal
Pick your thali
Take a plate having enough space be it made of copper, silver, steel or gold-plated material.
Now put each puja item in separate bowls.
Puja thali for moon worshipping
While you prepare to end the fast with moonrise, you need again a thali for the worshipping of moon. What all you need during this ritual is as follows:
• A Diya
• A Kalash or lota full of water
• Decorated sieve (chalni)
• A fancy piece of cloth to cover the thali
• Camphor, Dhoop, rice, Kumkum, sandalwood powder
• Sweets or dry fruits
Ways to embellish your puja thali
Dip an earbud or take a think piece of wood with one edge having cotton on it, in oil and draw the patterns or pictures of your choice on the thali. Sprinkle some vermillion, haldi, or roli on it. Now shake the plate well to discard the excess powder. Now your thali is ready with a beautiful pattern on it!
Take some flower petals (rose would be great) and spread it on thali. Arrange the puja items to give it a festive look.
Cover the thali with an embellished piece of cloth and put the items in separate bowls.
These are just a few ideas to bedeck your thali. You can use your own thoughts too to give this festive plate an attractive look signifying the essence of the celebration.
Sakshi Ecavade is our in-house content developer having a good understanding about the gifting industry. She creates quality content surrounding flowers, chocolates, plants, cakes, and other products which makes excellent gifts for the people. Accurate and authentic information is what she tries to deliver through her blogs.