These days many people like to opt for artificial flowers over fresh flowers for keeping at homes, offices and commercial places like restaurants, pubs and clubs etc. These artificial flowers are popularly known as synthetic or silk flowers. They are usually made up of silk or synthetic polymers along with other sorts of materials like wood, plastic, fiber and different fabrics. You can buy artificial flowers from any online gift & flower shops easily.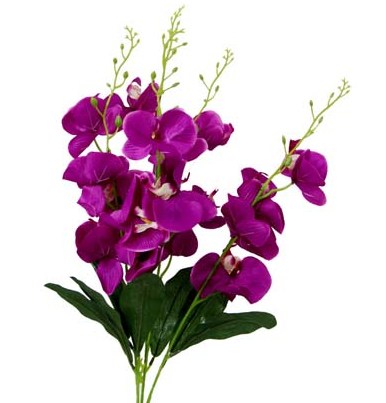 Unlike real flowers, these flowers never get wilted nor damaged due to any sort of adverse conditions. These are all occasions & seasonal flowers come with a wide range of colors. Silk flowers are also simple and easy to maintain with hardly any effort & onetime cost involved with it.
Here are some of the great ways to display artificial flowers to grab the attention of viewer in a perfect manner.
1. Artificial Centerpieces
Artificial floral centerpieces can be used to decorate homes, offices, workplaces hotels, cafes, and restaurants interiors. You might like to sport artificial floral centerpieces regardless of size & colour. Place them simply at the living room, dining tables, and corridors, on furniture, conference tables, and even hotel lobbies which. Some centerpieces come in small baskets while others come in form of large potted artificial plants to attract the attention of visitors. Many wedding ceremonies or official functions display beautiful collection of artificial florets centerpiece on the tables to grace the occasions.
2. Artificial Flowers comes in Great Variety
Artificial flowers are available in different types such as roses, daisies, lilies carnations, morning glory, orchids, honey suckles, water lilies, Hibiscus, chrysanthemums and even exotic flowers that are uncommon or seasonal can be used to make attractive centerpiece arrangements. Thus, there are limitless choices of flowers to create a centerpieces masterpiece. These easily available unconventional floral options can be purchased at affordable rates. High quality of silk or synthetic fibre is used during production of artificial flowers to ensure durability & longevity. These fibers can be easily molded and arranged into wonderful centerpieces. Moreover, good quality of artificial floral centerpieces does not fade easily.
3. Colourful Assemblage of Artificial Blooms
A great centerpiece of wonderful flowers can include flowers of just one type or a combination of four-five types of flowers. A professional florist would be able to put together these pieces to create a nice posy in a beautiful basket that would look charming as per the nature of occasion.
4. Spicing up with Accessories
Accessories can be added on to accentuate the beauty of artificial floral arrangements such as leaves, short stems, twigs, small stones, pebbles and artificial fruit can be combined together with the artificial centerpiece creation for an interesting presentation.
5. Artificial Flowers Mimic Real ones up to a great extent
Artificial flowers are skilled fully designed to give realistic look. They can also be perfumed to get real fragrance. They are easy to handle with and can be placed with fresh cut or dried flowers. This actually expands their versatility in a purposeful way. They have no allergens like pollen, disease-free and nontoxic for kids & old age people at home.
Thus artificial flowers have a lot of benefits involved with them. You can look for amazing range of artificial flowers at http://goo.gl/rm6RmT
Sakshi Ecavade is our in-house content developer having a good understanding about the gifting industry. She creates quality content surrounding flowers, chocolates, plants, cakes, and other products which makes excellent gifts for the people. Accurate and authentic information is what she tries to deliver through her blogs.