If any of your dearest ones celebrates his/her birthday during the upcoming monsoon season, it becomes quite a tricky task to actually idealize that what can be the perfect birthday gift for the monsoon bor. Be it a little kid, a teenager, a friend of yours, any of parent or someone special, birthday in monsoon brings a lot of confusion for gifting. However, a little Giftology can definitely help you out the best way.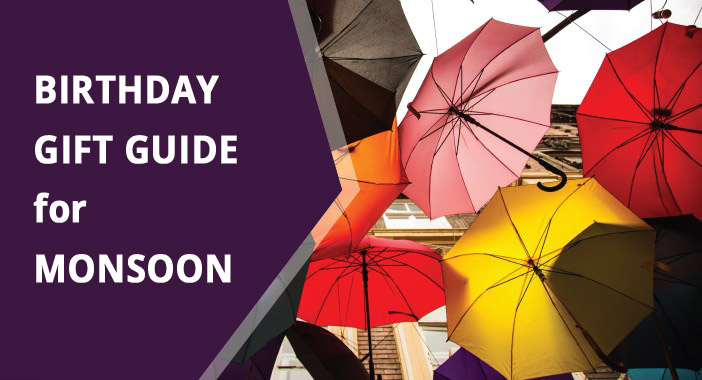 Gemini, Cancer, and Leo are the three Zodiac signs of the people born during the monsoon season in India. From the month of June to July and till August, monsoon or rainy weather takes a toll on many parts of the country. However, the most romantic and pleasing is the weather of rain. No wonder, this little worrying weather enjoys favoritism of many, especially for the ones born during the monsoon season.
If you have someone very dear and loving who celebrates birthday in these 3 months, here we got you some wonderful suggestions for surprising the monsoon born special one with wonderful Birthday Gifts.
Birthday Gift for a Little One Celebrating Birthday when It's Raining!
Little kids go crazy playing in the rains. This is the weather they enjoy a lot because of the rainy days and for the cheerful plays in the rain. And this is the time when they get sick because of this odd weather. Thus, when gifting something to a kid as birthday gift then a very attractive rain coat, rain bag cover, attractive kid's umbrella, immunity booster drink pack can be wonderfully great ideas.
Birthday Gifts for a Teenager Born During Monsoon
The teenager you know is soon to celebrate his/her birthday during June, July or August month. Show your caring side to his/her birthday with this wonderful gift options like a water resistant wrist watch, birthday Cake of monsoon theme, a bunch of Flowers with chocolates, an attractive Umbrella, trendy gumboots, Water resistant mobile phone, herbal cosmetic hampers with all stuffs that will take care of the skin, hair and other parts of the body from the odd weather condition.
Birthday Gift for the Special One Born in the Romantic Rainy Season!
Well, this Special One can be your wife, husband, boyfriend, girlfriend (https://www.giftalove.com/birthday/for-girlfriend) anyone special to your heart. A trip to a romantic place or a long romantic drive to a dhaba or restaurant will be the most special birthday gift for the special one, else there is a lot that can be thought of gifting and winning heart of the special one on his/her rainy birthday. A Heart Shape Rose flower arrangements, a Colorful Umbrella, Personalized Coffee Mug, a classic water resistant wrist watch, a cosmetic hampers of natural body care products from rain and much more can be thought of gifting in this regards.
Gift for Loving Parents with Birthday in June, July or August
No matter if it's your dad's birthday or mom's birthday during rainy season, you cannot miss out giving a special surprise to him or her despite all the rain happening outside. If to buy the best birthday gift seems quite tough during this time of the year, whoa… you got online gift portals to browse and buy birthday gifts online. Well, suggestions are for Personalized Coffee Mug for enjoying the weather with hot coffee, tea or even soup, a weather resistant wrist watch, Insulated Water Bottle, rain coat, rain bag cover and plenty of other such stuffs.
Birthday Gifts for Friend Born During Rains!
Your buddy of childhood, college time or anytime, deserves a very special birthday surprise from your side. Your friend is the special companion of your life whom you need to surprise with a special token of love. On this birthday, you can find a water resistant handbag, an attractive umbrella, personalized coffee mug, a water resistant wrist watch, rain bag cover, stylish gumboots and other such wonderful stuffs for the special person with great ease.
The odd weather cannot stop you from surprising your loved ones, who came into existence in this world during this odd yet a much loved and awaited season of the year. To buy gifts with great ease, we at GiftaLove.com are always there to help you provide the best gift shopping experience with ease of some clicks. You can explore the vast collection of birthday gifts online at GiftaLove and order for the best token of love despite being miles away from the special one on his/her birthday.
Sakshi Ecavade is our in-house content developer having a good understanding about the gifting industry. She creates quality content surrounding flowers, chocolates, plants, cakes, and other products which makes excellent gifts for the people. Accurate and authentic information is what she tries to deliver through her blogs.