Mother's day is one such occasion when you can make your mom feel special by planning to do something extraordinary. Well, you must have celebrated this special day every year with flowers, embellishments, decorations and a lot of fanfare. If you are perplexed about how to go about it this year, here is an incredible suggestion. Why not treat your mom with a terrific and scrumptious cake?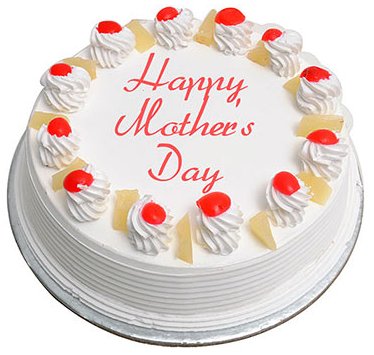 These days, you can find a wide range of exclusive Mothers Day Cakes that are specially prepared keeping in mind the warmth of a Mother. But you need to be really artistic at heart while choosing a cake for your mom. If your mom is a hard core baker, then your selection must be the ideal one, as to gratify her consideration for taste and presentation. If you do not want to be spendthrift, yet seek an arty option, best thing you can do is to buy Half Kg cakes Online at Giftalove.
If your mind is cramming with the monotonous array of repetitive choices, here is an exclusive range of delectable and presentable Mothers Day Cakes you can make choice to surprise your mom:
• Chocolate Truffle Cake:
Being a universal favorite, the Chocolate Truffle Cake is an epitome of intense temptation and delight. Dripped in dark chocolate, it will truly make your mom engrossed in its essence. A luscious, dark, spongy, warm and fudgy chocolate truffle cake is what exactly your mom needs on this special day. Its flavor is as good as its classy look and you simply cannot hold yourself from having a bite. This is one of the best Mothers Day Cakes that can really impress your mom.
• The Butterly Delight:
This lip smacking and gooey butterscotch cake is something that your mom had never thought before. Its texture is as smooth and buttery as your mom's love. But never forget to relish each bite. Every bite of this yummy and fluffy cake will be a wonderful experience that your mother will cherish forever.
• The Taste of Red:
As one of the most amazing options on Mother's Day Cakes, this tempting cake is oozed with sweet tang of rich strawberries. The rich red color will make your mom stunned at first sight. Each and every slice of this palatable cake is expertly baked to perfection as to strike a perfect balance between taste and design. You can also buy this as a Half Kg cake Online.
• A Bed of Roses to Feast Upon:
Got dazed? Well, this is exactly what the first look of this exciting cake suggests. This beautifully carved rose cake is truly eggless and is incensed with real roses. The countless roses engraved on the cake will truly leave an indelible impression of your creativity on your mother's mind. And the taste is going to enthrall her senses. With the beautiful bouquet of red roses that you are to gift your mom, this can make for a perfect combination.
These are some awesome varieties of Mothers Day Cakes that you just can't overlook. You can easily shop for them on Giftalove, the highly preferred online portal for sending gifts, flowers and cakes.
For more details, visit at https://www.giftalove.com/cakes/mothers-day
Sakshi Ecavade is our in-house content developer having a good understanding about the gifting industry. She creates quality content surrounding flowers, chocolates, plants, cakes, and other products which makes excellent gifts for the people. Accurate and authentic information is what she tries to deliver through her blogs.