गुरुर्ब्रह्मा ग्रुरुर्विष्णुः गुरुर्देवो महेश्वरः । गुरुः साक्षात् परं ब्रह्म तस्मै श्री गुरवे नमः ॥
Teachers are not only considered as one of the main components in the education system, but supportive and motivating teachers also play an essential part in the students' life. Worthy and dedicated teachers are those who do not take their job as a burden and take it as their sole responsibility to spread wisdom and knowledge. They enlighten the students' path and give their students an amazing set of knowledge that helps them fulfill their dreams by moving on the right path with genuine guidance. Teachers always give their 100% in molds their students to get prepared for whatever can come in between their success. Dates back to the golden days of 1962, Teacher's Day is being celebrated to honor the hard work of such worthy teachers in the world. The memorable day of September 5 commemorates Sarvepalli Radhakrishnan's birthday, who is the second President of India.
Teacher's Day 2022 is the day when we represent our sweet gestures, thankfulness, appreciation, and gratitude to our dearest mentors & guides who has a vast role in making our lives meaningful. We all have some significant memories attached to the traditional way of celebrating Teacher's Day organized by the school authorities. Whatever we are now in our lives and what values we hold are not only what our parents taught us. Our teachers and mentors have played a significant role in our lives as well that we surely can never forget. Owing to this, we have listed here some thoughtful and meaningful quotes, wishes, and messages to make your Teacher's Day celebration super fun and memorable. So, without any further wait, let us get started:
Happy Teacher's Day Quotes 2022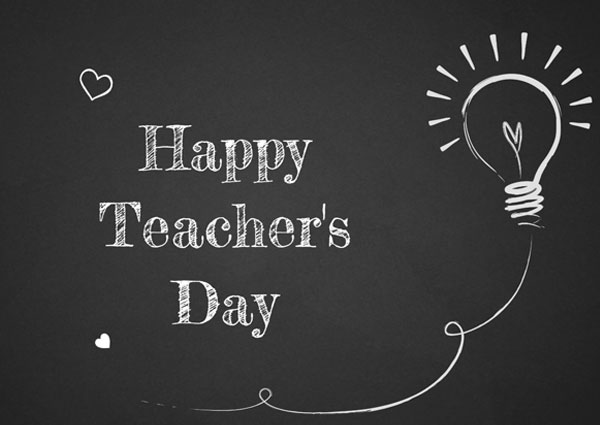 The contribution of teachers to enlighten our every sphere of life can never be described in words. Every teacher deserves respect and appreciation for what they have done for so many years and are still doing in these tough days. They have left an ineradicable mark on every student's life. Having a greater number of classrooms is no big deal but having great teachers to teach there is undoubtedly one of the essential things. The teachings we get from a small classroom are not only limited to the examinations but emphasize our daily life as well.
For all such incredible and valuable teachers, here are some of the thoughtful and meaningful Teachers Day Quotes from some great souls. Let us have a look at the list:
"Teaching is a very noble profession that shapes the character, caliber, and future of an individual. If the people remember me as a good teacher, that will be the biggest honor for me." – A. P. J. Abdul Kalam
"Good teachers know how to bring out the best in students." – Charles Kuralt
"Those who educate children well are more to be honored than parents, for these only gave life, those the art of living well." – Aristotle.
"I have always felt that the true textbook for the pupil is his teacher." – Mahatma Gandhi.
"Teachers are the most responsible and important members of society because their professional efforts affect the fate of the earth." – Helen Caldicott.
"Technology is just a tool. In terms of getting the kids working together and motivating them, the teacher is the most important." – Bill Gates.
"The true teachers are those who help us think for ourselves." – Dr. Sarvepalli Radhakrishnan.
"It is the supreme art of the teacher to awaken joy in creative expression and knowledge." – Albert Einstein.
"Education is the manifestation of perfection already in man." – Swami Vivekananda.
"The teacher who is indeed wise does not bid you enter the house of his wisdom but rather leads you to the threshold of your mind." – Khalil Gibran.
"Education is the most powerful weapon which you can use to change the world." – Nelson Mandela.
"Good teachers know how to bring out the best in students." – Charles Kuralt.
"It is the supreme art of the teacher to awaken joy in creative expression & knowledge." – Albert Einstein.
"A good teacher is like a candle – it consumes itself to light the way for others." – Mustafa Kemal Atatürk.
"One book, one pen, one child, and one teacher can change the world." – Malala Yousafzai.
"The whole art of teaching is only the art of awakening the natural curiosity of young minds to satisfy it afterward." – Anatole France.
"Those who educate children well are more to be honored than they who produce them; for these only gave them life, those the art of living well." – Aristotle.
"The art of teaching is the art of assisting discovery." – Mark Van Doren
"I'm not a teacher: only a fellow traveler of whom you asked the way. I pointed ahead- ahead of myself as well as you." – George Bernard Shaw
"There are two kinds of teachers: the kind that fills you with so much quail shot that you can't move, and the kind that just gives you a little prod behind and you jump to the skies." – Robert Frost
"If you were successful, somebody along the line gave you some help. There was a great teacher somewhere in your life." – Barack Obama
"Good teaching must be slow enough so that it is not confusing, and fast enough so that it is not boring."- Sydney J. Harris
"The teacher who is indeed wise does not bid you enter the house of his wisdom but rather leads you to the threshold of your mind." – Khalil Gibran
"Come forth into the light of things, let nature be your teacher." – William Wordsworth
"A teacher affects eternity; he can never tell where his influence stops." – Henry Brooks Adams
"The dream begins with a teacher who believes in you, who tugs and pushes and leads you to the next plateau, sometimes poking you with a sharp stick called truth." – Dan Rather
Teacher's Day 2022 Wishes and Messages
With Teacher's Day 2022 approaching soon, students must be searching for a special and unique way to wish their teachers. But, due to online classes, the party and celebration are not possible, but this not at means that you cannot wish your dearest mam. You can make a handmade Teacher's Day greeting card or a pretty e-card for Teachers' Day will also do the job perfectly. Adorn the greeting card with some valuable words, though, which you can show that how much you value their guidance and counsel. Owing to this, we have curated a list of some Teacher's Day wishes and messages that your teacher will surely appreciate. Have a look at them here:
My dearest teachers, you have taught me so many things in my life, because of which I am the better version of my personality. Happy Teachers' Day!
This Teacher's Day, I want to let my favorite teacher know that I feel extremely fortunate and blessed to have your support in my life as a teacher. Wish you a very and wonderful Teachers' Day!
Being a teacher isn't like a 9 to 5 job; thanks for being available whenever we had a problem. Thanks for always making us feel that way! Happy teachers' day!
I remember the time when I get the utmost honor to attend your classes. Those were the best days of my life when you taught me such valuable things in the friendliest manner! Thank you for always being the best and the humblest version of you to us!
Parents gave us life, but it was you to teach us how to live it to the fullest and in the best way. You introduce us to the most important concepts of life like honesty, positivity, integrity, team spirit, and passion. Happy Teachers' Day!
All of the endeavors and difficult work you've put in to draw out the most incredible in us can never be reimbursed in simple words. We can just feel thankful for having such an amazing teacher like you. Happy Teacher's Day to you, Mam!!
You guided us like an instructor, secured us like our guardians, and motivated us like a coach in every phase of life. You deserve all the happiness, respect, and appreciation in the whole world. A very happy and blissful Teacher's Day to my dearest teacher!
You have an exceptionally unique way of motivating youngsters like me. We need more educators like you in our schools and universities. Happy Teacher's Day to you!
To my one and only dearest teacher, I would not be the place where I am in life at the present time had it not been intended for your motivation and guidance. I owe you the entirety of achievement. Much thanks to you! Also, a very Happy Teachers' Day!
Dear Mam, thanks a lot for supporting and illuminating all my life. If by some stroke of good luck, I could have your approval for a lifetime, I would succeed in the manner in which I have done consistently. Have a great Teachers' Day, Mam!
This Teacher's Day, I genuinely want you to know that all the hard work, efforts, and dedication you have put in us are highly appreciable. I admire how efficiently you have always been dedicated to taking the class and teaching us so many good things in life. Happy Teacher's Day!!
Without having your support in my life, I would not have ever got to represent such a better version of my life. Thank you so much, and have a wonderful Teacher's Day ahead!
Final Words:
Teacher's Day is an annual celebration as per the calendars. But, every student knows teachers are not momentarily, and showing respect and admiration to them should also not be for one Day only. That is why; GiftaLove.com has come with its newest launch of Teacher's Day gifts like cakes for Teacher's Day, flowers for teachers, personalized mugs, chocolates, spiritual idols, and whatnot. You can send Teacher's Day gifts online with either express delivery or standard delivery to express your love, respect, and gratitude to your favorite teachers even in this deadly pandemic.

Priya Gupta is the in-house content writer and developer of Giftalove.com. Her ever-smiling face, big heart, and jolly-good personality make her stand out. Her writing style demonstrates a harmonious union between passion and creativity. She is a multitasking person, delivering flawless work while listening to music, and dancing to the beats of Justin Bieber. All she needs is a cup of coffee to express her views through her words!