All the couples out there passionately in love with their significant others; you must be waiting for this fabulous and impassioned day of the Valentine week. As the day is finally here, indulging in innumerable kisses on Kiss Day with the beloveds is every lover's secret fantasy. Kisses are the most affectionate gestures after hugs to demonstrate immense sentiments for the partners. Holding our charming partners in the arms and pampering them with loads of kisses is the essence of this utterly amorous day. Kisses are tangible and are imbued with an unvoiced power that can uplift anyone's mood. Such is the power in this sweetest gesture that it can turn a frog into a prince, laughs!!!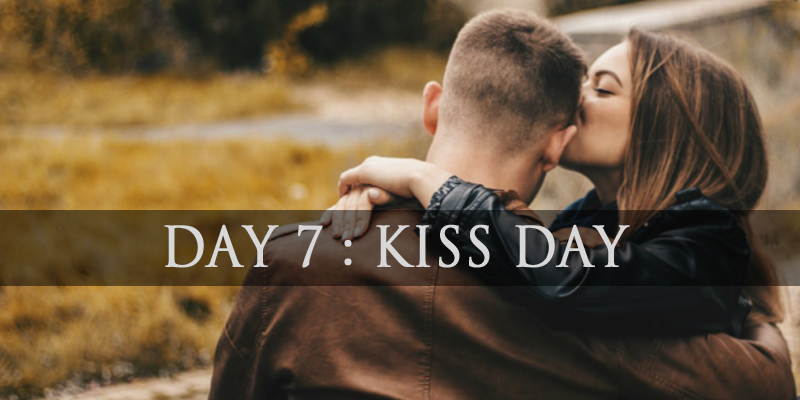 Nature has bestowed humans with places that are no less than a paradise on earth. And, one of the most romantic destinations which every couple desires to visit is ecstatic Paris. As beautifully stated by Ernest Hemingway, "There are only two places in the world where we can live happy: at home and in Paris." Such is the popularity of this place that the term "Parisian" has originated from the name of this romantic destination suggesting the intense romantic style of celebrations. Wherever you are, you can indulge in the amorous spirits of lovely Paris through your jubilance on Kiss Day.
As we all know that Kiss Day is all about rapturous kisses, celebrating this vehement day in Paris style will intensify this day's jollifications. Below are some incredibly romantic celebration ideas for Kiss Day to elevate the feelings of love and affection.
Celebrations of Kiss Day Worldwide
An affectionate kiss is the best way to express the unvoiced emotions of the heart. A tender kiss is a special declaration of one's love for another person; and, when it is about the first kiss with your partners, it is a distinctive feeling altogether. The gates of the fanciful world of contentment and exhilaration get unlocked where everything is just picture perfect. Kissing your beautiful and charming ladies on the forehead implies that their men are truly and deeply in love with them and will stand by you in every stride of life; definitely, a relationship that is every girl's dream. Having such a loving and caring partner is like a blessing to every person on this earth. Kiss Day of the Valentine week gives you an opportunity to convey your feelings in a delicate, encouraging, and loving way. Making this day extra special by celebrating it with flowers, greeting cards, and cakes will make this occasion more momentous and noteworthy for the rest of the couples' lives.
Celebration Ideas for Reminiscent Kiss Day
French Kissing: Thinking of celebrating Kiss Day in Parisian style? Well, then indulging in a warm and affectionate French kiss certainly deserves to be in the first place. It is the best way to revel in passionate acts of love during the occasion of Kiss Day. Also known as the Florentine Kiss, this is the most romantic gesture of your love and affection for your beloved. This kissing technique received its name based on a theory during the World War I. It is said that when British and American forces came back from this war from Europe, they passionately kissed their wives after seeing them after a long time. This made the people believe that these soldiers attained this art of kissing from France, their stationed place. Well, we owe a big thanks to the French romance style!
A candlelight dinner together: An intimate candlelight dinner is the most preferred celebration on any romantic occasion. Paris, the City of Love & Romance, is the perfect source of inspiration for Valentine week celebrations. Add a little French glamour and witness relish love in the air by planning this perfect French evening for your sweetest Valentine. Play soft and romantic music in the background to create a love-filled atmosphere at home. Don't forget to design your dining table in the French style. Spread a floral linen table cloth on top of the table with shiny cutlery, plush glassware for the champagne, and cloth napkins. Place a beautiful centerpiece and mesmerizing flambeaus on the table for an artistic demeanor.
Love letter and chocolates: People often send readymade greeting cards along with their gifts to their significant others. This Kiss Day, if you dream of having that perfect kiss from your beloved, then write an extremely affectionate love letter that speaks of all the sentiments you hold in your heart for her. Complementing this heartwarming love epistle with a box of French chocolates to say "Je time" to your dearest one is definitely French romance in great fashion.
Jazz up your outfit: As Kiss Day involves expressing your paramount love and passion for your significant other, therefore, donning up an outfit that is extremely electrifying in looks can spice up the moods of this day's celebrations. Go for the colors like red and black as both symbolizes deep love and compassion. Stand up straight, lift your heads, and feel honored of the love that you have in your heart for your partner.
The Final Takeaway
Don't just shower infinite kisses on your partners, but also surprise them with the tokens of your deep love which they can cherish forever. Giftalove.com strives to make every occasion of its customers a memorable one through its luxurious gifts. Spread love and joy this Kiss Day with Giftalove Kiss Day gifts and infuse your lovey-dovey life with the warmth of your love and admiration.
Sakshi Ecavade is our in-house content developer having a good understanding about the gifting industry. She creates quality content surrounding flowers, chocolates, plants, cakes, and other products which makes excellent gifts for the people. Accurate and authentic information is what she tries to deliver through her blogs.