Navratri 2018 is going to start on 10th of October and will end on 18th of October that is the day of Vijayadashami that is also called as Dussehra. Navratri actually means a time span of nine nights as Nav means nine and Ratri means night and nine incarnations of Goddess Durga are celebrated in the time span of nine days.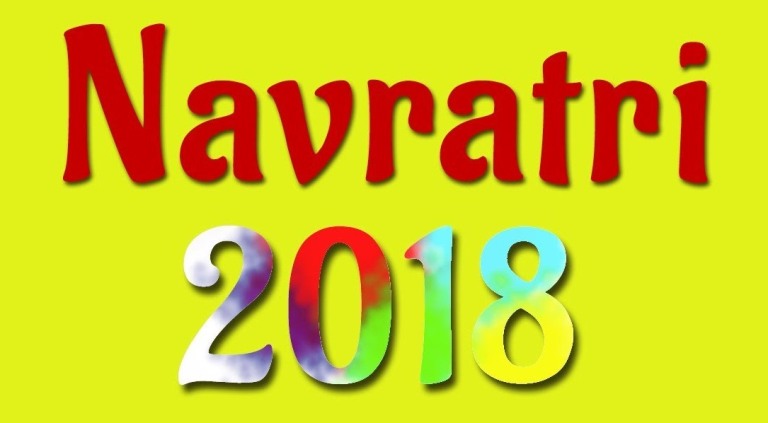 Navratri is an important festival of Hindus and they celebrate this festival with utmost enthusiasm. There are a variety of rituals associated with the festive celebration and wearing different colours on different days of the festival is one of them. There are indeed nine different colours associated with each these days of Navratri.
Those nine auspicious colours that are considered great to be worn during Navratri are green, yellow, red, royal blue, grey, orange, sky blue, white and pink. In most parts of the country, no matter if its office goers, college going girls or people who are more religiously driven, follow this ritual of wearing different colours. Here is every subtle detail on the colours associated with each of the days of Navratri 2018 celebration. Read below to find…..
Navratri Day 1: October 10, 2018, Wednesday
Associated Color: Royal Blue
Sharad Navratri is going to be celebrated on 10th of October this year and that is the first day of Navratri 2018. Royal blue is the color of the first day of celebration of 9 days long Puja. As this color is believed to signify intelligence, wisdom, strength, and tranquility, it's associated with the first day when Pratipada is falling.
Navratri Day 2: October 11, 2018, Thursday
Associated Color: Yellow
On 11th October, the first day of Navratri 2018 will be celebrated. It is auspicious to wear yellow colored clothes on this day. As per Hindu calendar, Chandraghanta Puja and Sindoor Tritiya Puja are celebrated. Yellow colored clothes are worn on this as it stands for positivity, happiness, vivaciousness, and clarity.
Navratri Day 3: October 12, 2018, Friday
Associated Color: Green
Since green color stands for harmony, rejuvenation, and life, on the third day of the festival green colored clothes are worn. The third day of the festival is going to be celebrated on 12th October. The color is also related with economy and finance. On this day Varad Vinayaka and Kushmanda Puja must be performed.
Navratri Day 4: October 13, 2018, Saturday
Associated Color: Grey
Since grey color is the symbol of a vulnerable mother who is believed to have that superpower that she can transform herself into if she needs to protect her child. And, therefore, on the fourth day of the festival grey color is worn. On this day Skandamata Puja and Upang Lalita Vrat must take place as a way of worshipping Maa Durga.
Navratri Day 5: October 14, 2018, Sunday
Associated Color: Orange
On 14th of October, the fifth day of Navratri 2018 is going to fall! It is recommended to wear orange colored clothes on this day as this color showcases the happiness of yellow and vibrancy. On this day, Puja of Maa Sarswati will kick-start that takes place during Navratri festival.
Navratri Day 6: October 15, 2018, Monday
Associated Color: White
6th day of the Navratri 2018 is falling on 15th of October and it is considered auspicious to wear white colored clothes on this day. White is chosen for this day, as it symbolizes purity, innocence, goodness, perfection, peace, virginity and light. On this day, Katyayani Puja is performed to revere the most violent forms of Goddess Durga named Goddess Katyayani.
Navratri Day 7: October 16, 2018, Tuesday
Associated Color: Red
Red is associated with fire, passion and radiance, vigor, willpower and energy it's the color associated with the 7th day of Navratri called Saptami. The day will be observed on 16th of October this year. This day celebrates Goddess Kalaratri, who is believed to be the fiercest incarnations of Goddess Parvati.
Navratri Day 8: October 17, 2018, Wednesday
Associated Color: Sky Blue
Sky blue is the color to be worn on the eighth day of the Navratri festival. The day is going to be celebrated on 17th of October 2018. Sky blue color is believed to showcase loyalty, sincerity, depth, and wisdom and on this day Maha Navami and Sandhi Puja are performed.
Navratri Day 9: October 18, 2018, Thursday
Associated Color: Pink
Pink is the perfectly auspicious color for the ninth day of the festival! This color is associated with harmony, friendship, inner peace, and affection. It is also the color that signifies hope and start of a new life. On this day, Ayudha Puja, Navratri Parana, and Navami Homa are performed.
So, that was all about the different colors associated with the festival of Navratri 2018. It's always a great idea to match different colored dresses for different days of the festival celebration with accessories. Around the country, the festival is celebrated with utmost fervor and zeal. Girls deck up in beautiful dresses, dance and giggle all over. And, it's perfectly a great idea to choose the color of the dress as per the Navratri day. It's also a great idea to buy online Navratri gifts as per the color of the day as mentioned above!
Sakshi Ecavade is our in-house content developer having a good understanding about the gifting industry. She creates quality content surrounding flowers, chocolates, plants, cakes, and other products which makes excellent gifts for the people. Accurate and authentic information is what she tries to deliver through her blogs.