People believe that the world is divided into 12 different parts and it has 12 different types of people as there are 12 Zodiac signs or Sun signs. Many think the theory that the characterization of people under these Sun signs helps us identify that person's personality, and there are some people who call it superstition beliefs or just plain myth. We live in a democratic world, so we must respect everyone's way of thinking and perspective. But if we firmly believe in zodiac signs, we can easily understand their strength and weakness and what sort of gifts they would love to have. Wondering which rakhi would be best for your brother according to zodiac sign, he got his birth?
Giftalove decided to live up to this promise of stocking designer and attractive rakhi gifts for brothers. Here are some beautiful rakhis based on their Zodiac signs. Explore and send rakhis to your beloved sibling residing with you or living in another corner of the Globe.
1. Aries (March 21- April 19)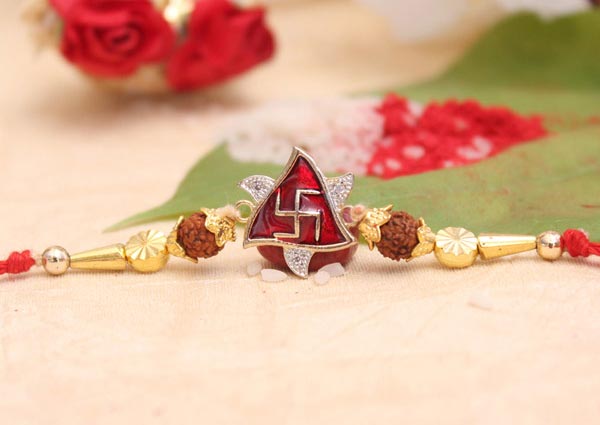 Colors: Red, Yellow, Orange
If your brother's zodiac sign is Aries, it depicts that he possess a high level of energy and is always ready to face any challenge that comes in the way. Aries have an impressive personality and strongly believes in hard work. They are idols and inspiration for others and never fail to prove it. They are energetic, adventurous, loves sports, and can convert any boring situation into a fun and exciting one.
Rakhi: If your bros have an Aries sun sign, then a rakhi in red and yellow color will be an ideal choice for him. With red symbolizing his passionate nature, this unique color will be an extension of that very fiery color. Thus, a Mauli rakhi with traditional red and yellow color is best for your sibling.
Rakhi Gift: You can pick up a new backpack for their next trekking event. As the people of Aries sign are always full of energy and very efficient you can also gift them some stationery item or home-office accessory.
2. Taurus (April 20- May 20)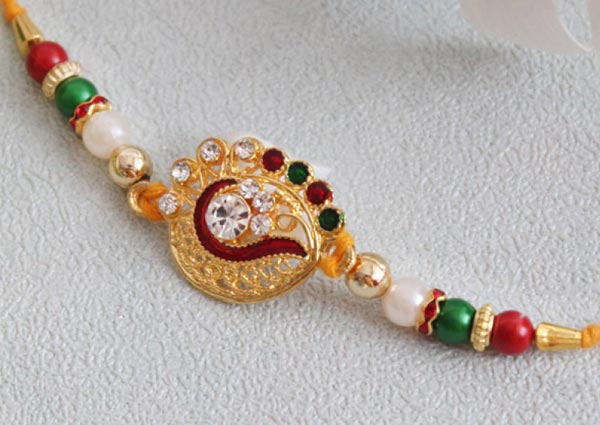 Colors: Green, Pink
A Taurus is usually lazy and, at the same time, arrogant and always hesitant to change their nature. But, as a sibling, they are undeniably kind-hearted, and you can surely rely upon them quite easily. Taurus likes to keep themselves simple but they also have a keen eye for luxury.
Rakhi: Taurus are well-known for their stubborn and protective nature. Therefore, a Kundan Rakhi with green or pink stones can be perfect for tying on your brother's hand.
Rakhi Gift: A new branded perfume or accessories will please their luxury-wanting personality, or an outing at a scenic location can be the perfect rakhi gift for your sibling as it will give them some peace of mind.
3. Gemini (May 21 – June 20)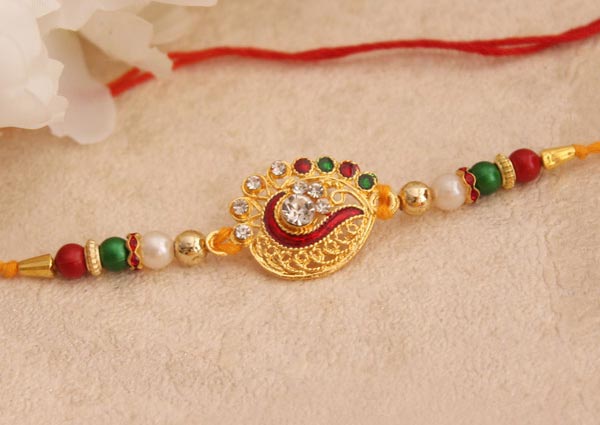 Colors: Green, Yellow
Geminis are intelligent, talkative, friendly and always look for new opportunities and challenges. Gemini people are quick-witted, clever, and easily cope-up with their surroundings. They are Extrovert kind of people.
Rakhi: Being talkative, who loves people and company. A designer rakhi in shades of green and yellow will go well with his impressive personality and give people a lot to talk about with your brother.
Rakhi Gift: A Gemini is always a lively per You can go with the latest gadget, travel accessories, or collection of songs of his favorite artists.
4. Cancer (June 21 – July 22)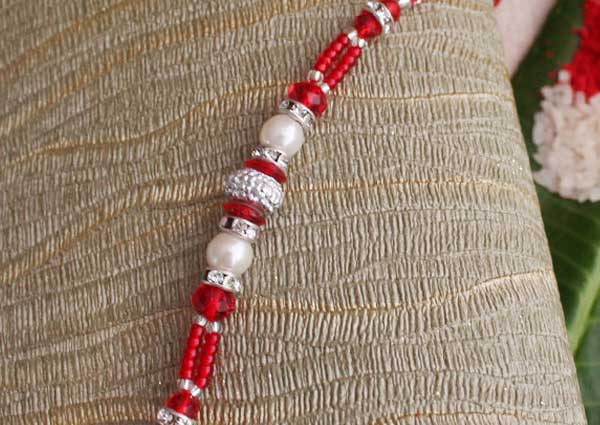 Colors: White
A person with a Cancer zodiac is sensitive, emotional, and generous towards the people they love. They observe things very closely and have an extraordinary intuition that hardly goes wrong.
Rakhi: Being most sentimental and sympathetic, especially for their sisters. To symbolize the pure love these brothers, reciprocate, a white pearl rakhi will be loved by brothers with big hearts.
Rakhi Gift: You can opt for something handmade from you or take them out in some restaurants.
5. Leo (July 23 – August 22)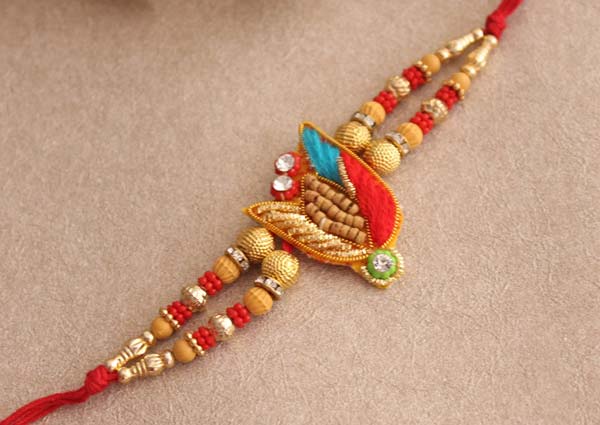 Colors: Gold, Yellow, Orange, Red
Leo is dominant and competitive, whether it is about seeking their parent's attention or winning any fight; in sort, they are bossy. They are pretty hard-working, courageous, and energetic. Leos is never too tired to try one more time before giving up. They are someone who inspires their surrounding.
Rakhi: Leos have a loud and boisterous personality. Therefore, an attractive Rudraksha rakhi will be a perfect and memorable gift to match his fiery and impressive character.
Rakhi Gift: A personalized photo frame with all the beautiful memories from childhood can be a fantastic gift.
6. Virgo (August 23 – September 22)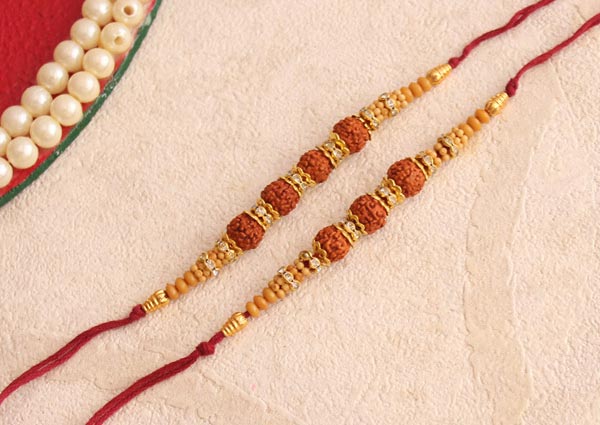 Colors: Grey, Beige, Pale-Yellow
Virgos are, one hand, immensely loving and caring in nature, and on the other hand, they can be the most annoying pranks to irritate you. But it is also true that he will do amazing things to make you smile with their amazing surprises. Virgo's carry an excellent communication skill and are very loyal people.
Rakhi: Virgos are caring and loving in nature. Therefore, if you have a severe Virgo brother, you need a Golden rakhi in their respective colors for a no-fuss celebration.
Rakhi Gift: They are very practical-minded, making their life easier by gifting them a blender, coffee maker, dryer, etc.
7. Libra (September 23 – October 22)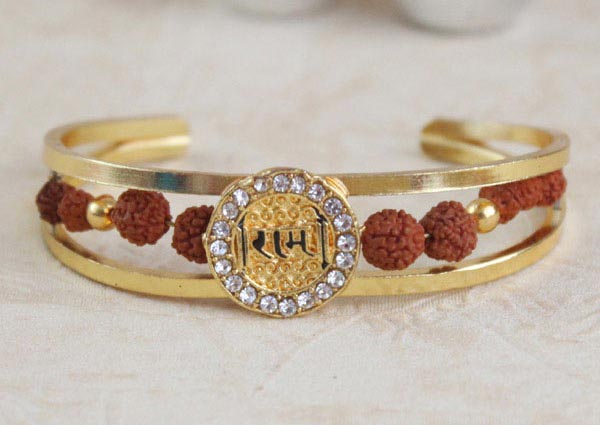 Colors: Pink, Green
Libra is the sign of balance means Libra can be diplomatic. But they go beyond their limit to help you, either financially or mentally. Libra sign appreciates beauty and would die before hurting anyone. Libra men love to lead a very positive life.
Rakhi: Libras are the most palpable one. Therefore, for these busybodies not fond of being left on their own, a zardosi rakhi in the pink and green colors will go well.
Rakhi Gift: A Libra man would surely love a personalized journal or diary. So, go with the suggestion and make him feel special and loved.
8. Scorpio (October 23 – November 21)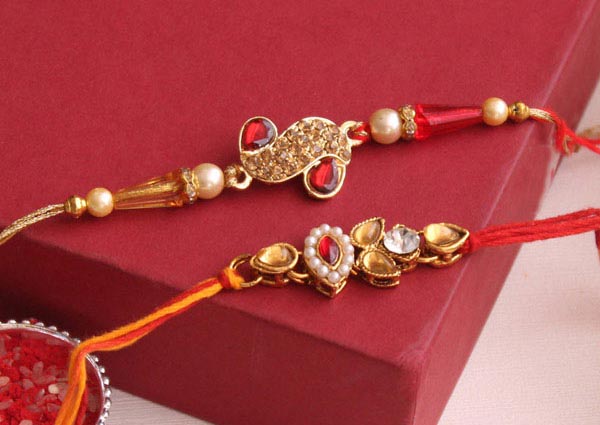 Colors: Red, Rust
Scorpion Bros are super moody, and they will love you one moment and torment you, showing authority in the next moment and They also ensure that no harm comes your way. Their intuition is something you cannot ignore, and they are also very loyal friends, and they cannot tolerate unnecessary dramas.
Rakhi: Scorpions are loyal and often protect you. A red color swastika rakhi will be perfect when you tie it on his wrist as these Rudrakshas are considered sacred and bring good luck.
Rakhi Gift: A digital camera, a grooming kit, and sunglasses would be the perfect gift for Scorpio men.
9. Sagittarius (November 22 – December 21)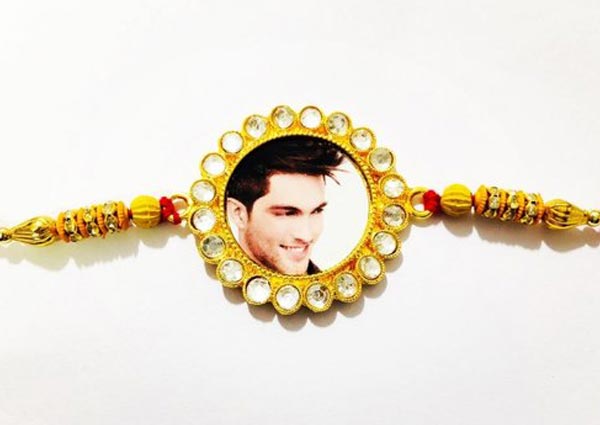 Colors: Yellow
Sagittarius is the most loyal one. If your sibling is a Sagittarian, you have got someone special and optimistic by your side and always gives you honest advice. Sagittarius have a great sense of humor, and their kind hearts have a love for all.
Rakhi: Sagittarius are the ones who embrace life wholeheartedly. For these free-spirited bohemians' brothers, why not gift them a yellow stone Lumba rakhi, which will go well with their zest for life and makes them all the more attractive.
Rakhi Gift: A set of tie and cufflinks, a Personalized sipper bottle, etc., would be the best gift choice.
10. Capricorn (December 22 – January 19)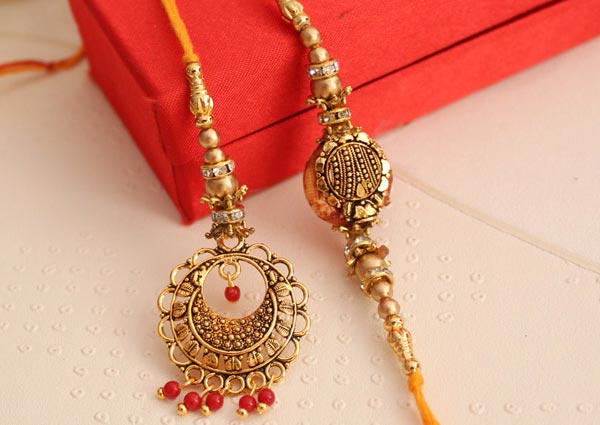 Colors: Brown, Black, Pink
Capricorns love fun and are ambitious. They have a sweet nature, and anyone can easily rely on them with some responsibility. People depend on Capricorns as they are great decision-makers. Capricorns are also very ambitious, but at the same time, they are also entirely grounded.
Rakhi: For brothers who have no time for fuss, a metal bracelet rakhi can be the best tying option for you. You can also go for personalized or customized metal rakhi with your brother's name engraved on it, which he can wear all the time.
Rakhi Gift: A customized coffee mug, a big desk sign, a traditional dress would be a special gift for your brother.
11. Aquarius (January 20 – February 18)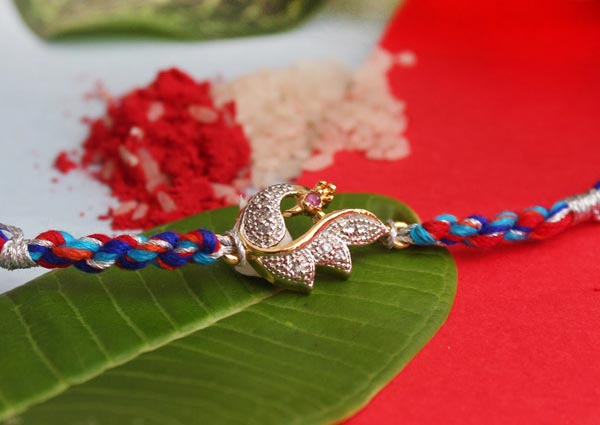 Colors: Light Blue, Silver
Aquarius brothers have nature you need to deal with mindfully. Sometimes they are protective, and in the very next moment, he can be the reason to embarrass you in-crowd. These people never go for superficial looks and strongly believes in quality. They also hold memories of high value and cherish the bond they share with their kith and kin.
Rakhi: These brainiacs are a creative bunch who thrive on extraordinary adventures. A peacock rakhi in colors of blue and silver will do magic with their unique personality.
Rakhi Gift: Personalized gift would make an Aquarius brother more than happy.
12. Pisces (February 19 – March 20)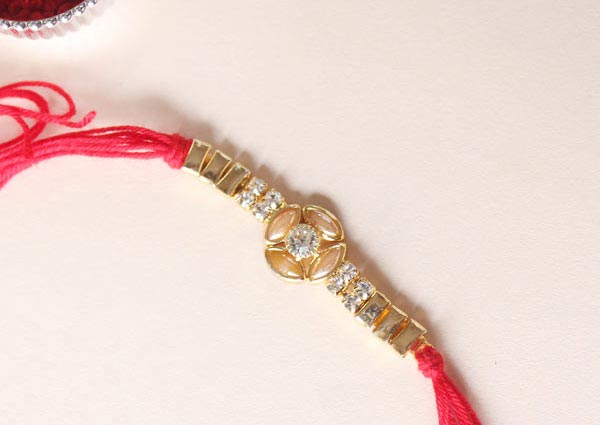 Colors: Mauve, Lilac, Purple
Pisceans are sensitive and emotional. They are drawn to luxury and are mature beyond their age. Pisces are thus great friends, and they attentively listen to the problems of others, and they also carry an imaginative and intuitive mind.
Rakhi: Pisces are the most genuine people who are kind at all times; a personalized rakhi will be perfect for those special people who need to be remembered again and again.
Rakhi Gift: Books, paintings, flower bouquet would be well-appreciated Rakhi gifts for Pisces brothers.
Final Verdict
Raksha Bandhan is the most traditional and ancient festival celebrated to honor the brother and sister bond. In this celebration, the rakhi is tied over the brother's wrist to protect him from all kinds of evils. This year, we all face an evil known as Covid-19, but do not let this pandemic ruin your most awaited festival. Use the technology and browse any reliable and genuine E-commerce gifting website. There are many sites available; you can also check Giftalove.com and pick the best rakhi that suits you and falls under your range. In the end, have a Happy and Safe Raksha Badhan.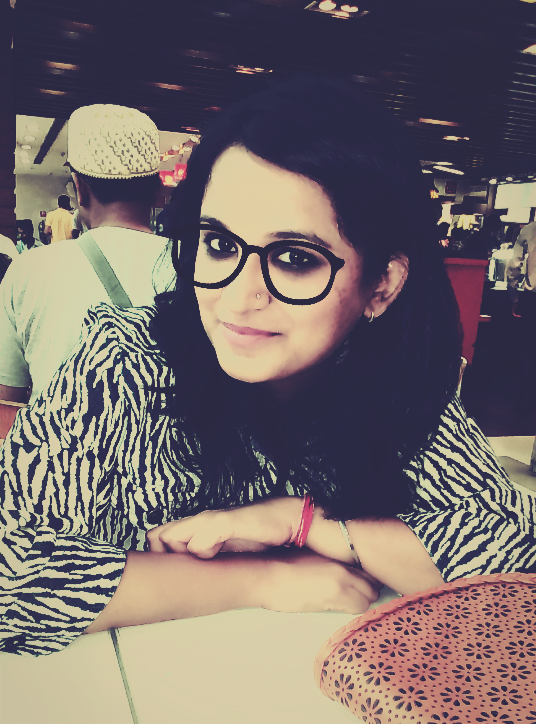 Sakshi Ecavade is our in-house content developer having a good understanding about the gifting industry. She creates quality content surrounding flowers, chocolates, plants, cakes, and other products which makes excellent gifts for the people. Accurate and authentic information is what she tries to deliver through her blogs.