Blessed are the people who have siblings in their lives. They fulfill the requirement of friends in life and our greatest supporters and motivators in everything we do. The teasing, the leg-pulling, allotting funny names, and most importantly, sharing everything among siblings are what makes our lives a pleasant and gladsome affair. The festival of Raksha Bandhan celebrates this strong bond between brothers and sisters. It gives a wonderful chance to the people to express their deep love and veneration to their siblings and help to deepen the sentiments of love and care among them.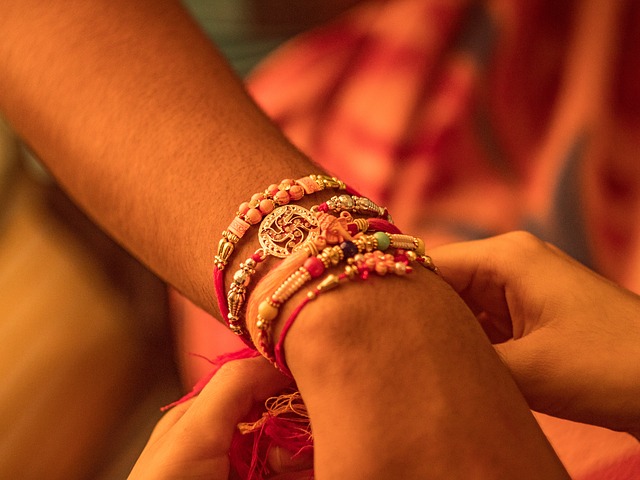 If you too are awaiting this fabulous occasion to convey your heartfelt emotions to your brothers and sisters, then these 25 Raksha Bandhan messages will open your heart in front of them and communicate your hidden feelings to them with the least of words. Read them below –
Raksha Bandhan Messages for Brother
1. Dear Brother, I feel fortunate to be blessed with a brother like you who has always been my great support and a sense of motivation. Sending you loads of love and best wishes…Happy Raksha Bandhan Bhai!
2. Dearest Bro,
I don't consider the physical distance between us as a hindrance…It is not the distance that matters; what matters is the immense love and care between us. This Raksha Bandhan, consider this Rakhi as a gesture of my sisterly love, Happy Rakhi Bhai!
3. We are like a pair of socks. One cannot look good without the other. Come home soon. Love You, Bro…
4. Let's reminiscence the good old days of childhood when we had a blast!!! Happy Raksha Bandhan Bhaiya!
5. Consider my Rakhi as a string of my heartfelt emotions brother! Wishing you a very happy Raksha Bandhan!
6. Your love and care have always been a ray of bright light in my life showing me the right way always. As your sister, I feel extremely proud to be called your sister. Love Your Bro N Happy Rakhi!
7. Remember, the funny fights that we indulged in during childhood days. Thinking of them makes my ribs tickle and make me laugh unstoppably. My sincere love and care Bhaiya! Happy Raksha Bandhan!
8. How far we are from each other, but our love for each other will never fade away. It will get stronger and livelier with every inch of distance between us. Sending my heartiest Raksha Bandhan wishes dear Bhai!!! Come home soon!
9. Dear Brother,
The pace with which the beautiful phase of childhood has passed always makes me wonder how time flies… We have grown and become adults…Leaving the beautiful and amazing days of childhood behind us… I wish I could reverse back the time and relive those fun moments with you all over again.
Happy Raksha Bandhan Bhaiya!
10. No matter the distances between us,
My Rakhi will always reach on time,
To be tied on the wrist of my loving brother
With the heartwarming wishes of
Joy and happiness to illuminate your life.
Wish You Happy Rakhi!
11. Bahen chahe sirf pyar dular,
Nahi mangti bade uphaar,
Rishta bane rahe sadiyon tak,
Mile bhai ko khushiyan Hazaar.
Happy Raksha Bandhan Bhaiya!
12. "Brothers are like streetlights along the road,
They don't make distance any shorter
But they light up the path
And make the walk worthwhile."
Sending Best Wishes for Raksha Bandhan!
13. You are the person who holds me in my bad times,
You are the person who dances with me in my happiness.
I can't recall even a single day
When you were absent from my life.
I really love you.
Happy Raksha Bandhan Bro!
14. My love for you is measureless.
My blessings to you are unlimited.
Dear Brother, you will always be
My friend, a guide and a hero.
Happy Raksha Bandhan Bhaiya!
15. In my life, many people have come and gone.
But you, have been there all along.
Through all of life's curvy roads,
Your hugs have been my heavenly abode.
Raksha Bandhan Messages for Sisters
16. Sister is someone who is caring and sharing.
Sister can understand things you never said.
She can understand the pain
Which is not visible to anyone.
Happy Rakhi Sweetest Sis!
17. A sister is a sister forever,
A bond that diminishes never,
A friend who is kind and caring,
A sibling God chooses for sharing.
Few ties as deep and profound
And with so much affection abound
Though some thoughts are seldom expressed
Love endures and survives every test.
18. On this Rakhi, let's bring back
The lively spirit of childhood,
Play pranks with each other
And become that wacky sibling we were always.
Happy Raksha Bandhan Sissy!
19. To find you as a sibling is like having a soul mate for life. Happy Rakhi Meri Pyari Behena!!!
20. We laugh and cry, we play and fight. We together shared moments of happiness and sorrow which led to making our sibling bonds stronger. Happy Rakhi to you my darling sister!
21. On the auspicious festival of Raksha Bandhan, I hereby promise to stand by your side no matter what life throws at us. I'll be your backbone shaping your dreams and aspirations with dedication and extending my everlasting support to you. Stay happy always my loving sister. Happy Raksha Bandhan 2019!
22. Thanks for those innumerable nights on which I wake you up for a plate of Maggi or a glass of water. Thanks for holding me tight when I woke up from a bad dream. Thanks a lot for everything you have done for you. I love you, sister!
23. The grace with which you tolerated my nuisances and never retorted back in anger, you have been an epitome of immense love and strength for me. Thank you, Didi, for all you love and affection. I love you tons. Happy Rakhi!
24. When mom used to stay back for work or was ill, you have constantly taken care of me like a mother. You managed everything with utter strength with a bright smile on your face. You are certainly an inspiration for other girls out there. Thanks for always being there for me sister. Happy Raksha Bandhan!
25. ओस की बूंदों से भी प्यारी है, मेरी बहना
गुलाब की पंखुड़ियों से भी नाज़ुक है, मेरी बहना।
आसमां से उतारी कोई राजकुमारी है
सच कहूँ तो मेरी आँखों की राजदुलारी है मेरी बहना।
Pick the best one for your sibling that perfectly resonates with your hearty feelings. Accompany the message card with smashing Rakhi gifts for brothers and sisters from Giftalove.com and bring more exhilaration and happiness in your Rakhi celebrations. Explore now and find the best gifts for Raksha Bandhan waiting just for you!
Sakshi Ecavade is our in-house content developer having a good understanding about the gifting industry. She creates quality content surrounding flowers, chocolates, plants, cakes, and other products which makes excellent gifts for the people. Accurate and authentic information is what she tries to deliver through her blogs.