The arrival of the month of August on the Indian calendars means the coming of an extremely auspicious and wonderful festival of Raksha Bandhan. This glorious festival is dedicated to the eternal love and affection that exists amongst siblings ever since their childhood. It is the day on which prayers are offered to God by sisters to bless their brothers with long, successful, and healthy lives and brothers give an everlasting promise of love and protection to their sisters sealing their sibling bond with this promise.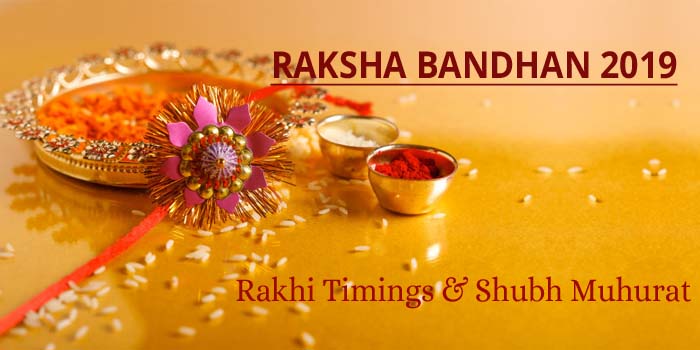 Muhurat Details About Rakhi Purnima
As a matter of fact, this festival is celebrated on a full moon day of the Shravan month every year which happens to fall on 15th August this year. The day is also referred to as Rakhi Purnima and it is considered as f the most auspicious day to perform any religious rituals that were put on a halt due to inauspicious reasons. It is divided into various segments which hold separate importance in terms of the Hindu traditions and rituals.
Purnima Tithi: 'Purnima' means 'full moon' and 'tithi' means 'date'.Rakhi Purnima is a full moon day that befalls on the day of Raksha Bandhan. This year, this tithi will begin on 14th August 2019 in the late afternoon and ends on 15th August 2019 in the evening. This time period signifies the auspicious timing to perform any religious ceremony.
Aparahan Time: As every festival dates back to a mythological or a historical story, Raksha Bandhan celebrations too have abundant tales that it goes back to. Those legends depict that there were various hurdles which can between then brothers and sisters and also the presence of demons in mythological legends associated with the Rakhi. Therefore, it is suggested to perform the Rakhi tying ceremony within the auspicious time period of Aparahan. It is the most auspicious time to celebrate the festival of rakhi with siblings. Aparahan begins in the afternoon as per the Hindu division of the day.
Pardosh Time: This one is another auspicious phase of the day of Raksha Bandhan for the performance of the Rakhi tying ceremony. It usually commences in the late evenings. According to the Hindu manuscripts, if you have missed the Aparahan Time, then Pardosh Time is the next best time to indulge in rakhi tying rituals.
Bhadra: This is regarded as the most inauspicious phase of the muhurat of Raksha Bandhan. It generally falls in the first phase of the Purnima Tithi and ends before the sunrise on the day of Raksha Bandhan. It is recommended to avoid Bhadra Mukha most importantly to perform Rakhi rituals.
Auspicious Timings for Raksha Bandhan 2019
Date of Raksha Bandhan:  15th August 2019
Commencement of Purnima Tithi – 14th August 2019 at 15:45 pm
End of Purnima Tithi – 15th August 2019 at 17:58 pm
Auspicious Time for the Rakhi Tying Ceremony:  05:50am to 18:03pm
Aparahan Time during Raksha Bandhan 2019 – 13:44pm to 16:23pm
Pradosh Time during Raksha Bandhan 2019 Celebration – 20:08pm to 22:18pm
The Bottom Line
As you are aware now of all the important timings for the occasion of Raksha Bandhan 2019, spread this information in your contacts. As Rakhi tying ceremony is all about siblings, sacred Rakhi threads, and Rakhi gifts for brothers and sisters, you must also be thinking of amazing Raksha Bandhan gifts. Explore Giftalove.com for online Rakhi and gifts, and make this upcoming Rakhi festival a day to remember!!!
Sakshi Ecavade is our in-house content developer having a good understanding about the gifting industry. She creates quality content surrounding flowers, chocolates, plants, cakes, and other products which makes excellent gifts for the people. Accurate and authentic information is what she tries to deliver through her blogs.