"A real friend is one who walks in when the rest of the world walks out." – Walter Winchell
The definition of true friendship encapsulates three things – immense love, unconditional support, and everlasting bond of togetherness. A friend is the one who holds your hands when everyone shook their heads and shows you their backs. In the darkest of days in life, a friend is that one person who becomes your guiding light showing the right path to righteousness and self-realization. They are secret keepers of your dark secrets and tolerate all kinds of nonsense with bright smiles on their faces. This Friendship Day on 4th August, express your love and gratitude to all your buddies for never leaving your side and staying with you in all walks of life.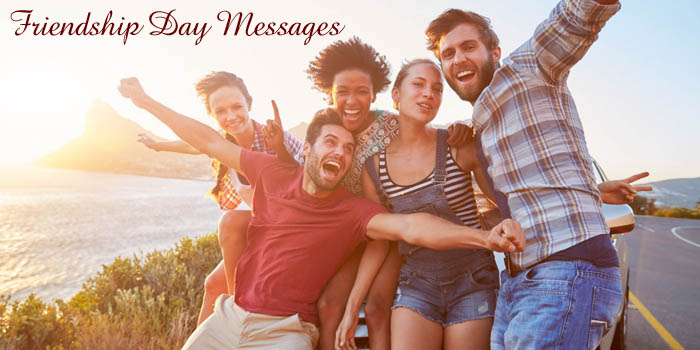 Although, it is difficult to find the right words to convey heartfelt emotions to friends, we have brought an amazing line up of messages for Friendship's Day that will perfectly say what you have never spoken before.
1. Your friendship is like rays of morning sun bringing new hopes of a new day in a life filled with despair. Happy Friendship day my dearest buddy…
2. Kitni choti si duniya hai meri, ek main hu aur ek dosti teri…
3. Tu mera dost nahin, meri jaan hai…
Tere hone se hi meri pehchaan hai…
Happy Friendship Day!!!
4. A F.R.I.E.N.D. is an abbreviation of "Few Relations In Earth Never Dies". Love you friend!!!
5. We are like Chandler and Joey, INSEPARABLE & INVINCIBLE…
6. The idiotic fights we had,
Those feelings make us sad,
The fun gossips all night,
Helping with all the might,
For every support you gave,
Thank you to my sweetest friend,
You mean a lot to me,
Happy Friendship Day!
7. The mad selfies we took together,
Those boastful stories so true,
All the happy moments that I share with you,
All the loving memories old and new,
I am so lucky in life,
To have found a buddy like you,
Happy Friendship Day!
8. Friendship is the source of power in life,
Which make things really great,
Having a good friend in life,
Is also a thing of fate,
Thank you, my friend, for being there,
Happy Friendship Day!
9. Friendship is the ray of light,
It is the most beautiful sight,
Friendship is a real gem,
Which shines forever and never ends,
Happy Friendship Day!
10. Friendship is about sharing good vibes,
Sharing good memories all through life,
A little nagging with lots of fun,
Some weird moments with lots of buns,
Friends are for life and that is true,
With you, it feels so awesome and new,
Happy Friendship Day!
11. For all the love and happiness in life,
For all the things that have got to strive
I know you are always there for me
For that, I appreciate you to thee,
Thanks to my honey bunny cutie friend,
Happy Friendship Day!
12. True friends are like a soul of life,
Without them, it is tough to strive,
Thanks to my friend for always being there,
With you life is awesome I swear,
A very Happy Friendship Day!
13. My friend, you are my strength in life,
You are my only smile,
With you, life is so easy,
All the way and all the while,
Wish you a very Happy Friendship Day!
14. A friend like you is so very special
A friend like you is so real
Can't express it more coz I am so lucky
To have found a friend like you,
My bestie I love you
Happy Friendship Day!
15. Friendship is the way you are there
With that silent concern and care
Friendship makes the world so bright
You feel so good and you feel all right
Friendship is forever in the heart
From the start
Happy Friendship Day to you!
16. When I want inspiration
You are the one I think of my friend
With you my feelings are so very pure
As there is nothing to pretend
A good friend like you is worth a gem
Happy Friendship's Day to you!
17. Friendship is a promise between two people
To stay together in every condition
To be together in every situation of life
Friendship is a true promise to stay
Thanks for everything my friend
Happy Friendship Day!
18. Friendship is not about fights
But the laugh after the same
Friendship is not about the blame
But, remembering the name,
Friendship is sweet just like you
I can call you mine and lovely too,
Happy Friendship Day!
19. A friend gets happy on your past
Makes your present a moment to live by
And makes your future look so bright
This is to my best friend forever,
I love you so much
Happy Friendship Day to you!
20. With you, I can stay in silence
With you, I can talk my heart
With you, I know that I am 'myself'
You let me have that perfect start
With you, I feel so good
I wish that this friendship remains forever 'Touchwood'…
Happy Friendship Day to you!
With these affectionate messages, order Friendship Day gifts online for your loving and caring friend and celebrate this wonderful day dedicated to pure ad true friendship with magnificence and happiness. Have blast guys!!!
Sakshi Ecavade is our in-house content developer having a good understanding about the gifting industry. She creates quality content surrounding flowers, chocolates, plants, cakes, and other products which makes excellent gifts for the people. Accurate and authentic information is what she tries to deliver through her blogs.