This world is full of brothers with different personalities like some are so loving, caring, expressive and others are unexpressive. Whether it is any kind of brother, for a sister, he always has a soft corner in his heart. As the Raksha Bandhan is approaching, make it very special for brother by showering your love on him through thoughtful and stirring Rakhi gifts and win his heart with ease.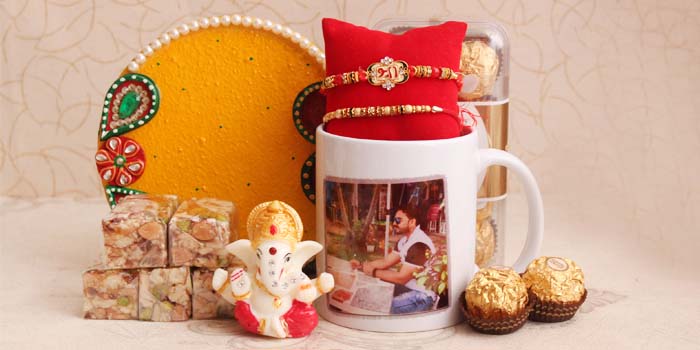 Gifts are the best gesture to make someone realize how special he/she is or just impress within a few seconds or bring a wide smile on his/her face within a second. So, why not take the aid of gifts and convey your love to your beloved brother and turn the occasion of Raksha Bandhan the best one for him. If you are worried which gifts you should give to your darling brother because he has different nature, then don't worry here are some magnificent Rakhi gifts ideas which would surely like by your brother too whether he as any nature.
Let's have the look at the outstanding Rakhi gifts and open your heart in front of the brother with ease. These gifts will surely leave a long-lasting impression on your handsome brother and strengthen your bond of immense and pure love with them.
Say 'I Love You' brother through Handwritten letter
If it's really hard for you to confess your love directly to your dear brother, then express your feelings of eternal love towards him via a handwritten letter. Yes, a handwritten letter will be the perfect gift for the brother and via this gift; you can smoothly convey your deep love to your dearest brother. Write down all your thought and feelings which you have for him. Also, you can send Rakhi to India or any other part of the world wherever your brother is residing along with this letter to your loving brother via online Rakhi portal.
Trophy of the Best brother
Let's bring a big smile on the face of your sweetheart brother by giving him the trophy of the best brother to him. This trophy says it all what you have in your heart for your darling brother. This trophy will be the sign of how blessed you feel to have him in your life.
Flower Bouquet
Flowers are better known for expressing feelings of love, care, admiration and friendship. They have been used since the ancient time to convey immense love towards the loved ones. So, why not take the help of this beautiful gift of nature to convey your inner feelings towards the dearest brothers. Yes, this Raksha Bandhan gives a beautiful bouquet of flowers to your dear brother and impresses your brother with your thoughtfulness and care.
Personalized gifts
Personalized gifts are also a great option to make any kind of brother supremely happy. So, there are so many options of personalized gifts which you can give to your dearest brother to make the occasion memorable to him and make them feel how much you think about him. You can give personalized gifts such as a coffee mug, photo frame, water bottle, cushion, mobile cover and many more. So, choose any of the personalized gifts and win the heart of dearest brother with ease.
A surprise visit
For the sisters whose brothers are staying away from them and can't come to celebrate the day of Rakhi at home, a surprise visit would be a nice option for them. Surprise the brother by visiting at his place on the special day of Raksha Bandhan would be a surely better gift for the brother than sending Rakhi online to him along with Rakhi gifts. So, why are you waiting for? Just visit the place of your dearest brother and turn the special day of Rakhi into the unforgettable one for him.
Hope! Your brother will surely like the above-suggested Rakhi gift ideas and turn the day of Raksha Bandhan into the most beautiful day of his life. Let's bring a big smile on his face. It is sure that whichever personality your brother has- he will surely like these gifts.
If you are searching for more thoughtful and attractive gifts, then you can visit an online Rakhi store called giftalove.com. This is the best online site which is admired among customers for its dazzling Rakhis and Rakhi gifts for brother. So, visit the portal and get the desired Rakhi gift for your adorable brother and put the brightest smile on his face.
Sakshi Ecavade is our in-house content developer having a good understanding about the gifting industry. She creates quality content surrounding flowers, chocolates, plants, cakes, and other products which makes excellent gifts for the people. Accurate and authentic information is what she tries to deliver through her blogs.