You must have those memories preserved in your mind's eye when you first encounter with your love of life. You have done several miraculous things to impress them and to make them feel your love and emotions. But, with time, all those euphorias wanes and special moments fade, and leave a corner for something special that can revive the old bonding and connection. What else can be the best time than your anniversary to make your partner be on cloud nine? The best anniversary gift for a partner can lit-up the mood of you both and can also jazz-up the celebration in the amazingly perfect manner.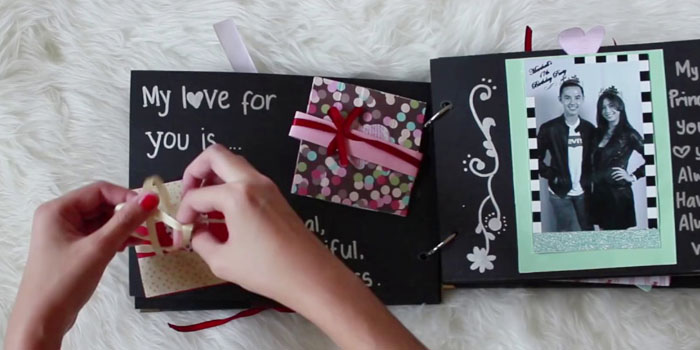 Dolling up your relationship in the initial days is a quite simple and easy task. But, when you have crossed a milestone of years together and have a count of all the liking and disliking of your loved one, then giving surprises to each other is way more important. And this requires a lot more than binge-watching Netflix together in your apartment. If you are also having thought of surprising your partner with some anniversary gifts, then here are some cute couple thing listed on which you can count to spice up your relationship with some adventure and fun.
What about a tech-free day?
Indulging yourself all day and night with phones and laptops sometimes can be a major reason for many conflicts and squabbles between couples. So, on this wedding anniversary, gift your partner some quality time and relive all the memorable days of your relationship once again.
Preparing a photo scrapbook
Remember those days when you both used to do cute and funny things together? If not, then take a trip to your memory lane and pick those photos that can reflect that time perfectly to prepare a cute photo scrapbook for your love of life.
A bike ride is of great fun
If you are having a thought of doing some adventurous stuff, then a bike ride to some mountain area is the perfect one to go for. With the fresh air, you will also witness scenic beauty that will have imprints on your mind for a long time.
Stargazing on rooftop
Busy in your day-to-day schedule, you both must have many things hidden in your heart. On this special day, let your heart speak out the hidden emotions. This can be done best while stargazing on the rooftop with some exotic wine and your love of life next to you.
Make the bucket list together
It is perfect to live in the present, but it is also the best idea to be prepared for the future. To make this future planning an interesting task, you can start by preparing a bucket list for you both. Doing this, you both will get to know each other even better.
Throw a surprise party for your partner
One of the most amazing and simple things to make the special day even more special for your loved one is to plan a surprise wedding anniversary party for your spouse. With tasty anniversary cakes and hearty blossoms; you can gear up the celebration amazingly.
You seem to be all excited to make your partner feel out of the world on this special day, and these options are just perfect to ginger-up your anniversary celebration. But, if you and your partner will not be together this year, then instead of only missing and crying, you can make your day the best with your love wrapped in some beautiful and hearty gifts. GiftaLove.com is one such online portal that has amazing arrays of an anniversary gift for a partner that can also be sent to many locations worldwide. If you are dwelling in abroad and want to send your heart to India, then also you can consider this gifting portal and can send gifts to India in a hassle-free way.
Sakshi Ecavade is our in-house content developer having a good understanding about the gifting industry. She creates quality content surrounding flowers, chocolates, plants, cakes, and other products which makes excellent gifts for the people. Accurate and authentic information is what she tries to deliver through her blogs.