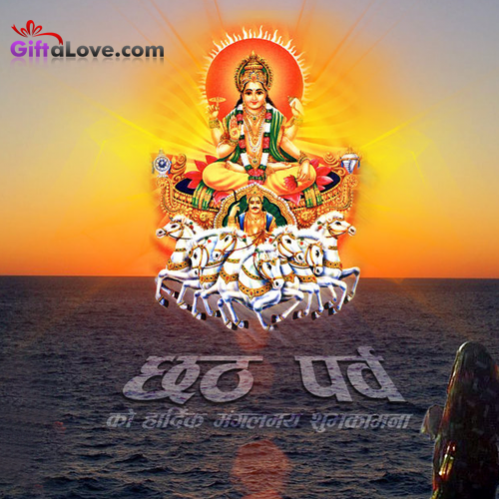 Chhath Puja is one of the auspicious Indian festivals. It is celebrated since ancient times and mentioned in the Hindu Vedas. This festival marks the worship of Hindu Sun God i.e. Surya and Chhathi Maiya.
The Chhath pooja is carried out to pay gratitude and thank Sun god. Lord Surya is revered for sustaining life on earth and seeks blessings for granting personal wishes of the devotee. This sacred festival is primarily celebrated in the Indian state of Bihar, Uttar Pradesh and in Nepal as well.
Sun is the source of energy and positive life force. It is worshipped during the occasion of Chhath to promote well-being of the humanity, prosperity and progress. In Hinduism, Lord Surya is considered to be most powerful and scientifically help to cure a lot of diseases like leprosy, fungal infections and all. Sun, the god of energy ensures healthy and long life of family members, friends and loved ones.
People like to present each other with Chhath puja gifts, sweets hampers, dry fruits and fresh fruits. The rituals of this sacred festival are quite stringent and followed over a period of 4 days. It includes holy bathing, fasting (Vratta) and self abstinence. The special rituals & puja of Chhatt is carried out by standing in water for long period & offering Prasad and arghya during sunrise and sunset.
The festival of Chhatt is commemorated on Kartika Shukla Shashthi, on the 6th day of Kartika month in the Vikram Samvat. This festival time generally fall in the month of October or November according to the English calendar. This year Chhatt puja will be celebrated on 17 and 18 of November 2015.
Chhath puja includes arduous customs and rituals, requiring the devotees to observe fast without water for around 3 days at a stretch. This festival is celebrated in India during autumn/ early winters. The term Chhatt means sixth in Bhojpuri, Maithali and Hindi.
The first day of Chhatt festival exactly falls on the sixth day of Diwali festival. On the very 1st day devotees observes fast and take religiou bath at a river pr pond. They also prepare lunch consisting of rice, dal with pumpkin and made in ghee.
The 2nd day is called as Kharna or kheer- roti. On this day Kheer (i.e. Indian dessert) is taken with chapatti (Indian bread). Devotees observe fast for the entire day without even consuming water and have Kheer- roti after offering prayers to the rising moon and Ganga Mata. This is the time period when they can eat or drink since the starting of the day till the third day of Chhath.
The 3rd day of Chhath is followed by performing Surya namashkar and fruits to the setting sun. For more information log on to Giftalove and buy religious gifts and Chhatt Puja gifts at best price range.
Sakshi Ecavade is our in-house content developer having a good understanding about the gifting industry. She creates quality content surrounding flowers, chocolates, plants, cakes, and other products which makes excellent gifts for the people. Accurate and authentic information is what she tries to deliver through her blogs.