For every married woman in India, Karwa Chauth is the most auspicious and unforgettable occasion of the year. It is impossible for any Indian woman to forgo this rigorous fast. An Indian woman is always known to sacrifice for all her loved ones. She is always willing to do everything possible for her loved ones and the exigent all day long Karwa Chauth fast proves this fact. If you are much inquisitive to acknowledge your honey, for all that she has wished for you every year on this propitious day, you must scroll the list of Top 10 Gift Ideas for Karwa Chauth that has been given below: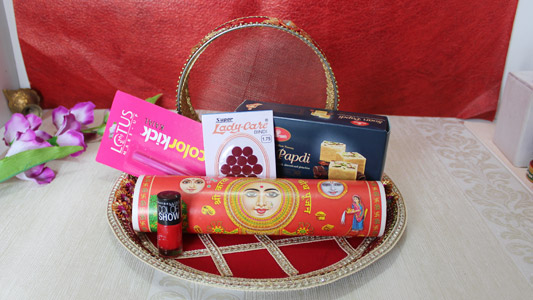 Exquisite and Auspicious Karwa Chauth Puja Thalis:
The real elegance of the festival of Kark Chatruthi or Karwa Chauth is observed with the exquisitely bedecked and well arranged Puja Thalis that wives generally prepare for their husbands. In the olden times, decoration of Puja Thalis used to be an important part of the regular rituals of this day and ladies used to enthusiastically participate in this activity. Nowadays, there is a wide variety of Puja Thalis available online that include Red Swastik Thali Combo, Karwa Chauth Love Thalis, Heart Winning Silver Thali Attractive Silver Thali and Kalash, and so on.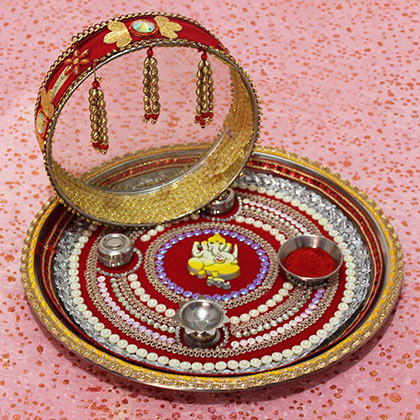 Premium Jewelry for your wife:
Karwa Chauth is the day when the wives look almost like embodiment of elegance on earth. Clad in rich clothes and finest jewelry, they all grab the attention of their husbands. You can make this moment even more romantic by gifting her the terrific jewelry beautiful Mangalsutras with Pendant, Gold Plated Necklaces, diamond Necklaces, Three String Necklaces with precious stones and many more. These are so irresistible to sight that they deserve to be one of the Top 10 Gift Ideas for Karwa Chauth.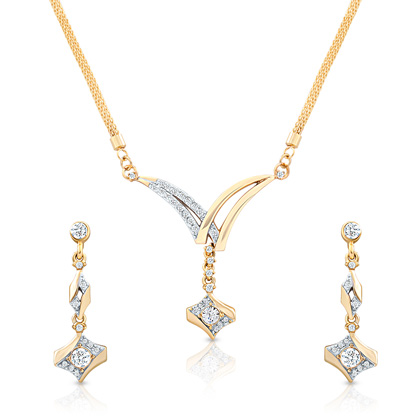 Traditional and utterly delightful sweets:
Every promising festival in India is celebrated with Traditional and delightful sweets that are hard to resist. To amplify the sweetness of your nuptial life, you must include the delectable authentic Indian sweet hampers. Delectable Karwa Chauth Sweetest Hamper of Soan cakes and exotic chocolates, Delectable Hamper of Raosgullas with rich dry fruit collections and so on. If you are living abroad, you can easily send gifts to India along with the declarable sweets.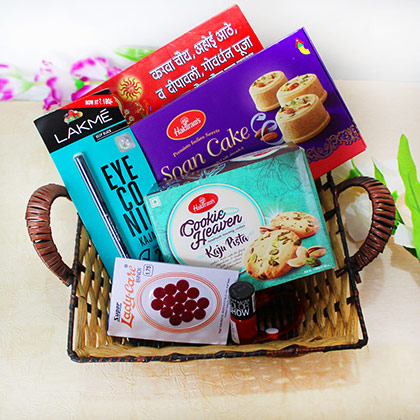 Flowery and Fruity Surprises:
Sargi is the most important ritual of this festival. All the wives are supposed to partake in this ritual before beginning fast. Thus, a wholesome meal is a must during this time. This must include all the nutritious fruits. A beautiful flower bouquet can add vivacity to it. The attractive Flowery and Fruity combos include Fruit Blossom combos, Goddess of Fruits combos, Fruit Fortune combos and so on.
Another way to make the auspicious Sargi meal is to include selected Dry fruits in the Karwa Chauth combos. This can add the element of joyfulness and mirth to the ritual. The best Dry fruits delight combos include Sweets and Dry Fruit combos, Bunch of Wishes and Dry Fruits, Rich Heritage combo and so on.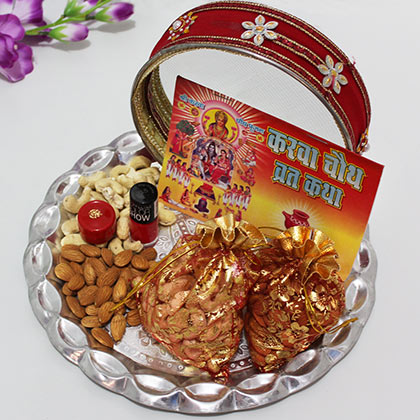 All inclusive Karwa Chauth Puja Thalis:
This attractive range is essential to be included in the list of Top 10 Gift Ideas for Karwa Chauth. Any festival in Indian culture is considered incomplete if all the essentials for important rituals are not in place. Therefore, you must your gift your wife an all inclusive Karwa Chauth Puja Thali that comprises of all the vital Shagun items like Karwa Chauth Sieve, Mehndi cones, Roli and saffron etc.
No woman leaves the chance to be clad in her hubby's favorite attire on this special day. If you give your wife finest variety of ethnic apparel like the Silk Sarees, Georgette Bangalory Embroidered suits, Cotton Embroidered Suits and so on, it will really gleam up her face at once.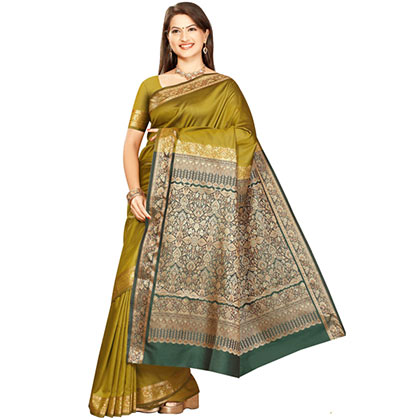 A Basket of her essential cosmetics:
For any woman, personally grooming means complete facial tune up. For catering to the requirements of your wife's facial grooming, you must send an all inclusive combo of her make-up essentials like kajal, Nail Polishes, henna cones, lipsticks, and other important items.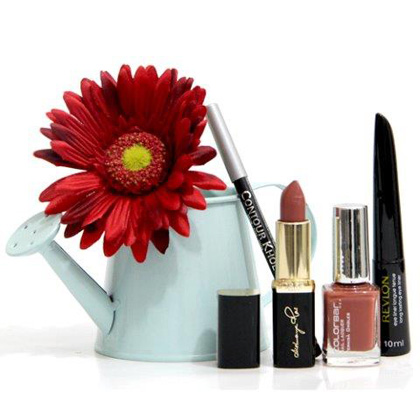 Attractive and romantic photo frames:
There are numerous instances when you wish to reminisce the fond moments of the past. Like your wedding anniversary, Karwa Chauth is the day when you create millions of joyful memoires for the years to come. You can send a beautiful photo frame that can make you recall those find moments of life.
If your wife is a real chocoholic, she deserves a hearty delight comprising of her favorite chocolates. A hamper of her favorite chocolate can delight her the most. Besides, there is an alluring option of Sugarfree Assorted Chocolate Box if your wife is a fitness freak and wants to cut down on calories.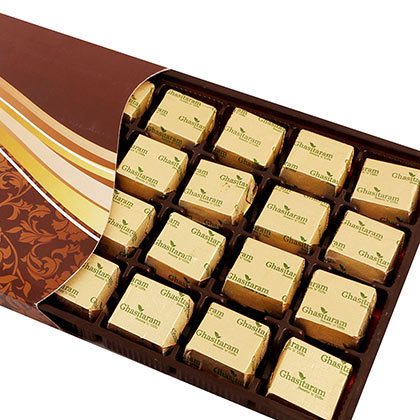 These are the Top 10 Gift Ideas for Karwa Chauth. You can easily find more exciting options on this reputed e-gifting portal. As a recognized gifting portal, Giftalove.com is known to serve its customers with strong emphasis on speed and frugality. If you are living in a distant country, you can also send gifts to India via swift online delivery.
Sakshi Ecavade is our in-house content developer having a good understanding about the gifting industry. She creates quality content surrounding flowers, chocolates, plants, cakes, and other products which makes excellent gifts for the people. Accurate and authentic information is what she tries to deliver through her blogs.