Can you see that big kaleidoscopic cloud hanging over India? Yes, that big one!! Do you know have an idea that it is about to burst very soon and the cheerful chartbusters sound you will hear will be of "Hori Khele Raghuveera Avadh Mein." Yes, you guessed it right!! This is once again the time to soak into the divine colors of love and friendship as Holi is here!! Holi celebration in India will be a bit different this year, and the credit goes to one and only COVID19. But, no pandemic can change the fact that every street and corner will be dedicated to Holi, one of the most awaited Indian festivals welcoming spring equinox with open arms.
Falling on the Phalguna Purnima, the full moon day, Holi is celebrated in India with extreme enthusiasm and excitement in every heart. From time immemorial, we have only experienced that Holi is the festival of colors, and on this day, people greet everyone by throwing colors on each other. This is how the festival is being celebrated across India. But, what if we told you that there are several incredible ways to celebrate this only festival of colors? Yes, we are talking about Holi and different types of Holi celebrations across India in several Indian states and regions. So, why not take a tour to different parts of India to experience a whole new way of celebrating this famous Indian festival? Many different Indian cities offer an unprecedented Holi celebration representing the same enthusiasm and zeal.
Here, we have listed top places having different Holi celebrations so that you can plan your getaway for a relaxing and never have-before kinda festival. Without any further ado, let us get started:
1. "Rang Panchami" in Maharashtra
Holi function is also known as "Sigma" or "Rang Panchami" in Maharashtra. Like the Holi festival celebrated in other Indian parts, these people dance, sing, and prepare delicious dishes and sweet dishes for Maharashtra's festival. After the Purnima sunset, the celebrations started. People light a firewood pyre called Holika to begin the festivity and the next day is the day dedicated to color playing. Holika Dahan is the symbol of the victory of good over evil. 'Rang Panchami' is celebrated with fun and frolic, and people apply gulaal on each other and wish Happy Holi to each other.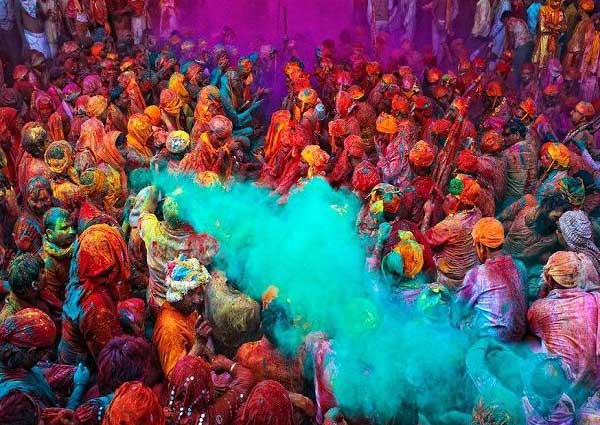 If you are in Maharashtra on Holi, you will get to enjoy 'Puran Poli,' the state's special delicacy.
2. "Lathmar Holi" in Barsana
"Lathmaar Holi" is one of the most popular Holi celebrations across India. It is a bit confusing whether Barsana is known for Lathmar Holi or Lathmar Holi, which has made Barsana one of the best places to celebrate Holi in India. All the females in Barsana chase males with a stick and beat them up. If you wish to enjoy this festival in Uttar Pradesh, there is no need to be worried as men can take a shield with them to enjoy the day. And later, they play Holi with colors and sing popular Holi songs. After the color play is completed, people visit each other's houses for "Holi Milan." Besides being the most popular one, Lathmar Holi is also the funniest way of Holi celebration. So, if you will be here in Barsana, Uttar Pradesh, for Holi, then be ready for some Lathi bashing.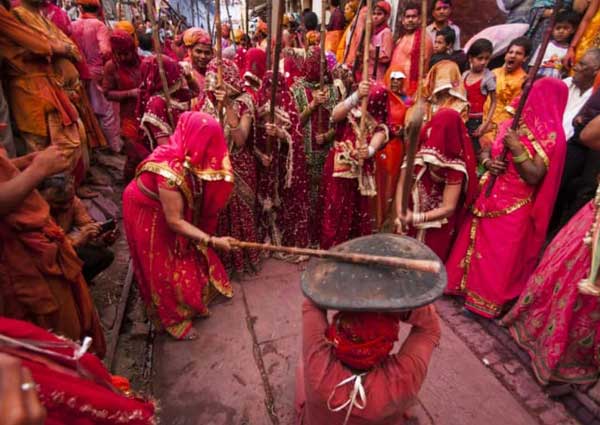 3. "Holla Mohalla" in Punjab
Punjabis have their own version of Holi celebration named "Hola Mohalla," proudly celebrated as "Holi for warriors"! This religious festival is celebrated a day before Holi. The special Holi celebration involves Martial arts, poetry reciting, wrestling, mock sword fights, acrobatic military skills, turban tying, and horse riding display. The main idea of this exotic celebration is to pay homage to the Sikh warriors. You can also experience a sword show from the skilled "Nihang Sikhs," Later, the festivities are carried by color playing, fantastic music, and dance.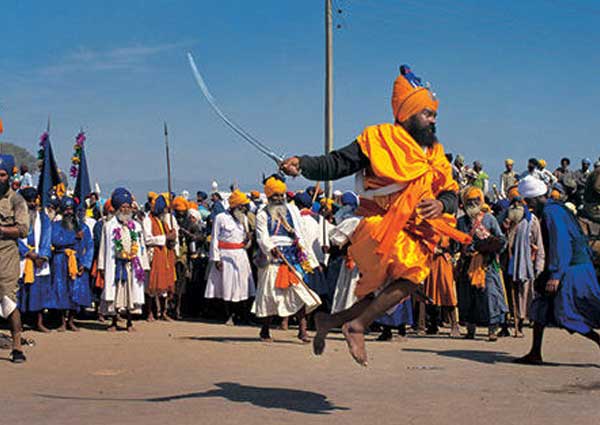 4. "Shigmo" in Goa
Holi marks the beginning of the spring season, and in Goa, the spring festival is called "Shigmo." Folk songs and massive carnivals followed with street dances will make the festival more special and significant. On this occasion, the fishermen's boats are decorated with vibrant and religious themes. If you visit Goa for the Holi celebration, you got to enjoy two different customs of Shigmo, namely "Dhakto Shigmo," denoted as small Shigmo, and "Vhadlo Shigmo," meant as big Shigmo. Holi celebration in Goa is associated with dance, party, and music representing Goa culture.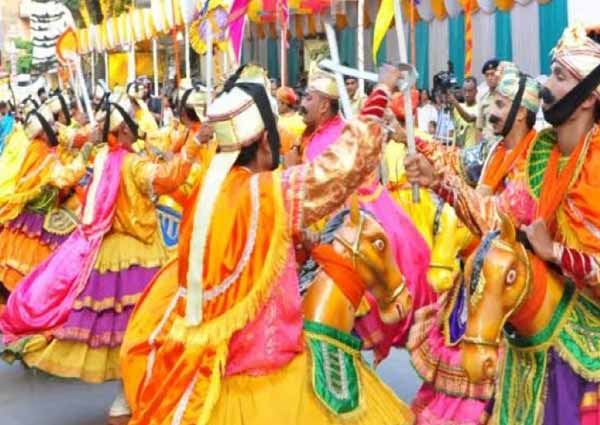 5. "Royal Holi" in Udaipur
Udaipur is one of India's most famous cities carved with royalty at every nook and corner. Palaces, grand hotels, extraordinary culture, and of course, lakes and many more lakes; Udaipur has a lot more to offer to its visitors. If you plan to visit this royal Indian city, especially on Holi, you will get a lot more to enjoy apart from colors and delicacies. Holi celebration is "Kingdom of Mewar" starts with the "Holika Dahan" effigy graced by the royal family's king. Later, you can enjoy a dazzling parade of horses starting from "Shambhu Niwas Palace" and carried to "Manek Chowk Royal Residence" paired with the royal band show embellishing the grand celebration.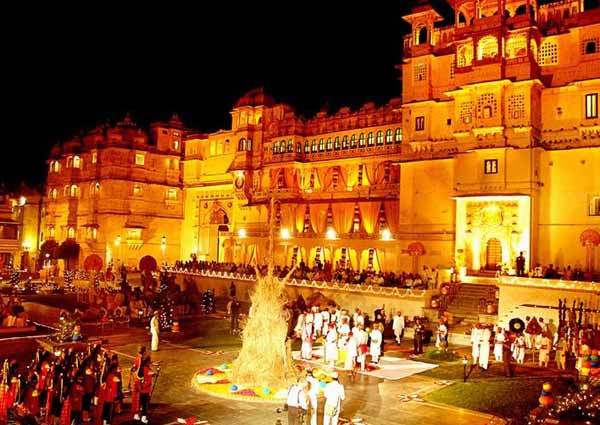 6. "Kumaoni Holi" in Uttarakhand
"Kumaoni Holi" is one of the unique and spectacular Holi celebrations of Uttarakhand, celebrated in many towns not only for one and two days but for a couple of months. Talking about the difference between Holi of Uttarakhand and other Indian regions, the festivity here is more like a musical event than a festival of colors. The festival starts from people lighting the Holika known as "Cheer," and the celebration is carved in three different forms, making the festival more impressive and unique: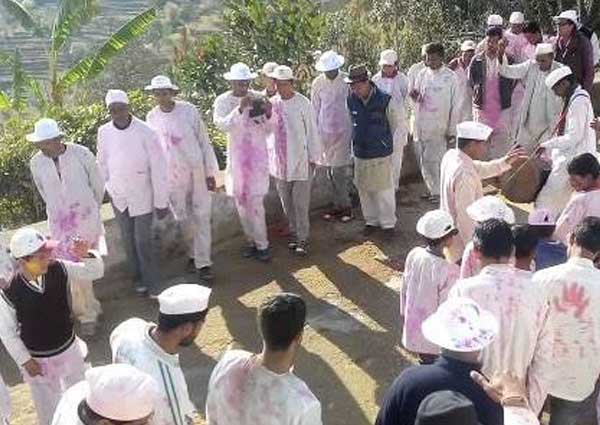 Baithaki Holi in which the locals sing folk songs and prepare a musical cum classical instrumental show
Khadi Holi is celebrated with dhol making the festivity more fun and an exciting affair.
Mahila Holi in which the celebration is dedicated to women and is celebrated the same like 'Baithaki Holi
7. "Manjal Kuli" in Kerala
Traveling across India, we are now in Kerala, and everyone knows that Holi is a famous festival in the South. But, taking about Kerala, the celebration here has its own genre. If you visit here for a different Holi celebration, traditional folk songs and organic colors will surely entertain and impress you. Visiting temples for the ceremonies make the festival not only a colorful one but also divine and cultural.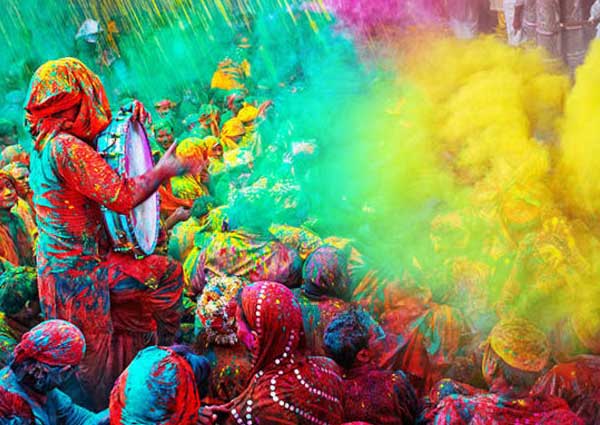 8. "Phoolon Wali Holi" in Mathura and Vrindavan
If you want to celebrate a new and heart-touching Holi, then Vrindavan is waiting for you. Mathura and Vrindavan are known to have grand temples and to celebrate the great Indian festival of Holi; every temple is decorated to gear up the festivity. If you wish to visit Vrindavan for Holi, take at least a week's holiday as the "Banke Bihari" temple in Vrindavan organizes week-long celebrations.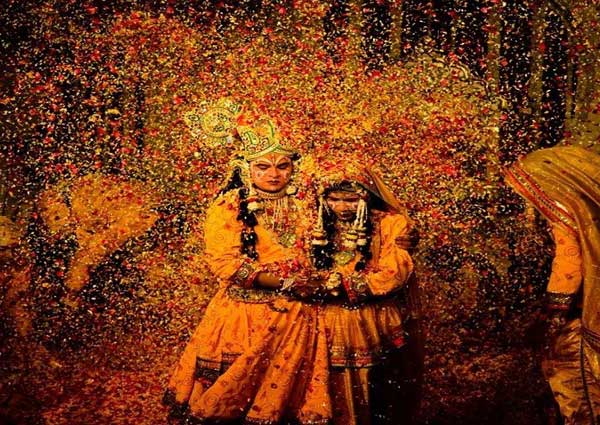 Every Holi celebration is denoted with a unique name as per its special celebration. Holi here is known as "Phoolon Wali Holi" as the festivities start with people throwing flowers on Lord Krishna and other Gods and Goddesses.
If you wish to know every detail of Holi celebrated in Vrindavan 2021, then here you go:
Priests throw buckets full of flowers to the Lord and devotees at 4 p.m. on March 25, 2021.
Widows will play Holi here in Vrindavan on March 27, 2021.
The color play can be seen in the afternoon on March 28, 2021, at around 3 p.m.
March 29, 2021, is Holi, and on this day, you can catch the color play at Dwarkadheesh Temple, Mathura.
On March 30, 2021, the day after Holi, women beat men and chase them for Holi celebration at Daoji temple.
9. "Cultural Holi" in Shantiniketan
Shantiniketan has one of the best and the most extraordinary Holi celebrations known as "Basanta Utsav." This festival was started by Rabindranath Tagore, the famous Bengali poet, as an annual event celebrated in "Vishva Bharati University." If you visit here for Holi 2021 celebration, you will surely enjoy the spellbound three-days celebration, including playing colors, dancing and singing folk songs, and organizing cultural programs. Basanta Utsav 2021 will be an eye-catching and heart-touching display of Bengali history and culture.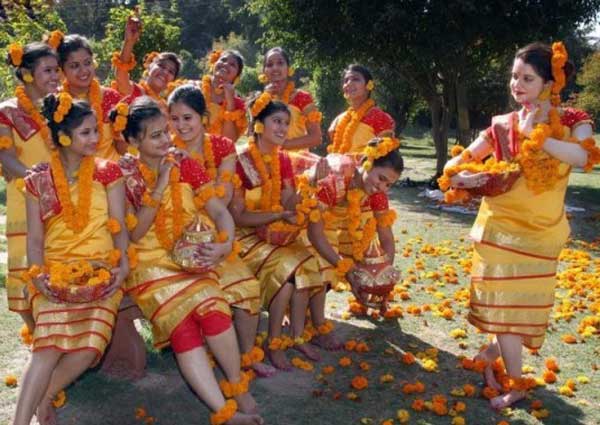 10. "Musical Holi" in Delhi
Delhi and festival celebrations come hand in hand, and when it is about celebrating India's topmost and the most-awaited festival, Delhi is no less. It is one of the best places to add some new colors to life, embellishing the Holi celebration in India. Best songs, ebullient ambiance, a music band show, and herbal colors; Holi festival in Delhi is a blend of all these bounties.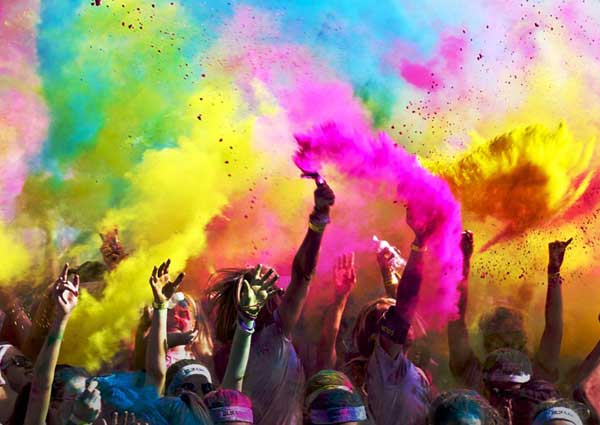 Celebrating the Indian colorful festival is not only a cultural delight, but the celebration also relishes a culinary delight for humans. Loaded with sweets and savories, Holi must be the most awaited festival for every person having a sweet tooth. From Malpuas to Mathis to Gujia for Holi, this festival has a lot more to offer other than a unique experience. So, if you visit any of the aforementioned places, don't forget to try their version of Holi delicacies as it will add more vibrancy to the celebration.
Holi in 2021
The Holi celebration will be a bit different this year owing to the present COVID-19 pandemic, undoubtedly. Every human mind is still in fear of going out from their safest zone in the usual breeze with a carefree spirit for the celebration. You will get to know the government's guidelines for Holi within a few days from now, and then you can plan your day out or in with your closed ones and take color and spray for Holi with you. There are certain chances of restricting the mass gatherings if the situation worsens. So, your safety is entirely in your hand. Everyone knows distance has become a new normal and for the celebration as well, each one of us must be careful, if not only for oneself but for close ones like family and friends.
It is advisable to celebrate the festival with closed ones only to avoid the risk for life. You can plan a small get-together with family and friends in small attendance to celebrate Holi fullest. You can embellish your Holi party with certain fun games, music, Holi delicacies, cards, home décor, and herbal colors for Holi. You can also send sweets for Holi to your close ones who will not be with you for this most awaited festival.
Closing Thoughts
The Holi festival's specialty is people from different religions and states having different customs and beliefs dwelling across India unite during the Holi celebration. This festival represents the uniqueness and relevance of different traditions, teaching one and all the importance of winning over evil with positivity and good. This festival gives a sense of pride to everyone belonging to different cultures and places. If we travel from one place to another, several things change, but one thing that remains constant is the festival's charm. Holi gives not only a delightful experience, but also an experience for a lifetime, especially if you are not a resident. So, travel to these abovementioned places and make Holi 2021 a memorable experience for many more years to come.
When you visit any of these places for an extraordinary Holi celebration, do not forget to capture every moment and etch them into your mind's eye. So, what are you waiting for? Go through every type of Holi celebration mentioned above and choose which one will be your destination this March 2021. Now, this is all done for you and your close ones. Take them on a small getaway so that they too can enjoy a new experience. With this, you can also send some nice and lovely Holi gifts to dear ones as a reflection of your sweet gesture, love, and thoughtfulness. GiftaLove.com is here to help you choose the best token of love for every special person in your life. So, partake in the Holi celebration and soak in the lush colors and rich Indian culture with GiftaLove.com wide range of Holi gifts. Order Holi gifts online from India's best online gifting store and let your love reach everyone close to your heart.
Happy Holi from GiftaLove.com!!

Sakshi Ecavade is our in-house content developer having a good understanding about the gifting industry. She creates quality content surrounding flowers, chocolates, plants, cakes, and other products which makes excellent gifts for the people. Accurate and authentic information is what she tries to deliver through her blogs.