Letting someone remember the day they took nuptial vows around the holy fire or the day they said "I do" is the best way to celebrate a wedding anniversary and reaffirming never-ending love and care. Along with flagging the calendar with all the important upcoming events, it is also crucial to remember that sometimes a little gesture can make a big difference in relationships. When you are making a special anniversary card for someone you love and adore, the words chosen by you can bring immense happiness unlike any other.
Whether it about celebrating your own wedding anniversary, celebrating the years of your parent's togetherness, or wishing your dearest friend a very happy and blissful anniversary, there is a good news for you. We have prepared this special blog just for you to help you create an anniversary card that is filled with hearty emotions and gives your card an edge over other anniversary gifts received from others.
7 Points to Consider While Creating An Anniversary Card
What will you write in a wedding anniversary card is dependent on for whom it is meant for. Whether you wish to raise a toast, congratulate the person, or simply share a beautiful memory, you will definitely want the card to be expressive and heart-warming and indicate your special bond with the recipient. Here are some tips to help you create an anniversary card in perfect manner:
1. Address the couple/person: It's important to give a start to your anniversary card on the right note. As writing a wedding card is not a formal process, you certainly do not wish to start your card with a "Dear" or "Respected" greetings. You can simply write the name of the couple using their first names or maybe their nicknames if you share a close relationship with them. If it's about an anniversary card for your parents, then "Mom & Dad" is the best way to address them. And, when you are creating a wedding anniversary card for your spouse, then you use the words like "My Love", "Sweetheart", "Honey", or maybe "Darling" to give it a personal touch.
Using the right words for the recipient or recipients is the key to a wonderful anniversary card!!!
2. Write a heartfelt message: Writing a few personal lines on the anniversary card indicating a special joke or a special moment with the person celebrating this wonderful occasion will give a sweet and personalized touch to your greeting card.
3. An anniversary wish: Draft a cute anniversary wish for the couple or the person to express your love and best wishes on this special day.
4. An affectionate anniversary quote: Whether you wish to give an advice or simply share your hearty sentiments with the couple or a person, you can certainly do it with the help of a popular quote written by inspiration poets, authors, or respected figure to accentuate the level of your anniversary card.
5. Mention the years of togetherness: Though every year of marital bliss is special for the couples, but there are some milestone anniversary celebrations which need to be highlighted in the anniversary card as well such as 1st wedding anniversary, 10th wedding anniversary, 25th wedding anniversary, or maybe 50th or golden wedding anniversary.
6. "Happy Anniversary": Don't forget to write this on your anniversary card!
7. A warm closing: Just like the beginning, it is also significant to end your anniversary card on a right foot. You can give a warm closing to your card by writing "Lots of Love", "Stay Happy Always", or "Have a great marital life ahead"…
What To Write In An Anniversary Card To A Couple?
When it's about sending anniversary messages and wishes to an amazing couple with whom you share a special bond, it is not only about the words you select, but more about the feelings and thoughts you put into them. No matter how small and sweet your anniversary card is, it is important to convey a special message to the adored couple on their special occasion. Here are some wonderful messages for anniversary which you can consider writing in your greeting card…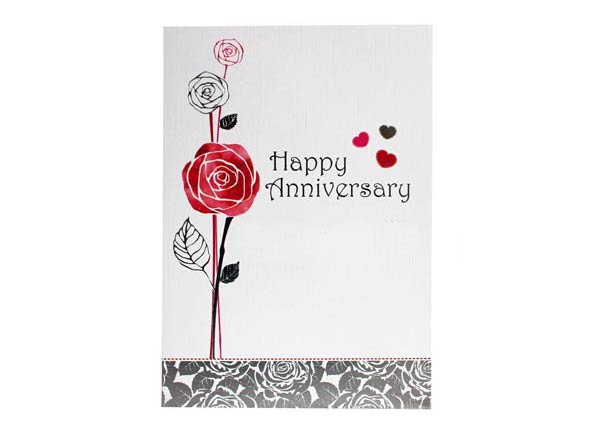 I am really happy for both of you that you two have spent one more year of joyful married life. May the love between you grow more for each other in the coming years!

Only two pure souls can form such a heavenly union. May the love you share continue to grow in your hearts as your marriage continues to grow in the years to come!

The love and care you have for each other is hard to imagine. You two are the sweetest, most amazing lovebirds I have ever known. Happy anniversary!

May the adoration you have for one another keep on blooming like a rose with each passing year. Cheerful wedding anniversary to you!

The time has come to look back in time and think about all the beautiful moments you both have shared together. My good wishes to both of you!

This is a special day that dedicated to both of you because you definitely deserve it. May you find more reasons to love and admire each other as you grow old. Happy wedding anniversary!

You are an inspiration for everyone with your long-lasting love. Thank you for showing us how a perfect couple complement each other in a marriage. Happy anniversary.

May you both live to celebrate hundred years of your amazing marital journey together. May each day you share be happier than the last. May God bless you both.

A wedding anniversary is basically a reminder of all the ups and downs a couple have gone through. Admire and love each other throughout your lifetime! Happy Wedding anniversary.

I wish both of you a thousand years of happy married life. May the happiness of this day stay with both of you forever. Happy wedding anniversary!
What To Write In An Anniversary Card To Wife?
Help your better half to remember the day she stated, "I do" and sparkle a focus on your everlasting affection with a couple of additional unique words only for her. She will unquestionably value this sentimental gesture and the opportunity to reminiscence the time that changed her life until the end of time. The best part about this anniversary wishes on a card for her is that it's coming straight from your heart.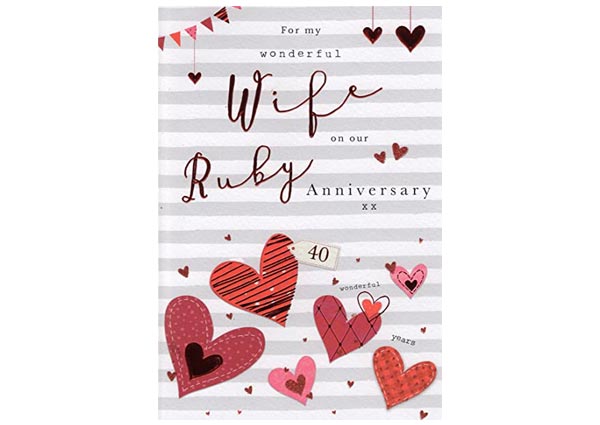 Having a spouse like you implies a great deal to me. You presence in my life is so tranquil and pleasant. Much obliged to you for never walking out on me. Happy anniversary sweetie!

On this day, I wedded the most wonderful lady on this planet. Happy anniversary darling. You are such a valuable jewel in my life.

Without your affection and penance, I cannot imagine a home and my very own family. You make me go gaga for you each and every day. Happiest wedding anniversary!

The manner in which you love me and take care of my family is unfathomable. You are a lady with great looks as well as a lady of a wonderful heart. Glad commemoration! Happy anniversary love!

I feel so fortunate to have an awesome lady – a lady that made my life complete, a lady that fills my heart with joy when I wake up until I return home from work. I love you to such an extent. Happy anniversary sweetheart!!!

You've been the source of solidarity and motivation for me in every one of these years. A spouse like you is a gift for any man. Heartiest congratulations for anniversary!

You have made me a superior individual by adoring me for who I am. Much obliged to you for being there for me always. Happy anniversary love!

Happy anniversary to my stunning spouse! A sweet and adoring lady like you is a fantasy works out as expected for any man. I am sufficiently fortunate to have you as my significant other.

I experienced passionate feelings for you right at the second I saw you. Much thanks to you for wedding me and making it last every one of these years. Happy marriage anniversary my dearest! We'll make it keep going forever!

If I had my life to live over once more… next time I would discover you sooner so I could cherish you longer. Happy wedding anniversary, honey!
What To Write In An Anniversary Card To Husband?
You feel immensely intrigued to choose the words to express your deepest love and adoration to your darling husband in an especially crafted anniversary card for him. Let your hubby know how much you love and admire him and celebrate your marital bond through your words. Whether he is a romantic person at heart who appreciates romantic expressions of feelings or he is on the funnier side, you can write these happy anniversary messages on your card and show him how much he means to you!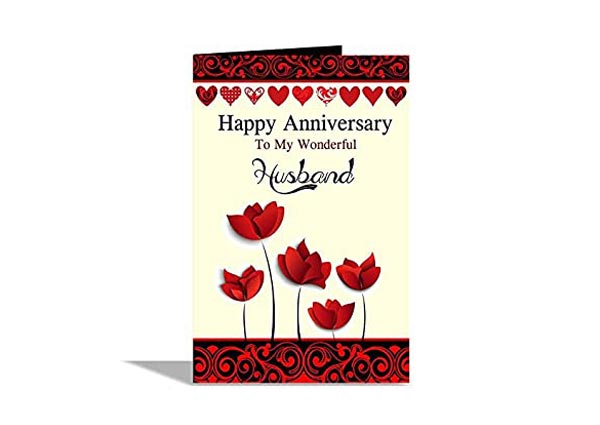 A very happy wedding anniversary to the man of my fantasy. It has been a privilege to spend the rest of my life with you. Looking forward to more such years!!!

You put a grin all over and touch off a fire in my heart. Each time I take a gander at you my heart jumps with bliss. Happy anniversary, hubby!

Dear hubby, thank you for being actually the kindest and sympathetic spouse ever. Love you to the moon and back. Happiest anniversary darling!!!

Every one of these years, you have been astonishing. As a father to our children and as my darling, I have been joyful in your arms and I could see that we'll be more joyful for the rest of our lives. Much obliged to you for everything. Happy anniversary, my dear.

A year has gone finding one another and I can let you know; I have discovered everything in you I might request. Happy anniversary dear hubby!

One more year to make valuable recollections together. One more year to find new things to appreciate about one another. Also, one more year to reinforce a marriage that characterizes until the end of time. Happy anniversary, darling!

May the everlasting adoration continue sparkling upon us always so we can create more happy memories together. A very happy wedding anniversary to us.

Today, I am more joyful than I have ever envisioned. Thanks to the person I call my better half, for indicating me the cheerful side of life. Happiest anniversary to us!!!

For me, this is and consistently will be the best date in the schedule since I got hitched to the love of my life on this date. I love you and happy wedding anniversary!

A long time will come to an end but our marriage will be there like an immortal diamond, sparkling brilliant till time ends. Happy anniversary dear hubby!
What To Write In An Anniversary Card To Parents?
Your parents have shown you unlimited amounts how to love and celebrate it. Express gratitude toward them for the life they have gifted you and utilize these anniversary messages for parents assist you in creating an anniversary card they will treasure. In case you're hoping to include a bonus for mother and father, include these charming wedding anniversary quotes for parents.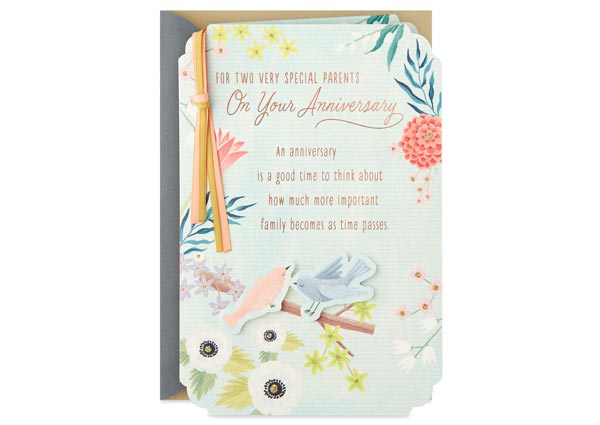 Your marriage is a motivation for us. Without you cherishing one another and being consistent with one another, we could never know the genuine significance of a family. Congrats on your wedding anniversary!

Your togetherness in great and terrible occasions has shown us collaboration. Your capacity to bear each other's propensities has shown us persistence. What's more, your help during one another's emergencies has shown us solidarity. Your lives as our parents have shown us how to live. Happy anniversary mom and dad.

You are the most sentimental couple and most caring guardians in this world. Congrats to both of you on this special event! We love you!

Your marriage will consistently be an extraordinary romantic tale for us to impart to our kids. They'll generally be astounded by what genuine romance can do! Wishing you a very happy anniversary!

You have shown me the genuine significance of adoration and love. You have been incredible people to one another and astonishing guardians for me! Congrats!

Much obliged to you for setting such an extraordinary example of marriage, dear parents. On your anniversary, I wish all of you the joy today and in all the days to come.

I wish that your adoration continues developing time to time and become more grounded than at any other time. Have a joyful life with one another. Happy wedding anniversary!

May your hearts consistently stay as mindful and enthusiastic as when you first fell in love. May God be with both of you and both of you take good care with one another, happy anniversary.

I'm fortunate that I was raised by two delightful individuals who adored one another beyond all doubt that they never let each other go in any event, for a second! Want you to enjoy all that life has to offer! Happy anniversary, Ma and Papa!

Dear parents, thank you for continually staying by and telling us the best way to see the best in individuals. Happiest anniversary and huge amounts of adoration for you.
What To Write In An Anniversary Card To Friends?
Tell your companions that you are grateful they discovered the person who praises them; their best friends. These anniversary wishes for friends can be utilized for one's own or added to your own anniversary cards to tell your buddies exactly how you feel about their big day.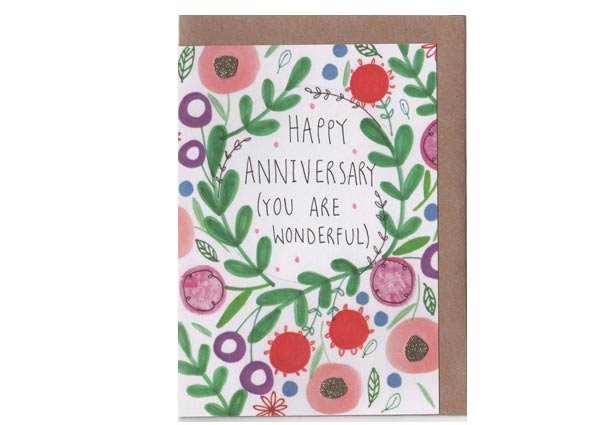 Your marriage demonstrates that you needn't bother with cash to make a marital bond sweeter and enduring; you just need to realize how to cherish genuinely and unequivocally. Happy anniversary buddy!

From best amigos you went to becoming life partner, and made a home out of a house! Wishing both of you a lifetime of joy and satisfaction.

I knew some day you'd make an ideal life accomplice for somebody. Congrats on finishing one more year of a perfect married life. Happy anniversary!

You have remained closer to one another in all the great and terrible occasions in every one of these years. Congrats on perfectly going through one more year of a happy wedded life. Happy marriage anniversary to you!

You have the sort of adoration in your heart that can do the unbelievable. Your marriage has worked fine for such a large number of years on the grounds that your adoration was stand-out. Warmest congratulations on your anniversary my friend!

You have gone through years together that numerous couples jealous of. I wish you a glad wedding anniversary. Remain cheerful and blissful everlastingly as you are always!

You have demonstrated the world that when two individuals love each other genuinely, nothing can debilitate the security they share. All my best wishes to you on your anniversary!

I still remember the times when you first asked her out. You shared memories with me and today I wish you a very happy wedding anniversary dear friend.

It's always wonderful to see you together as an overjoyed couple. True love like yours is so hard to find nowadays. Wishing you an amazing wedding anniversary!

God genuinely made you for each other. And he brought you together just to reflect the world how a successful marriage looks like. Take my heartiest best wishes on your wedding anniversary!
Best Anniversary Quotes to Write on an Anniversary Card
Acquiring a couple of words can be the most ideal approach to pass on your feelings through your wedding anniversary card. Let these anniversary quotes express your feeling in your message.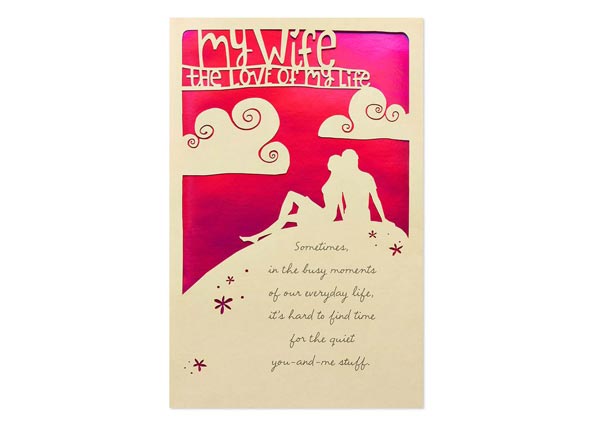 "I swear I couldn't love you more than I do right now, and yet I know I will tomorrow." – Les Christopher

"You don't love someone for their looks, or their clothes, or for their fancy car, but because they sing a song only you can hear." – Oscar Wilde

"Real love stories never have endings." – Richard Bach

"I will spend an eternity loving you, caring for you, respecting you, showing you every day that I hold you as high as the stars." – Steve Maraboli

"If I know what love is, it is because of you." – Herman Hesse

"All that you are is all that I'll ever need." – Ed Sheeran

"To love is nothing. To be loved is something. But to be loved by the person you love…is everything." – Anonymous

"We're all a little weird, and life's a little weird. And when we find someone whose weirdness is compatible with ours, we join up with them and fall in mutual weirdness and call it LOVE." – Dr. Seuss

"If I lived a million lives, I would've felt a million feelings, and I still would've fallen a million times for you." – R.M. Drake

"I didn't fall in love with you. I walked into love with you, with my eyes wide open, choosing to take every step along the way. And I do believe in fate and destiny, but I also believe we are only fated to do the things that we'd choose anyway. And I'd choose you; in a hundred lifetimes, in a hundred worlds, in any version of reality, I'd find you and I'd choose you." – Anonymous
The Final Words
Since you've made sense of what to write in a commemoration card and got the ideal message, it's an ideal opportunity to consider party arranging. These anniversary card messages and wishes will assist you with tossing an adoration filled celebration that everybody will recall. Additionally, remember to exploit these wedding anniversary messages and wishes.

Sakshi Ecavade is our in-house content developer having a good understanding about the gifting industry. She creates quality content surrounding flowers, chocolates, plants, cakes, and other products which makes excellent gifts for the people. Accurate and authentic information is what she tries to deliver through her blogs.