The days of snail mail seem numbered, but they should not be. It is one of the easiest and sincerest ways to express your feelings to a person by putting pen to paper. It is a beautiful art form that shouldn't be forgotten, especially during the holiday season when so many people cannot meet up with their friends and family because of the global pandemic. Keep in touch with loved ones and spread Christmas cheer with a handwritten note and thoughtful Christmas gift hampers. Despite the ease of shooting off a text using your smartphone, you shouldn't do so. Try something different instead. Show off! 6 billion texts are sent each day. As people connect with their loved ones more during the holiday season, that number increases. In this digital age, it will come as a surprise to the recipient to receive a handwritten card, note, or letter with some sweetest Merry Christmas wishes and messages directly from your heart.
Have you run out of ideas for your Christmas messages for cards? Writing your feelings doesn't have to be hampered by writer's block. You simply need to write what you feel. It's all about being true to yourself. If this past year has been challenging, it's okay to say so. Everybody goes through tough times. Just end on a positive note and send them Christmas decorations online with a greeting card to wish them a happy holiday season & to let them know you're looking forward to better days.
Let this list of Christmas greetings guide you as you write lovely messages that will touch and stay with your dear ones all season long, no matter where you are.
Christmas Quotes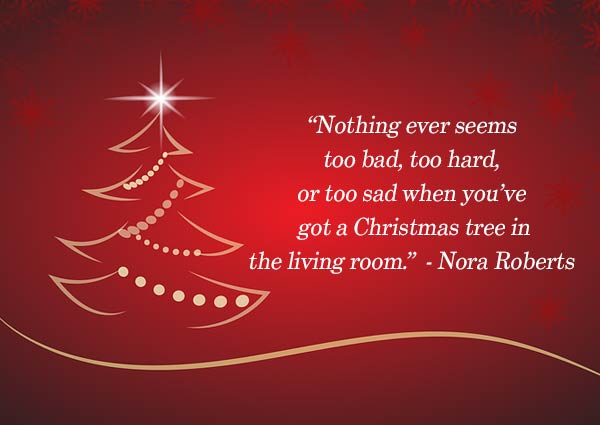 Even use these Christmas quotes on the outside or inside of your letters. For some nice Christmas quotes ideas, check out our collection of quotes for the holiday season, including religious Christmas quotes and Santa quotes to wake the Christmas spirit. If you need something shorter or more casual-e.g., a Christmas caption to post on Instagram or a message to exchange with your friends, take a look at our curated list.
Also, if you are confused about how to pair these quotes when you send Christmas gifts to family online, It's not too late to get started. The warmth of Christmas brings us closer together no matter how far we are, and when we count the blessings in our lives, you can undoubtedly count on these quotes. Have a look at some of them –
"May this season find you among those you love, sharing in the twin glories of generosity and gratitude." – Oprah Winfrey
"Christmas is not an external event at all, but a piece of one's home that one carries in one's heart." – Freya Stark
"We clap hands and welcome the Peace of Christmas.
"We beckon this good season to wait a while with us." – Maya Angelou,
"Christmas isn't just a day. It's a frame of mind." – Valentine Davies
"Christmas gives us an opportunity to pause and reflect on the important things around us." – David Cameron
"Nothing ever seems too bad, too hard, or too sad when you've got a Christmas tree in the living room." – Nora Roberts
"Christmas is the day that holds all time together." – Alexander Smith
"Some Christmas tree ornaments do more than glitter and glow, they represent a gift of love given a long time ago." – Tom Baker
"And that, of course, is the message of Christmas. We are never alone." – Taylor Caldwell
"Let us keep Christmas beautiful without a thought of greed." – Ann Garnett Schultz
"Teacher says every time a bell rings, an angel gets his wings." – Zuzu Bailey
"The world has grown weary through the years, but at Christmas, it is young." – Phillips Brooks
"Christmas will always be as long as we stand heart to heart and hand in hand." – Dr. Seuss
"The best way to spread Christmas cheer is singing loud for all to hear." – Will Ferrell, Elf
"Peace, good will, and happiness for you at Christmas and always." – Unknown
"Christmas is a season not only of rejoicing but of reflection." – Winston Churchill
"It's the most wonderful time of the year!" – Edward Pola & George Wyle
"Like snowflakes, my Christmas memories gather and dance—each beautiful, unique, and gone too soon." – Deborah Whipp
"I don't think Christmas is necessarily about things. It's about being good to one another." – Carrie Fisher
"It is Christmas in the heart that puts Christmas in the air." – W.T. Ellis
"This is the message of Christmas: We are never alone." – Taylor Caldwell
"Christmas is not as much about opening our presents as opening our hearts." – J.L.W. Brooks
"Christmas waves a magic wand over this world, and behold, everything is softer and more beautiful." – Norman Vincent Peale
"Peace on Earth will come to stay when we live Christmas every day." – Helen Steiner Rice
Christmas Wishes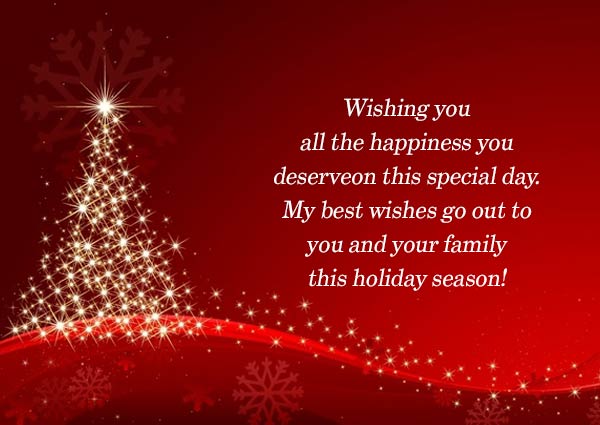 Christmas is just around the corner! This year, are you planning on sending holiday greeting cards with Merry Christmas wishes? Here are some of the best things to write in a Christmas card, whether you want to make your loved ones laugh or express sympathy. Especially if you're not sure what to include, writing a Christmas card can be challenging. As a way to spread some love, you should begin your message with a few short, sweet greetings. "Merry Christmas!" is a simple way to wish others a happy holiday season or a longer message like "I hope you have a joyous Christmas."
Our list of the best Christmas wishes for friends, family, & relatives is the perfect way to get you started for the festive season. Also, these wishes and messages will be the best to send along with Christmas gifts for couples online for a merrier and happier holiday season. Check them out below…
Santa may bring you all the presents you desire this holiday season, especially those with trunks and four tires.
As Santa noted, your performance this year has been good…but I told him that the opportunities have simply not been enough. Merry Christmas!
Happy Christmas! God bless your life with unlimited blessings on this special day.
I hope your holiday season is filled with sparkles of joy and love. Have a wonderful Christmas with your family!
Christmas wishes to all! May this Christmas season bring you all joy and happiness.
I wish you a peaceful, joyous, and blessed Christmas! Have a blessed holiday season!
Have a wonderful holiday season, and stay safe! Wishing you all the best this holiday season! A very Merry Christmas to you!
We wish you and your family good luck and good health during this holiday season. Happy Holidays, and best wishes for the coming year!
Wishing you and your adorable family a very happy and prosperous Christmas season. Have a wonderful holiday!
My best wishes for a happy holiday season and many happy memories of this magical time of year. Wishing you a magical and prosperous new year.
Wishing you all the happiness you deserve on this special day. My best wishes go out to you and your family this holiday season!
Merry Christmas! Wishing you a joyous holiday season. I hope your holidays are filled with good cheer and unforgettable memories. Have a great time this holiday season.
It's because of you that I feel so special this Christmas. It's such a blessing to have you around. Have a wonderful holiday!
I appreciate your friendship and wish you a Merry Christmas. I hope your holiday season is filled with fun and happiness.
I wish all the wonderful people who live there a joyful Christmas filled with love, happiness, and joy! Wishing everyone a joyous holiday season!
I want you to know that you are the only person who could make me happier than you. I hope you have a wonderful Christmas!
You have been a great support, guide, and friend to me. Your friendship is what motivates and inspires me. I pray that God will always protect you. A very merry Christmas to you and your family.
I wish you a happy Christmas, son. I hope you have an enjoyable holiday season. Throughout the year, may you be blessed with the blessings of Christmas.
I wish you a very Merry Christmas, my brother! Wishing you a wonderful holiday season throughout the year!
Wishing you a happy holiday season and the best of luck in the coming New Year. It has been a great pleasure to know you!
I hope that everything on your Christmas wishlist comes true. May your holiday season be filled with magic and joy.
Your love and support have brightened my life. It is my hope that you realize that you are everything that I have ever dreamed about. Have a wonderful Christmas!
Our smiles will be brightened, and our souls will be enlightened by love. A very happy Christmas to the most wonderful person I know!
Wishing you the happiest of holy seasons. Happy holidays to you!
Hopefully, you will achieve all that you dream of and desire. I hope that this Christmas brings you everything you need to succeed. Have a wonderful holiday!
Short Christmas Messages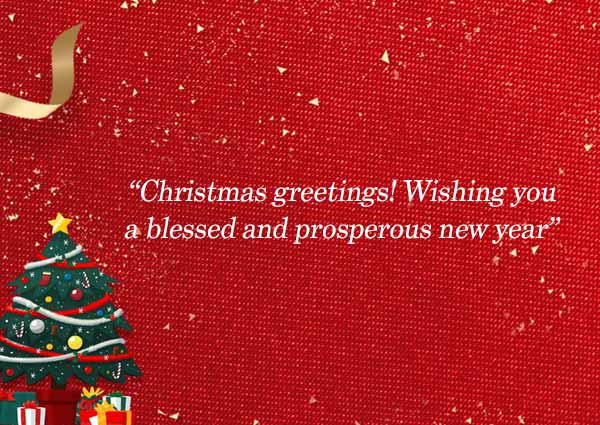 For Christians, Christmas is the most important holiday. As they say, "tis the season to be jolly.". The sentiment is very true. At Christmas, everyone is filled with joy and laughter. After all, it is the birth of Christ. This is a day to celebrate love and gratitude, giving, sharing, and spreading happiness. We enjoy many heartwarming moments, joy, happiness, and love during Christmas. The holiday season is also a time to make new memories and reconnect with family, friends, and others in your life. Spending time with loved ones is an important part of the holiday season. Families, friends, and close ones come together to celebrate the holiday of joy, happiness, cookies, roasted chicken, and decorations. Christmas doesn't feel the same without a message from a close friend.
This Christmas, simply buy Christmas cakes online and post a special Christmas wish on Insta or Whats App for all the special ones in your life. Confused about what to write? Have a look at the list we have curated here –
Christmas greetings! We've SANTA-tized this card for you!
Happy Holidays! Best wishes for a wonderful holiday season.
I wish you a happy and peaceful holiday season. Merry Christmas!
Family, food, and fellowship are all part of Christmas. May the season bring you all that you wish for.
Wishing you a happy and peaceful holiday!
Christmas greetings! Wishing you a blessed and prosperous new year.
Have a wonderful holiday season filled with light and laughter with your family.
Christmas is made sacred and meaningful by people like you. A Merry Christmas to you!
Despite being physically separated, we are connected at heart.
I hope your Christmas is filled with good times and great wine.
Happy Holidays! It's okay to have spent a lot of it's on a gift I want!
Season of Yummy Cookies is here! It's a fact that not just Santa enjoys sweet treats.
Scrooges rule the world, so be a Grinch! Well, he's got a cute pup. Happy Holidays!
The holiday season is filled with love, strength, and unwavering support.
Year after year, I received the best present: You!
Because I get to spend Christmas with you, make sure you make it extra special for me.
Wishing you a true Christmas spirit that illuminates your path and shines in your heart.
The love of God will envelop you this Christmas and grant you eternal peace.
What a joy it is to marry your favorite gift! Happy Christmas!
Best wishes for the holidays! The season is centered around Jesus. Happy holidays!
I wish you and your loved ones peace, joy, and goodwill.
We wish you a prosperous new year, infused with the comforting spirit of Christmas.
You constantly illuminate my world. You make every day feel like Christmas.
Gifts come and go, but the people in our lives who make us smile all year round really matter. Thank you!
It's a good idea for Santa Claus. Bring presents to the people every year. Merry Christmas!
Christmas Greetings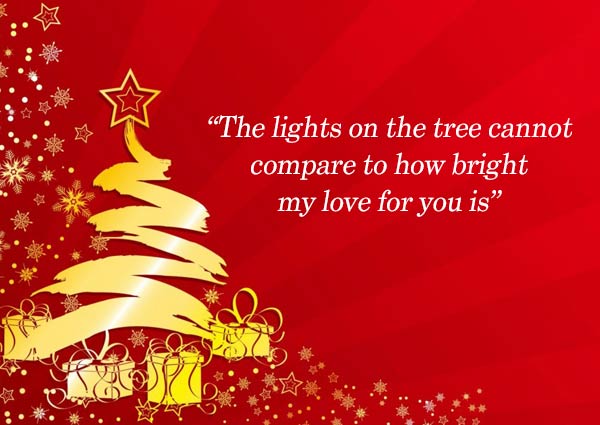 With a heartfelt, personalized Christmas wish in a beautiful card, you can wish those you love a Merry Christmas from the bottom of your heart. You may not be able to put your feelings into so few words, but these short and sweet Christmas messages will help you make this Christmas one filled with love and warmth. Personalized Christmas greeting cards are not just for recipients; they are also for you.
Don't forget to give gladly this season, and your heart will be filled with gratitude in return. Here are some of the best Christmas greetings to put in your holiday cards for sending special wishes –
Christmas wishes to all! Hope your happiness is great and your debts are minimal.
I wish you the happiest of holidays this year.
May your holidays sparkle with joy and laughter!
Greetings for Christmas! May this coming year bring you blessing after blessing.
Wishing you a Christmas filled with the true spirit of Christmas.
Best wishes for a merry and bright holiday season!
Wishing you joy, warmth, and love this Christmas.
May your Christmas be filled with joy, peace, and unconditional love.
Christmas is made special and meaningful by people like you. I'm grateful.
Due to the weather, Christmas is canceled. Santa must have died of laughter when you told him you'd been good this year.
I wish you and your family a season filled with light and laughter.
Happy Christmas, and may your holidays be merry and bright!
People matter more than what's under a tree, and not what's under the tree. Thanks for being a part of my life every year.
Wishing you a joyous holiday and thinking about you this season.
I'm toasting eggnog by the fire, warm holiday memories, and you.
The lights on the tree cannot compare to how bright my love for you is.
This year, I've enjoyed you the most as a Christmas present.
I'm grateful that you're a part of every Christmas, my friend.
It wouldn't be the most wonderful time of the year without you.
The miracles of Christmas are evident in you.
I hope you enjoy a warm and cozy Christmas this year and are able to escape from the cold.
My best wishes for a happy and prosperous Christmas. May you be blessed with peace, love, and prosperity throughout the year.
The magic of Christmas is that we're together.
Kiss me anytime you want-forget the mistletoe!
Our family wishes you joy and blessings this Christmas and every day.
Christmas Greeting Cards 2021
The Final Takeaway
If you've done your Christmas shopping, wrapped the gifts, chosen what to send as Christmas gifts to Canada, Australia, UK, & USA, and also planned your Christmas feast, now is the time to write heartfelt Christmas wishes & messages for your loved ones. However, that's easier said than done! The words just won't come even when you turn on beautiful Christmas tunes and sit before a box of beautiful cards. When that happens, check out these Christmas wishes for inspiration. The kind act won't be limited to just one person. The act of writing longhand is refreshing psychologically. It's one of those gifts that never go out of fashion. According to countless studies, it has proven a calming and therapeutic activity to reduce stress, improve memory, and even stimulate creativity. Handwritten notes require you to take your time and think about your words.
Now, there comes the task of finding the best and the most memorable Christmas gifts to India & abroad to wish near and dear ones; GiftaLove.com can be your option for online Christmas shopping. This is one of the recognized & popular online gift shops offering its customers a vast collection of budget-friendly and thoughtful gifts for Christmas, for everyone on the list, from parents, to your loving partner, your dearest friends, and every one part of your life. With fast & reliable delivery services, customers can send Christmas gifts to Mumbai, Delhi, Pune, Bangalore, & across India.
So, order gifts for Christmas online in India from Giftalove & make your holiday season 2021 memorable and the most amazing!!
Sakshi Ecavade is our in-house content developer having a good understanding about the gifting industry. She creates quality content surrounding flowers, chocolates, plants, cakes, and other products which makes excellent gifts for the people. Accurate and authentic information is what she tries to deliver through her blogs.