Shopping for the best gifts for the newly wedded couple is a talent unto itself, whether you take pleasure in being a wonderful gift-giving or need some inspiration. Unlike anniversary and engagement presents, they're frequently tied to the home—think of functional equipment and elegant decor to help the newlyweds get off to a good start. A cutting board or a unique combination of plates may not appear to be the most heartfelt of gifts for newlyweds. However, these are still practical products that most couples are delighted to receive. You can easily get more useful and thoughtful wedding gift ideas than a gift card from the local market or an online gift shop.
Do you want to see the bride or the groom getting all emotion over your wedding gift? You can always choose personalized wedding gifts for newlyweds as they undoubtedly make the most amazing wedding presents. You may also make a charming remembrance by personalizing a wedding present with the couple's monogram or engraving. From frames to cakes to greetings, there are a lot of best marriage gifts to represent your remarkable gifting expert talent.
But, when it comes to picking a lovely and special wedding gift for someone close to your heart, the job becomes quite daunting. This is the reason why we have curated this list. So, slowpokes, having a list of fabulous wedding gift ideas prepared can help you wow the happy newly wedded couple and avoid being a confused wedding guest on their D-day.
Are you looking for some motivation? Continue reading for the 25 finest wedding presents that are sure to wow, ranging from home décor, wine glasses, designer wedding cakes, and more. Let us begin with the list of the wedding presents for couples –
Tips to Choose Best Wedding Gift for Newlyweds
Before you start shopping, here are a few useful hints to help you get started. Even though their wedding register may not appear to be the most apparent location to seek a housewarming or holiday present, it is a fantastic resource. Check to see whether any of their requests went unpurchased if you have access to their wish list. Even if the couple doesn't buy everything on the registry, it will provide insight into their style and hobbies.
Another option is to get the newlyweds a distinctive and customized present. A gift based on how they met or something they like doing together, for example, is sure to wow both of them. You can buy heart-shaped cakes for wedding to relish a flavorful treat for the couples. After all, they're only a few months into their marriage and are probably still giddy about their new status as husband and wife. Make the most of this important period in their lives by giving them a gift.
Best Wedding Gift Ideas for Newly Married Couples
Are you ready to begin? We've compiled a list of the greatest gift ideas for newlywed couples in 2021, including all of the best holiday presents for newlyweds. We're discussing home decor, unexpected subscriptions, all the great devices that weren't on their registries, and so much more.
1. A Book of Date Suggestions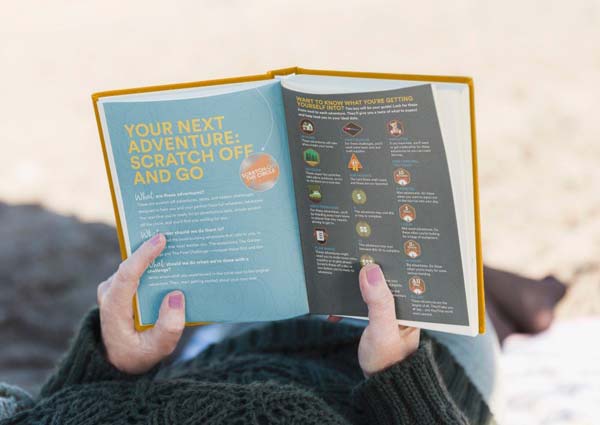 The Adventure Challenge includes 50 scratch-off suggestions to help the couple plan their next date. After that, there's room to scribble comments and add a photo, thereby turning the book into a journal of their activities. Give it to newlyweds as a reminder to keep up with frequent date evenings, even if they're no longer "dating." This will surely be one of the best anniversary gifts for couples celebrating their first marriage anniversary.
2. An Ornament to Remember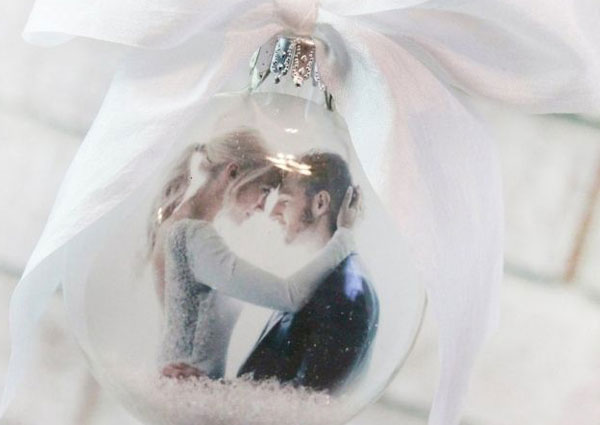 Looking for a present to commemorate the couple's first holiday season or Christmas together? This one-of-a-kind ornament commemorates their wedding day with an etching of the calendar month. Above the phrase "marriage," their names, and the year, a beautiful heart symbolizes the day they said, "I do." It's a lovely tribute to their special day, and since it's not their wedding day, it's very meaningful. You can also buy Secret Santa gifts online for the couple to make their holiday season memorable and the most special one.
3. Personalized Cushion for Couples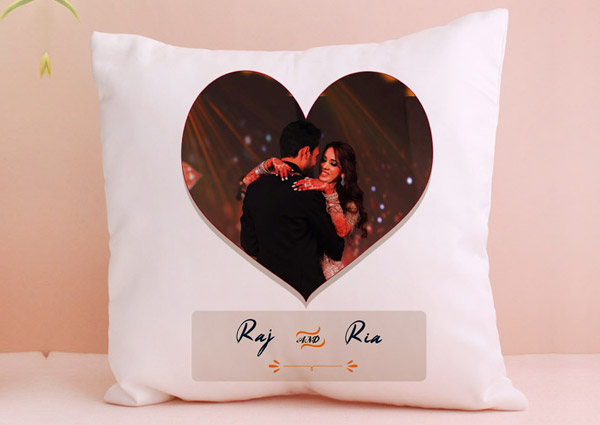 A present for the newlyweds pays homage to their love story by nodding to how they met. One of these wonderful pillows could bring back sweet memories if they met in college. You can surely buy personalized cushions online for couples to give them a lifetime of memories of togetherness.
4. A Creative Photo Frame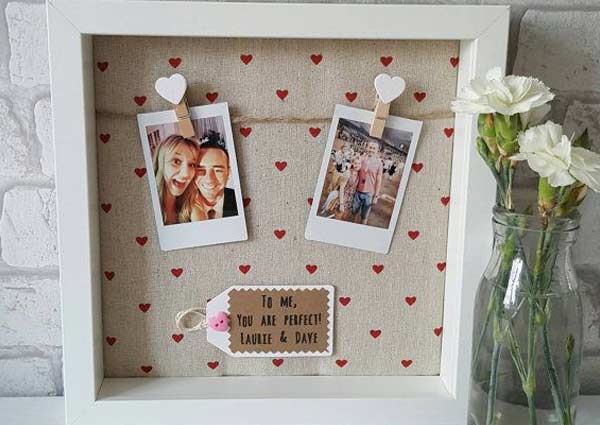 For newlyweds, a woodblock picture display is a thoughtful present. Whether you're looking for a wedding gift for the newlyweds, Christmas gift ideas, or a nice housewarming present, photo presents are always a wonderful gesture. Simply select a dozen of your favorite photos of the couple, and you're ready to go.
5. Personalized Couple Mugs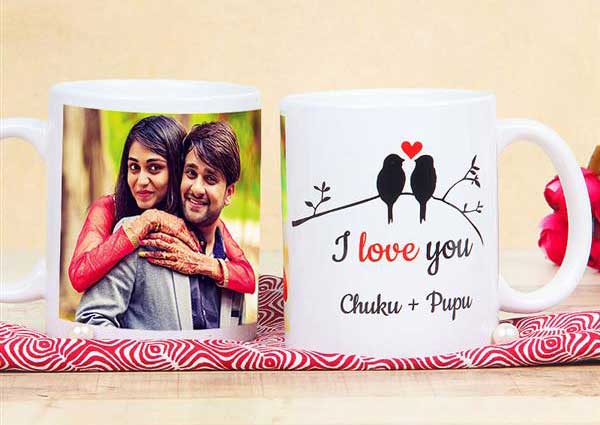 Set the happy couple for a nice relaxing night in with a pair of adorable mugs featuring their image. They're ideal for hot chocolates with lots of whipped cream if you're buying them for the holidays. That's a sweet 1st-anniversary gift for couples, right there.
6. A Painting in Honor of Their Wedding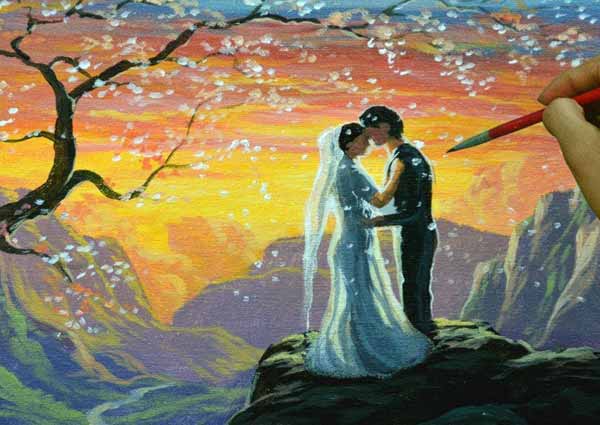 By purchasing a picture of the newlyweds, you may turn one of their gorgeous wedding images into a wonderful piece of art. This artist creates something unique from a photo of the couple, then adds their names and wedding date to the artwork. If you want to go all out, they can even include a pet with your present—now that has to be one of the greatest wedding gifts for newlyweds.
7. A Photo Calendar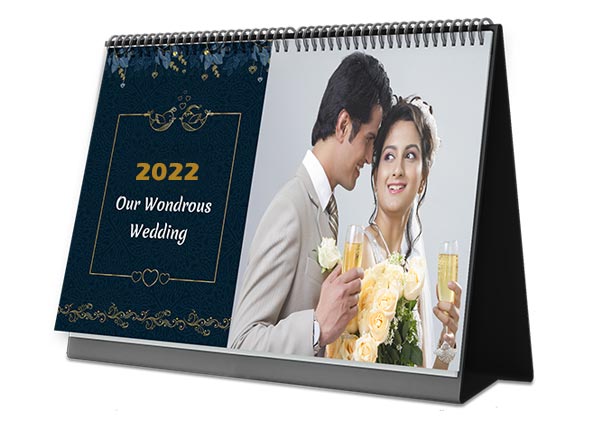 With a unique picture calendar for 2022, they can commemorate their bright future together. This present will provide the newlywed pair with 365 days of enjoyment. Make it theirs by including images of the couple as newlyweds and underlining any significant events. What's the best part? Because the photographs have a perforated edge, they may be ripped off the calendar at the end of the year and saved indefinitely.
8. A Personalized Gift Box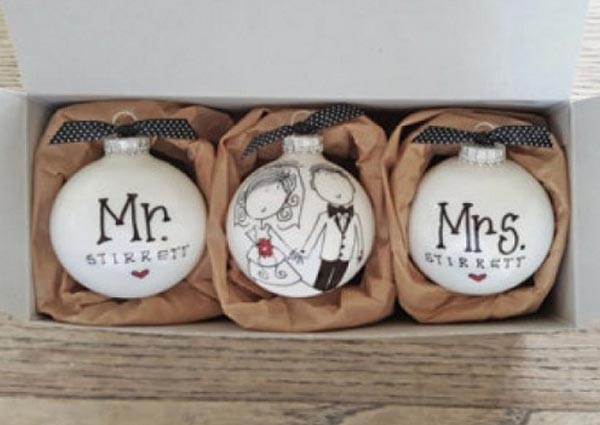 Gifts for newlyweds that are personalized don't have to be expensive. Several online gift shops allow you to completely personalize your present, from picking your favorite on-theme packaging to adding images, all without breaking the budget. On the inside of the box, there's also room to write kind greetings. Do you want a better deal? You can buy personalized greeting cards for couples to make their wedding anniversary special and memorable.
9. Champagne/Wine Glasses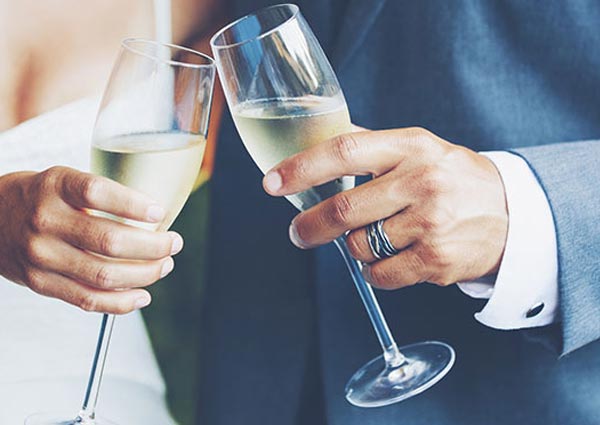 Giving a couple wine glasses is one of the simplest ways to make them happy. After all, they are the one item that each couple will need in the future. We recommend pairing a set of wine or champagne glasses with a decanter to complete the set.
10. Spiritual Gifts for Couples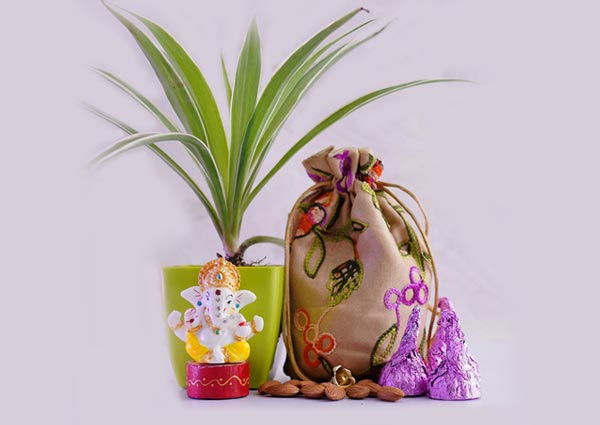 The newlyweds are likely to get a variety of inventive wedding presents, but a spiritual gift will undoubtedly stand out. Lord Ganesha idol, Krishna idol, or even a nice statue of laughing Buddha will also turn out to be something very special and unique for the couple, which makes a great wedding present. Guests also prefer to send spiritual gifts online to couples for blissful wedlock.
11. Wedding Plants for Couples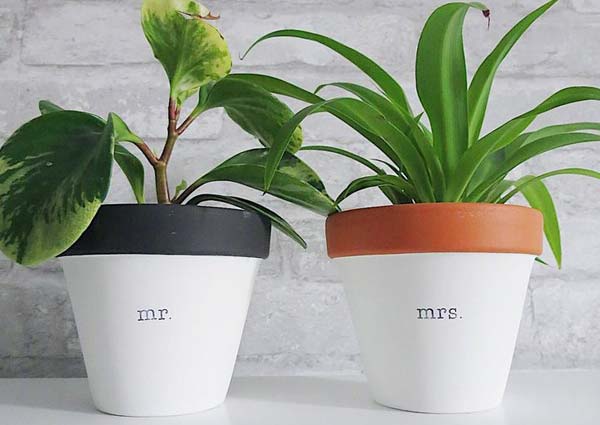 You'll also need gifts for the guests in addition to the bride and groom's gifts. These stunning wedding favors are both environmentally sustainable and long-lasting. The small cactus plants in a tin pot are beautiful and brilliant, and the guests may carry them away after the celebration. You can buy good luck plants online for couples searching for a thoughtful wedding gift.
12. Customized Wedding Plaque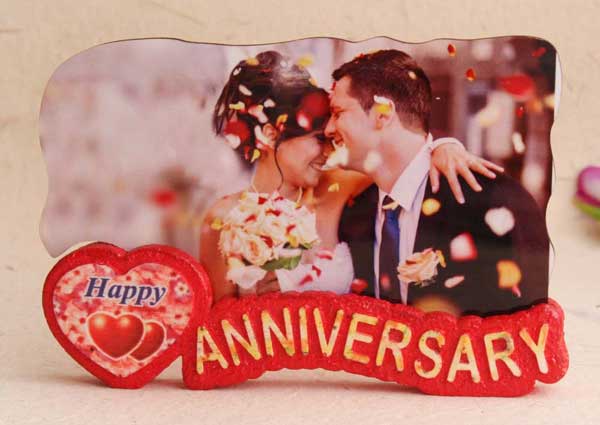 This gorgeous vintage-style wedding wooden plaque will serve as a focal point in the home. This 'happily ever after' plaque features two hearts swinging from it, each painted with the couple's name and wedding date. You have the option of painting things brightly or subtly. With the addition of ribbons, you'll have a fantastic present.
13. Wedding Gift Hampers for Couples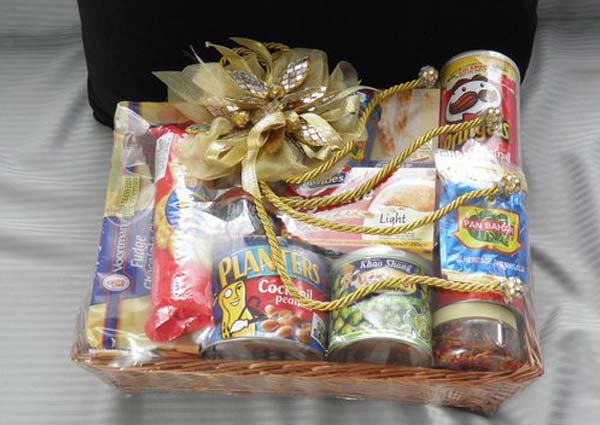 This isn't just one of the most gorgeous presents you can give a couple; it's also one of the most relaxing. The romantic ambiance created by these candles will undoubtedly warm a couple's hearts. Choosing one of the aromatherapy candles might be very beneficial in relieving tension and anxiety after a long day. In addition, you may write a message on the candle. People can buy anniversary gift hampers to send their heartwarming wishes to the couples.
14. Couple Bracelets with Initials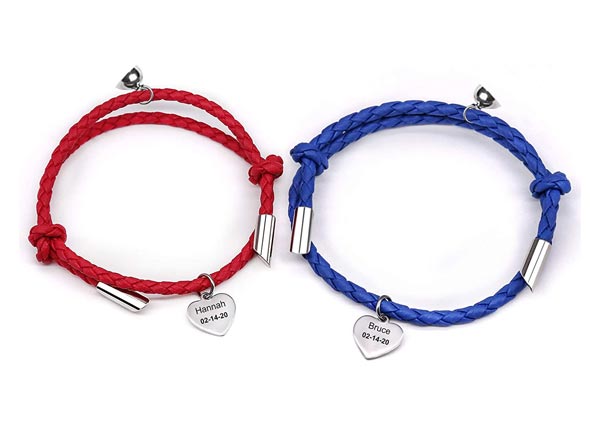 Couple bracelets are always in style, as this present demonstrates. Getting the correct message written on a present like this is essential. Because a bracelet may be worn practically anyplace, it's an excellent way for the newlywed to be reminded that they have a family other than their spouse.
15. Wedding Flowers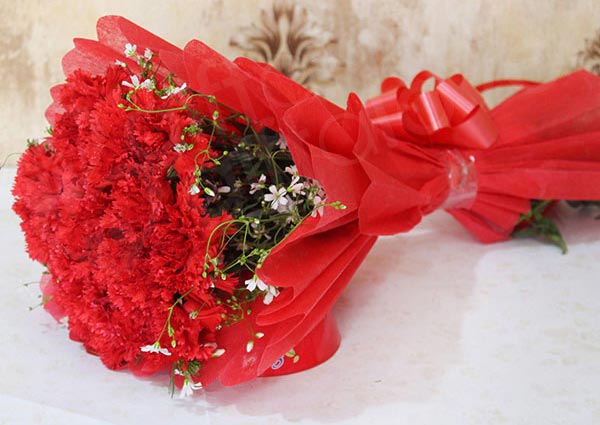 Send gorgeous flowers to the happy couple on their wedding day. Below is a unique assortment of online flowers that includes various stunning wedding floral gifts to choose from and purchase online at reasonable costs. You may now buy and send wedding flowers to your loved ones over the internet.
The Final Takeaway
Are you attending a wedding and not knowing what to present the happy couple? Don't worry; we've got you covered! Finding the ideal wedding present is a difficult undertaking. After all, each couple's tastes are unique. To pick gifts for the happy couple, we're all left to our sound judgment and wits. And we are confident that there is something for everyone. So, to make things easier for you, we have compiled a list of 15 of the greatest, fail-safe wedding gifts for newlyweds you can buy right now from one and only GiftaLove.com! You can buy 25th anniversary gifts online from our store from the list we have curated above.
From classic wedding gifts to one-of-a-kind things you won't find in a department shop, each of these hand-picked products is sure to gratify any couple while also being light on your wallet! According to recent surveys, October is the most popular month for weddings, so chances are you'll be attending one soon. You might be wondering what to purchase the happy couple as you prepare to celebrate the unions of individuals you love and care about. Giftalove.com is an excellent place to start! Order anniversary gifts for Bhaiya Bhabhi, parents, sister, brother, husband, wife, or anyone on the list and that too without going high on the budget.

Sakshi Ecavade is our in-house content developer having a good understanding about the gifting industry. She creates quality content surrounding flowers, chocolates, plants, cakes, and other products which makes excellent gifts for the people. Accurate and authentic information is what she tries to deliver through her blogs.