The festivals of the Indian subcontinent are rich and mesmerizing manifestations of the rich culture and traditions of the country. With Diwali just around the corner, the decorations of the entrances of homes with torans, Asoka and mango tree leaves, lights, and of course Rangoli is a common spectacle. The festival of Diwali is not just about decorating homes with lights candles, and diyas, but Rangoli also plays a crucial role in its stunning celebrations. The bright combinations of the vibrant colors make these art pieces perfect home décor ideas for Diwali. The beautiful colors of the Rangoli give an alluring effect to the surroundings making them look more extravagant and eye-pleasing for everyone who visits your home.
With this grand Indian festival knocking on the door, people must be searching for the most attractive and creative Rangoli designs to design and decorate the floors of their homes. Below is the list of appealing Rangoli designs which can consider for making your home look no less than a spectacle this Diwali 2021…
1. Ganpati Rangoli
Do you wish to make a Rangoli on the floor where you have placed the temple in your house? Decorating it not just with lights, but also with a pretty Rangoli is a fabulous idea. As decorating temples is a religious feeling, therefore, Ganpati-themed Rangoli is the best idea to go ahead with this Diwali Puja. It perfectly mingles with the festive vibes of this festival of lights! Ensure that no one steps on it as it has religious feelings attached to it!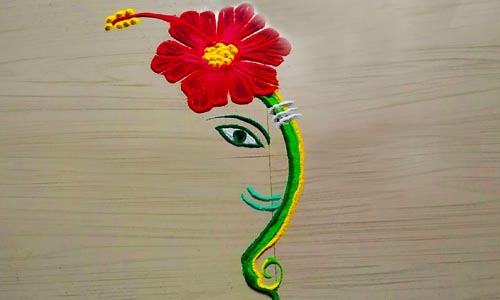 2. Alpana
Alpana is a traditional Rangoli of West Bengal made using rice powder with the motifs of sun, goddess Lakshmi, owl, fish, ladder, betel, lotus, plough, rice stem, and others. People also make a paste of rice powder and water to make this Rangoli on Diwali.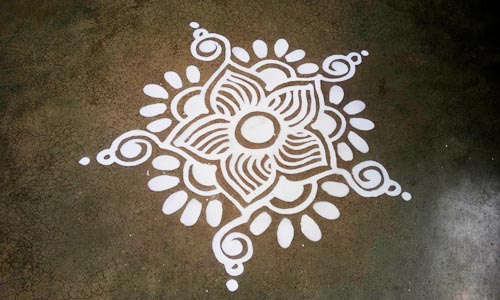 3. Flower Petals Rangoli
Create a beautiful colorful and aromatic Rangoli this Diwali with the petals of the fresh and blooming flowers for a perfect touch to your Diwali home décor. Use petals of roses, Tagetes (Genda in orange and yellow colors), Mogra, marigold, and daisies for a colorful and pretty Rangoli.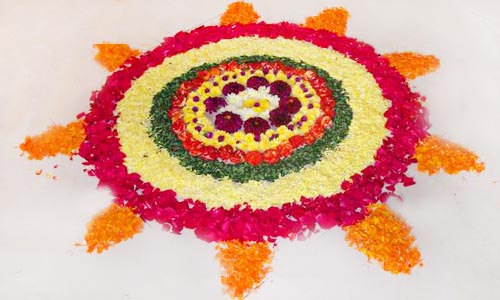 4. Peacock Rangoli
Peacock, the national bird of India, is a popular pick to make a Rangoli design on Diwali owing to its bright colors and auspicious factors. Making this Rangoli on the entrance of the house brings an exotic appeal to the home décor.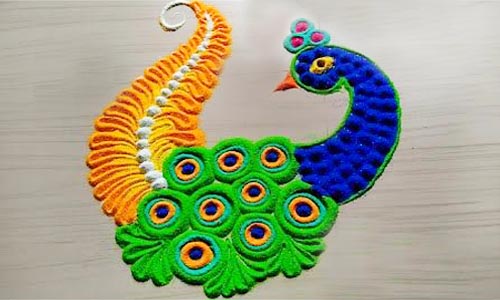 5. Swastika Rangoli
As the symbol of Swastika denotes good luck and prosperity, it makes a popular Rangoli designs and brings happiness in homes. Using colorful and bright colors in this Rangoli will make it more enchanting to the eyes of the visitors!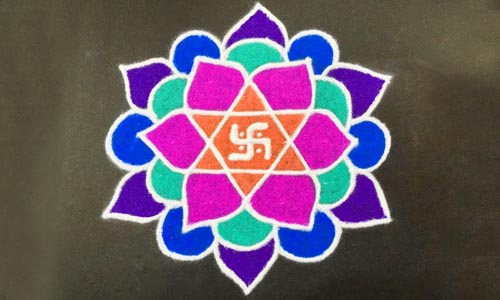 6. Om Rangoli
The symbol "Om" holds importance in the Hindi religion as it is chanted in Mantras and Shlokas. Being a popular symbol among the Hindus, it has now become a part of the Rangoli designs to bring happiness and prosperity in one's home.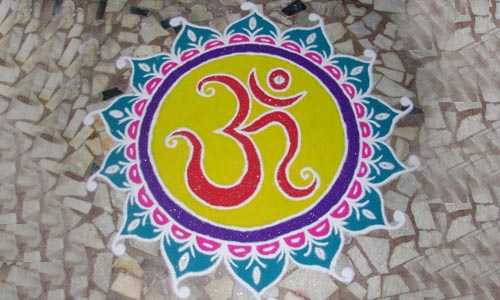 7. Corner Rangoli
If there is less space in your home and creating a big Rangoli is not possible for you, then this kind of Rangoli is certainly a good option for you. It takes less space and can be created in any suitable and visible corner of the house with amazing colors.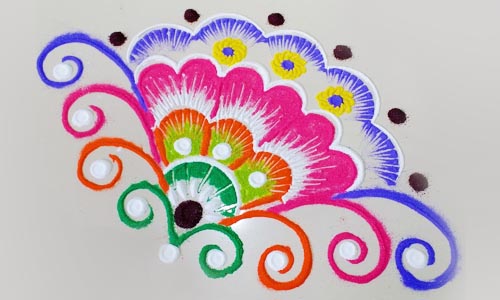 8. Semi-Circle Rangoli
Diwali is a festival which witnesses lots of people visiting us one after the other. Therefore, there is a risk of getting spoiled by the feet of the guests. Semi-circle Rangoli can be created in little spaces where there is less risk of over-stepping.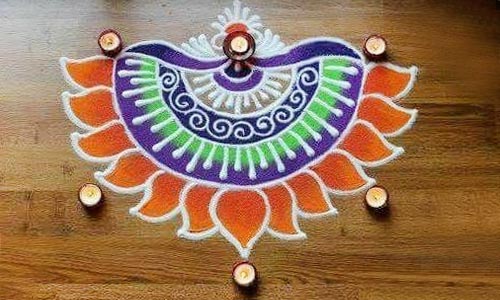 9. Floral Design Rangoli
This is the popular one which people draw on the amazing occasion of Diwali. It is much easier than others and looks mesmerizing to the eyes.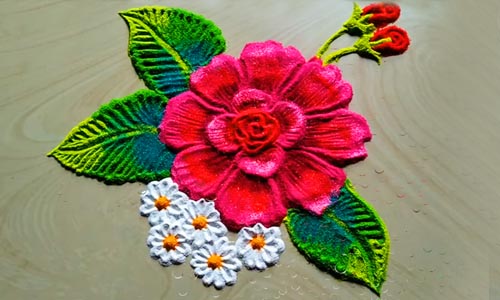 10. Diya Rangoli
Diwali is the festival of lights which witness people lighting their homes with candles, electric lights, and of course, oil diyas. Create a Rangoli in the shape of a diya that goes well with the theme of this festival.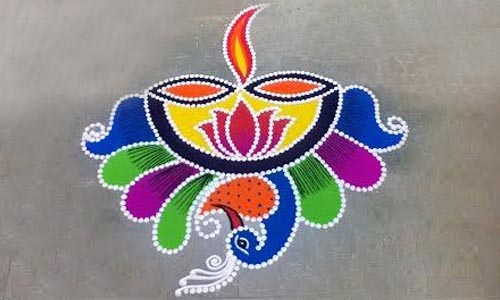 11. Geometric Rangoli
The use of the shapes like square, rectangle, circle, or diamond shape in this Rangoli imparts this name to it. It can be filled with flowers, dry colors, colored rice, or sawdust.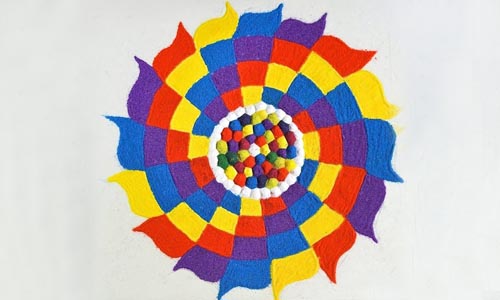 12. Floating Rangoli
If you don't have enough space in your house to create a beautiful Rangoli on Diwali, then you always go for this type of a Rangoli. Take a designer bowl, fill it with water, and spread flowers in a proper sequence to impart it a look of a proper Rangoli. You can also keep floating candles for an appealing appearance.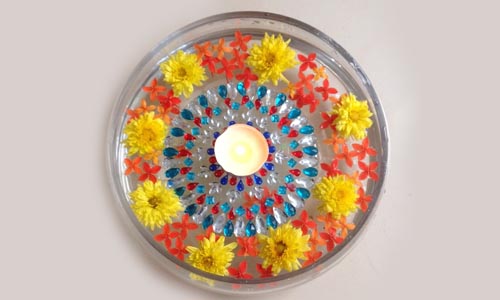 13. Wooden Rangoli
There are a good number of time-saving options available in the market relating to Rangoli designs. This is one of them. The sheets of wood are cut into designer shapes which can be colored and decorated and then pasted on the floor.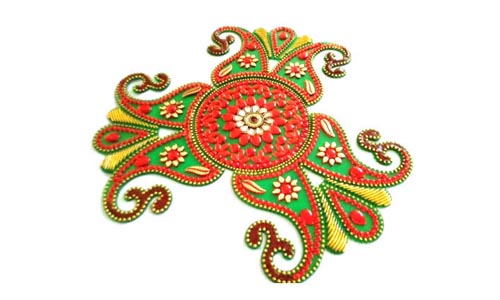 14. OHP Sheet Rangoli
Similar to the wooden Rangoli, OHP sheet Rangoli can be pasted on the floor. Designed and colored by the maker of this Rangoli, you can also decorate them more with your creativity.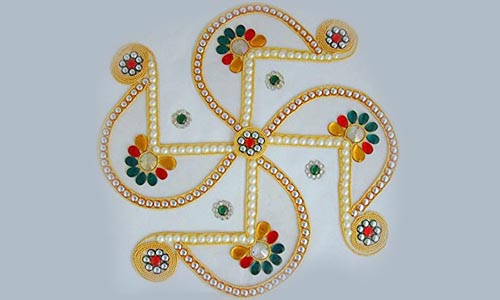 15. Colored Rice Rangoli
Bring the creative artist within you out this Diwali and soak rice in colored waters to create colored rice to make a Rangoli. Use bright colors like blue, red, yellow, green, pink, and orange to create this amazing Rangoli.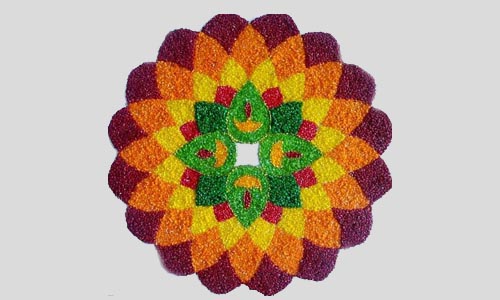 16. Grain Rangoli
If you lack time or have forgotten to buy Rangoli colors and other materials, then using pulses or grains to make it is definitely a wonderful idea. The natural colors of the grains and pulses such as chickpeas, split peas, wheat, rice, Rajma, and others can be used to create a fabulous Rangoli this Diwali!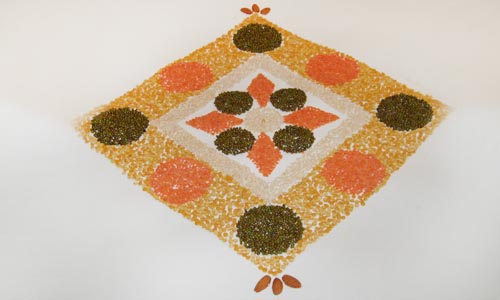 17. Sawdust Rangoli
The colored sawdust is available in the market for Rangoli during the festive time of Diwali. It is better to make Rangoli with sawdust in a place where there is no risk of overstepping and no air as sawdust can flew away due to its lightweight.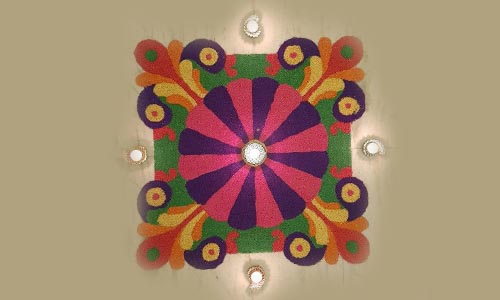 18. Readymade Rangoli Sticker
This is the most convenient one as it is much cheaper and time-saving on the busiest Indian festival of the year. You just have to purchase one of your preferred choice and paste it anywhere in your house without the risk of spoiling.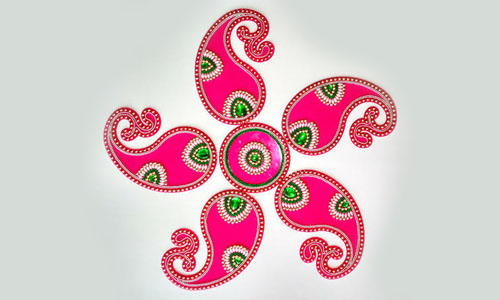 Sakshi Ecavade is our in-house content developer having a good understanding about the gifting industry. She creates quality content surrounding flowers, chocolates, plants, cakes, and other products which makes excellent gifts for the people. Accurate and authentic information is what she tries to deliver through her blogs.