Reading the famous quote by Thomas Paine, "The real man smiles in trouble, gathers strength from distress, and grows brave by reflection.", we get an idea that the life of a man is not as easy as it seems. It takes a big heart to sacrifice one's wishes to fulfill the dreams and aspirations of the family. And, these gentlemen impeccably do this job without a furrowed brow. We all have such special men in our lives who have contributed to our big chunk of happiness. This 19th November on Men's Day, let celebrate these men in our lives who have perfectly turned out to be superheroes in our lives. Applaud these men for being your ultimate source of happiness and turning your dreams into reality with these heart-warming messages which will open your heart in front of them.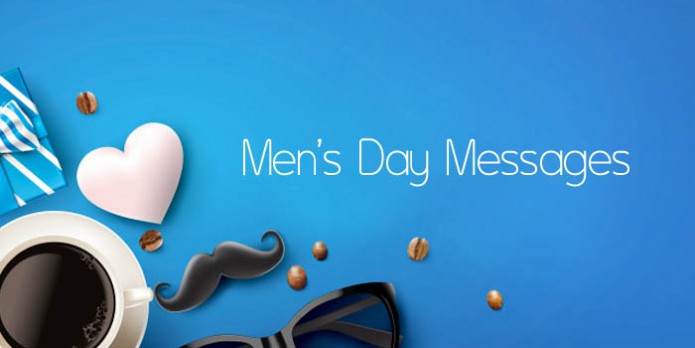 Men's Day Messages for Father
"A father is someone you look up to no matter how tall you grow." The presence of a father in life is the most ultimate feeling anyone can experience in life. He is a guiding force who always holds our hands and shows us the right path always…A father always ensures that his children are happy and gets everything that they demand. For both sons and daughters, he is an inspiration as son always aspires to become a gentleman like him and daughters wish to have a husband like him who takes immense care of her.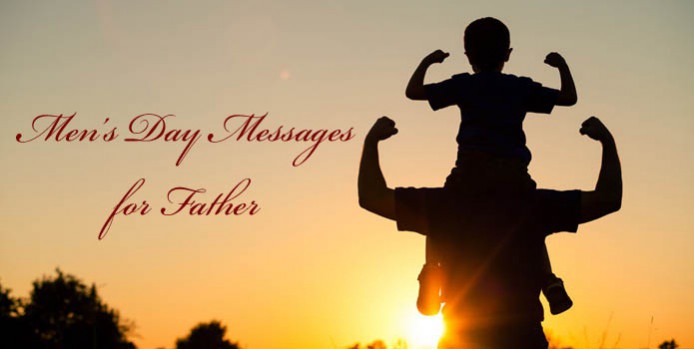 Send him these messages on men's day and express your love and respect to him.
1. Daddy, A big thank you for everything you have done…I love you a lot… Happy Men's Day!!!
2. You always encouraged me, and you are an example of how to live life. You loved, you cared, and fulfilled our dreams. You have all that a child could ask for in a father. Happy Men's Day!
3. F – FRIEND for life
A – AFFECTIONATE as always
T – Best TEACHER for life
H – HUMOUROUS coz you make me laugh
E – My source of ENCOURAGEMENT
R – ROLE MODEL for life
Happy Men's Day, Daddy!
4. "Dads are most ordinary men turned by love into heroes, adventurers, story-tellers, and singers of the song" – Pam Brown
5. खुशियों से भरा हर लम्हा होता है, जिंदगी में सुनहरा हर कल होता है, मिलती है कामयाबी उनको, जिनके साथ पिता हर पल होताहै… Happy Men's Day PAPA!
6. All my dreams could never be accomplished if you were not beside me. A big thank you to you, Daddy, for always being there for me! Happy Men's Day!!!
7. Love you Papa for all those wonderful gifts, scolding me on my mistakes, teaching me new things, showering unconditional love and everything you did for me. Happy Men's Day 2019!!!
8. From childhood till today, I am a princess of your heart. Love you daddy for being the reason for my smile and strength. Happy Men's Day!!!
9. Daddy, you are my best friend, my superhero. I'm so fortunate to have you as my guardian, role model, mentor, and critic. Happy Men's Day!!!
10. We are blessed with a great father who always fills our day with love, happiness, satisfaction, and affection. Thank you for being the best dad in this world. Happy Men's Day!!!
Men's Day Messages for Husband
"I don't need a superhero.
I don't need a character from romantic novels.
I don't need a prince from a fairy tale.
Why would I wish for those when I have all of them wrapped in one? That's you, my dear husband. I love you so much."
A woman's life mainly revolves around two real-life characters that hold big significance in her life – FATHER & HUSBAND. After her father, if there is a man that can take good care of love and protects her in al adversities, then he has to be her husband. He is the reason for her happiness that showers his love and care always on her. She is the queen of his heart who will rule his heart forever. If you too have such a romantic and caring husband, then let your emotions get communicated to him on International Men's Day!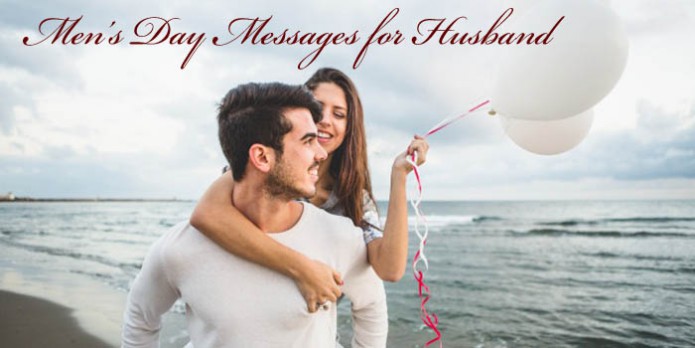 1. You are the reason for the smile on my face; you are my source of happiness; and my heartbeat… Happy Men's Day, Sweetheart!
2. With all my heart, I appreciate God for blessing me with such an amazing husband who is an admirable man, who fulfills all his roles with dignity… Happy Men's Day, Honey!
3. When God creates sensible men like you, he makes this world a much joyful and safer place… Wishing you lots of love and care on Men's Day my darling husband!
4. Only a good man can become a perfect son, a caring husband, an amazing father, & a stunning human being who thinks good of the society. Have a great Men's Day 2019!
5. You stood beside me in difficult times. You supported me in my career. You have taken good care of me. I feel blessed to have you as my husband. Happy International Men's Day!
6. Every day in my life commences and ends perfectly. It starts with your face, and it ends when you hold me in your arms. I love you, my sweet hubby! Happy Men's Day!
7. A perfect companion is hard to find, I am so glad that I found mine, A perfect life partner is hard to find, Who is so loving and kind, Thanks for coming in my life, Love you so much! Happy Men's Day!
8. The love you have for me is simply flawless and your commitment immaculate. All that matters to me is when you are happy. You make me feel like the queen of the world. Happy Men's Day 2019!
9. Every single moment I live as your wife, it makes me think how lucky I am to have you as my husband. I Love You & Happy Men's Day!
10. I have no words to define you. You are simply the definition of a perfect man. Happy Men's Day 2019!
Men's Day Messages for Brother
Brothers are like a ray of bright sunshine always lighting our paths and giving us warmth. They are the best people in our lives whom we can rely on and share our secrets with.  Celebrate adulthood with your brother on this men's day while speaking your heart out with these heart touching messages.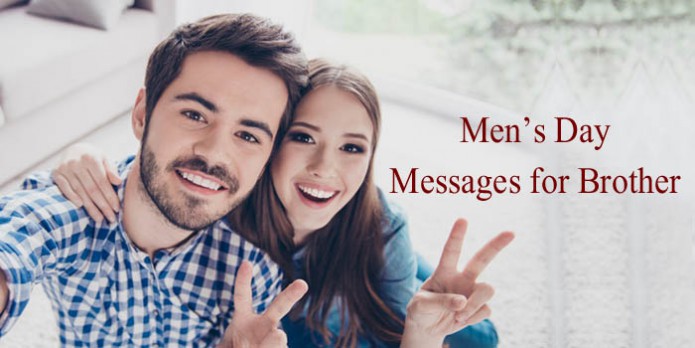 1. The photo frame of my childhood wouldn't have been perfect if it didn't have you, my brother. Happy Men's Day 2019!
2. When we fought, we may become the worst of enemies. But when we come together, we make a great team. Love you bro. Happy Men's Day 2019!
3. In my childhood, you rectified my mistakes and supported me when I was being at my lowest… Thanks for everything brother. Happy Men's Day 2019!
4. Do you know what a brother, hero friend, and role model have in common? They are all names of you. Happy Men's Day bro!
5. A brother… sees you at your best & your worst. Sees you come last & come first. See your lows & your highs. But through all this, he always stands by. Thank you & Happy Men's Day!
6. A little brother is the best teddy bear a sister can ever have. Soon you'll be a man my cutie… Happy Men's Day!
7. From the moment I first took you in my arms, I told myself, "from now on, it's my duty to make sure you're happy always." Happy Men's Day!
8. Thank you for giving your sister valuable advice which helped me take a step forward to achieve BIG goals in life. Happy Men's Day!
9. The best part of having you as a brother is that I never feared to lose a best friend. Have a great Men's Day!
10. We were born as brothers but we live as best friends. Happy Men's Day, bro!
Men's Day Messages for Boyfriend
Though you share a secretive kind of a bond with him as every one may not be aware of your relationship, he holds a special and irreplaceable place in your life. His loving and caring nature won your heart making you fall on your knees for him. Make your boyfriend feel loved with your romantic messages this Men's Day and show this special man how incredible he is! These messages will perfectly go well with your special gifts for boyfriend on birthday or any other special day…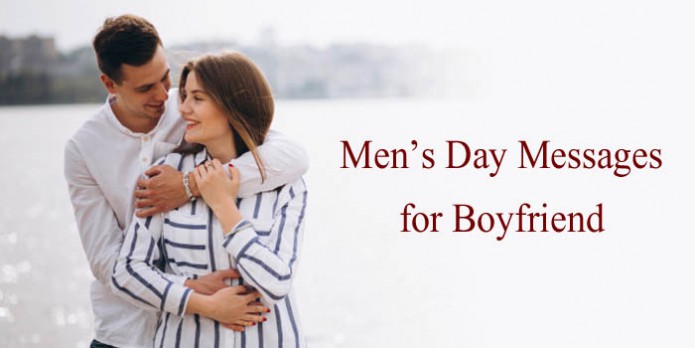 1. I feel like a rich woman because I have a precious man like you in my life…You are priceless. Happy Men's Day!
2. You are the perfect example of a boyfriend. You are a gentleman who every likes to have in her life. Happy Men's Day!
3. You always know how to make me feel special and beautiful. Happy Men's Day to the man of my dreams!
4. You make each day of my life an adventure…I look forward to many more days exploring the world with you. Happy Men's Day, Honey!
5. Every morning when I wake up, I find that you the most amazing thing that ever happened to me. Happy International Men's Day 2019!
6. Together with you is my happy place. I love you to the moon and back, my prince charming! Happy Men's Day!
7. Dear Boyfriend,
I wish you a happy men's day as you are one of a kind. Love to have you in my life.!
8. You are my #1 man. I think of you every second. Thank you for coming into my life, sweetheart. Happy Men's Day!
9. I never thought I would meet someone who is as loving and caring as you. Thank you for being you. Wishing a fabulous Men's Day 2019!!!
10. I'm very fortunate to have you in my life. You are supportive, loving, and caring & will remain in my heart forever. Have a great Men's Day 2019 with your gang!!!
Men's Day Messages for Son
 Son is the answer to the prayers of the parents who wish to continue their legacy forward. He is an apple of the eye of his parents who always wish for his happiness and success. As he is grown up now, you feel proud as he turned out to be an amazing human being who respects women. Wish your son who is your pride and the only source f happiness a very happy men's day with these hearty messages.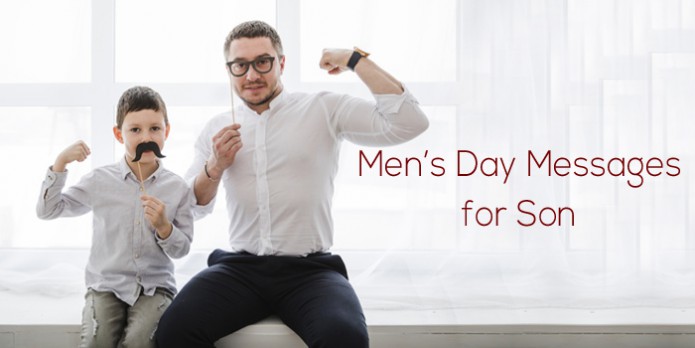 1. When I see you smiling, all my worries disappear. Have a wonderful Men's Day, son!
2. From a tiny toddler to a grown-up adult, you have become a true gentleman, my son. Wishing you the best International Men's Day!
3. Dear son, we don't have words to describe your true place in our lives. We can only say you are our world. Wishing the most handsome man a very happy and enjoyable Men's Day 2019!
4. Son, you are the best of what a man could be. I have never been more proud of you than I am today. Happy Men's Day!
5. Son… no matter how many years pass by, no matter how far you are from me. Nothing can change the bond between us. Happy Men's Day!
6. You are not just a son to me. You're my whole life, my heart, my soul, and most importantly, the reason for my existence. Happy Men's Day, Beta!
7. Being a real man needs courage, respect for the women, nobility and generosity, humbleness, and a good perception towards society. You have that all son! So proud of you. Happy Men's Day!
8. A son is a miracle and a revelation for his parents. We are thankful to God every day for sending you to us. Happy Men's Day!
9. Son, always be a wonderful husband and a supportive father to your family. I wish you all the happiness and love for your family. Happy men's day!
10. I don't see my own reflection in you. I see the reflection of the man I always wanted to be. Happy Men's Day, son!
Men's Day Messages for Grandfather
"Old is gold." This is what defines the qualities of the grandfathers. The age is just a number for them; they are very much lively and young at heart. Their brains are the storehouse of the wonderful years of experience which they often share with the grandchildren to makes them better human beings of the future.  Express your love ad veneration to them through these messages on Men's Day!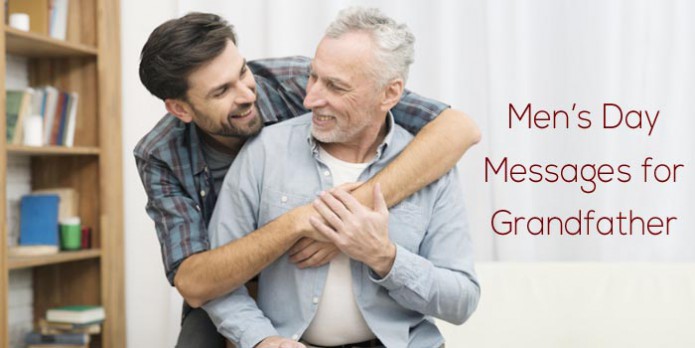 1. Grandfathers are amazing,
Grandfathers are noble,
Grandfathers are special,
Happy to have you, Dadu!
Happy Men's Day!
2. You are not only an inspiration for Dad but also for me. We look up to your grandfather for motivation and life lessons. Happy Men's Day!
2. Grandpa, thank you for your stories and memories… I will always cherish the time we spend together. Wishing you a great men's day!
3. Grandpa, thank you for being my inspiration, someone to lean on, and my best buddy for life. We make a great men's team together!!!
4. To the best hugger, I know!!! Happy Men's Day!
5. Thank you for sharing your love and wisdom, Dadu. Happy Men's Day!
Don't send these messages for Men's Day alone, compliment them with your gifts for him ordered from GIftalove.com. Curated especially for the special men in your life, you will be successful in winning the heart of your superheroes!!!
Sakshi Ecavade is our in-house content developer having a good understanding about the gifting industry. She creates quality content surrounding flowers, chocolates, plants, cakes, and other products which makes excellent gifts for the people. Accurate and authentic information is what she tries to deliver through her blogs.