The month of November has come with celebration time for all those who are born in the 11th month of year. But it is very interesting to know that people who are born in the month of November are born with some interesting and common traits which make them an amazing person indeed. So if you are born in the month of November or someone dear to you is born in this month then these traits you can relate to.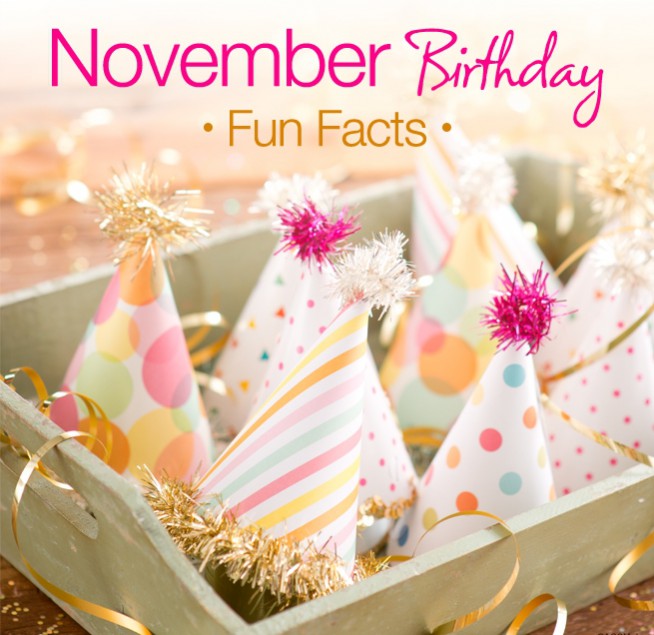 Take a look at some common and amazing traits of people born in November:
Quite Talented:-
People who are born in the month of November are very talented and intelligent as well. They have very scientific and logical mind. So if they justice to their talent they can sure taste success.
Much Secretive People:-
It is one of the common traits of people born in the month of November. They usually don't like sharing everything with everyone. Indeed they have lot into their deep secret corner of heart. They think that they can handle things of their own without telling anyone and this is the reason that why they prefer keeping things secret.
Own a Magnetic Personality:-
The ones born in the month of November usually own a magnetic personality as they are exceptionally good in many things. They have both humility and intelligence, the perfect combination which make them an adorable and very likable person.
Very Loyal:-
People who are born in November also share this common trait. They are very loyal to their friends and loved ones. This is one such trait of them which make them very likable among all. They never cheat on their friends and their emotions. In fact they get hurt badly on being cheated. They are best buddies to respect their friend's secrets.
Often Misunderstood:-
The ones born in the month of November are often misunderstood by others. It may be because of their secretive nature as they don't prefer explaining and let people judge them as they want. They never have an intention of hurting people but unfortunately are misunderstood.
Hardworking:-
For the ones born in the month of November, working hard and fulfill commitments is a matter of prime importance. They are usually very much particular about things. Be it their relationship or they work, they always make sure that their work is done on time. Thus it is fair for them to expect the same from others too.
Quite Emotional:-
For November born people, this trait is really a great weakness. Often they fail to hold their emotions. Unlike others they often end up expressing their heart by crying and being visibly depressed and sad among others. Usually people born in November are very soft by heart and find it really tough to hold their emotions.
Sakshi Ecavade is our in-house content developer having a good understanding about the gifting industry. She creates quality content surrounding flowers, chocolates, plants, cakes, and other products which makes excellent gifts for the people. Accurate and authentic information is what she tries to deliver through her blogs.