Birthday comes once in a year. For many of us, it is always the much awaited day of the year. Everyone has his own notion about his birthday. Some consider it as a reason to celebrate a year of ardor, enthusiasm and passion, while some have a broader view about it, and consider as a day of adding another year of fortuity, optimism and determination to their lives. Whatever be the notion behind, there is always reason to celebrate this important day of your life. If you are earnestly pursuing for the best gift for the birthday of your friend or acquaintance, who lives far away, the best way is to buy birthday gifts and Birthday flowers online via Giftalove, one of the dominant e gifting portal that operates in all parts of India.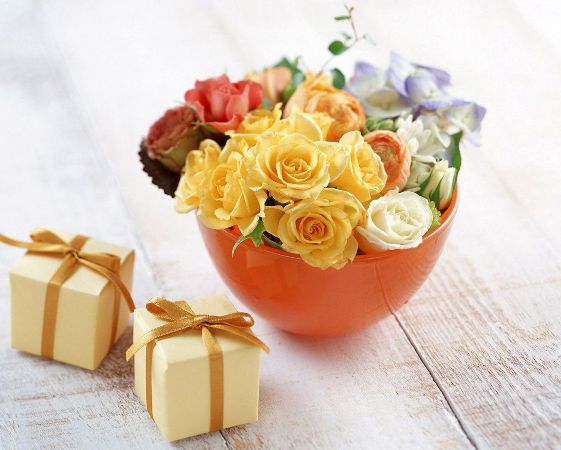 It is well known fact that flowers are not only the ideal token of love, but also one of the most classy gift items for your loved ones. There is huge plethora of the ways you can present floral arrangements to your dearest friend on his birthday. Apart from that, you can easily combine these flowers with the selected gift items that go well your friend's propensity and preference.
Here are few exciting ideas on how you can buy birthday gifts to enrapture your affectionate ones on their birthday:
Cakes n Flower combos to Serve love with delicate scent and delight:
Are you really bored with the same old ideas on birthday cakes and that give no new zeal to the celebration? So, this time you must try to give an interesting twist of taste and tenderness to the celebration by gifting the one you love the most, a brilliant combo of the cake of his favorite flavor, such as a pineapple cake, vanilla temptation cake or a butterscotch delight along with bright roses of various hues arranged in different patterns, just to make it grand gift for every celebration. This combo will surely make its recipient brimmed with ecstasy and passion.
Three Cheers for your Mom:
Well, one can never forget his or her mother's birthday. After all, mother is the most special lady in everyone's life. If you are living far away from your mom have decided to greet her a very happy birthday in the most resonant way, the best way to go about it is to send her a combo of trinity. Such a combo may comprise of a magnificent floral arrangement, a nice and fudgy birthday cake and a cute gift such as a small teddy, a personalized photo mug, collection of scrumptious chocolates or a day planner. The only thing you must consider is to buy birthday gifts and Birthday flowers online in advance for timely delivery.
Romantic Flowers in a Wonderful Mix:
If you want to celebrate the birthday of your spouse in a way that frames your love into a new dimension, this is the apt present for such an occasion. Amazing your loved one with a gorgeous flower combo will be a great idea as this combo is inclusive of all the vibrant hues of love.
These are few ideas on birthday gifts and flowers that can never be overlooked. You can really mesmerize your loved ones by sending them one of these birthday gifts and Birthday flowers online via Giftalove.com, which is one of the leading online gifting portals that operate in all major cities of India. It caters to gifts, flowers and cake delivery in India and overseas via its wide delivery network nationwide and worldwide.
Sakshi Ecavade is our in-house content developer having a good understanding about the gifting industry. She creates quality content surrounding flowers, chocolates, plants, cakes, and other products which makes excellent gifts for the people. Accurate and authentic information is what she tries to deliver through her blogs.