"A brother is a gift to the heart, a friend to the spirit."
For such a special person in your life, commemorating the relationship between siblings, strengthening the bond shared between brothers and sisters, and showing them how much you care, and love, the auspicious occasion of Bhai Dooj is just around the corner. After Raksha Bandhan, Bhaidooj is another special day dedicated to the heartwarming relationship of siblings. On this special day, brothers shower their love on their sisters and make sure to fulfill all their wishes to make this day special for her. And sisters are also not behind in expressing their love, care, affection, and respect to their brothers on this religious day. They give their best in finding Bhai Dooj best-sellers gifts to surprise their brothers if they live in some different city or country and cannot visit home for the celebration. This year, for Bhai Dooj 2022, we have come up with a nice collection of Happy Bhai Dooj wishes in English and Hindi to make it easy for the siblings to express their love for each other on Bhai Dooj celebration.
When is Bhai Dooj 2022? Bhaidooj Date and Significance
| | |
| --- | --- |
| Bhai Dooj 2022 Date | October 27th 2022 |
| Bhai Dooj 2022 Tithi Starts | Dwitiya Tithi starts at 05:12 PM on November 26 |
| Bhai Dooj 2022 Tithi Ends | Dwitiya Tithi ends at 03:15 PM on November 27 |
| Bhai Dooj 2022 Puja Shubh Muhurat | 02:01 PM to 04:26 PM on 27th November |
| Bhai Dooj 2022 Puja Duration | 02 Hours 25 Mins |
Bhai Dooj significance 2022
Also known as Bhai Beej, Bhau Beej, & Bhai Phonta, the religious festival of Bhai Dooj 2022 in India will be celebrated on Saturday, 6 November 2022. The Dwitiya Tithi, Shukla Paksha of Kartik, is dedicated to celebrating and commemorating the bond between siblings beautifully and uniquely. Bhai Dooj is commended on the second day after the Diwali celebration and is committed to the heartwarming relationship of brothers and sisters. On this day, the brothers visit their sister's place for Bhai Dooj puja. Sisters pray to God for the prosperity, long life, good health, and happiness of their brothers and follow the customs started by Goddess Yamuna. Sisters apply a Tilak or vermillion spot on their brothers' forehead.
What is the difference between Bhai Dooj and Raksha Bandhan?
What is Bhai Dooj?
"Bhai Dooj" is one of the most popular auspicious occasions dedicated to the relationship of siblings. This religious Indian celebration is also known as Bhai Phonta, Bhai Tika, Bhau Beej, and many more, based on different regions, customs, and traditions. In South India, the festival of "Bhai Dooj" is known as "Yama Dwitiya" and is celebrated almost similar to general Bhai Dooj. This special festival marks the end of the Diwali festive season.
What is Raksha Bandhan?
"Raksha Bandhan," also called Rakshabandhan, is celebrated in the Hindu Shravana month. On this day, sisters tie an auspicious thread on their brothers' wrists called Rakhi, adorn their foreheads with a vermillion spot called Tikka, and in return, brothers promise to protect their sisters lifetime.
Difference between Raksha Bandhan and Bhai Dooj
The main difference between Bhai Dooj and Raksha Bandhan is their month and date of celebration. Rakshabandhan is celebrated in August, while Bhai Dooj is seen in October or November, two days after Diwali.
Aarti and Tikka have a significant influence in Bhai Dooj, while on Raksha Bandhan, the sisters tie a blissful thread on their brother's wrist.
On Raksha Bandhan, brothers pledge to protect their sisters no matter what, while in Bhai Dooj, the sister promises to protect their brothers.
The festival of Raksha Bandhan can be celebrated with cousins, friends, and every brotherly sisterly figure, But the celebration of Bhai Dooj is just for the siblings.
In holy books, it is referenced that Lord Vishnu and Lord Indra's better half, Sachi, are related to Raksha Bandhan. On Bhai Dooj, it is broadly accepted that Yamraj had gone to visit his twin sister, Yamuna. Consequently, Yamuna did his aarti and applied a tika on his brother's forehead.
Bhai Dooj Celebration in Different Indian States
Given the way that the celebration is commended all through the country, there are slight varieties in the festival of Bhai Dooj. Recorded beneath are the festival of the celebration in certain conditions of the country. Peruse on to know more about different traditions of Bhai Dooj celebration in India:
Bhav Bij in Maharashtra: The Bhai Dooj celebration is known as "Bhav Bij" in Maharashtra. As a component of the kin festivity, brothers have to sit on the floor where sisters draw a square and burn-through an unpleasant organic fruit known as "Karith". From there on, sisters apply tilak on the temple of their siblings and perform the aarti and pray to God for the good life and happiness for the brothers.
Bhai Phonta in West Bengal: In West Bengal, the celebration is known as "Bhai Phonta." The celebration incorporates various ceremonies. On the day, sisters observe a fast until the Bhaidooj ceremonies are completed ritualistically. Sisters apply a tilak of the temple of her brothers made of sandalwood, kajal, and ghee before offering prayer to God for prosperity and happiness. A fabulous feast is coordinated to make the event more memorable.
Bhai Dooj in Bihar: The festival of Bhai Dooj in Bihar is unique in relation to the different states of the country. Here, sisters revile for their siblings on the event before pricking their tongues as a discipline and requesting pardoning. Consequently, brothers favor their sisters and offer them special Bhai Dooj gifts.
Bhai Dooj Quotes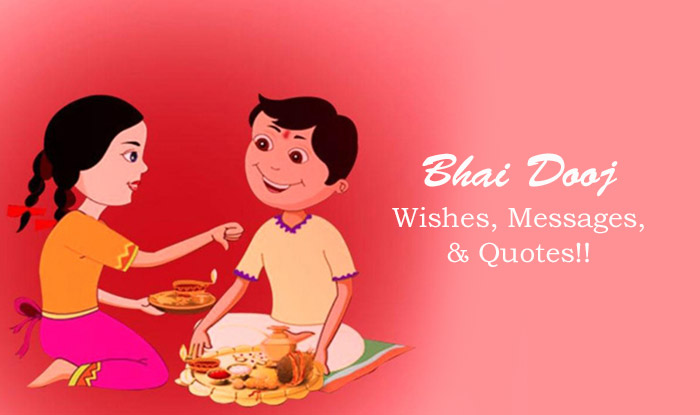 If you are the one who is not so much into expressing heart feelings to your siblings, there could be no better way other than sharing happy Bhai Dooj wishes quotes with your darling and loveable brothers and sisters, of course, with Bhai Dooj sweets and chocolates. That is why; we are here with our curated list of lovely, thoughtful, and touching quotes to wish happy Bhaidooj to siblings.
"Siblings: children of the same parents, each of whom is perfectly normal until they get together." – Sam Levenson
"Brother and sister, together as friends, ready to face whatever life sends…" – Suzie Huitt
"As we grew up, my brothers acted like they didn't care, but I always knew they looked out for me and were there!" – Catherine Pulsifer.
"Brothers and sisters can say things to one another that no one else can." – Gregory E. Lang.
"Be nice to your siblings; they're your best link to your past and the most likely to stay with you in the future." – Baz Lurhmann.
"Our brothers and sisters are there with us from the dawn of our personal stories to the inevitable dusk." – Susan Scarf Merrell.
"A brother is a friend given by Nature." – Jean Baptiste Legouve
"Sometimes being a brother is even better than being a superhero." – Marc Brown
"Our siblings are the only people in the world who know what it's like to have been brought up the way you were." – Betsy Cohen
"A sister is a gift to the heart, a friend to the spirit, a golden thread to the meaning of life." – Isadora James
"There's no other love like the love for a brother. There's no other love like the love from a brother."- Terri Guillemets
"Your parents leave you too soon, and your kids and spouse come along late, but your siblings know you when you are in your most inchoate form."- Jeffrey Kluger
"Our siblings. They resemble us just enough to make all their differences confusing and Love no matter what we choose to make of this; we are cast in relation to them our whole lives long." – Susan Scarf Merrell
"A brother shares childhood memories and grown-up dreams." – Unknown
"Having a sister is like having a best friend you can't get rid of. You know whatever you do, they'll still be there." – Amy Li
"They say that no matter how old you become when you are with your siblings, you revert back to childhood." – Karen White
"A brother is someone who knows there's something wrong even when you have the biggest smile on your face."
"My siblings are my best friends." – America Ferrera
"Brother – a person who is there when you need him; someone who picks you up when you fall; a person who sticks up for you when no one else will; a brother is always a friend."
"Brothers and sisters peas in a pod, bumps on a log, bugs in a rug, birds of a feather, partners in crime, friends forever."
Bhai Dooj Wishes for Brother
Your darling brother has always been your constant support system, helping you to deal and cope with difficult phases of life. His teachings and fundas have helped you bring the best out of yourself over the years. This Bhai Dooj 2022, send Bhai Dooj wishes for brother along with nice, thoughtful, and special Bhai Dooj gifts for Brother to make. Let him know how much you care for him.
Sending my profound love and blessings to you, my dearest brother, wrapped in the box of happiness to make this day more special for you. Happy Bhai Dooj to you, my darling brother!
My loving brother, you are my heart and soul, and my world revolves around you. Bhai Dooj is a special day to thank you in a special way for always being there to help me. Have a happy and blissful Bhai Dooj celebration!
On this auspicious day, I wish and hope our beautiful relationship strengthens over time with each passing year. Happy Bhai Dooj to you're my loving and caring brother!
May this special day of Bhai Dooj bring immense happiness, long life, prosperity, and success in your life, my darling brother. Wishing you a very happy and blissful Bhai Dooj!
I am sending you this special message to wish you a very Happy Bhai Dooj! May our bond become stronger and unbreakable. Love you loads, and I hope you have a long life.
Bhai Dooj Wishes for Sister
From your relationship manager to an adviser, stylist, and second mother, your darling sister is an indispensable part of your life, without whom you are incomplete and quite a mess. For such a caring and loving sister, you can make Bhai Dooj a special and memorable affair by sending return gifts for sister along with a meaningful and touchy Bhaidooj message though which your love and respect for her can be reflected truly. Here, we have some Bhai Dooj wishes for sister to let her know how special she is for you.
I'm the happiest brother on this earth to have you as my sister. I feel honored to have an excellent heavenly supporter like you in my life. I wish you a happy, blissful, and long life loaded with bliss, wellbeing, and achievement. Happy Bhaidooj to you!
You have consistently been there with me through various challenges. You have been my solidarity, and I am glad to have you as my best sister. I wish you an excellent life ahead. Happy Bhai Dooj, my dearest sister!
I implore God that you are honored with incredible fortune, satisfaction, wellbeing, riches, and achievement. You have been a dearest sister to me, and I will consistently adore you. Wishing you Happy Bhai Dooj
.
You have consistently been a sweet younger sibling to me. This Bhai Dooj I implore God that you are honored with a lovely and glad life. Wishing you an extremely Happy Bhai Dooj. Love you loads!
On this devout event, I might want to hope everything works out for the life for you. I petition the Almighty a brilliant life ahead. Happy Bhai Dooj my sister. I will consistently be there for you to help you.
The Final Takeaway
All these happy Bhai Dooj wishes in Hindi and English we have for you here are just perfect for conveying your love, respect, care, and affection for your darling siblings on this auspicious occasion. You can either send them as Whats App Bhaidooj wishes or Facebook status for Bhaidooj to express your love to your siblings living far away. What occasion is complete and special if you don't include the gift exchange ceremony. At GiftaLove.com, we have come up with an exclusive range of Bhai Dooj gifts with enticing gift options for both brothers and sisters, perfect for wishing them a very happy and blissful Bhaidooj festival. You can get here the facility to send Bhai Dooj express gifts as well. We also have same-day Bhai Dooj gift delivery, next-day gift delivery, midnight, and within 3 hours delivery as well.
Moreover, if your siblings reside overseas, you need not take tension as you can send Bhai Dooj gifts to the USA, UK, Canada, Australia, Singapore, and worldwide with utmost ease from Gift A Love. So, with no further ado, send Bhaidooj gifts online and make memories cherished for a lifetime.
"Brothers are playmates at the beginning and best friends for life."

Sakshi Ecavade is our in-house content developer having a good understanding about the gifting industry. She creates quality content surrounding flowers, chocolates, plants, cakes, and other products which makes excellent gifts for the people. Accurate and authentic information is what she tries to deliver through her blogs.