People often come across a statement every now and then: Flowers have a language of their own. Every flower symbolizes distinctive emotions and sentiments in terms of its variety and colors. Where a red rose is touted as a symbol of love and romance, while a yellow rose symbolize friendship and happiness. From the genesis of naming of flowers to their peculiar attributes and rich folklore, the mesmerizing blooms are imbued with varied metaphors and connotations. The hidden symbology and meanings have made people really choosy while selecting flowers for their loved ones on special occasions.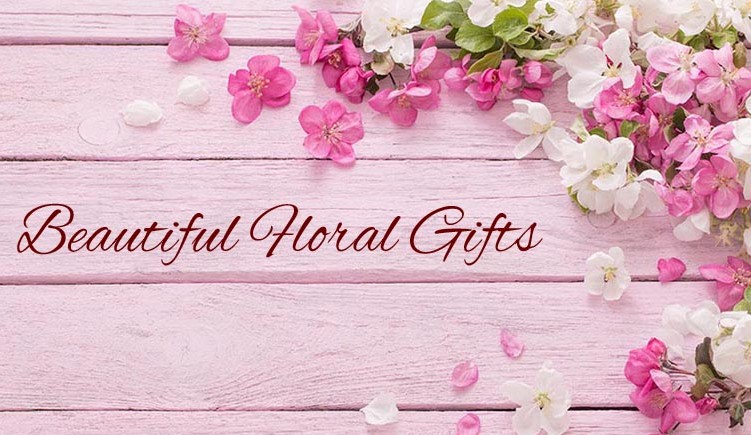 We have deciphered the hidden symbolic meanings of flowers to familiarize you to a whole new world of floral language. With all this knowledge, you can add an enormous charm and essence to the next floral gift that you'll send to your dear ones on their special occasions.
Roses
Applauded for their eternal beauty and magnificent charm, roses have long been associated with Venus and Aphrodite, the Goddesses of love and beauty in Greek and Roman mythologies. These blooming beauties stand for confidentiality owing to the ease with which they have been passing on the unspoken messages for centuries. Rose is not just hailed as a lucky flower for the June month borns, but, it is also referred as the 15th wedding anniversary flower. Each color of these beautiful flowers represents a different meaning and emotion.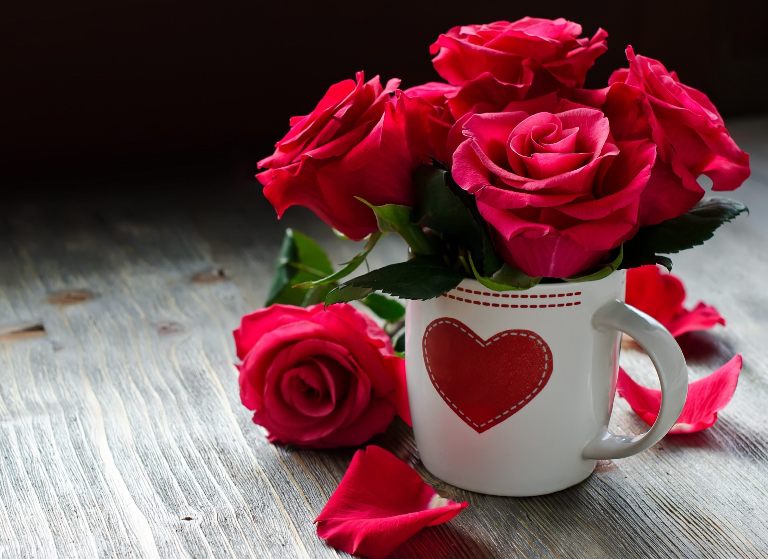 Red rose: A flower for the lovers signifying deep love and abiding passion
Pink Rose: Stands for appreciation, affection, and recognition
Yellow Rose: Symbolizes friendship and happiness
Orange rose: Illustrates excitement and appreciation
White rose: Epitomizes modesty and innocence
Purple roses: Represents enchantment and love at first sight
Peach rose: Implies humbleness
Lilies
Owing to their royal beauty and opulent elegance, lilies have become popular gifting flowers on various occasions. Renowned as a May birth flower and the 30th anniversary flower, these lovely blossoms symbolizes humility, faith, purity, and commitment. The fascinating flowers are an impeccable choice to flatter the heart of the beloveds leaving a long-lasting impression on them. These blooms are also referred as funeral flowers as they symbolize the peaceful departure of the soul into the heaven.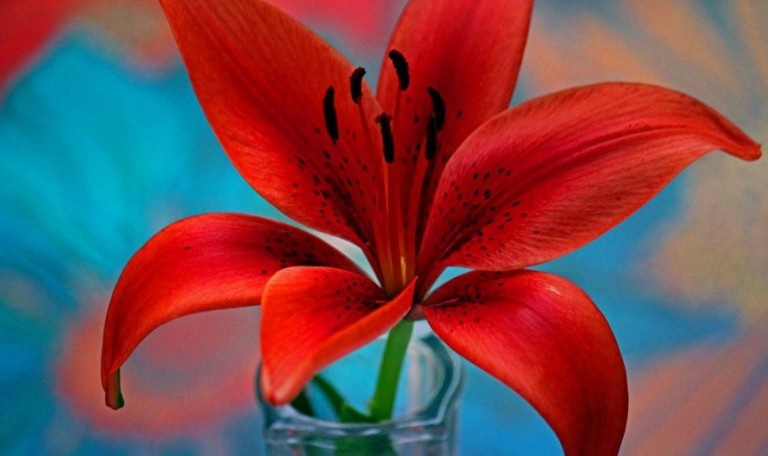 Just like roses, lilies also boast of different colors each symbolizing a distinctive meaning.
White lilies: Symbolize purity and integrity
White stargazer lilies: Express purity and sympathy
Pink stargazer lilies: Symbolizes abundance, aspiration, and prosperity.
Yellow lilies: Evokes gaiety and lightheartedness
Orange lilies: Signifies vigor, warmth, and determination
Purple lilies: Represents accomplishment, dignity and admiration
Carnations
Having a history that goes back to more than two millenniums, carnations have been spreading its charm since a long time. Each variety of these flowers is infused with symbolism. Though, there is an extensive variety of range of colors in which these blooms are found, but in general, they are symbolic of love, admirations, and prestige. Apart from being a popular flower during the celebrations of Mother's Day, Teacher's Day, and at the weddings, this pleasantly scented flower also makes a trendy beautiful bouquet for the loved ones born in January and on the occasion of first wedding anniversary.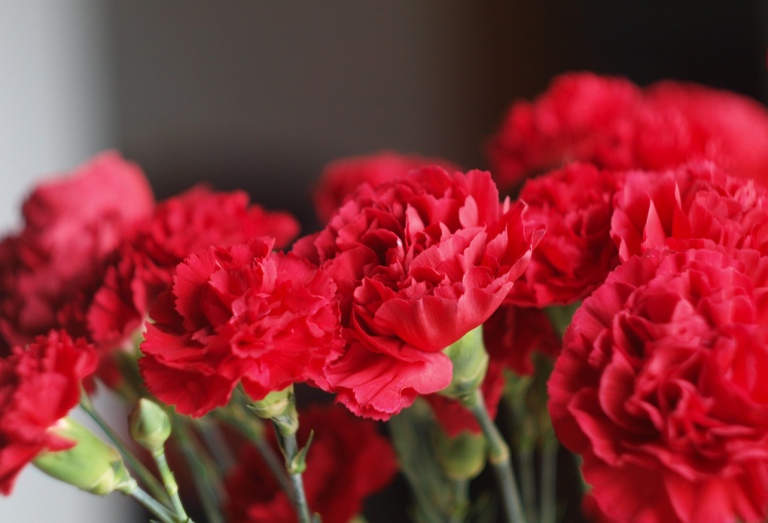 White carnations: Suggests love and good luck
Light red carnations: Represents admiration
Dark red carnations: Signify deep love and passion
Purple carnations: Symbolize capriciousness
Pink carnations: Evokes motherly undying love
Chrysanthemums
In Greek, Chrysanthemums means golden flower. After years of skillful cultivation, these vivacious blossoms have been produced in variety of colors. Having striking resemblance to daisies due to a natural yellow center and ornamental petals, chrysanthemums represents optimism and happiness. They are referred as the November birth flower and the 13th wedding anniversary flower. People say that if a single petal of this flower is kept at the bottom of a vine glass promotes a healthy long life. Generally, chrysanthemums stand for endurance, devotion, bliss and optimism. The other colors symbolize other vital meanings as well.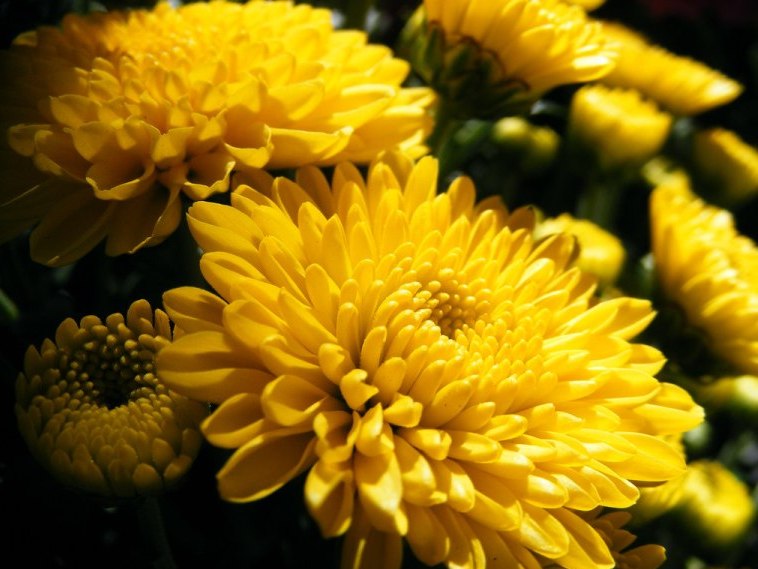 Red chrysanthemums: Symbolize deep love and passion.
Yellow chrysanthemums: Stands for neglected love or sadness.
White chrysanthemums: Signify loyalty and honesty.
Violet chrysanthemums: Represents get well soon wishes.
Tulips
Popularly called as the 11th wedding anniversary flower, the tulips flowers hold symbolism in its very form. The dark velvety center signifies the heart of a lover darkened by the heat of love and passion. With the strength to give a tough competition to roses in their red form, and the pleasant aura to express happiness when yellow, there is no doubt that these lively flowers are epitome of true grace and charm.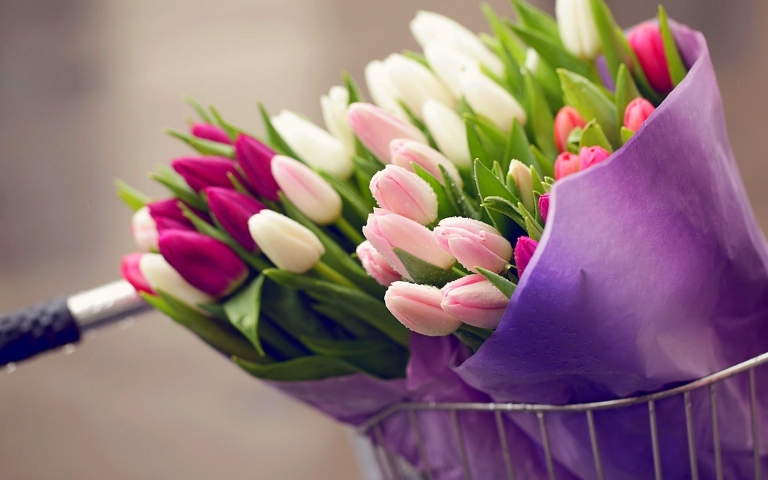 Red tulips: Symbolize deep love and affection
Yellow tulip: Stands for hope and happy thoughts
Pink tulips: Expresses confidence and happiness
White tulips: A perfect way to say sorry as they represent apologies.
Orchids
Highly touted as ornamental flowers, the exotic orchids truly represent delicate beauty, love, and strength. Whereas the orchids were associated with chivalry in Greek mythology, these flowers symbolized luxury during the Victorian times. Even today, orchids continue to lurk in the minds of the people with their magnificent charm and skillful radiance. The pink orchids are famous as 14th wedding anniversary flower as they signify deep affection for the loved ones.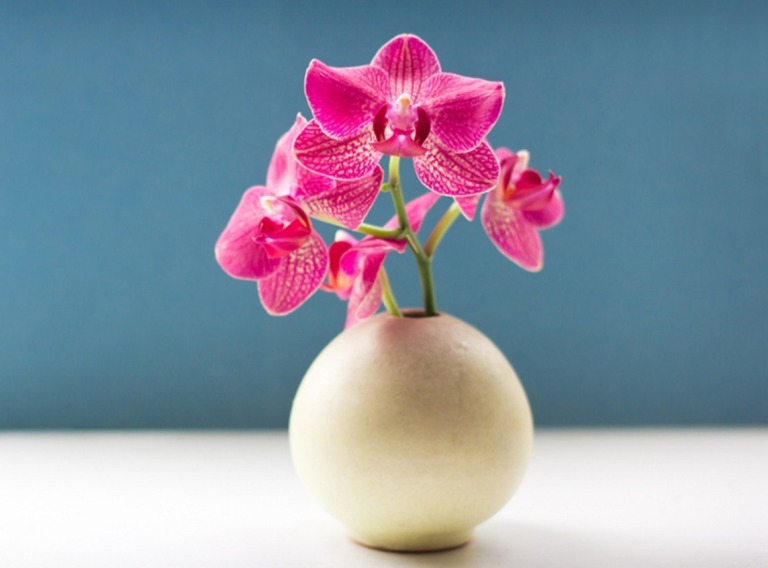 White orchids: Represents innocence, chastity, charm and reverence.
Pink orchids: Symbolize womanhood, agility, and joy.
Yellow orchids: Signify friendship and fresh beginnings.
Purple orchids: Stands for royalty and fondness
Orange orchids: Illustrates dignity, excitement, and courage.
Other flowers with symbolisms & meanings
Iris
These captivating flowers hold a place in the history of Ancient Greece. These flowers epitomize Goddess Iris, a personification of rainbow that connects sky to the earth with its colorful hues. The three vertical petals of Iris represent conviction, valor, and sophistication. It is a birth flower for the February borns and is also hailed as the 25th wedding anniversary flower.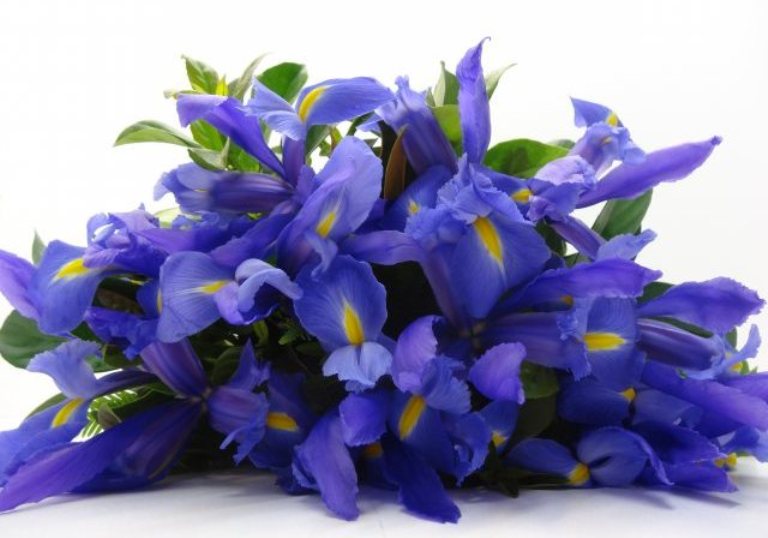 Daffodils
Daffodils are all about the spring season. These alluring golden yellow blossoms symbolize fresh beginnings and rebirth. It is considered as a fortunate emblem of future accomplishments and make a best gift to those who are about to step in a new phase of life. Recognized as a 10th wedding anniversary flower and March birth flower, these blossoms holds happiness in its every petal.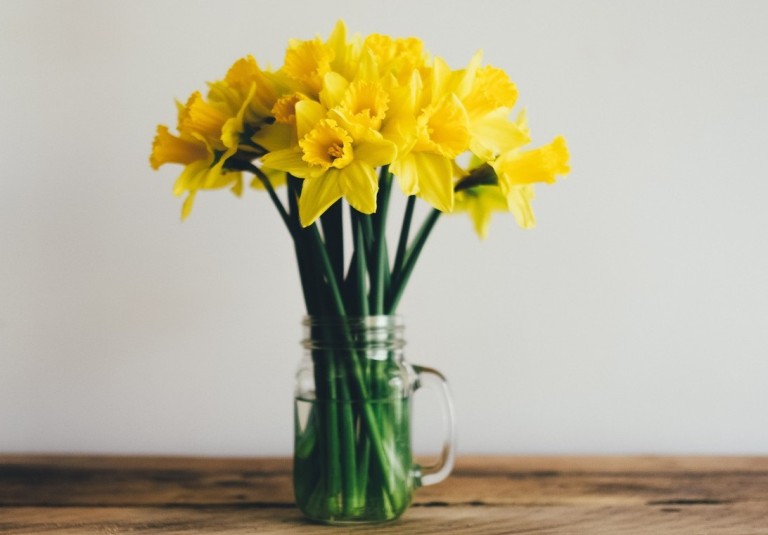 Gladiolus
Owing to the upright and sharp shape of the leaves, this flower got its name from a Latin word "gladius" which means a sword. Representing power and moral integrity, gladiolus is the best way to express the feelings of deep love and infatuation to the beloved. Beautiful and intensely hued with tall stems, gladiolus is the August birth flower and 40th wedding anniversary flower.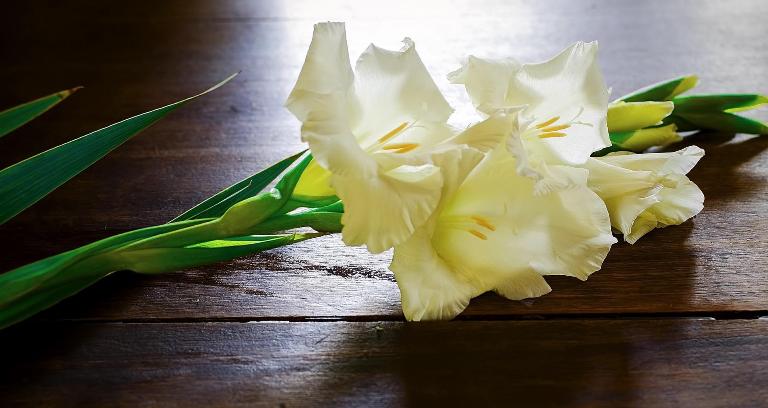 Sunflowers
Commonly associated with sun, the sunflowers is not known for having a warm and stunning appearance, but is widely used in the manufacturing of edible oils and food. Sunflower signifies warmth, longevity, and happiness in its every petal. This vibrant bloom is a 3rd wedding anniversary flower that follows the directions of the sun.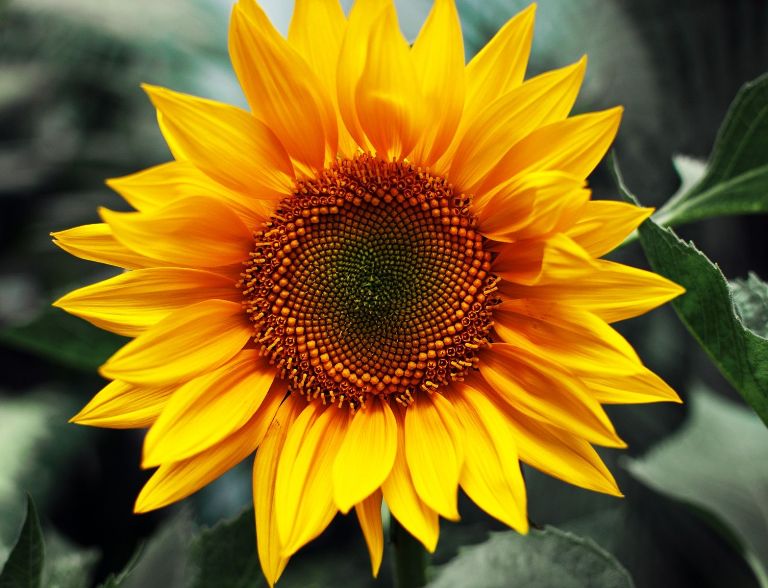 Hydrangea
Having wooden stems and frilly, star-shaped blooms, the hydrangea comes in different color hues. Ranging from white to blue, pink to purple, and the color of this lovely flower depends on the acidity of the soil in which it is grown. The language of the hydrangea flower is difficult to predict as they are multiple symbolisms related to this flower. It is not only associated with pride and boastfulness, but the flower is also said to symbolize gratefulness. The flower is a perfect 4th wedding anniversary flower owing to its beauty and elegance.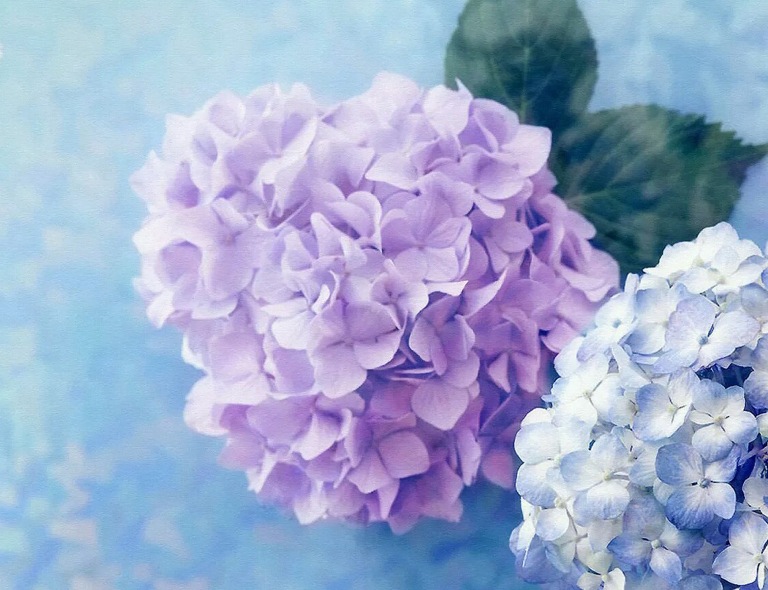 We greatly hope that this blog must have cleared the clouds of confusion regarding the language and meaning of different flowers in your minds. Next time, don't forget to get a bouquet for your dear ones that not just boast of vibrant hues but beautifully convey your hearty feeling to them. Avail these lovely blossoms from Giftalove.com for that everlasting affect on your loved one's heart.
Sakshi Ecavade is our in-house content developer having a good understanding about the gifting industry. She creates quality content surrounding flowers, chocolates, plants, cakes, and other products which makes excellent gifts for the people. Accurate and authentic information is what she tries to deliver through her blogs.