With Diwali round the corner, race to add more spark to the home has resumed. And, why not after all, it's a day to light earthen lamps, lit candles and switch on the bunch of decorative lights adding glitter to the home like never before!
You might be thinking as how to decorate your home this year so that it may appear different from the last year's decoration. Well, if you're pondering on this idea, take a look at my own ideas which I have mentioned below. You really don't need to spend a lot or break your bank just to come up with the best & beautiful Diwali decorations. All you need is a little imagination, creativity and inspiration and the best home décor for Diwali would be on your fingertips! But, as you must be looking for some inspiration, let me give mine ideas.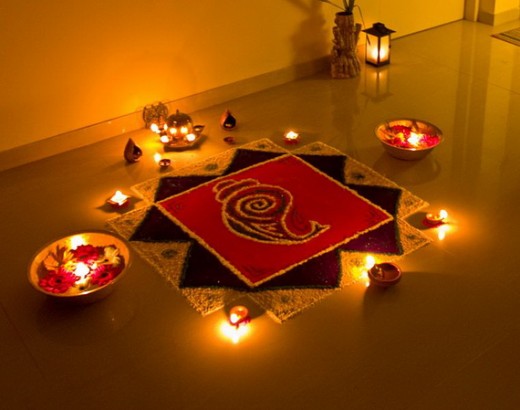 Essentials you need for Diwali Decoration at glance
As I said, there are many ways to get your dwelling prep up for Diwali. Here is a list of Diwali decorative you will need to resume with your Diwali Decoration ideas:
• Decorating with Diyas
• Lanterns and Lights
• Decorative Candles
• Wall Hangings
• Centerpieces
• Puja Thalis
• Rangoli Designs & Patterns
• Decorating with Flower
Decoration with diyas
Diyas are one of the widely known essentials of Diwali. As per a famous myth in Hindu mythology, residents of Ayodhyaa lighted up thousands of diyas around their houses and at every nook and corner of the kingdom to welcome Lord Rama and his consort Sita whom he rescued from the trap of Ravana. Lighting diyas on the day of Diwali symbolizes the victory of good over evil. With its significance, beautifying home and even workplace with the rows of diyas has come a long way in recent times.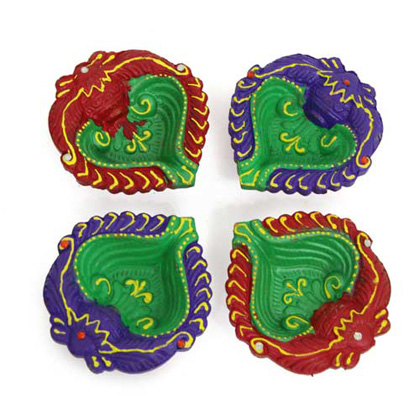 Traditionally, the earthen lamps are found in the colour brown that use cotton wick and oil or ghee to sparkle homes on Deepawali. However, over the course of time, the traditional Diwali Diyas have changed into something which can aptly be said as an artwork. At the present time, there are different types of earthen lamps being made and sold in the marketplace. They are accessible in different styles, colours and sizes.
How can you decorate your home with diya?
You can buy a diya platter that works best for puja or centerpieces. Put some earthen lamps in a patterned way and light them one after another. It would be one of the heartwarming diya settings. Arrange diyas with flowers for a unique yet divine look of your puja room.
Put diyas in a pot of water with rose petals at your entrance or in the center of your home. This will give your dwelling an exotic look with sweet aroma all around.
Rangoli- designs & patterns
Besides diyas, another important decoration you should not miss on Deepawali is the rangoli. It is one of the most elaborate artworks that feature various themes and designs. Often coloured powder and other embellishments are used to make this artwork. From simple to most elaborate patterns, rangoli designs come in various themes, colours and sizes.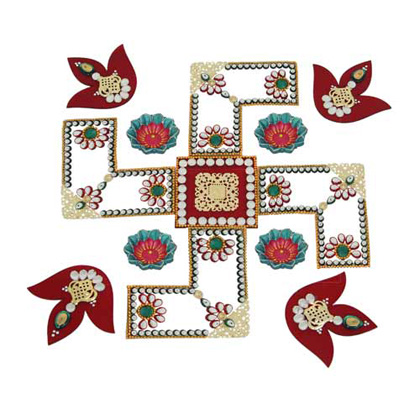 You can use coloured rice and flower petals too. Adorn rangoli with row of lamps and add to your décor.
Lights and lanterns
By using lamps and lanterns you can add to your home's décor. If you are someone who knows how to create lantern, definitely you're gonna make your home dazzle! Use different shades and colour to make them look more elegant yet beautiful.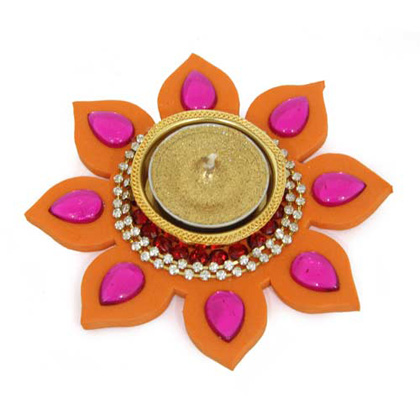 Decorative candles
During diwali, the source of light isn't just limited to diyas or lanterns but candles too. Nowadays, there are available various types of candles from floating to scented ones. They are mostly used for floor decoration. Either put them along with flowers in a water filled pot or arrange in your living place, you'll get the most amazing décor with candles on Diwali.
Flowers
For a number of festivals celebrated in India, the most popular ingredient of decoration includes flowers. Decorate your home using the flowers of marigold or roses that are known for their exotic aroma. Pep up your entrance, staircase and even bedroom with flowers and see the festivity surrounding your home!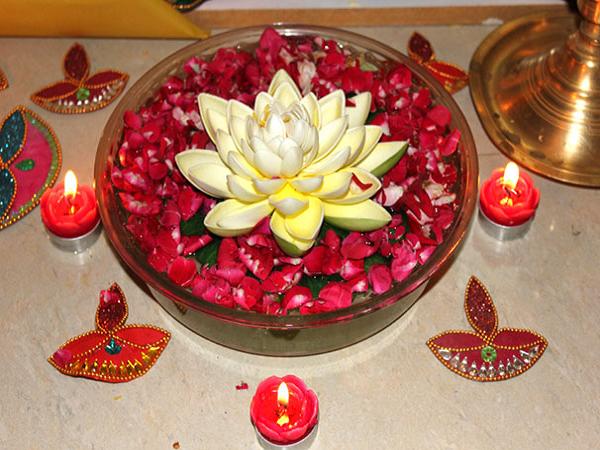 Hope these ideas will really work for you this Diwali. Stay tuned for more updates!!!
Sakshi Ecavade is our in-house content developer having a good understanding about the gifting industry. She creates quality content surrounding flowers, chocolates, plants, cakes, and other products which makes excellent gifts for the people. Accurate and authentic information is what she tries to deliver through her blogs.