India is a land of festivals that narrates significant cultures, rituals, and traditions, promoting the message of happiness, positivity, and sacred. Every festival celebrated here in the nation has its significances, importance, and characteristic role to play. From the aisles of the important Indian festivals, Raksha Bandhan stands out as a blessing to the country. The auspicious festival of Rakshabandhan will be around the corner sooner. People celebrate the festival of love, care, affection, and siblings bond with pomp and show all across India and worldwide. From finding the trending Rakhi collection to crafting homemade Rakhi for brother, from home decoration to Rakhi shopping, from deciding menu for Rakshabandhan to ordering cakes and chocolates for Rakhi; we are all set to welcome Rakshabandhan 2021!!
Here, in this share, we have curated some useful pointers or categories covering everything important about Raksha Bandhan 2021 like when is Rakshabandhan 2021, history, important, significance, and Rakhi pooja vidhi. So, if you will not be there with your family for the festival celebration, this guide will come very handy and useful to you.
Table of Content
So, let us begin:

About Raksha Bandhan

The term Rakshabandhan is the blend of two different words, "Raksha" and "Bandhan," that combines to form "the knot of protection." If these words are to be described in Sanskrit, "Raksha" means "protection" and "Bandhan" means "to tie," and together, they represent the celebration of enduring siblings' love and their unbreakable bond. Rakshabandhan is one of the most popular, special, and auspicious Indian festivals, mainly observed by Hindus. But, with the growing time, every country takes the pleasure to embrace the rich culture and heritage of India. And hence, the reach of heartwarming traditions, rituals, and customs of Rakshabandhan grow to different countries and religions. Nowadays, Sikhs, Muslims, Christians, and Hindus all together celebrate the most awaited Indian festival Rakshabandhan.

Raksha Bandhan is incomplete without Rakhi. Rakhi can be described as a sacred holy thread tied by sisters on their brothers' wrists as a band of protection. Rakhi is also known as Raksha Dhaga, embellished with the blessings and prayers of the sisters. Tying a Rakhi on the brothers' wrist will protect them from all the evil powers and harmful elements.

This one-day festival, commemorating the love and affection of brothers and sisters, is celebrated on the full moon day in the Shravana month of the lunar calendar. Traditionally, during the Rakshabandhan festival, sisters tie Rakhi around their brothers' wrists, followed by the Aarti and tilak. It is also said and believed that tying a rakhi gives a responsibility to the brothers to honor his religion and the duty to protect his sister.

History of Raksha Bandhan Festival

The history of the Rakshabandhan festival dates back to the ancient time of Hindu mythology. According to it, tying the Raksha Dhaga is still a tremendous sacred verse symbolizing unity, happiness, protection, and spread the messenger of togetherness. In Medieval times, women felt unsafe, and they tie Rakhi to men, and they protect them from the unfair and cruel world. In the same way, the holy thread strengthens the brothers and sisters relationship. Back in 1759, the origin of Rakshabandhan is from the time of the Mughal Era when Shah Alam II practiced for the Raksha slogans to honor Hindu women.

There are quite a lot of mythological stories tracing back to the Rakshabandhan origin. Some of them are here given below:
The story of Lord Krishna and Draupadi is one of the most famous mythological stories supporting the origin of Raksha Bandhan. Draupadi ties a piece of her saree on the bleeding finger of Lord Krishna, and touched by her gesture and care, Krishna promised her to protect her for the rest of her life.
Emperor Humayun and Rani Karnavati's story started when the queen has sent a Rakhi to Humayun seeking support from him during the war. And, as an honor to Rakhi, the emperor and his force decided to fight and protect Mewar.
The origin of the auspicious Rakshabandhan festival is connected to the God of Death Yam and his beloved sister, the Yamuna. When Yama returns home after a long time, Yamuna prepares a feast for him and ties Raksha Dhaga on his wrist, praying for his long life.
After winning the three worlds from King Bali, Lord Vishnu went to live with Bali at his request. But, Laxmi wanted Vishnu to return home with her. And so, she tied Rakhi on King Bali's hand and asked her to free Lord Vishnu so that they both can return to their homes.
The incident of 1905 Bengal Partition when Lord Curzon was planning the partition between Hindus and Muslims in Bengal, Rabindranath Tagore urged the people to unite against this partition. He also organized "Rakhi Mahotsav" to call off the division.
Raksha Bandhan Significance & Importance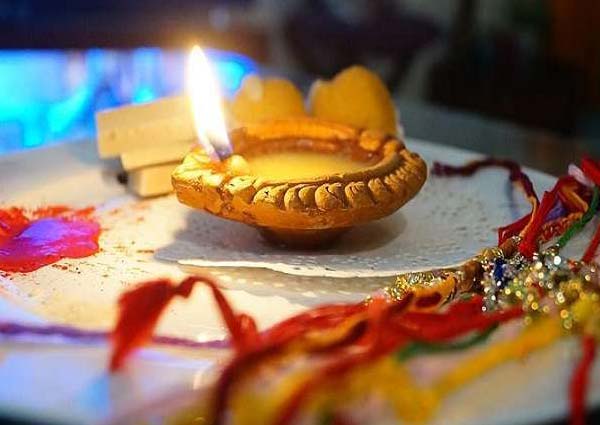 The auspicious festival of Raksha Bandhan is celebrated as the symbolism of a healthy and blessed brother-sister relationship.
However, in ancient times, the Rakhi8 tying meaning is limited to their needs of taking help and promises.
Back in the day, people tend to tie Rakhi to anyone's wrist to keep them safe and protected from evil.
Rishi Munis and priests of that time tend to tie Raksha Dhaga to people who visited them.
With changing times, the significance of tying Rakhi has also enhanced.
Nowadays, people tie the sacred Raksha thread to closed ones, friends, neighbors, soldiers, and to everyone standing by them through thick and thin.
This one-day occasion is giving everyone new opportunities to build new relations and to spread love and happiness.
This festival also symbolizes the duty or the responsibility of brothers to take care of their sisters throughout their lifetime.
This propitious festival commemorating the heartfelt bond of siblings is also one of the best ways to unite family and relatives under one roof.
Raksha Bandhan Pooja Vidhi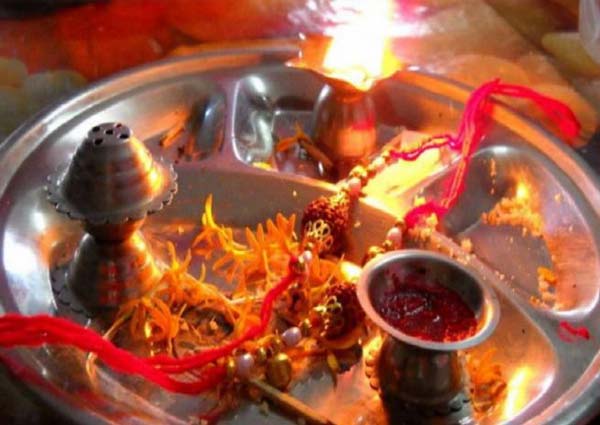 "बहना ने भाई की कलाई से प्यार बाँधा है, प्यार के दो तार से, सँसार बाँधा है|"
The whole essence of Rakshabandhan can be explained with this melodious Hindi Rakhi song. The sister ties a silk string on the brother's wrist on this festival, which contains the affection and love of the whole world. The purity and the holiness of the thread have bound the world as a whole with love, just like King Bali, who conquered Triloki, got tied by the thread of affection sent by the Goddess Lakshmi. With this Rakhi, Goddess Lakshmi freed Lord Vishnu, the lord of the world, from King Bali. This tradition is followed by every sister even today, and on the day of Sawan Purnima, she ties colorful Rakhi on her brother's wrist. Sisters bless their brother with a happy and long life through this Rakhi. Although sisters simply tie Rakhi with reverence is the best way to celebrate Rakshabandhan. Still, Rakhi tying ceremony has a classical method of customs, rituals, and traditions by which tying Rakhi can be more effective and auspicious.
So, let us have a look at the Rakhi Pooja Vidhi for completing every ritual with perfection:
Classical method for tying Rakhi: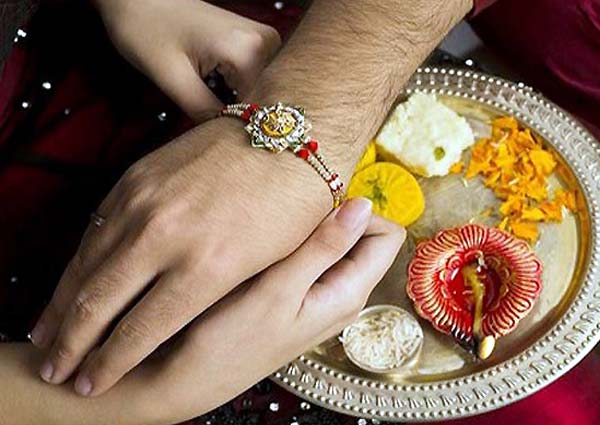 On the day of Rakhi, one should first take a bath and worship the deities. Take the blessings of all the gods and goddesses.
Take a plate made up of silver, brass, or copper and place Rakhi and akshat in it. Take a small bowl and put some roli or vermilion and moisten it with water or perfume.
Keep the Rakhi plate in the place of worship or temple in the house, and first of all, offer Rakhi to Bal Gopal or your Ishta Devta. Pray to God.
While tying Rakhi, the brother's face should be towards the east. With this, your Rakhi also gets the blessings of the gods.
While tying Rakhi, brothers should keep a handkerchief or any clean cloth on their heads. Sisters, first of all, apply roli or vermilion tika on the brother's forehead. Apply akshat over the tika and sprinkle some akshat on the brother as a blessing.
To remove the effect of the evil powers from your brother, show the aarti from the diya.
Tie the sacred thread of Rakhi on the right wrist of the brother while reciting the mantra. Due to this, power is transmitted in the threads of Rakhi.
Brothers and sisters wish each other by feeding them, sweets.
If a brother is elder, then sisters should touch the brother's feet, and if sisters are elder, then brothers should take blessings by touching sisters' feet.
Brothers with the sister a happy life by giving clothes, jewelry or money to her, and in return, sisters also give some gifts to their brothers and wish him happy life and prosperity.

When is Raksha Bandhan 2021 – Auspicious Date, Muhurat, and Tithi

| | |
| --- | --- |
| Raksha Bandhan 2021 Date | August 22, Sunday |
| Rakhi Tying Ceremony Shubh Muhurat | 05:49 AM to 18:01 PM |
| Rakhi Tying Ceremony Duration | 11 Hours 49 Minute |
| Raksha Bandhan 2021 Aparahan Time | 01:47 PM to 04:28 PM |
| Aparahan Duration | 02 Hours 41 Minute |
| Raksha Bandhan 2021 Pradosh Time | 07:10 PM to 09:17 PM |
| Pradosh Duration | 02 Hours 07 Minute |
| Purnima Tithi Beginning | 09:28 PM on Aug 021, 2021 |
| Purnima Tithi Ending | 09:28 PM on Aug 022, 2021 |

Year-Wise Raksha Bandhan Observances

| | | |
| --- | --- | --- |
| Year | Date | Day |
| 2021 | 22nd August | Sunday |
| 2022 | 11th August | Thursday |
| 2023 | 30th August | Wednesday |
| 2024 | 19th August | Monday |
| 2025 | 8th August | Friday |

Raksha Bandhan Celebration across India

The auspicious festival of Raksha Bandhan is also commonly known as Rakhi Purnima for many reasons in India. The tradition of celebrating this auspicious festival in India is from ancient times. Keeping the zeal and the festive vibe intact, various parts of the Nation celebrate Raksha Bandhan uniquely. Here, we have the list showing how the festival of siblings' love is commenced across India.

Shravan Purnima – Raksha Bandhan celebration in North-eastern part of India

Rakhi celebration has become one of the most popular and eagerly awaited auspicious festivals of the northeastern parts of India. Over the years, people from north-eastern Indian districts celebrate Rakhi with full excitement, zeal, and enthusiasm. Indian states with significant Hindu populations like Assam & Tripura observe the festival in unity with people from different religions and cultures. This festival may have other names, but the tradition and customs are like Raksha Bandhan.

Date: Sunday, 22 August 2021 Observed by: Hindus

Nariyal Purnima – Raksha Bandhan celebration in Western coastal regions

Nariyal Purnima is a significant festival of coastal Indian regions. For the fishermen depending only on the ocean as their occupation, Rakhi Purnima plays a vital role. This festival is the beginning of the monsoon season when the ocean is calm and marks the beginning of the new fishing season. All the fishermen celebrate this festival by offering coconuts to the ocean and pray to Lord Varun, the Hindu Rain God, for the safe and prosperous monsoon season. This day is popularly known as "Coconut Day" in Maharashtra.

Date: Sunday, 21 August, 2021
Observed by: Hindus

Pavitropana – Raksha Bandhan celebration in Gujarat

This is one of the most special forms of the Rakshabandhan celebration celebrated by Gujaratis. On this auspicious festival, people from Gujarat worship Lord Shiva and pray to clear their past sins. This festival is very popular and celebrated all across Gujarat, known by many names like Shravana Putrada Ekadashi, Pavitra Ekadashi, and Pavitropana Ekadashi. This auspicious day is celebrated mainly by keeping fast all day long.

Date: Wednesday, 18 August, 2021
Observed by: Hindus

Jhulan Purnima – Raksha Bandhan celebration in Eastern part of India

People from West Bengal and Odisha celebrate the magnificent festival of Jhulan Yatra, commemorating the courtship of Radha and Krishna by singing, dancing, and swing decoration events. The festive vibes remain intact for almost a week in the eastern part of India.

Date: 18 to 22 August, 2021
Observed by: Hindus and Vaishnavas

Avani Avittam – Raksha Bandhan celebration in Southern parts of India

Avani Avittam is one of the most popular festivals, and very special forms of Rakshabandhan celebrated In South India. On this auspicious day, Brahmins change their old Janeyu followed with a holy bath. The significance of changing the holy thread on Purnima is prayashchit of all the past sins and wrongdoings.

Date: Sunday, 22 August, 2021
Observed by: Hindus of the Brahmin caste

Kajari Purnima – Raksha Bandhan celebration in Central regions of India

Also known as Kaijli Purnima, this auspicious festival is celebrated on the same day as Raksha Bandhan in different states like Uttar Pradesh, Madhya Pradesh, and Chhattisgarh. It is one of the most significant days for the farmers, marking the sowing season for wheat and barley.

Date: Sunday, 22 August, 2021
Observed by: Hindus

Frequently Asked Questions (FAQs) – Raksha Bandhan 2021

Q. When is Raksha Bandhan 2021?

Rakhi 2021 or Raksha Bandhan festival will be celebrated on 22nd August, Sunday

Q. How can I celebrate Rakshabandhan in lockdown?

People in 2021 are still struggling with lockdown, and in such times, celebrating Rakshabandhan can be a bit daunting and different from the rituals we used to follow every year back in 2019. Social distancing on Rakhi can kill the festival vibe, fun, and excitement. But, with these simple steps, you can celebrate the Rakhi festival with your loved ones. Have a look at the list:

Celebrate Rakhi with siblings, friends, relatives, and dear ones over video call
You can avail of delivery of Rakhi and Rakhi gifts online to your brothers, sisters, and family
You can organize the pajama party at home with homies and local friends
You can also schedule a movie night for the Rakhi celebration
E Rakhi and digital gifts can work very well for the Rakhi celebration in lockdown
Indoor games are the savior
Cook dishes together with family and gorge on homemade sweet dishes

Q. When should I remove my Rakhi after Rakshabandhan?

Well, if we talk about the Indian ritual or custom of removing Rakhi, there is no reference for the specific day of removing Rakhi. But, we can find references in the Maharashtrian traditions. It states you can remove Rakhi on the 15th day after Raksha Bandhan.

Q. In which hand should I tie Rakhi?

You should tie Rakhi to the right hand of your brother.

Q. How can I send Rakhi in lockdown?

Sending Rakhi in lockdown is becomes very easy and straightforward with GiftaLove's online Rakhi delivery in India. You can choose the best Rakhi and Rakhi gifts from here and can avail of same-day and midnight Rakhi delivery services at a decent price rate.

Q. What are the best Rakshabandhan gifts for brothers?

Some of the best Raksha Bandhan gifts for brothers include options like Rakhi with plants, cakes, dry fruits, sweets, chocolates, greeting cards, soft toys, Rakhi Pooja Thali, and personalized gifts.

Q. What are the best rakhi return gifts for sisters?

If you are searching for lovely return gifts for sisters, then you can take references from the options like jewelry, make-up kit, sweets, handbags, watches, clutches, personalized gifts, and more. For more such thoughtful gift items, you can check out GiftaLove.com.

Q. What are the trending Rakhis of 2021?

Some of the trending and latest Rakhis from the Rakhi collection of 2021 are designer Rakhi, fancy Rakhi, Lumba Rakhi, swastika Rakhi, Rudraksha Rakhi, gold Rakhi, silver Rakhi, bracelet Rakhi, cartoon Rakhi, mauli Rakhi, and personalized Rakhi.

Q. What are the best flowers for Rakshabandhan?

If you wish to send flowers online for Raksha Bandhan to your dearest siblings, then some of the best flowers are roses, orchids, lilies, gerbera, and carnations.

Q. What are the best cake flavors for Rakshabandhan?

Rakhi with cakes has become one of the most popular gift options to infuse happiness in the auspicious festival. Some of the best cake flavors are chocolate, pineapple, truffle, red velvet, pinata cakes, butterscotch, and cheesecakes.

Final Words:

GiftaLove.com is one of the prestigious gift stores in India, having a wide range of gifts and accessories to beautify the Rakshabandhan celebration. Customers can get thoughtful Rakhi gifts and designer Rakhis for brother from the exclusive Rakhi collection for 2021. From here, customers can send Rakhi to India and worldwide with zero hassles. So, heighten the celebration of Rakshabandhan with one and only GiftaLove.com and wish your dear ones a very happy, healthy, and prosperous Raksha Bandhan 2021!!

Sakshi Ecavade is our in-house content developer having a good understanding about the gifting industry. She creates quality content surrounding flowers, chocolates, plants, cakes, and other products which makes excellent gifts for the people. Accurate and authentic information is what she tries to deliver through her blogs.