The arms of the significant other are the best place to find tranquility and solitude. Indulging in warm and cozy hugs with your special ones make you feel at home after a long, stressful day at work. The popular Valentine week gives us an opportunity to celebrate this sweetest and hearty gesture of love with the special occasion of Hug Day. Celebrated with splendid exhilaration by all the loved ones around the globe on February 12 every year, this day marks the exchanging of innumerable hugs with the dear ones.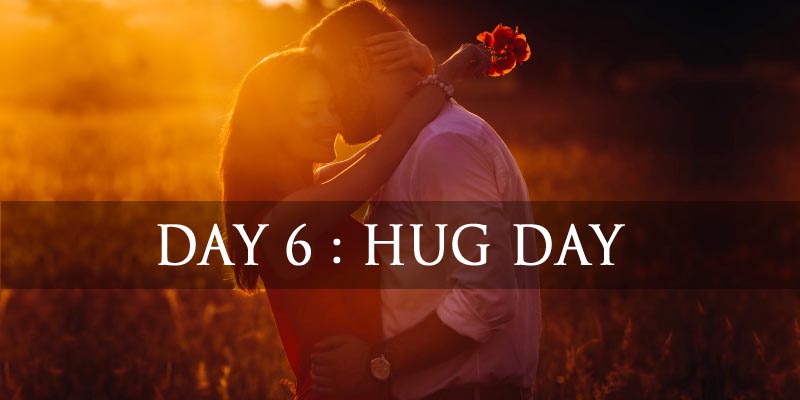 A hug is the most humble and loving gesture exchanged between two people holding immense love and respect for each other in their hearts. Such is the power of this beautiful expression that it can bring an instant smile on other person's face by naturally relieving the stress levels and building trustable and honest relationships. This Hug Day, extend an affectionate hug to your sweetheart or partner to express your love for them while promising them of your companion till the end of time.
Significance of Hug Day during Valentine Week
As Valentine week is all about expressing and conveying every heartfelt feeling and emotion to your significant others through gifts and pleasant gestures, the inclusion of Hug Day in this weeklong celebration of strong loving relationship becomes indispensable. As hugs are also incredible means of expressing our deep love ad adoration for someone, therefore, celebrating this sixth day of the Valentine week with the same excitement and enthusiasm becomes essential.
Do you know hugs have been naturally imbued with therapeutic properties? Well, these extremely warm gestures elevate the levels of oxytocin in the body and alleviate feelings of loneliness, anger, frustration, and isolation. It not just uplifts the saddened emotions, but also balances the nervous system and strengthens the mental well-being.
Hug Day Gifts Ideas 2019: Perfect accompaniments to your tender hugs
1. Flowers: Just like hugs, the vivacious flowers can communicate your feelings of heart without any vocal expressions. Going by the language of flowers, pick blossoms that best suit your relationship status with your loved ones. If you want to surprise your sweetheart or boyfriend on Hug Day, pick an extravagant bouquet of red roses, and if it is about gifting your friends, then go for the yellow roses or mixed floral arrangements. If your mother is all you have in your life, then go for the carnations.
2. Chocolates and cakes: As Hug Day is all about celebrating years of togetherness through cordial hugs, including delicious sweet delicacies like chocolates and cakes to the celebration is a must. These scrumptious fantasies will make your taste buds drool like never before. If your celebration includes just you and your partner, go for the red velvet cake, otherwise pick a chocolate flavored one.
3. Teddies: These soft and mushy huggable soft toys are the best Hug Day gifts for your dear ones. As you cannot indulge in hugs on daily basis with your significant others, gifting a teddy will certainly help them not to feel your absence. Having affectionate hugs with these cute, fluffy friends will helps you in forgetting all the worries.
4. Personalized comfy pillow or cushions: A customized cushion or pillow with a beautiful photograph of your two will recreate all the incredible memories of the past. These gifts will provide you with a feeling of satisfaction that there is someone who is always there for you no matter what comes in your way. Sleeping while hugging these gifts will certainly make you feel your lover's presence around.
5. A romantic dinner date at home: In today's fast-paced lives, there is no time left to spend at home with our partners. This Hug Day, restyle your home with candles and flowers to create that romantic atmosphere, and have a dance together on one of your favorite romantic songs in each other's arms. Later, indulge in some lip-smacking food together from your favorite restaurants.
Don't forget to extend this warmest gesture to each dear one in your lives as life is meaningful all because of them. Through your hugs, wish them the best in their lives and bring a quaint smile on their faces.
Giftalove.com feels extremely happy to wish you a very Happy Hug Day. Browse through its collection of Hug Day gifts online to make this Hug Day a fantabulous one your significant other.
Loads of hugs to all from Giftalove!
Sakshi Ecavade is our in-house content developer having a good understanding about the gifting industry. She creates quality content surrounding flowers, chocolates, plants, cakes, and other products which makes excellent gifts for the people. Accurate and authentic information is what she tries to deliver through her blogs.