"Plants do not speak, but their silence is alive with change." – May Sarton.
The beauty of houseplants is not confined to those with green thumbs – if you're one of those people, this post is for you! There are a variety of low-maintenance plants available, from tiny succulents to small trees to indoor plants online, that are suitable for all levels of gardening. The outdoorsy touch boosts your mood, adds color to your interior, and builds your gardening skills. Houseplants can even purify the air, but you should consider a couple of important caveats to the NASA study everyone keeps talking about. That's why this list focuses solely on the idea of home decor with plants that are attractive and easy to care for. Happy hunting!
Get some new houseplants if you want a refresh! Plants are not only good for your mental and physical health, but they make a room feel cozier and more welcoming. In addition, a study done by NASA in 1989 concluded that air purifying plants could reduce indoor pollutants such as benzene and formaldehyde. Researchers have demonstrated that plants can have a positive effect on mood and creativity, as well as reduce stress. And let's be honest: We'd all like a bit less stress in our lives.
A home filled with plants is a happy home, in our opinion. If you'd like to make plants part of your decor, there's no shortage of ways to do so, whether it's a large tree for your living room or an arrangement of low-light plants for your office. When it comes to indoor plants, choosing what to bring in and how to arrange them can be a challenge, especially if you're new to gardening. It is crucial that you know what you might want for your space when buying plants online in Delhi before you step foot in the plant store.
Below are 15 ways to decorate home with plants to inspire you. Check them out to get some design inspiration –
Tips to Choose Plants for Home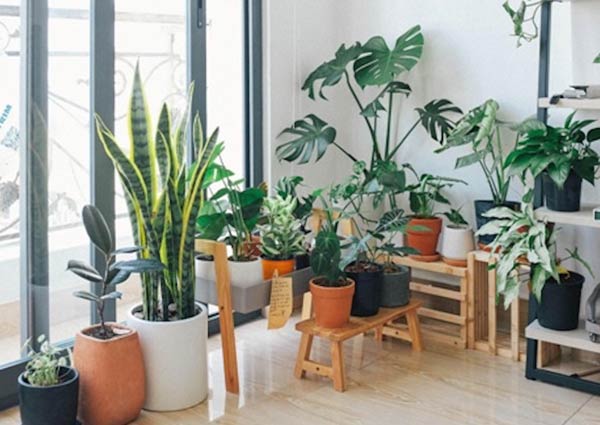 Be sure to consider your lighting situation before adding to your plant family. South-facing windows are best for plants that prefer bright light, which is concentrated at that location. In addition to facing east or west, these windows also provide good light, but it's not as intense. If there are no windows or not enough natural light, invest in an LED grow light instead! There are different types of lights to choose from, including floor lamps and lights you can attach to an end table or bookshelf. Many plants thrive in low light conditions. Furthermore, if your pets are nibblers, select plants that won't be toxic to them if eaten.
Right now, check out the best good luck plants to brighten up your living room for more inspiration, have a look at these best indoor trees and best bedroom plants, too!
In terms of choosing the best indoor plants, it depends on the space you're decorating, the amount of natural light the room gets, and whether you want them potted or hung from the ceiling. Or maybe you don't want to deal with watering and planting altogether and would rather go with faux plants.
There's no need to worry if all this sounds overwhelming. It doesn't have to be a mystery to you. If you are picking up your indoor plants at a nursery or garden center, ask an expert there. A professional can provide you with the best plants for your space and teach you how to care for them properly.
Let us see what we have to offer you for enriching your home with the beauty of green plants –
1. A Vine-Wrapped Mirror For Fun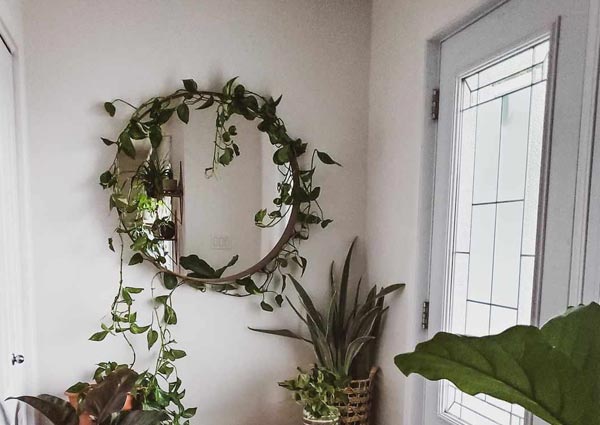 Using vines, make a mirror wrap around your vines! You'll be able to keep dangling leaves from littering your front hall and make it look lively at the same time. Decorate with greenery year-round instead of just during the holidays. It is important to have fun, be creative, and try new things when styling with plants. You should also understand what your plant needs to thrive and listen to what it is telling you. Planters can be hung or mounted. In addition to being a huge terracotta lover, you can always be on the lookout for glass planters online with different textures and designs.
2. Transform Bar Cart with Plants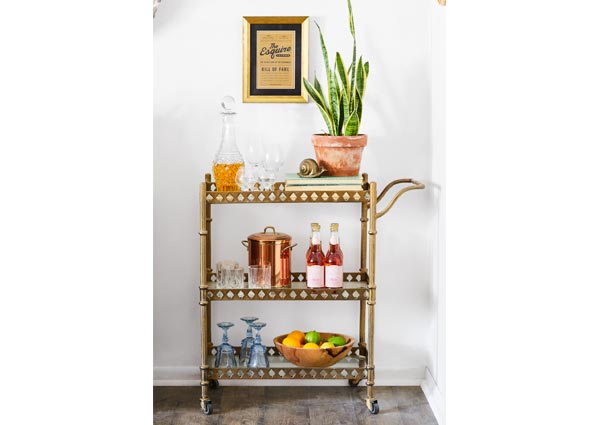 Are you not in the mood for cocktails? You can use an empty bar cart as a plant stand instead! There are wheels, so you can use them as a plant stand throughout the house. Plants can be damaged by too much sunlight if the cart is too near the window. Your cart will be moving and can include only best selling plants to refresh your environment.
3. Deck Bathroom with Plants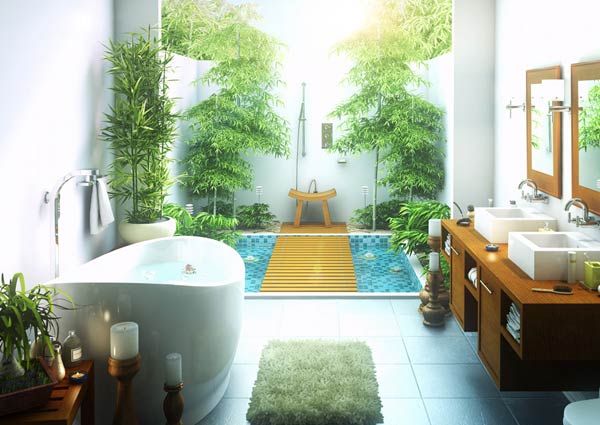 Our main living spaces aren't the only places we need plants! Bringing plants into the bathroom will make your nightly bubble bath even more relaxing. Your favorite tropical getaway will feel like you are right there without having to travel far. Is it your opinion that bathrooms are boring and bland? Here is an interesting design. The entire bathroom has been given an exotic look by using a few plants. But there are a limited number of ways you can decorate your home with plants!
4. Style Living Room with Greenery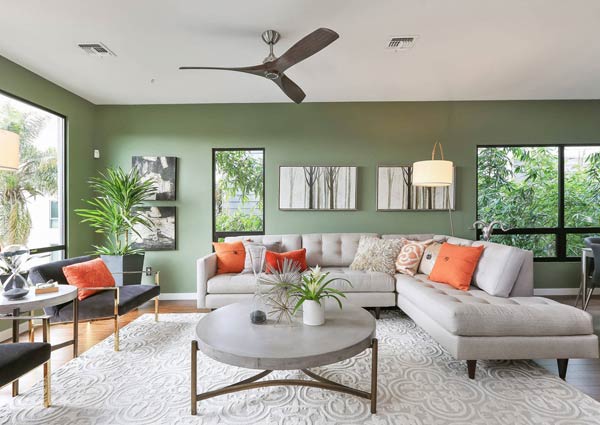 You can transform a cabinet into a sophisticated plant storage system by filling the shelves with various sized pots. Do not be afraid to stack some on top of your collection overflows a little. Generally, people like to disperse his plants around his home to ensure that they can see them in every corner, but you can group them together on a shelf or cabinet. If you don't know where to start, there is so much inspiration all around you, especially on Instagram. Try starting small and growing your collection. This will take a while, but enjoy the journey.
5. Remodel TV Stand with Houseplants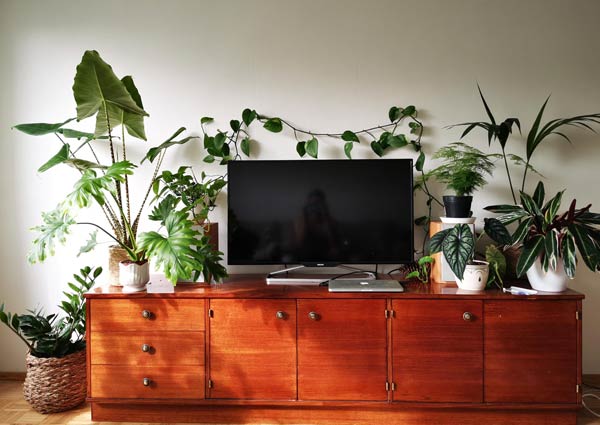 Instagrammer's lifestyle is all about being multi-tasking in apartments. Describe the trailing and climbing wall she has on her TV stand made up of Philodendron, Scindapsus, and Monstera. There is a concrete wall where plants attach to the porous surface, and they use light command hooks to help the trailing plants climb their way up. They also put a grow light above the area to encourage the plants to reach higher. Personalised pot plants can also be an amazing way to remodel the old TV stand in your home.
6. Enhance Tall Trees in Empty Corners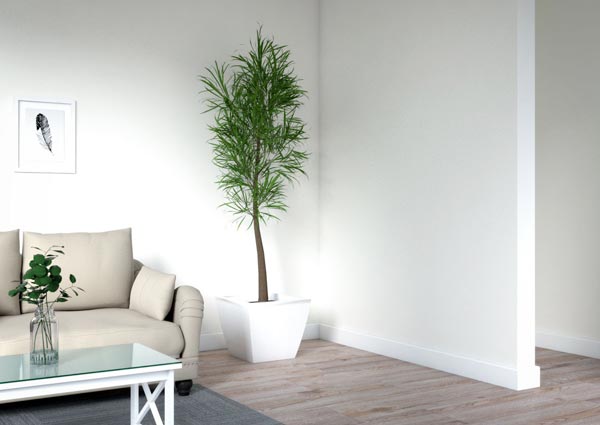 Again, if you have space and adequate lighting, don't be afraid to add plants to your bathroom. Having a flourishing fiddle leaf fig by the sink adds a lot of visual interest. Tall trees offer an alternative solution if your bathroom doesn't have windows. A windowless bathroom has been converted into a propagation and isolation area for her newly purchased plants. If you receive new plants, it is recommend to isolate them when you first get them, so you do not introduce any pests into your home. Just turn your bathroom into a prop room with the help of a grow light.
7. Bring Cheer to Home Office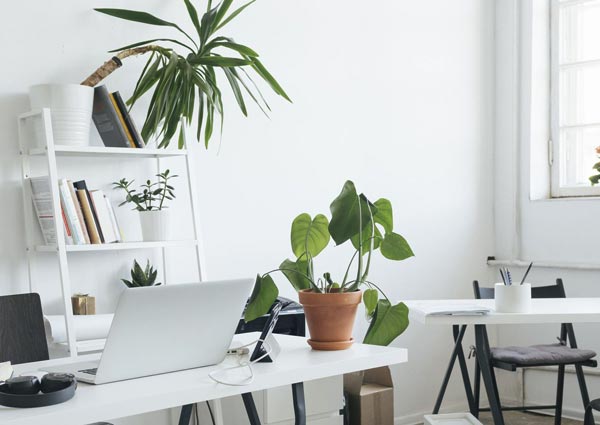 Adding some plants to your home workspace will help you feel less drained after long days at the computer. If you are concerned with keeping your desktop relatively clear, you can still hang plants from the ceiling or put plants on the ground. Isn't it annoying when those small spaces in your home appear empty because you cannot fit anything in them? Please be patient! Make sure plants cover every square foot of the space in a way that looks pleasing to the eye. That way, you'll no longer hate empty spaces. You can even choose to buy desktop plant for an enchanting environment.
8. Finish Bookshelf with Designer Plants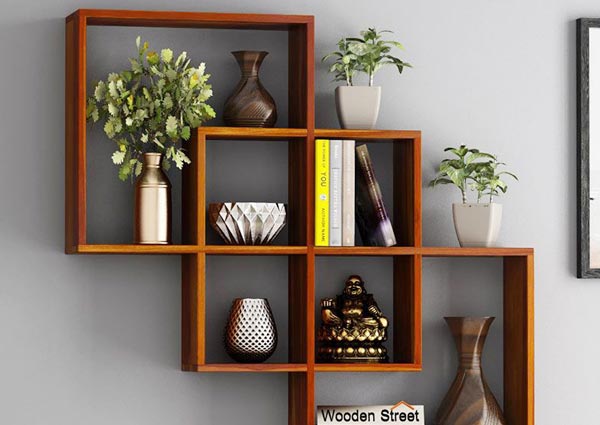 Is that shelf empty, and you don't know what to do with it? Go ahead and add a plant! Ensure your green friend receives adequate sunlight on all sides by rotating the pot at least once per week.
9. Hanging Vines Over Window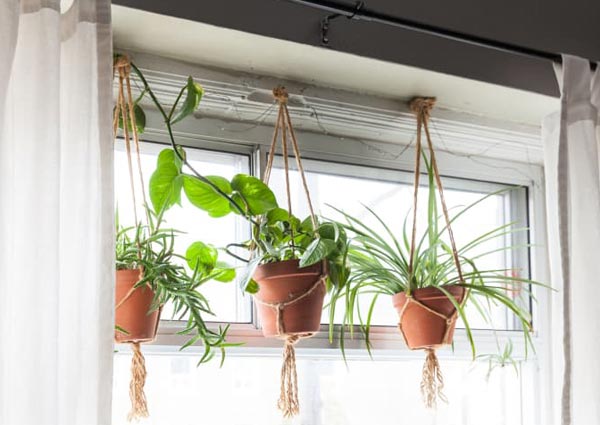 Plants are an integral part of any green room. Utilize vertical space by hanging vines freely from a shelf above your windows. It may also be a good idea to get high up when you own pets, Isabel says. She acknowledges that she has fur babies that like to run around and injure plants every once in a while. So, people move the largest plants to the top shelf so that they can maximize my floor space. Coincidentally, that gives the room a feeling of a jungle.
10. Floating Plants on Walls to Create Illusion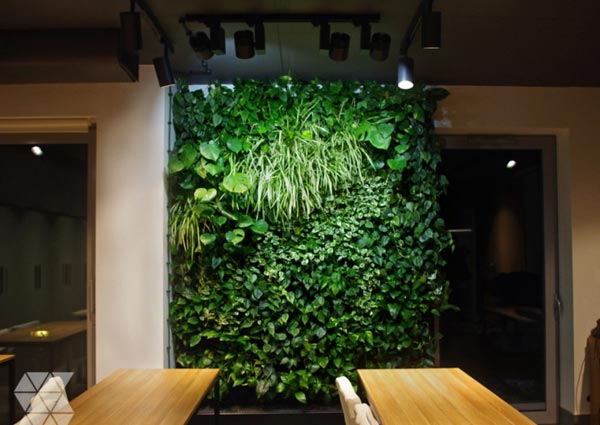 From one angle, Fuenteabla's own space appears to be floating! Terracotta pots are arranged in a kaleidoscope of color on the wall, resting inside black holders. Hanging plant styling ideas represent their own decor category. Because it is very easy to make a mistake while using suspended planters. You should choose rattan planters if you want to achieve a rustic look. You should choose glass planters if you want a clean, modern look. LED lighting strips can be used to highlight the hanging plants and turn this arrangement into a focal point.
11. Liven Up Laundry Room with Fabulous Plants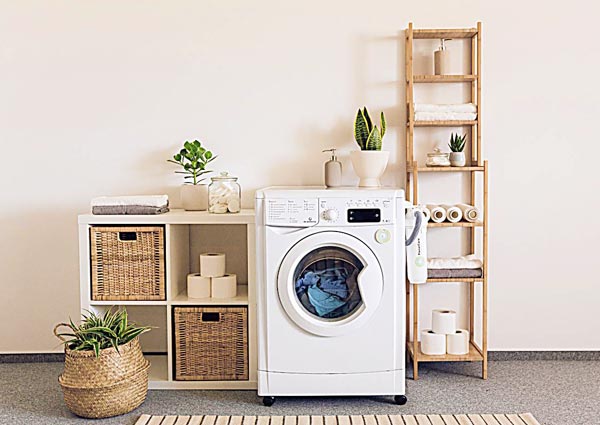 Why not make the laundry room within your home a little more pleasant space since you spend so much time there? We promise it will cheer you up! You can even choose to send Womens Day plants to celebrate HER in life. This will surely be the best way to make your loved ones feel special, whether living with you at home or far away.
12. Plants Arranged On Pegboard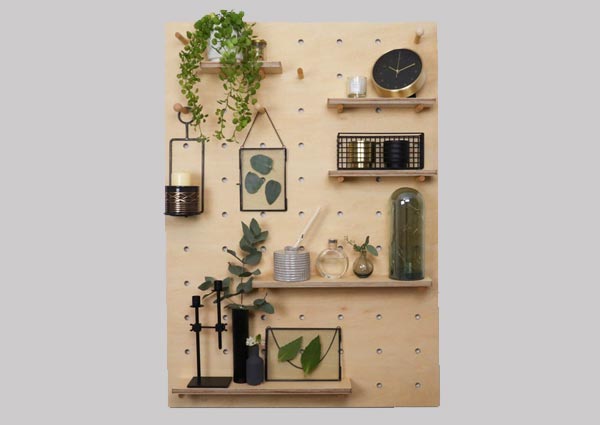 You can use a pegboard to create a partial shelf for plants. The only thing you need is plywood. Even though this shelf is a shelf, it is still functional for hanging items such as coats and bags at the bottom.
13. Every Corner Should Be Utilized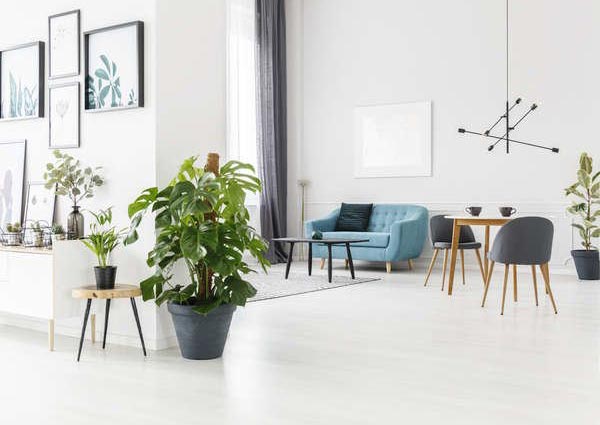 Plant pots can be arranged on even the smallest shelf. The possibilities are endless when it comes to displaying your favorite blooms. When it comes to decorating your home with plants, there are no hard and fast rules. If you feel that your room is craving green, feed it until it is satisfied. If you know where and how to place them, you can never go wrong with too many green plants in a room.
14. Make Entrance More Beautiful with Greenery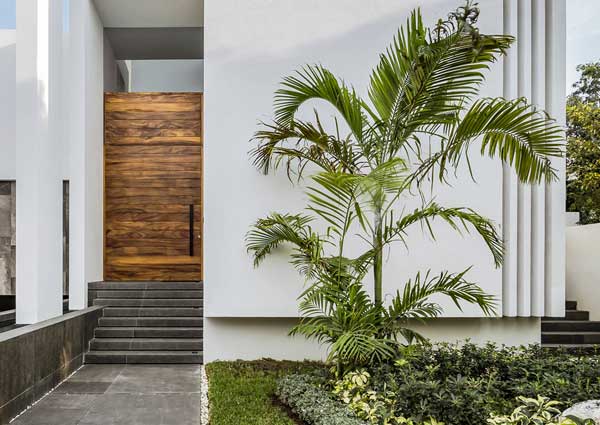 The moment your guests walk through the door, you can show off your love for plants. An entryway bar cart with a built-in plant shelf looks wonderful. By placing a tall, healthy plant at the stair landing, people with wooden staircases can make them look all the more ravishing. As a matter of fact, this is one of the most common methods for decorating homes with plants.
15. Take Advantage of the Versatility of Plants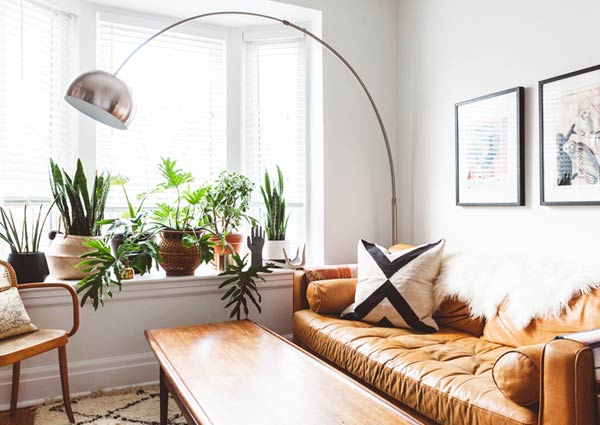 It does not matter what season you display plants, since they can be exhibited all year round. Presented here is an arrangement of houseplants paired with Halloween decor, anniversary celebration, and birthday celebration as well. You don't have to choose between plant babies and holiday accents! The room you are in has a high ceiling and is very small. The height doesn't look reasonable no matter what you do. Now what? Plants should be allowed to sprawl all over the wall, so that the height will not be an issue. You will be surprised at how many ways you can decorate your home with plants if you put a little creativity into it.
The Final Takeaway
It is possible to appreciate houseplants even if you don't have a green thumb – if this is you, then this post is for you! A collection of 15 low-maintenance and easy home decoration ideas with plants have been compiled, from tiny succulents to small trees, something for every skill level. You can boost your mood, add color to your home, and improve your gardening skills by adding this outdoorsy touch. Nowadays, people prefer to send plants for anniversary or birthday plants to near & dear ones.
Although many people enjoy keeping plants around their homes to purify the air, there are a few important caveats to that NASA study that you hear so much about – that's why I've enlisted only plants that have attractive aesthetics and are easy to maintain. Hope you enjoy your search! And, now, if you want to send plants online in USA, UK, Australia, Singapore, and worldwide, Giftalove.com can be your go-to option.

Priya Gupta is the in-house content writer and developer of Giftalove.com. Her ever-smiling face, big heart, and jolly-good personality make her stand out. Her writing style demonstrates a harmonious union between passion and creativity. She is a multitasking person, delivering flawless work while listening to music, and dancing to the beats of Justin Bieber. All she needs is a cup of coffee to express her views through her words!