India is a country of festivals and Raksha Bandhan is one of the biggest Indian festivals that are celebrated among brothers and sisters on Shravan Poornima that is full moon day of Shravan month of the Hindu calendar. People in India and people of Hindu diaspora residing abroad celebrate Raksha Bandhan with great enthusiasm. Read the blog and know more on Raksha Bandhan celebration in India.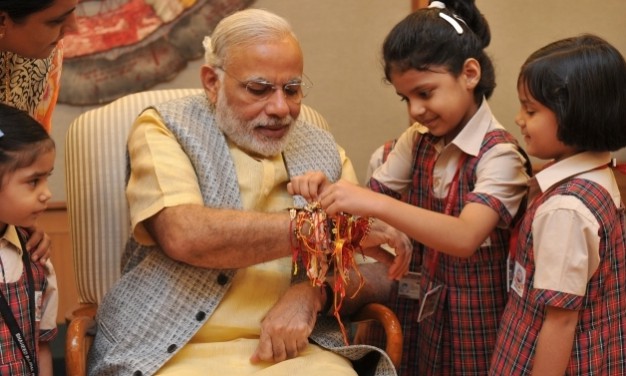 How People of India Celebrate Raksha Bandhan?
On Raksha Bandhan celebration families gather and celebrate the cheerful festival of Raksha Bandhan. It is the festival that connotes the meaning of brotherhood and the sole motto of the celebration of Raksha Bandhan is strengthening the bond of love and care shared between brother and sister. Therefore on the day of Raksha Bandhan festival sister expresses her feelings of love and care to brother by performing an aarti with holy flame, does tika on brother's forehead with vermillion and sandalwood paste, ties the sacred and designer Rakhi thread on brother's wrist and prays to God for his long life and well being. In return brother expresses his gratitude of love for his sister by surprising her with a gift. Further sweets and other delicious eateries are shared by everyone in the family.
Preparations That Start Much Before Raksha Bandhan
Like every other Indian festival, Raksha Bandhan festival is also celebrated with great fervor and enthusiasm and also preparations starts much before the actual date of festival celebration. And preparations in which people get indulged into is Rakhi shopping. This shopping activity may include buying beautiful and intricately designed Rakhi for brother, buying sweets, buying Rakhi gifts, Rakhi greeting cards, Puja thali and pother puja items as well as new clothes to be worn on the festive day.
To meet demands of Rakhi shopping, market places, malls and shopping streets get decked up with Rakhi shopping products much prior to the celebration day of Raksha Bandhan. These days, online rakhi shopping portals also come up with their ranges of Rakhi shopping products a month prior to celebration day.Many portals and shopping places offer huge discounts on their range of products. It in fact turns up as one of the best time of the year to do shopping for the festival or to add more fun and joyous moments into the celebration.
Raksha Bandhan Celebration across India
Raksha Bandhan that is also locally referred as Rakhi is celebrated at different parts of the country 8in bit different forms and names like:
•    Pavitropana:
In Gujarat state Raksha Bandhan is celebrated and named as Pavitropana. On the day of celebration people gather in Lord Shiva temples and then perform prayers.
•    Nariyal Purnima:
Raksha Bandhan in the state of Maharashtra, Karnataka, Gujarat and Goa is named as Nariyal Purnima. On this day people offer coconuts (nariyals) to the Sea God. This kind of Rakhi celebration depicts the start of new season. The ritual is important for those who are dependent on the sea for their daily living.
•    Kajari Purnima:
In Indian states like Uttar Pradesh, Madhya Pradesh and Chhatisgarh, the festival of Raksha Bandhan is celebrated by the people in the form of Kajari Purnima. The day is of great importance among the farmers and women. In fact the rituals start for Kajari Purnima minimum 5 days before the full moon day.
•    Rakhi Purnima:
The other name for Raksha Bandhan is Rakhi Purnima amazing the people of North and north-west India. In this part of the country Rakhi is celebrated with great fervor.
•    Avani Avittam or Upakarman:
In southern India like in the states of Kerala, Tamil Nadu and Andhra Pradesh, Raksha Bandhan is an important day for the people belonging to Brahmin community. People there name this day as Upakarmam. On the day the Hindus change their old thread by wearing a new thread. The ritual of changing thread symbolizes getting rid of all sins and making a new beginning of life.
India is Incredible and so do its festival celebrations!!
Sakshi Ecavade is our in-house content developer having a good understanding about the gifting industry. She creates quality content surrounding flowers, chocolates, plants, cakes, and other products which makes excellent gifts for the people. Accurate and authentic information is what she tries to deliver through her blogs.