It's time to make whoopee as Indian Valentine's Day is about to fall! Yes, the desi Valentine's Day dedicated to husbands and wives- Karwa Chauth is approaching fast.
Karwa Chauth is due on 11th October 2014. As being a hubby you all need to shower your love for your wife time to time for her dedication towards you and to ignite the love between you two in every walk of life. Karwa Chauth is the best time to let your better-half know you love her more than anything!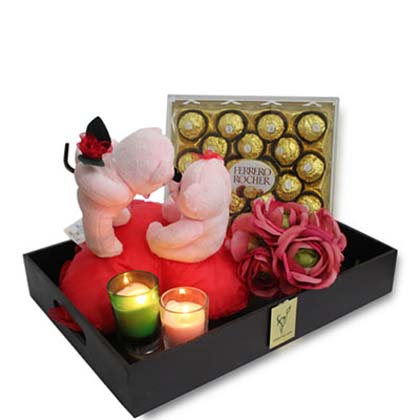 Have you planned a surprise for your beloved wife on this very auspicious day? If not, stay tuned with us to know innumerable Karwa Chauth gifts made exclusively to suit her personality. No need to struggle to find a gift of her choice as we have come up with some best Karwa Chauth gift ideas. Take a look here…..
Traditional Gifts
No matter how advance we may become, how hi-tech the world may turn out to be, the charisma of traditional gifts never fades away. As this festival is all about traditions, why not make it extra special by adding conventional souvenirs to appreciate your beloved wife's selfless devotion? Traditional Karwa Chauth gifts like sarees, lehnga, bangles, Karwa Chauth Puja Thali, etc. would suit the atmosphere.
On the propitious occasion the most popular yet traditional gifts that are certain to be given to the lady who observes the daylong fast include "Sargi" and "Baya". Sargi is the gift of delicious meals, sweets as well as clothes while Baya is also the similar gift that includes dryfruits and other things.
Unconventional Gifts
If you want to give your wife a quirky gift, opt for today's modern gift having so many options to choose from. There are stunning flower bouquets made from roses, daisies, tulips, lilies, gerberas, and germinies which you can choose to wow your companion on this very day.
If you wanna excel extra miles, opt for scrumptious indulgence of chocolates which your wife would surely find irresistible. Chocolates are everyone's favorite irrespective of their age. Find out what your soul-mate likes- candies, dark chocolates, mile chocolates or truffles and give her the same packed in attractive wraps and boxes.
A box of cosmetics would be something which will turn her eyes twinkle with delight. As being a woman she would love to pamper herself and look best on every occasion.
Did I forget to mention jewelry? Women and jewelry are incomplete without each other. Almost every lady loves to get a new piece of jewelry no matter how many she already has in her closet!
If you want to try something new, take her out for dinner.
Now consider any of above mentioned ideas for Karwa Chauth gifting to let her know you care and will always look after her needs no matter what.