Although India is a land of festivals that goes on painting people's lives with colourful celebrations taking place every then and now. The celebration of Rakhi or Raksha Bandhan depicting siblinghood is what rejoiced by every Indian to the fullest. And, why not, it's the festival that has never lost is sheen over the years even being one of the oldest celebrations! There is an account of sisters tying the protective thread around their brothers' wrist since time immemorial.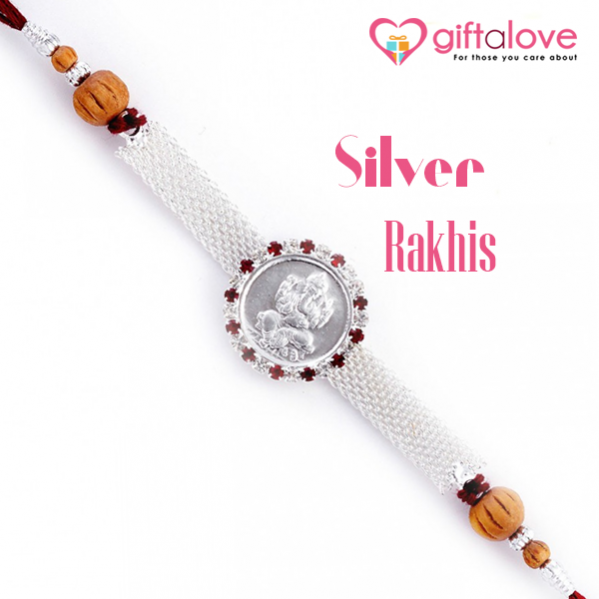 Keeping with that tradition, silver rakhi is something that is still in use. As the name suggests this rakhi thread boasts a silver sparkle and is adorned with other decorative to suits one's tastes well. Silver rakhi carries uniqueness plus the royal charm of the bygone era that brothers still love to embellish their wrist with!
Let's take an account of Rakhi thread changed over the years
Earlier or can say previously, a simple cotton or silk puff was used as a base or a centerpiece. It was really a fad to choose rakhi with large or flashy centerpieces, but now the time has changed and all the above-said designs have become a thing of past.
It wasn't convenient to wear these rakhis for long due to the bulky size. Sending them by post wasn't easy as well. But, over the years, the auspicious threads witnessed some drastic changes and became more innovative, artistic and smaller in size. At present, better materials are used to make rakhi threads.
Recent Trends in Rakhi Styles taking the Market by Storm!
The simple thread that we have been calling to as dhaga, dora, kalawa, mouli, etc. over the period, has now gone under a lot of changes. It improved in terms of designs as well as elegance. This is also the reason that companies have involved craftsmanship in making rakhi these days. Not just this, but the thread and the material used to make rakhi are also of premium quality. People's preferences have changed so as the quality, designs, shapes, and values.
With online shopping taking fast pace, sisters love to send rakhi online and in that they like to choose the thread that doesn't get disfigured or torn apart during the delivery. In the past decades or so, the style and design of sacred threads have changed a lot. In today's scenario, the auspicious thread has become so sparkling yet rich in its appearance that it serves as a perfect rakhi gift! Silver rakhi, bracelet rakhi, gold rakhi, musical rakhi, etc, are some of the popular trends these days.
The New Faces of Traditional Rakhi Styles
It doesn't matter how stunning or modern looks a rakhi thread may acquire, it's true that there are still people like us who love traditional threads in their simplistic looks. The reason is obvious, traditional threads are a beautiful symbol of siblinghood carrying its essence. New styles in that traditional thread of love include Resham Dhaga Rakhi, Zari Zardosi, Sandalwood, Mouli, Satin Ribbon Rakhi, Lumba Rakhi and more!
So, what's your choice? Would you like to send silver rakhi online or wanna choose something else? Raksha Bandhan is nearing, don't lag behind, pick the thread keeping your brother's preferences in mind, after all, he's the one who's gonna keep this rakhi for a long time!
Sakshi Ecavade is our in-house content developer having a good understanding about the gifting industry. She creates quality content surrounding flowers, chocolates, plants, cakes, and other products which makes excellent gifts for the people. Accurate and authentic information is what she tries to deliver through her blogs.