Plants have become one of the most spectacular and thoughtful Rakhi gifts for brothers, perfectly adding some valuable benefits to their lives. From sprucing up your place with their goodness to purifying the surrounding air by removing the harmful elements and air pollutants, plants have become an essential part of human lives. Owing to this, we, at GiftaLove.com, have come up with our newest launch of Rakhi with plants combo for Rakshabandhan.
Let us see what we have for our customers under the Rakhi plants range:
1. Bhaiya Bhabhi Rakhi with Money Plant in designer couple containers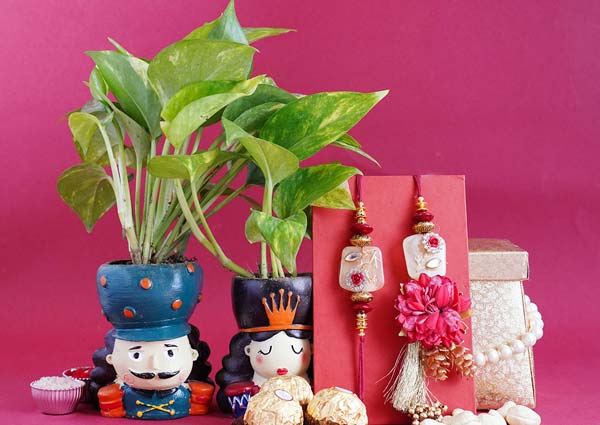 Having bhaiya and bhabhi in life is no less than a blessing. Your dearest brother has always been your constant support system holding your back, and your beautiful bhabhi is your secret holder with whom you can share everything without the fear of getting judged or criticized. To make this Rakhi festival special for them, send bhaiya bhabhi Rakhi with money plant to them along with dryfruits, cakes, or chocolates.
About Bhaiya Bhabhi Rakhi
Bhaiya Bhabhi Rakhis are one of the best ways to convey your heartfelt love and wishes to them.
The tradition of tying Lumba Rakhi to Bhabhi has been stated years back in Rajasthan, and now, this tradition has gained popularity across the world.
Tying Lumba Rakhi to your bhabhi along with your brother will bring togetherness, happiness, and prosperity in their lives.
The auspicious thread of Lumba also binds the whole family together and brings positive energy to their lives.
Also, offering Lumba Rakhi to your sister-in-Law signifies your welcome to her in the family wholeheartedly.
About Money Plant
Money plant is considered one of the most popular plants to spruce up your home and living place.
The money plant falls under the category of home-friendly climbers and is preferred as one of the best gifting solutions as well.
The money plant is also widely famous and renowned for bringing financial stability to the family.
You can send money plant online on Rakshabandhan as a token of love and good fortune in your brother's life.
This plant is also known for its incredible benefits of purifying the surrounding air. That is why; it is believed that keeping money plants at home removes all the harmful chemicals from the air.
About Couple Container
If you are confused about which will be the best container to keep potted money plant, this designer couple container will be the best to go with. These black-painted traditional plant pots represent Indian art and culture and their impact on Indian festivals. Money plant potted in these containers will look extremely pretty and classic when kept in any corner of the house.
2. Pearl Rakhi with Snake Plant in elephant container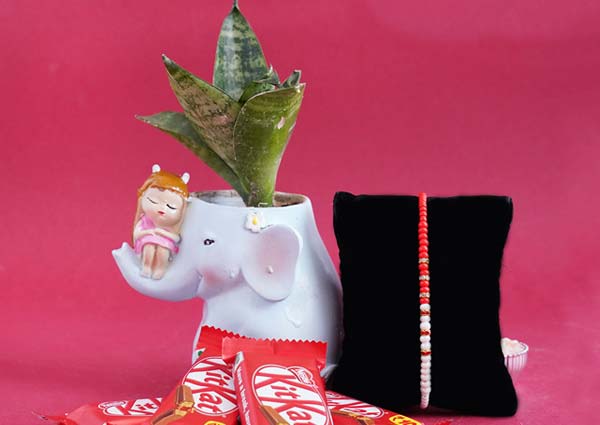 If you are confused about which gift will make your dearest brother smile and add some value to this Rakshabandhan, then you can buy Rakhi plant gifts online. This combo here is having a designer pearl Rakhi with a snake plant potted in an elephant container. Everyone knows how special pearl Rakhis are, and the benefits of the snake plant are not something that needs an introduction. The highlight here is the container showing an elephant holding a little girl. Confused? Let us reveal the secret below:
About Pearl Rakhi
Pearl Rakhi falls under the category of designer and fancy Rakhi, perfect for accentuating his wrist on Rakshabandhan.
Beautiful pearls are the "teardrops of the moon" wearing which the life becomes more blissful and full of happiness.
Wearing a pearl in a Rakhi symbolize innocence and purity, and hence, the pearl Rakhis are trendy.
Pearl gemstone also keeps the mind cool, and if a person is wearing pearls, the tensed nerves of the mind will also be relaxed.
It is science-proven that pearls also have medicinal properties. And hence, if your brother gets irritated easily, then pearl Rakhi is the one to buy for your brother.
About Snake Plant
Snake plant is popularly known as "Mother-in-law's tongue" and is widely preferred indoor houseplants for sprucing up your place.
Snake plants are also one of the best plants to keep in bedrooms as they promote sound sleep and also calm down the tensed nerves.
Gifting a snake plant also brings good luck and fortune to your brother's life.
According to Vastu, if the beautiful snake plants are kept in a perfect position, they can remove the negative energies from the place. These plants bring positivity not only in homes but also in your brother's life.
Besides all these characteristics, the snake plant is an air purifier that can remove harmful air pollutants from the surrounding air.
About Elephant Container
This elephant container is undoubtedly one of the bestselling and aptest containers to send plants with for Rakshabandhan. If you have sharp eyes, then you must have noticed the container that not only has an elephant but a baby girl as well. This container is undoubtedly cute but also has a meaning. The elephant here holds his little sister. The elephant represents the responsible big brother who is holding his little sister and taking care of her. This represents the whole concept of Rakshabandhan and the relationship between brothers and sisters.
3. Rudraksha Rakhi with Jade Plant in baby Boy container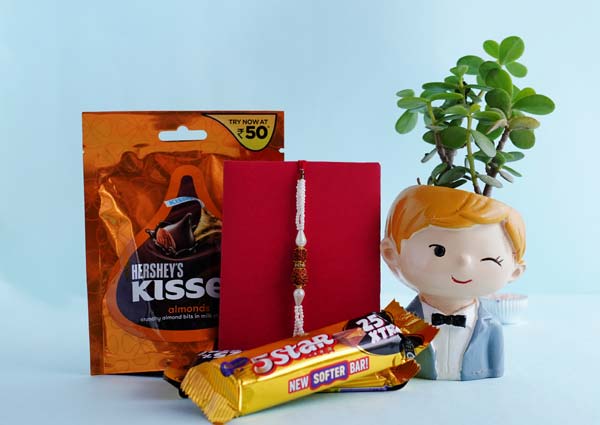 This is the era where thoughtful and innovative gifts are given more importance over expensive gifts. That is why, for all the sisters who wish to buy something more unique and special for their brothers as a Rakhi gift, Rakhi with plants combo has always been a great option. Talking about Rakhis, Rudraksha Rakhi for brother is gaining popularity nowadays. And, to make this hamper special for your little brother, we have added a cute baby pot, having a beneficial jade plant.
About Rudraksha Rakhi
Rudraksha stone is originated from the teardrops of Lord Shiva, and this belief makes it one of the most auspicious things existing in the world.
It is also believed that by wearing a Rudraksha either as a pendant or bracelet, Lord Shiva protects the wearer from evil powers and bad elements.
Tying a Rudraksha Rakhi on your brother's wrist will bring happiness, prosperity, good luck, and financial gains in his life.
Also, it is believed that wearing a Rakh with Rudraksha and Mauli thread will shower the blessings of Lord Shiva and will work as a protective charm, just like Kalava.
One more auspicious belief linked to Rudraksha Rakhi is that it will stabilize your brother's body chakras and calms his mind.
About Jade Plant
Jade plant is also known as "Money Tree" in Feng Shui and is considered blissful for homes and workplaces.
A jade plant is one of the widely considered and popular houseplants that signifies good fortune and wealth for the family members.
According to the Vastu Shastra, if you place the jade plant, it will bring prosperity, positivity, and success to your brother's life.
Jade plant falls under the category of succulents having round leaves and also require low maintenance. So, your lazy brother can take care of his plant very well.
If your brother is working, you can buy jade plant online and send him as a Rakhi gift as keeping a jade plant at your home or office entrance will bring good luck and wealth.
About Baby Boy Container
We have included this cute baby boy container with this jade plant and pearl Rakhi combo so that it can turn out to be a nice décor piece. Also, if you are sending Rakhi with jade plant to your little brother, he will surely like this cutest container the most.
4. Ganesha Rakhi with Spider Plant in Bunny container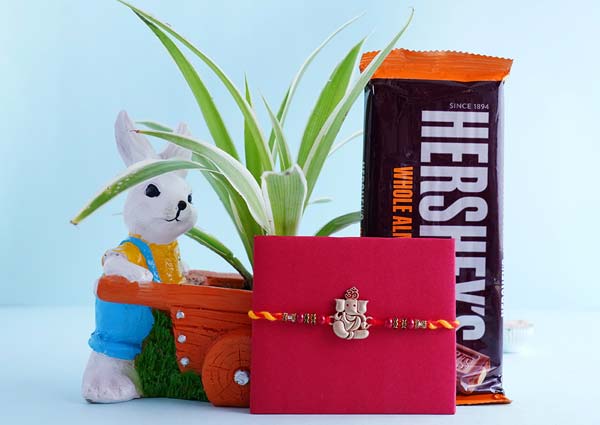 Rakshabandhan is one of the significant Indian festivals that bring more happiness and togetherness in the relationship of brothers and sisters. The best Rakhi for your brother will be the one that will bless with blessings and keep him safe from evil powers. That is why; we have this Ganesha Rakhi with spider plant combo for you if you are willing to buy Rakshabandhan plants online for your lovable brother.
About Ganesha Rakhi
Lord Ganesha removes all the obstacles and hassles from the path when any new work is about to start.
If you have the blessings of Lord Ganesha while marking the new beginning in life, your path will be free from obstacles and full of happiness.
Wearing Golden Ganesha symbolizes good luck, peace, happiness, a new beginning, and good health.
Tying Ganesha Rakhi to your brother's wrist will shower Lord Ganesha's blessings on him, and he will get success in his every work.
Lord Ganesha will be the protective charm for your brother and will always guide him in every difficult situation.
About Spider Plant
Spider plant not only looks pretty, but it has several other benefits for your home and your family members.
This plant falls under the category of top recommendations from NASA as it has incredible air purifying qualities.
If you keep a spider plant at your home in any corner or enhance your office interiors with this nice place, it will remove all the harmful air pollutants from the surrounding air.
Apart from making the air breathable, this plant also brings good fortune for the family members.
It is also believed that spider plants attract positive energies if placed according to Vastu. That is why; the spider plant is a popular and most preferred houseplant.
About Bunny Container
The bunny container shown here is introduced based on the concept that the trolley bunny is holding is full of happiness. If you give this spider plant and Ganesha Rakhi combo to your brother on Raksha Bandhan, the bunny with his trolley will fill his life with good luck, good health, and prosperity.
5. Evil Eye Rakhi with Lucky Bamboo Plant in a ceramic container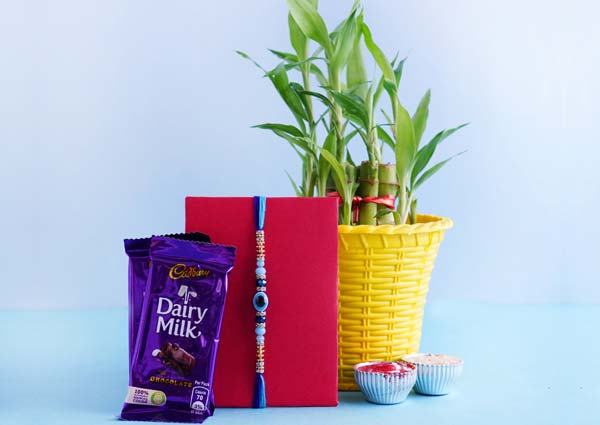 Do you know you can bring good luck to your brother's life with your Rakhi gifts? Yes, you can, but for this, you need to buy good luck plants for brother on Rakhi. And, owing to this, we have here this amazing combo of Evil eye Rakhi with lucky bamboo plant potted in a ceramic pot. Let's know more about this combo here:
About Evil Eye Rakhi
The evil eye is considered a bad omen for everyone, from your home to human beings. And, the solution is evil eye charm.
The blue-colored Evil Eye Rakhis are considered the prominent solution to stabilize the evil eye curse.
It is believed that the evil eye can cause severe misfortunes and injury in your brother's life, and that is why; Evil Eye Rakhis are widely preferred.
Tying an Evil Eye Rakhi on your brother's wrists will work as a protection charm created against the curse of the evil eye.
Also, an Evil Eye Rakhi is believed to bring happiness, positivity, peace, good luck, and stability to your brother's life.
About Lucky Bamboo Plant
The Lucky Bamboo plant is another popular and widely preferred good luck plant for gingering up your home and office.
A lucky bamboo plant is a popular Feng Shui plant that is one of the aptest plants for gifting on Rakshabandhan.
Keeping a lucky bamboo plant in your home will attract positive energies and also balances all the five natural elements.
If your brother keeps a bamboo plant around him, it will promote healthy and stable living.
For deciding the most suitable place to keep your bamboo plant, you can consider Vastu Shastra. Also, the number of stalks in the bamboo plant signifies its meaning.
About Ceramic Container
The yellow-colored ceramic container we have included here with this combo of Evil eye Rakhi and the lucky bamboo plant enhances the Rakhi gift. You can get the container in purple, white, and some other colors as well. Every color will go well with your home or office interiors. This container is an elegant fit for your Rakhi with a plant combo.
Warm Closing
Whether you want one of these Rakhi with plants combo or you will be buying all of these, GiftaLove.com is here to help. You just need to explore our Rakhi plants section and choose from them. You will get here all the combos we have mentioned here. And, apart from these, you will get some more fantastic ones like plants with baby Groot containers, book-shaped containers, and squirrel containers. Also, you can send Rakhi with plants online in India with our fast, reliable, and delivery services.
So, begin your shopping with us and make your Raksha Bandhan super special and eco-friendly!

Sakshi Ecavade is our in-house content developer having a good understanding about the gifting industry. She creates quality content surrounding flowers, chocolates, plants, cakes, and other products which makes excellent gifts for the people. Accurate and authentic information is what she tries to deliver through her blogs.