In the modernized context, the actual meaning of Rakshabandhan has actually changed to a greater extent, both significantly and traditionally. It is also believed that the auspicious thread of Rakhi is the alias of Raksha Bandhan. And, since the Vedic times, the traditional festival of Rakshabandhan along with Rakhi Puja ceremony is performed to ward off ghosts, evil powers, and bad spirits. That is why; sisters prefer to send Rakhi Puja thali online to their brothers so that they can have ritualistic Rakshabandhan with full-fledged rituals and customs. Here, in this share, we have described the Rakhi Puja Vidhi in Hindi and English both so that every brother who cannot visit home for the celebration, this puja vidhi will come very useful. Let's begin:
How to Prepare Rakhi Puja Thali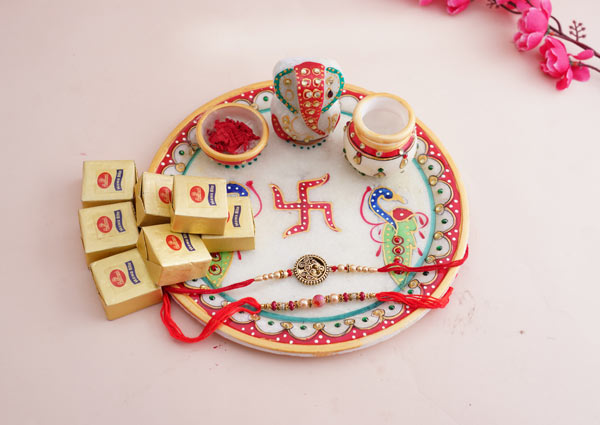 Rakshabandhan is one of the biggest and most significant Indian traditional festivals dedicated to the heartwarming and immortal relationship between brothers and sisters. On this day, sisters tie blissful Rakhi to brother on his wrist during the auspicious time and muhurat. And, in return, the brother promises to protect his sister for protecting her throughout life. Along with this, the brother gives a lot of gifts and money to the sister with the promise of protection. If brothers shower so much love on you this Raksha Bandhan 2023, you also have to make this Rakhi festival more special for both of you. To make this Raksha Bandhan special, you should prepare the Rakhi puja thali in a ritualistic way.
Essential ingredients for Rakhi Puja Thali:
Roli or Kumkum
Akshat
Yellow mustard seeds
Diya
Rakhi
Coconut
Sweets
Nariyal
Kalash with water
Cloth or handkerchief
Betel Nut
Mauli Dhaga
Rakshabandhan Puja Vidhi in English:
On the day of the holy festival of Rakshabandhan, take a bath early in the morning. Then, decorate the puja thali to worship. Lit a ghee lamp and keep this plate at the temple where you worship. Remember all the deities and ancestors. Burn incense sticks in the temple and then take the blessings of God. Perform the aarti of your brother and tie a Rakhi on his wrist. Golden Rakhi, OM rakhi, Ganesha Rakhi or Silver Rakhi for brother are some of the popular rakhis to choose from for accentuating your brother's wrist.
According to the Indian tradition and rituals, the holy festival of Raksha Bandhan should be celebrated only during the Bhadra-free period. It has been said –
"भद्रायण द्वे न कार्तव्ये श्रावणी फाल्गुनी"
This means, according to Hindu scriptures, this festival is celebrated in August only in the Bhadra-free period.
Now, let's see the proper ritualistic way of performing blissful Rakshabandhan Puja:
First of all, decorate the Rakhi Puja thali with all the essential items we have already mentioned above. To prepare the Puja Thali, silver, brass, and copper thali makes the best choice. Wet the roli with water or attar to prepare the holy vermillion paste.
After this, the sisters apply tilak to the brother's forehead and tie the Raksha Sutra, i.e., Rakhi, to his right hand.
Whole tying Rakhi on brother's wrist, his face should be in the East direction. This is because the east direction is considered auspicious and blissful.
Also, while tying Rakhi on their brother's wrist, his head should be covered with a clean cloth or handkerchief.
At the first step, adorn your brother's forehead with a roli or vermillion spot. Over the vermillion spot, place Akshat or rice.
Rakhi should always be tied to the right hand of the brother.
After tying Rakhi, sisters perform the aarti and then feed sweets to the brother. Rakhi puja is done to protect the brother with evil powers and bad elements.
If the brother is older than you, then touch his feet and take his blessings.
If the sister is older, then the brother should touch the feet.
After tying Rakhi, brothers should give gifts to sisters according to their desire.
Brahmins or Pandits also tie the thread of protection on the wrist of their host.
While tying Rakhi and performing Rakhi puja Vidhi, one should chant auspicious mantras.
Rakhi Tying Mantra: ॐ येन बद्धो बली राजा दानवेन्द्रो महाबलः। तेन त्वामपि बध्नामि रक्षे मा चल मा चल।।
Mantra for applying roli and chawal: सिन्दूरं सौभाग्य वर्धनम, पवित्रम् पाप नाशनम्आ पदं हरते नित्यं, लक्ष्मीस्तिष्ठति सर्वदा॥
The last step involves the gift exchanging ceremony. Sisters pick Rakhi gifts for brothers, and brothers also buy Rakhi return gifts for sisters to showcase their love and affection.
Rakshabandhan 2023 Shubh Muhurat and Tithi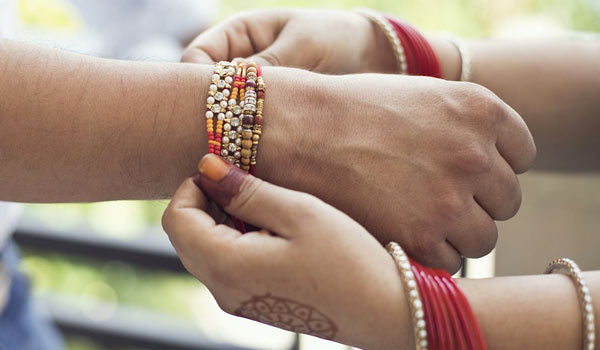 Raksha Bandhan Rakhi Tying Ceremony Timing: after 09:01 PM
Aparahna Timing for Raksha Bandhan: 01:48 PM to 04:22 PM
Bhadra End Time for Raksha Bandhan: 09:01 PM
Purnima Tithi Begins at: 10:58 AM on Aug 30, 2023
Purnima Tithi Ends at: 07:05 AM on Aug 31, 2023
Raksha Bandhan Bhadra Punchha Timing: 05:30 PM to 06:31 PM
Raksha Bandhan Bhadra Mukha Timing: 06:31 PM to 08:11 PM
रक्षाबंधन पूजा विधि हिंदी में
रक्षा बंधन भारत, नेपाल और भारतीय उपमहाद्वीप के अन्य हिस्सों में मनाया जाने वाला एक पारंपरिक हिंदू त्योहार है। इस दिन बहनें भाई की रक्षा और देखभाल के प्रतीक के रूप में, अपने भाइयों की कलाई पर राखी या रक्षा सूत्र बांधती हैं।
इस वर्ष, रक्षा बंधन 30 अगस्त, 2023 को मनाया जाएगा। त्योहार आमतौर पर श्रावण के महीने (पूर्णिमा के दिन) में हिंदू चंद्र कैलेंडर के अंतिम दिन मनाया जाता है, जो आमतौर पर अगस्त में पड़ता है। भारतीय परंपरा और रीति-रिवाजों के अनुसार रक्षा बंधन का पावन पर्व भाद्र-मुक्त काल में ही मनाया जाना चाहिए। कहा गया है कि –
"भद्रायण द्वे न कार्तव्ये श्रावणी फाल्गुनी"
अब, आइए देखें कि अनुष्ठानिक रक्षा बंधन पूजा करने का उचित तरीका क्या है –
त्योहार के दिन सूर्योदय से पहले प्रातः काल स्नान करना चाहिए।
फिर देव और पितृ तर्पण (देवताओं और पूर्वजों को प्रसन्न करने का एक अनुष्ठान) करना चाहिए।
मुख्य अनुष्ठान में रक्षा की पूजा करना और कलाई पर रक्षा बांधना शामिल है।
पोटली टूटे चावल, सफेद सरसों और सोने के धागे से बनानी चाहिए। इसे रंगीन कपड़े से बुना जाना चाहिए और पूजा के लिए एक साफ कपड़े पर रखना चाहिए।
सबसे पहले राखी पूजा की थाली को उन सभी आवश्यक वस्तुओं से सजाएं जिनका हमने ऊपर उल्लेख किया है। पूजा थाली तैयार करने के लिए चांदी, पीतल और तांबे की थाली सबसे अच्छा विकल्प है। पवित्र सिंदूर का पेस्ट तैयार करने के लिए रोली को पानी या अत्तर से गीला करें।
इसके बाद बहनें भाई के माथे पर तिलक करती हैं और उनके दाहिने हाथ में रक्षा सूत्र यानि राखी बांधती हैं।
भाई की कलाई पर राखी बांधकर उसका मुख पूर्व दिशा में होना चाहिए। ऐसा इसलिए है क्योंकि पूर्व दिशा को शुभ और आनंददायक माना जाता है।
साथ ही भाई की कलाई पर राखी बांधते समय उसके सिर को किसी साफ कपड़े या रुमाल से ढक लेना चाहिए।
पहले चरण में अपने भाई के माथे को रोली या सिंदूर से सजाएं। सिंदूर के स्थान पर अक्षत या चावल रखें।
राखी हमेशा भाई के दाहिने हाथ में बांधनी चाहिए।
राखी बांधने के बाद बहनें आरती करती हैं और फिर भाई को मिठाई खिलाती हैं। राखी पूजा बुरी शक्तियों और बुरे तत्वों से भाई की रक्षा के लिए की जाती है।
यदि भाई आपसे बड़ा है तो उसके चरण स्पर्श कर उसका आशीर्वाद लें।
बहन बड़ी हो तो भाई को पैर छूना चाहिए।
राखी बांधने के बाद भाई बहनों को अपनी इच्छानुसार उपहार दें।
ब्राह्मण या पंडित भी अपने यजमान की कलाई पर रक्षा सूत्र बांधते हैं।
राखी बांधते समय और राखी पूजा विधि करते समय शुभ मंत्रों का जाप करना चाहिए।
राखी बांधने का मंत्र: ॐ येन बंधो बली राजा देवेंद्रो महाबलः। तेन त्वमपि बध्नामि रक्षे में चलने फिरने में।।
रोली और चावल लगाने का मंत्र: सिन्दुरं सौभाग्यवर्द्धन, पवित्रम् पाप नाशनम्आ पदं हरते नित्यं, लक्ष्मीस्तिष्ठति सर्वदा
अंतिम चरण में उपहार विनिमय समारोह शामिल है। बहनें भाइयों के लिए राखी उपहार लेती हैं, और भाई भी अपने प्यार और स्नेह को प्रदर्शित करने के लिए बहनों के लिए राखी रिटर्न उपहार खरीदते हैं।
रक्षाबंधन 2023 शुभ मुहूर्त और तिथि:
रक्षा बंधन राखी बांधने की रस्म का समय: शाम 09:01 बजे के बाद
रक्षा बंधन के लिए अपराहन का समय: दोपहर 01:48 बजे से शाम 04:42 बजे तक
रक्षा बंधन के लिए भद्रा समाप्ति समय: 09:01 PM
पूर्णिमा तिथि: अगस्त 30, 2023 को सुबह 10:58 बजे शुरू होगी
पूर्णिमा तिथि: अगस्त 31, 2023 को सुबह 07:05 समाप्त होगी
रक्षा बंधन भद्रा पंच का समय: 05:30 AM से 06:31 PM
रक्षा बंधन भद्र मुख का समय: 06:31 AM से 08:11 PM
Conclusion
So, now you know how to perform the Rakshabandhan ceremony with full rituals, traditions, and customs. The Rakshabandhan Puja Vidhi we have mentioned above includes the explanation both in English and Hindi so that all our end-users can easily understand the vidhi. Also, GiftaLove.com is here with its newest range of auspicious and designer Rakhis for brothers with thoughtful Rakhi gifts as well. You can buy and send Rakhi gifts online from this online platform at an affordable price range.
Rakhi with dryfruits, sweets, cakes, plants, and personalized gifts are some of the most prominent gifting options perfect to make Rakshabandhan more special for your dearest brothers. As far as Rakhi designs and latest Rakhi collection is concerned, Swastika Rakhi, silver Rakhi, Gold Rakhi, AD Rakhi, Kids Rakhi, Cartoon Rakhi, OM Rakhi, and Lumba Rakhi are some of the bestsellers. So, explore the website and send Rakhi online to brothers with fantastic Rakhi gifts within a few clicks.

Priya Gupta is the in-house content writer and developer of Giftalove.com. Her ever-smiling face, big heart, and jolly-good personality make her stand out. Her writing style demonstrates a harmonious union between passion and creativity. She is a multitasking person, delivering flawless work while listening to music, and dancing to the beats of Justin Bieber. All she needs is a cup of coffee to express her views through her words!