Cutting across all territorial boundaries Rakhi is a festival that is colorfully celebrated in different parts of the world. One cannot deny the popularity of this festival whether one lives in India or abroad. India's richness in festivals and cultures are beautifully displayed through Rakhi. On this promising occasion siblings and families residing in different cities and countries send greetings and wishes to each other. The meaning of this festival travels far and wide when a sister or brother exchanges gifts expressing their heartfelt love to each other. The beauty of this festival is not affected by distance and space. Rakhi Celebration in USA is not an exception you will be amazed by the way this occasion is observed there.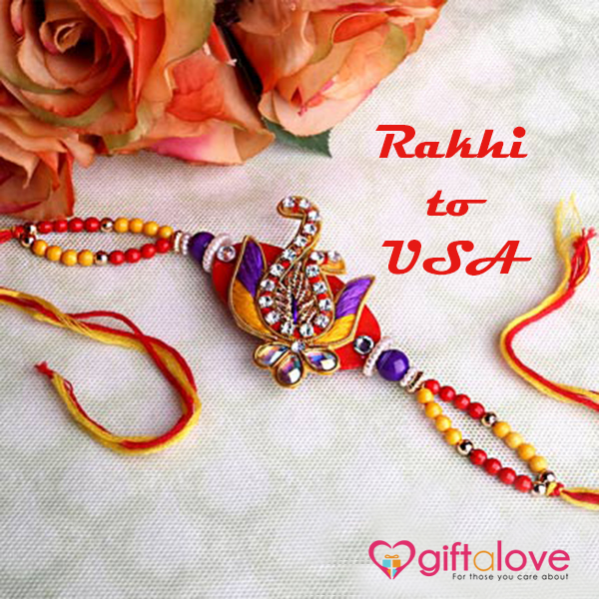 Seriously it is a sight one will want to see every day.  Thousands (Indians) will throng the streets of USA bringing alive the spirit of this celebration in a magnificent manner. It is truly a festival where one can make their beloved siblings feel loved and blessed. Many people will send attractive Rakhis of different types and Rakhi gifts to their love ones in USA and vice versa. This festival brings to live the once faded memories and strengthen the unshakable bond of siblings. Tying Rakhi on the wrist of brother is considered sacred and is preserved with highest respect. Sisters will bless their brother's and pray for their wellbeing and in return brothers will promise to protect their sisters with care and love.
One can begin celebrating this auspicious occasion by preparing and shopping the best Rakhi for their siblings in USA. In one's mind question may arise from time to time in choosing and selecting Rakhi for their siblings. While planning to Send Rakhi to USA one need not be confused because there are many outstanding varieties of Rakhi that are easily securable on various online gifts portal.
Definitely one may have siblings residing in USA who has not been home for a while, for them one may like to send one's greetings by sending a fashionable Designer Rakhi to let them know that they are always remembered. Certainly one would love to express one's heartfelt gratitude to their siblings in USA by sending a colorful Fancy Rakhi.  It will be also a great idea to let them know how important and precious they are in one's life through a ravishing Bracelet Rakhi.
One can also say hi to their siblings out there in USA with a dazzling Golden Rakhi or one can let their siblings know how much one misses them through a beautiful Handcrafted Rakhi. The joy of having siblings is something one can never look aside. In times of happiness and sadness they are always there by one's side giving the most needed support and comfort.
On this note one may like to convey ones best regards by sending a glamorous Zardosi Rakhi through which ones love for siblings can be vividly displayed. At times one are caught up with the memories of those old good days where silly fights and talks were the voice in the house. For that talkative and mischievous sibling of one's family it will be a good idea to send an attractive Jewelled Rakhi to let them know they are missed badly.
How can one forget to send dazzling Silver Rakhi for the one who always want to be the most obedient child in the family. Memories that are created with siblings are among the sweetest and they are well cherished. For the one who is always shy and quiet, one may send an elegant Swastika Rakhi and make him/her blush in joy.
Life itself is a journey and as we walk this journey of life we are bound to be separated from our dear ones for some part of our life but the love and care that binds siblings together will never be broken no matter how far and wide we may go. It the festival of Rakhi that open up an opportunity to strengthen and foster the ties and bond among the siblings through gifting and prayers. May our love for siblings grow from strength to strength as we celebrate Rakhi this year.
Sakshi Ecavade is our in-house content developer having a good understanding about the gifting industry. She creates quality content surrounding flowers, chocolates, plants, cakes, and other products which makes excellent gifts for the people. Accurate and authentic information is what she tries to deliver through her blogs.