One of the cutest and most adorable couples in your family is your brother and sister-in-law. Since you were younger, you have always looked up to them as the best couple after your parents. Your bhaiya and bhabhi are the perfect examples of a beautiful couple who are so loving and supportive of each other. They even love and take care of you very much. You love to be in their company as they are like your best friends. Honor this lovely couple on the upcoming Raksha Bandhan with a unique bhaiya bhabhi rakhi set and make their day super special. This unique tradition of tying rakhi to your brother and also to your bhabhi is a Marwadi tradition that has made its way to other regions of India as well. So, showcase your love and affection to this beautiful couple with this unique tradition by picking an attractive Lumba rakhi set. And, if you do not know which rakhi set to pick, then have no worries, as we have ten trendy bhaiya bhabhi rakhi ideas to choose from. Have a look!
AD Bhaiya Bhabhi Rakhi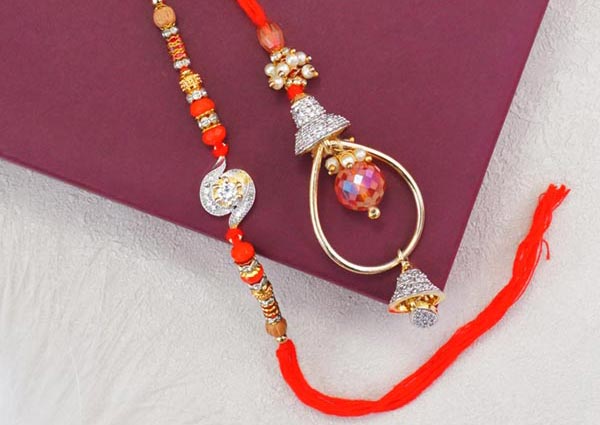 At every festive celebration, people like to wear attire and even sparkling accessories and grab everyone's attention. If you want to surprise your loving brother and sister-in-law with a unique bhaiya bhabhi rakhi set, then choose an AD rakhi set for them. Rakhis studded with American diamonds will add charm to their celebrations and beautifully adorn their wrists. An AD Lumba rakhi set is a great option to add elegance and magnificence to the Raksha Bandhan celebrations for your brother and sister-in-law.
Meenakari Rakhi for Bhaiya Bhabhi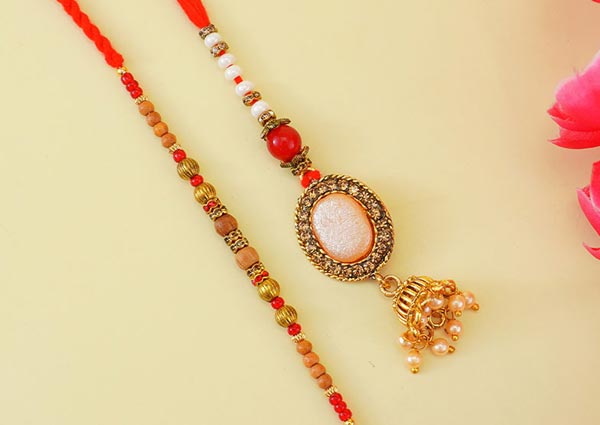 Meenakari is one of the most famous artworks which involve painting the surfaces of ceramics or metals through enameling. This process originated from Persia and today can be found in several jewelry pieces and other items. Owing to its beauty and popularity, Meenakari has also reached the market of Rakhi. Today, you will find several rakhi sets, including bhaiya bhabhi rakhi, which are embellished with meenakari work in a spectrum of hues and designs. So, if you are looking for bhaiya bhabhi rakhi set ideas, then here's one. Get a meenakari rakhi set for two for them and let the vibrant rakhis add so much color to their Raksha Bandhan celebrations.
Golden Bhaiya Bhabhi Rakhi Set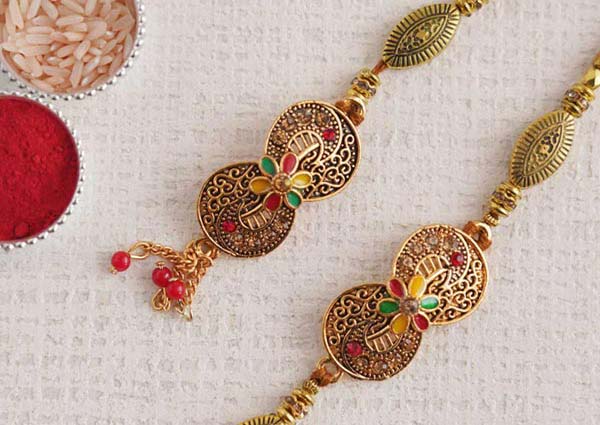 When you are looking for bhaiya bhabhi rakhi ideas, you cannot miss golden rakhis, one of the popular choices online and in the offline market. This Raksha Bandhan, surprise your sweet and loving brother and sister-in-law with a bhaiya bhabhi rakhi, adorned with beads, Kundan work, etc., that will make them extremely happy. The design and the gleaming appearance of this rakhi set will add so much joy and color to the Rakhi celebrations for your brother and sister-in-law. You can add more fun by sending rakhi with chocolates, sweets, and other gift items to them.
Pearl Rakhi Set for Bhaiya Bhabhi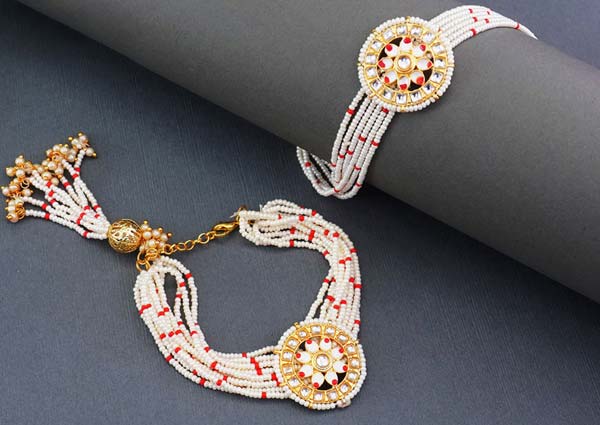 Any accessory, be it a classic necklace to attire when studded with pearls, become so elegant and luxurious in appearance. Due to the growing popularity of elegant pearls among people, the Rakhi stores have also brought pearl rakhis up for sale. If you are looking for a unique and beautiful bhaiya bhabhi rakhi online, choose a pearl rakhi set that will beautifully adorn their wrists and also make them delighted. If elegance and style are the two elements you seek in a bhaiya bhabhi rakhi set, then, without any second thoughts, you should go for a pearl rakhi set for them.
Zardosi Rakhis for Bhaiya Bhabhi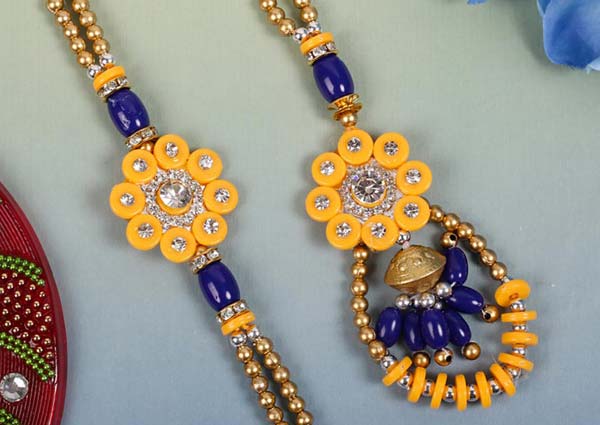 Another one of the best bhaiya bhabhi rakhi ideas is zardosi style rakhis. Zardosi is an artwork from the Iranian and Indian subcontinent, and it is widely popular today. If you want to impress your brother and sister-in-law with a beautiful rakhi set on this Raksha Bandhan, then choose a zardosi rakhi set. The vibrant rakhis with intricate handiwork will give it an appealing look and adorn the wrist of the wearers. Tying this rakhi set to your bhaiya and bhabhi will bag you compliments for your fantastic choice and help you strengthen your sibling bond with them.
Peacock Rakhi for Bhaiya Bhabhi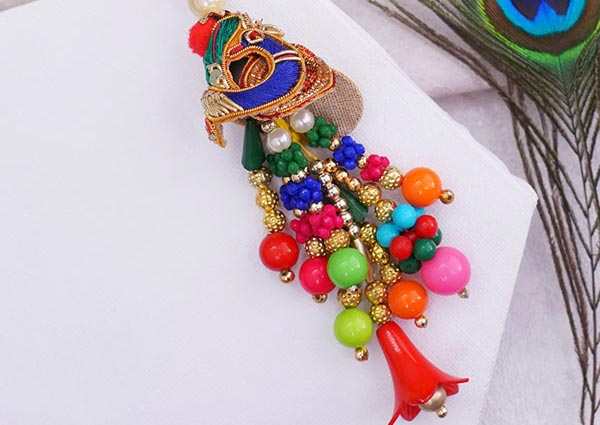 A peacock is a sign of beauty, kindness, and compassion and is associated with Lord Krishna and goddess Saraswati, making it very auspicious. And a rakhi set with a peacock design will also be a unique and memorable choice for your brother and sister-in-law. So, pick a peacock rakhi set of two with Kundan, zardosi, AD, or meenakari work and present it to your brother and sister-in-law. They will be thrilled with the vibrant and sophisticated appearance of the rakhi and treasure the rakhis forever.
Good Luck Bhaiya Bhabhi Rakhi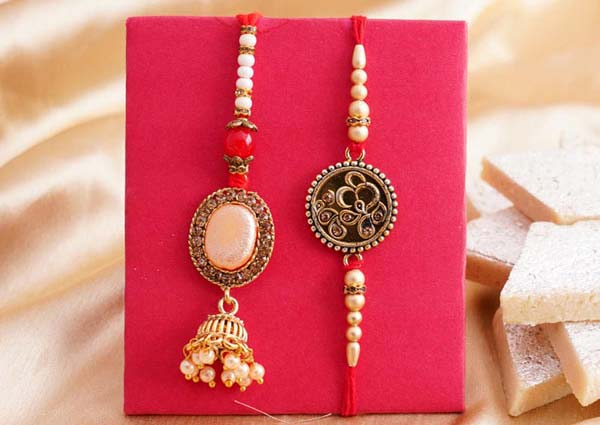 Your brother and sister-in-law are one of the cutest couples in your family. If you want them to be happy always and away from "Buri Nazar," then you can buy good luck or evil eye rakhi set for them. This Lumba rakhi set with evil eye will eliminate negative energies towards them and bring so much joy to them. On Raksha Bandhan, present this Lumba rakhi set to them and make their celebrations more memorable by tying this rakhi to their wrists.
Kundan Bhaiya Bhabhi Rakhi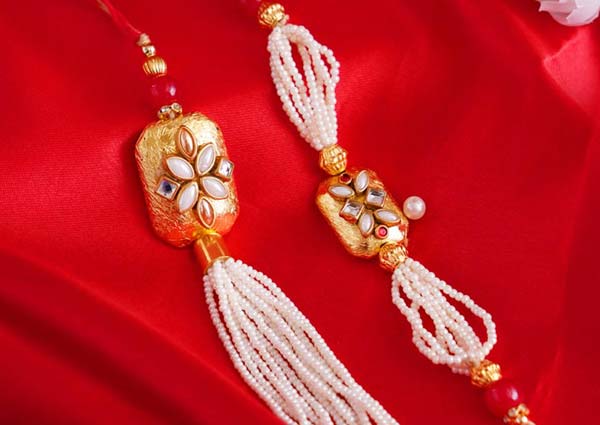 Kundan is a traditional artwork that is done on apparel and pieces of jewelry. This handicraft is done using stones, gold or gold plated metal. Due to the high demand for this gorgeous work, Kundan craft has also made its way into the rakhi industry. Today, in offline and online markets, you will see many stylish and eye-catching rakhis with Kundan work. The beautifully detailed patterns and designs made with colored metals or glass pieces make alluring rakhis. For Raksha Bandhan, grab a bhaiya bhabhi rakhi set for your dearest brother and sister-in-law, who love traditional and stylish items.
Beaded Bhaiya Bhabhi Rakhi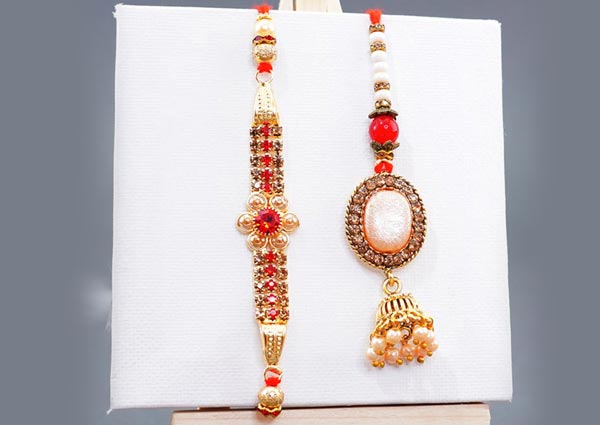 If you are looking for a traditional and gorgeous rakhi for your brother and sister-in-law, then you can also choose beaded designer rakhis. The beads in many colors and shapes strung on a silk thread give a beautiful look. Your brother and sister-in-law are some of the most precious people in your life, and they deserve a beautiful and colorful rakhi set to showcase your love and affection for them. So, pick a beaded rakhi set for them on this Raksha Bandhan and adorn their wrists.
Bracelet Rakhi for Brother and Sister-in-law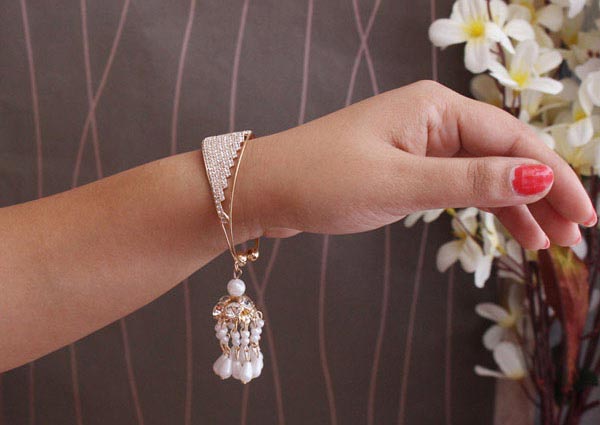 If you are looking for a unique yet spectacular bhaiya bhabhi rakhi set, choose this bracelet rakhi for them. The rakhi set, decorated with beads, stones, American diamonds, and other embellishments, looks so attractive and stylish. If your brother and sister-in-law prefer stylish and trendy attires, then a bracelet rakhi for them is a great option.
These were some of the most popular bhaiya bhabhi rakhis. For more unique and designer rakhis, you can count on Giftalove.com. It is a trusted online gifting portal with a wide range of rakhis and rakhi gifts for your brother, sister-in-law, and sisters. Through this portal, you can send bhaiya bhabhi rakhi to USA and also send rakhi to India as we serve over more than 100 cities in the country for quick rakhi delivery. Start your rakhi shopping with us today!

Priya Gupta is the in-house content writer and developer of Giftalove.com. Her ever-smiling face, big heart, and jolly-good personality make her stand out. Her writing style demonstrates a harmonious union between passion and creativity. She is a multitasking person, delivering flawless work while listening to music, and dancing to the beats of Justin Bieber. All she needs is a cup of coffee to express her views through her words!